Adrian Peterson hopes things work out for ex-players in drug lawsuit
Adrian Peterson can empathize with the 750 players who filed a lawsuit against the NFL recently, alleging the league gave them painkillers without telling them about possible side effects.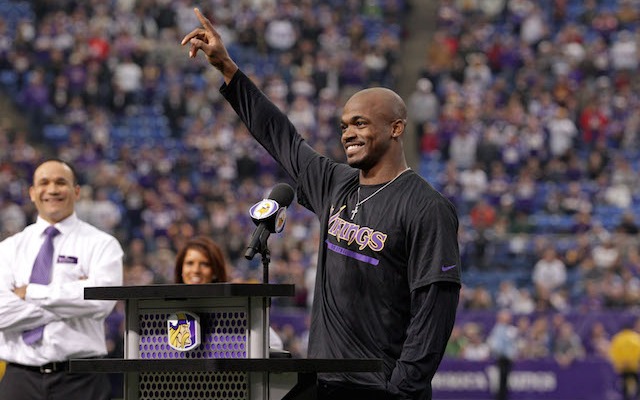 More NFL offseason: League minicamp dates | Latest news, notes
Over 750 former players have joined a lawsuit against the NFL that claims the league illegally supplied players with painkillers and narcotics on game days to keep the players on the field.
The players contend that they were given the powerful drugs even though they didn't have prescriptions. The players also claim that the drugs were given to them without any warning of possible side effects. 
Vikings running back Adrian Peterson isn't a stranger to taking painkillers, so he empathizes with the former players. However, Peterson pointed out that he's always aware of what he puts in his body. 
"It's a very unfortunate situation," Peterson told the Associated Press. "Anything I've taken to subside pain I knew what it was, and it was not ever forced on me. The side effects? I don't know if that was ever explained to them back then."
That possibility -- that the league never explained any side effects to players -- has Peterson hoping the players come out on top in the lawsuit.
"I hope things work out in their favor," Peterson said. "The NFL now and then, maybe this will give us insight into what happened back then. You make your own decisions, but if [repercussions] are not laid out to you." 
Peterson's ability to rehab from a painful injury is almost legendary. The Vikings running back won the NFL MVP award in 2012 despite that fact that he tore his ACL in December 2011.
That's not the only physial pain Peterson has dealt with lately either. The 29-year-old underwent sports hernia surgery in February 2013 and if that's not enough, he also underwent groin surgery in January. 
Carolina will not be allowed to conduct an internal investigation

The longtime Bengals coach and the team are planning to part ways after the season ends

Stephen Oh has his finger on the pulse of Bill Belichick's team and just locked in a pick for...
Everything you need to know heading into Week 15 is right here

Haden has been out since Week 10 with a fractured fibula

There's also the possibility Goodell steps aside early if his potential successor is progressing...