Adrian Peterson was suspended for the remainder of the season without pay, the NFL announced on Tuesday. The NFLPA will appeal the suspension. As part of that announcement, the NFL released a lengthy letter written by Roger Goodell to Peterson, detailing why he was suspended and what he will face moving forward.
You can read the full text of the letter here, but let's break it down a little further.
1. Potential Banishment
Goodell left it at the bottom of the letter, but he told the Vikings running back "any further violation of the Personal Conduct Policy" could result in his "banishment from the NFL" and will result in additional discipline.
2. Potential Reinstatement
Not only is Peterson not automatically eligible to return to the NFL, but he must go through a two-step process in order to return to playing football, primarily counseling and treatment.
Peterson must meet with Dr. April Kuchuk of the NYU Department of Psychiatry before December 1, 2014.
Dr. Kuchuk will design a counseling and therapy program for Peterson after that meeting to be shared with the commissioner and NFLPA.
"Peterson will be expected to adhere to that program."
Periodic reviews with Roger Goodell beginning on April 1, 2015.
"A failure to cooperate and follow your plan will result in a lengthier suspension without pay."
3. Mitigating Circumstances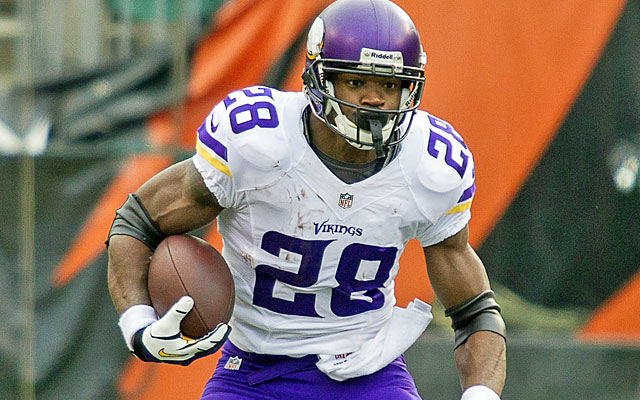 Goodell outlined a three things that caused Peterson to receive a suspension for the remainder of the season without pay.
Injury to a child: "The difference in size and strength between you and the child is significant, and your actions clearly caused physical injury to the child."
Repetitive use of a switch: Goodell called the switch the "functional equivalent of a weapon" in the hands of a professional athlete.
No meaningful remorse: Goodell noted Peterson's text messages to the child's mother defending his conduct and his public comments he would "not eliminate whooping my kids" as a lack of remorse.
4. Lack of Cooperation
Don't sleep on this one as causing Goodell to lay down the law. The NFL release noted that Peterson and the NFLPA were asked by the league on November 6 to "furnish a range of information" but only provided a few court documents. "The request was reiterated on November 11."
Additionally, the release cites the missed November 14 hearing by Peterson despite the NFL's willingness to move the date.
5. So how much money is AP going to lose?
According to Darren Rovell of ESPN, it's going to be costly for the Vikings running back. If the suspension holds, Peterson will lose just north of $4 million. And according to Rovell, AP has been given paid leave of more than $7.6 million.
And if the Vikings part ways with AP, they stand to carry some of his cost into the 2015 season. Per NFL Network's Albert Breer. 
If the Vikings cut Peterson after '14, they'd carry $2.4M in dead money into '15. His '15 figures: $12.75M base, $250K workout, $15.4M cap.

— Albert Breer (@AlbertBreer) November 18, 2014
6. The Vikings delivered a no-statement statement for those wondering what their thoughts are
The NFL has informed the Vikings of today's decision regarding Adrian Peterson. We respect the league's decision and will have no further comment at this time.
It will be interesting to hear what their comments will be when they decide to offer them.
7. Which players are paying attention to this ruling? 
Panthers star defensive end Greg Hardy, for one, who is also on the Commissioner's Exempt List. Via our Joel Corry: 
The NFL's suspension of Adrian Peterson should make Greg Hardy worried about the discipline he'll receive without an acquittal.

— Joel Corry (@corryjoel) November 18, 2014
8. Any interesting reactions on Twitter?
A few, here ya go:
With the NFL suspending Adrian Peterson for the rest of the 2014 season, believe players are rethinking how they "discipline" their children

— Donté Stallworth (@DonteStallworth) November 18, 2014
While Adrian Peterson has been sent away, Josh Brent is playing this Sunday, earning an nfl check. So there is that.

— Clarence Hill (@clarencehilljr) November 18, 2014
Josh Brent, who you may recall, was behind the wheel intoxicated when his teammate was killed in a crash, is back playing for the Cowboys.
Jerome Felton, a former teammate of AP's had this to say: 
To say I disagree would b the understatement of the year! And I hope this does away w going on the "commisioners exempt list"!!

— jerome felton (@jfelton45) November 18, 2014
9. Is there a fantasy football angle to this?
Of course there is. Here's what our Chris Towers has to say on that:
Though there is a slim chance Peterson could still return, it probably isn't something you want to pin your hopes on. If you can spare the roster spot, it probably isn't hurting you to keep him on the end of your bench, but don't expect much out of it. At this point, both Jerick McKinnon (79 percent owned) and Matt Asiata (73 percent) should both be valued over Peterson.