After 49ers give Staley a big deal, expect underpaid Boone to hold out
Joe Staley got a big deal from the Niners, who would be wise to do the same for deserving guard Alex Boone -- or risk a lengthy, though rare, holdout.
• 7 min read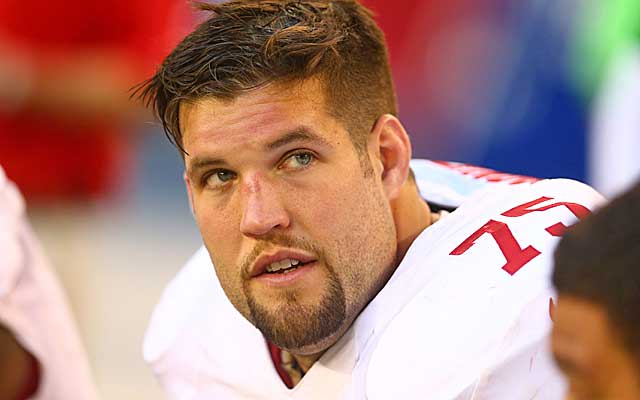 More NFL offseason: Training camp dates, locations | Latest news, notes
There was substantial fanfare surrounding the contract extension Joe Staley signed with the San Francisco 49ers last week, which is to be expected considering the left tackle's effectiveness and his considerable role in helping this franchise reverse its fortunes the past few years. But to me at least, there was an undercurrent to it all as well, a perhaps subtle message being sent to disgruntled guard Alex Boone .
Boone, also grossly underpaid despite a band-aid extension signed in 2011, skipped all offseason work and I'd be beyond shocked if he reported for the start of training camp. In fact, even despite the new rules in the CBA that make it risky and potentially financially crippling to hold out, I wouldn't be surprised if Boone is the rare player to skip much if not all of camp -- possibly much longer -- despite the $30,000 a day in fines he could accrue or the 49ers' ability to eventually recover signing-bonus money from him.
The implicit message in the Staley signing: We reward our own who show up for voluntary work even if unpaid, and are loyal beyond all us. At a time when Boone and tight end Vernon Davis -- both integral to a team clearly in Super-Bowl-or-bust mode -- were conspicuous in their spring absence because of their deals the Staley deal was a message. It served as a beacon in that locker room, a reminder the club has been vigilant in taking care of core players. But Boone, who plays an unglamorous position where individual brilliance often is overlooked, and who (unlike Davis) has never made big money, I don't see his stance wavering.
Boone hired agent Neil Schwartz, who has a reputation among league execs as a bit of a pitbull for clients and the rare breed who has held players out for extended periods, and frequently to the client's benefit. He represents Darrelle Revis , probably enough said for anyone who recalls the 3 a.m. meetings from Hard Knocks. Schwartz also held Vincent Jackson out for much of a season when Jackson was with the San Diego Chargers . So when a veteran player like Boone, who knows this is likely his last chance to get a bite at the apple, hires Schwartz, it's clear he's willing to dig in his heels for a fight. And that's what I expect here.
First, I want to commend the 49ers for striking a deal with Boone in 2011, when they didn't have to. After battling alcohol demons early in his career, Boone has straightened himself out, become a valuable starter and is reliable on field and off. His physicality and mean streak was exactly what Jim Harbaugh wanted from his offensive line, as he was building the program there. And it was a perfect fit. Kudos to them for stepping up and giving him a long-term deal.
But Boone was only scratching the surface and became one of the NFL's top guards. So, that deal he signed back in 2011, which was more money than he'd ever earned before, quickly became out of date. The team has gone on to compete for the Super Bowl all three years under Harbaugh, Boone has been a stalwart on what may be the league's best offensive line, and that contract is now nowhere near Boone's worth. That deal, a five-year extension worth a base of $6.9 million, with $2.6M in guarantees and an average yearly salary of $1.64M a year, made plenty of sense back when it was signed. ... But not anymore.
Boone is in a different place. The 49ers are in a different place. And I believe its time to do right by him once again. Now -- with that Super Bowl possibly in sight, battling in the NFL's toughest division and ready to move into sparkling new Levi's Stadium with its huge revenue streams filling the coffers -- is not the time to be penny smart and pound foolish. It's time to pay Boone in line with what he is worth.
Remarkably, Boone is 43rd among NFL guards in terms of average salary per season. Yes, you read that correctly: 43rd. And, in terms of three-year average, an industry-standard measure of how much per year a player averages over the first three years of a deal (considering most guys are either cut or restructured after three years, anyway), Boone also ranks 43rd. There are second-day draft picks coming into the league having never played a snap, even under the rookie wage system, who earn essentially the same money.
At age 27, Boone is in his prime. At 6-foot-8, 300 pounds, he casts a particular presence that isn't easy to replace. With Frank Gore aging and the 49ers hoping to blend in some young running backs this season, now's not the time I want to experiment with my offensive line. Since signing that deal in 2011, Boone has gone from a promising swing offensive lineman with starting potential to an anchor who has started all 32 games the past two seasons. He should be compensated as such.
CBA rules certainly give teams all the leverage in regard to holdouts. The punitive measures are in place. We'll see if the 49ers find a short-term replacement in camp, and how they fare without him. And if you want to make the argument that he's only a guard, you certainly could. But with a veteran team like this, with expectations so high, I'd make a concerted effort to get something working out the next few days. Because should this become a battle of wills, I have a feeling Boone's won't be easily broken.
Raiders to share Levi's Stadium?
Of all the comments from the NFL's venture out west last week -- to open Levi's Stadium and to promote the start of Thursday Night Football before the television critics in LA, etc. -- the words I heard most had nothing to do with where the draft might be held, or how soon the league wants to be in London. It was Roger Goodell speaking somewhat emphatically about the NFL's interest in the Raiders sharing Levi's with the 49ers.
It was no revelation to anyone who has been paying attention. And I have been writing for years it's the NFL's preferred solution to the Raiders' stadium conundrum (it may be the only feasible solution), and would in many ways be a dream for the league -- knowing that getting another new stadium built anywhere in the Bay Area now may be impossible. I've also noted that Raiders owner Mark Davis is far less open to the concept than even his father was, and the league isn't keen on letting Davis into its LA plans, given the franchise's previous failures there. And Davis could be stuck going year-to-year with leases at the dilapidated o.Co Coliseum into the foreseeable future (though some have suggested they'd be smart to see if they could use Pac Bell, home of the San Francisco New York Giants ).
Anyway, I'd expect to hear more public comment from Goodell and others at the league as they apply a little passive-aggressive pressure on the parties involved to perhaps make this happen. The Yorks wouldn't love it and Davis would hate it. But green always wins in this league. So if there is a deal to be struck that would appease the various wallets involved, well, that's how business gets done, folks. I'd anticipate the NFL trying to steer this more in the coming months and years, otherwise the Raiders will continue to suffer financially and otherwise and this problem isn't going away.
On the (training camp) road again
Picking up the rental car Thursday and starting the first leg of training camp travels, which will take me from Baltimore (home) to Kansas City. The Buffalo Bills and New York Jets are among the first teams to hit the field, so I am starting in Central New York with Gang Green (Cortland, NY), then doing the Bills, Pittsburgh Steelers , Cleveland Browns , Detroit Lions , Cincinnati Bengals , Indianapolis Colts , St. Louis Rams and Kansas City Chiefs . Most of the drives are less than four or five hours, and I've become a fan of this route, whether starting out West and heading East or vice versa. Then I will fly home and get to Richmond for the Pats/Skins joint practices and the Baltimore Ravens /49ers Harbaugh family reunion out in Owings Mills, Md., and then fly out to California and cover that state and the Arizona Cardinals and Seattle Seahawks , as well. Then I'll pick up the Denver Broncos / Houston Texans joint practices before a swing through the South and Florida late in August to round it out. It's that time of year folks. Hope to see you on the road!
Smith is facing up to seven years in prison if convicted

Plus everything else you need to know about Week 2 of the 2017 NFL preseason

This is why being a rookie in the NFL isn't fun
The Raiders running back went Beast Mode on reporters

Elway tried his best to emphasize how complicated the situation is

The executive director NFLPA has an ugly prediction for the future of the NFL