After Further Review: 49ers, Hawks try to neuter aggressive defenses
Points could be hard to come by in the NFC title game, so the 49ers and Seahawks will try to use each other's aggression to their advantage.
More NFL: Prisco: AFC title keys | Kirwan: Burning questions for title games
The San Francisco 49ers and Seattle Seahawks, fierce division rivals, split their two meetings this season, each winning on their home field.
To get a better idea of what we might expect this week, I went back and studied those two games for anything interesting that could be in play this week.
The Seahawks beat the 49ers 29-3 in Seattle in Week 2, which seems like a long time ago. The 49ers won 19-17 in Week 14 in San Francisco. The first game was much closer than the score would indicate. It was 5-0 at the half and 12-3 after three quarters.
So here are three things that caught my eye in each of the matchups.
1. Use each defense's aggression against them: Both Seattle and San Francisco love to run to the ball on defense and they both have the speed to do it. That means it's tough to run wide against them, but it also means getting them flowing one way and using it against them can lead to successful plays. Here's a look at a couple of them.
The first one is a GIF of a play the 49ers ran against the Seahawks in the second meeting in San Francisco.
The 49ers showed a power run to the right. They had double tight ends on that side and Colin Kaepernick opened to that side in a run look to Frank Gore behind fullback Bruce Miller. He pulled the ball out and made it look like he would throw to the right. But Vernon Davis, after a slight hesitation, sneaked across the formation and Kaepernick threw across the field for a 16-yard gain. Kaepernick had some pressure in his face, and linebacker Bruce Irvin made a great play peeling off after seeing Davis, or this would have been a touchdown. You can see by the Seattle speed that their aggression worked against them on the play.
The second play is Seattle using the 49ers' aggression against them.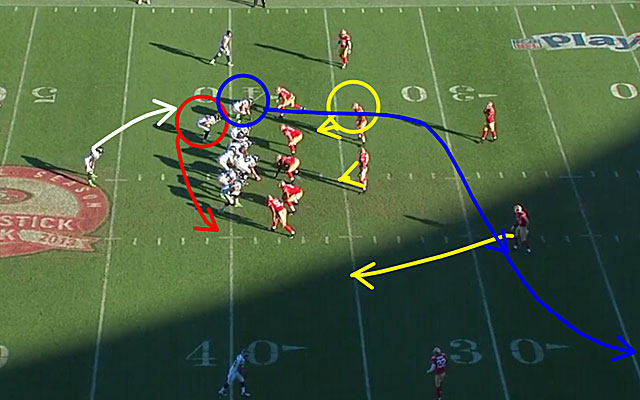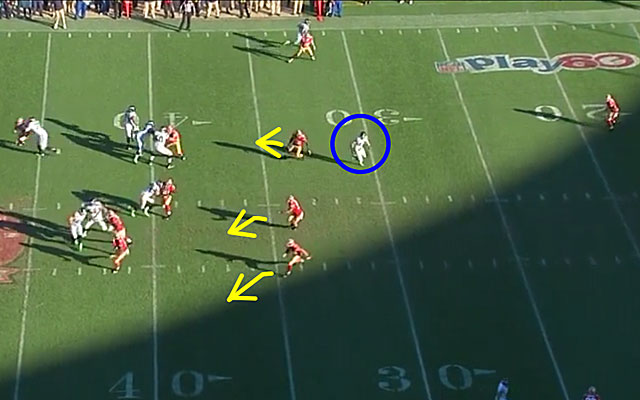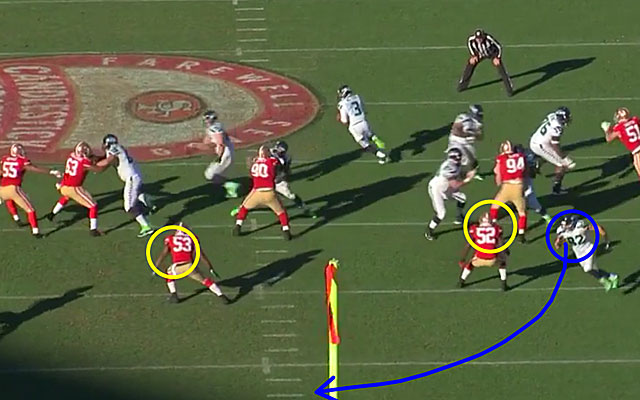 The Seahawks had two tight ends, two receivers and one back with TE Luke Willson (blue circle) lined up on the line on the right side with TE Zach Miller offset in a wing behind him. Miller (red circle) ran across the formation at the snap, which influenced safety Eric Reid, and the run-action was to the left with a play-fake to Marshawn Lynch. That caused linebackers Patrick Willis and NaVorro Bowman (yellow circles) to take a false step that way. As they did, Willson snuck out behind them and Russell Wilson, after a bootleg to the right, hit him for a 39-yard touchdown pass.
Both defenses can be had if you try and make them flow one way and hit them back the other.
2. Check-downs and throws to the backs are good things: Young quarterbacks have to learn that check-downs can be big plays. If it's not there on your first read, don't just take off and run or force the ball. In tapes I've studied, both Wilson and Kaepernick have a tendency to not get to the check-down, which means they've missed on some positive plays.
That takes patience, but these two have a tendency to feel phantom pressure at times and not wait to take the check-down throw. Against fast, aggressive defenses, that can be foolish. Use the backs out of the backfield on passing downs.
Here's a look at potential big play that Kaepernick missed to Gore in the second game.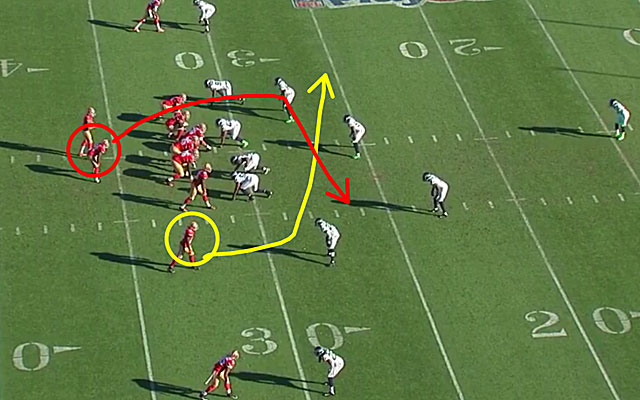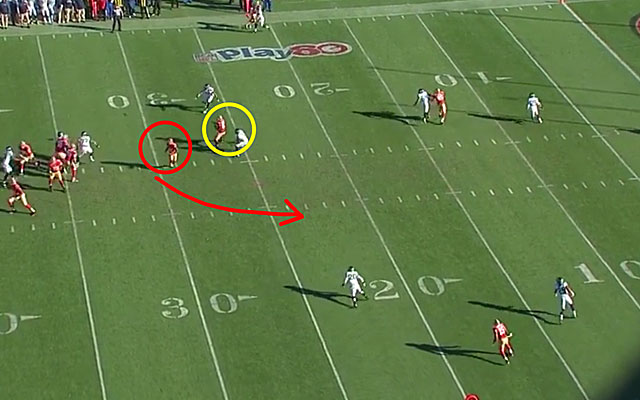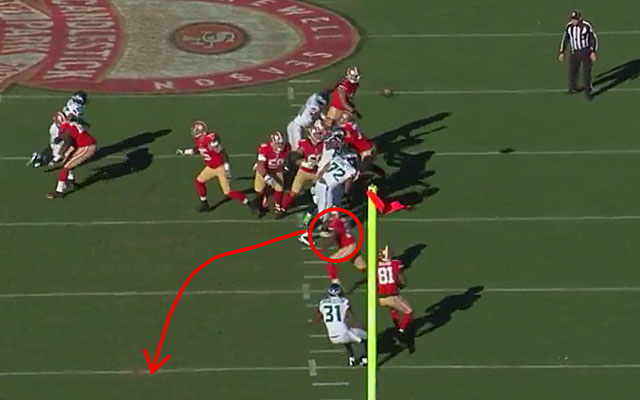 The 49ers lined up with one back, three receivers and tight end Vernon Davis. They had Anquan Boldin in the slot to the right, just outside Davis and inside Michael Crabtree. They ran Boldin on a shallow cross. He was trailed by safety Kam Chancellor and ran into the zone area of linebacker K.J. Wright. Boldin was open on the play, but the ball was thrown inaccurately and he couldn't make the catch. Even if he did, it was a short gain. But if Kaepernick hesitated for a second and turned to his right and threw to Gore coming across the field, he would have had a big play.
Here's a look at a big play for Seattle from the first game where Wilson hit Lynch on a wheel route against the flow.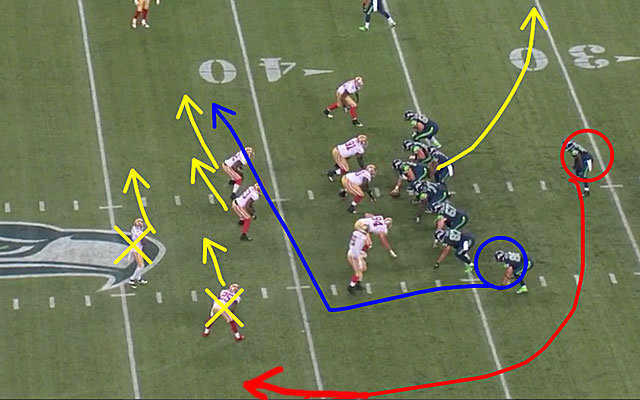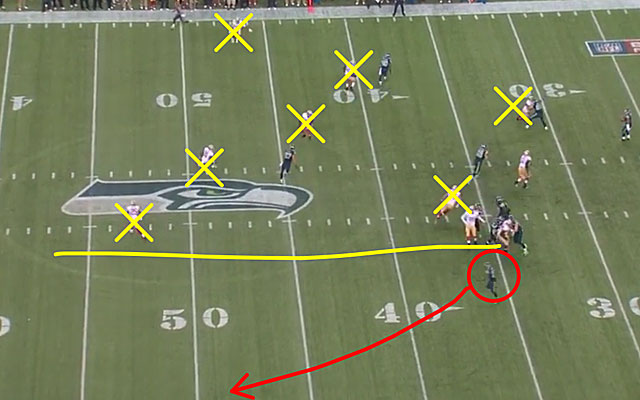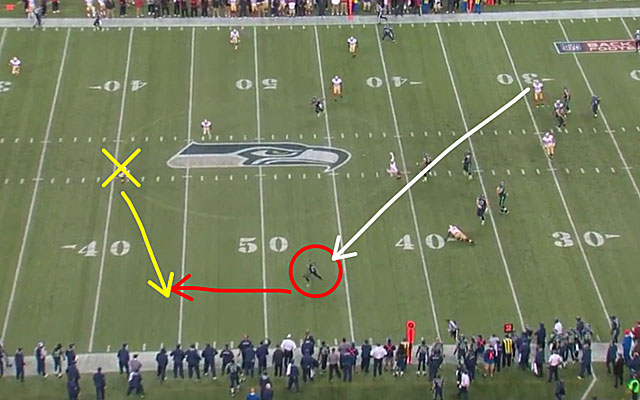 The Seahawks had a two-tight set to the left, with one receiver to the right and two backs behind Wilson. At the snap, Miller ran across the formation again and Kellen Davis ran a shallow cross. The run-action to the left, with the line showing zone blocking that way, made it initially look like run to Lynch that way. But Wilson faked it to him and bootlegged to the right. When he did that, Lynch snuck out on a wheel route and was wide open with the 49ers' flow going the other way. Wilson threw a strike for a 35-yard gain.
This is an example of using the back, but also taking advantage of the 49ers' aggression. The Seahawks tried to sneak Lynch out at other times in the two games -- and he scored a touchdown in the first game on a short pass with nobody around him -- but there were times where the 49ers grabbed him on his way out. Look to see if they try that again this week. They better.
3. The 49ers have to block Brandon Mebane: The 49ers love to run Power-O, which means the guard gets around the center to pull into the hole. That's tough to do when the center isn't getting push. At times, that has been a problem for San Francisco against Seattle.
The reason is Brandon Mebane. He is one of the more underrated players in the league. And he has had some impressive games against the 49ers and center Jonathan Goodwin.
Here's a look at Mebane blowing up a 49ers run.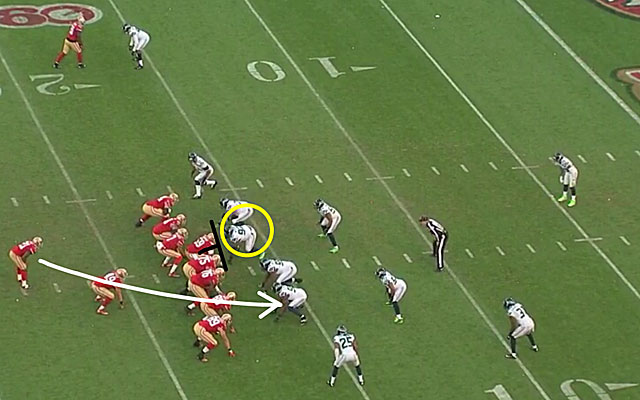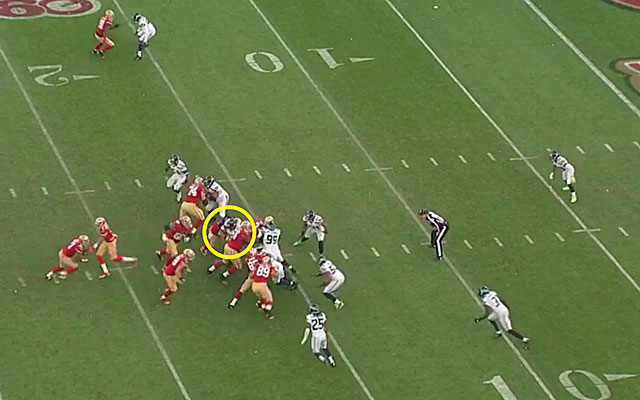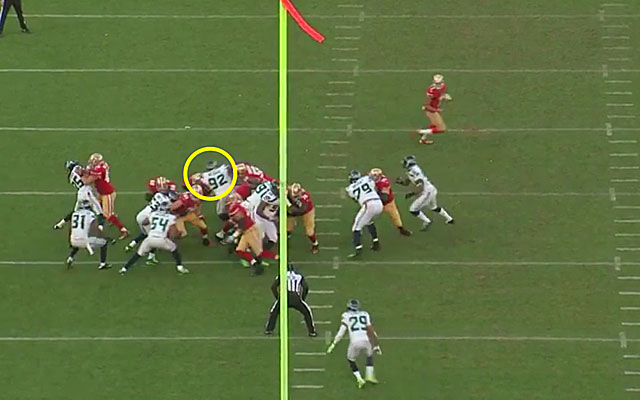 The 49ers want to run Gore to the right behind Miller and pulling guard Adam Snyder. But to do so, Goodwin has to handle Mebane. He does not. Mebane crosses his face at the snap to get penetration and drop Gore for no gain. Mebane's quickness on that play made it tough for Snyder to get around him. There are a lot of plays like that when you watch the 49ers-Seahawks games over the past couple of seasons.
The Colts quarterback may have to deal with more issues if he suffers a setback

Will the Bengals be able to land a big fish? Let's take at look at seven potential candidates...

One of Tom Brady's favorite targets will be sidelined with a shoulder injury vs. the Steel...
Emory Hunt has his finger on the pulse of the Boys and locked in a strong pick for 'Sunday...

Carolina will not be allowed to conduct an internal investigation

The longtime Bengals coach and the team are planning to part ways after the season ends