After Further Review: Breaking down Bortles, Manziel and Bridgewater
Bortles, Bridgewater or Manziel? The draft's biggest question has no definitive answer -- yet -- but poring over tape provides clues into which QB's game translates best.
More NFL offseason: Mock Drafts | Prospect Rankings | Pro Days | Top free agents
There are few things as tough as evaluating college quarterbacks to try and figure out how their skill set will translate to the next level.
There's a reason for that, and maybe Arizona Cardinals coach Bruce Arians summed it up best when he talked about the two most important traits for any quarterback.
"Heart and head," Arians said. "This position is different because you play with those two. It makes it tough to evaluate."
Yet each year, with an insatiable need for quarterbacks in the NFL, we head into the draft with quarterbacks dominating the talk, and this year is no different. Who will be taken first? Are any of the passers worth it? Will they be over-drafted?
This draft has three players who most scouts and personnel people in the league expect to be the first three quarterbacks off the board. They are Louisville's Teddy Bridgewater, Central Florida's Blake Bortles and Texas A&M's Johnny Manziel.
Since we can't judge heart in any pre-draft evaluations -- that would be speculation -- I evaluated all three players on tape to come up with a breakdown of each in a variety of categories. Those were:
• Size
• Accuracy
• Arm strength
• Pocket awareness
• Reading the field
• Athletic ability
So who came out on top? It's close. And in my mind none of these quarterbacks will be confused with a can't-miss player like Andrew Luck when he came out. They all have questions, but the player with the most upside, the player who looks most like a franchise passer, is Bortles.
When I ran that by several coaches and personnel people in the league, they agreed. Bortles is the top guy.
So here's a look at each in the listed categories with some GIFs for some of their plays. Maybe you will think differently than I do when you read this and look at some of the plays, but, for now, I would lean to Bortles.
Size
This is clearly an edge to Bortles. He is 6-feet-5 and weighs 232 pounds. He looks the part. Bridgewater is 6-2, 200 pounds and Manziel is 5-11½ and 207 pounds.
"When they walk into a room, one looks like a quarterback," said one GM. "The other two? Not so much."
"There are a lot of 6-5, 235-pound players you can compare Blake too," Arians said. "There are few guys 6-1, 180 pounds and even fewer guys 5-11. That doesn't mean they won't be successful. I can just think of so many in the other [bigger] range."
Some scouts are concerned about Bridgewater being thin-legged, but from what I watched on tape he is plenty tough enough. He actually broke tackles in the pocket and made plays off of them. He will gain weight as he matures. That isn't an issue.
Accuracy
I don't use college completion percentage numbers to gauge this because quick screens and things like that skew them. Just look at Tim Tebow's numbers coming out of Florida, and he rarely threw down the field.
That's where tape study is way more valuable than analytics. Who hits receivers in stride?
They all had moments of good throws and plenty of bad throws. But I would say that Bridegwater is a bit more accurate than the other two. He seemed to hit his receivers on the numbers more frequently than the other two -- and on time. Manziel can be wildly erratic -- see the LSU game last season -- but he can also heat up in a hurry. He does some good things in the middle of the field. Bortles also went wild at times.
So from a consistency standpoint, the edge goes to Bridgewater.
Arm strength
Nobody in this group has a big arm. Bortles looks the part of a big-armed passer, but he is not. A lot of that has to do with mechanics. He rarely stepped the right way when making a throw, and he did seem to correct that at his pro day. But his passes sometimes lacked the velocity you would expect from a man his size.
Here's a look at a play against Penn State that should have been a touchdown, but he didn't drive the ball well enough to get the six and the corner batted it away. That's footwork and mechanics.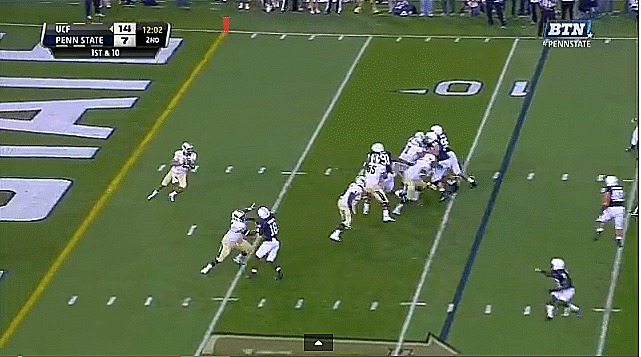 Manziel has a good arm, but he seems to have to put his entire body into throwing deep. It doesn't come naturally. But he can still get it out there. Here's a look at a deep throw to Mike Evans for a touchdown against Vanderbilt.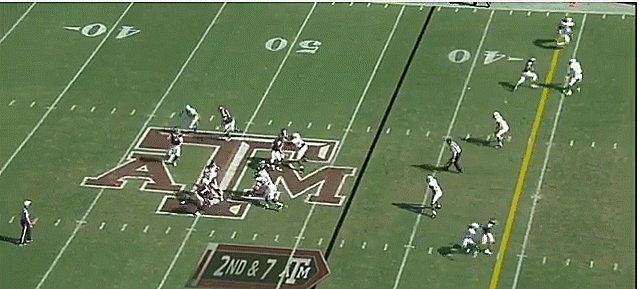 He does have a gun on medium throws when he's inside the pocket and he makes some strong throws on the move.
Bridgewater's arm was a bit of disappointment to me. I expected more. It was pretty good, but it's far from the gun that many said it was. I think he sometimes tried to get too cute with his throws rather than using the power he can sometimes show. There are moments when he just needs to let it go. If he tries to touch throws in against fast defensive backs in the NFL, they will eat him alive.
Pocket awareness
This is an area where Manziel is lacking, way behind the other two. There were too many times on tape where Manziel left a pocket that was cleaner than an operating room. He felt pressure that wasn't there, yet left, even sometimes to make a play outside of it, which fans saw and applauded, but scouts graded as a negative.
That's not a good thing. NFL teams like improvisational skills when the pocket breaks down, but leaving a good pocket infuriates coaches and offensive linemen. You have to let the play develop.
Another thing I noticed is that Manziel hops in the pocket. He doesn't chop his feet like Peyton Manning, but he actually hops, sometimes with the ball flailing. That has to stop. He also took almost all of his snaps from shotgun, so that will be an adjustment.
Bridgewater knows how to work the pocket. Maybe it's because he had to be good at it because his line was horrible. He seemed to have the most pressure of the three quarterbacks in the games I watched. He almost always seemed to have a nice feel for the rush despite it, and was able to make plays into it.
I do think that rush sometimes led to his checking down on plays and passing on potential big plays. But he certainly did a nice job of handling the rush on crossing routes, which take time. Like all three, he stood in and took hits to make throws. He was also impressive in that he kept his head up when on the move. I like that.
Bortles also had problems with his line, but he also did a lot of good things when forced to move. The best play I saw from him came against Penn State. He climbed the pocket to avoid the pressure and fired a shot outside for a big play. It's the type of play that reminded me of Luck, even if that's stretching it a bit.
Here's a look at that play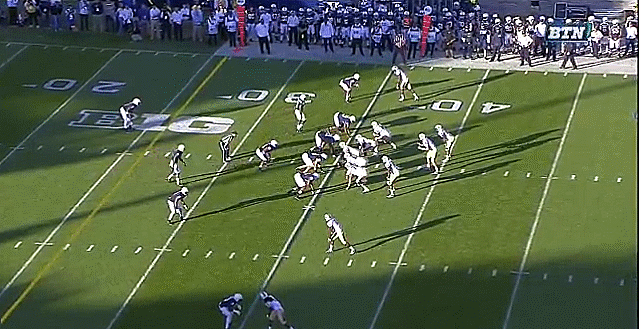 He was more apt to stay in the pocket and make reads than I expected. I thought with his ability to move, he would instinctively try and get out. But that wasn't the case.
Reading the field
I always look for guys who spin their heads. They move them from side to side to make their reads. At times, all three did a good job with that. But Manziel has a tendency to read one and run. That's not a good thing. He didn't do it all the time, but he did it too much for my liking.
He has to do a better job of staying on the spot and going through his progressions. Too many times, he looked one way, and when the receiver wasn't open he pulled it down and got outside the pocket. That's too schoolyard for the NFL. Amazingly, he did this with a tackle tandem that might be better than any in the NFL.
Manziel also seemed reluctant to pull the trigger if a receiver wasn't wide open. His anticipation skills were the worst of the three. That has to improve on the next level. Receivers don't get wide open in the NFL.
Here's an example of a play against Auburn where the receiver inside was open -- not wide open -- and he passed on it. He made a horrible throw into double coverage after running around, and it was picked off.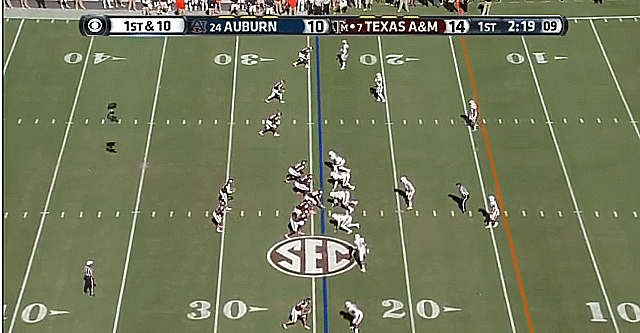 Bridgewater seemed to be the best at the line of scrimmage. He saw things the best. Teams blitzed him, and he ate it up. Here's a look at a touchdown against South Florida where he came to the line, saw a blitz from his right, checked to a pass, and found a wide-open receiver for a score. That's a guy who knows what he's seeing.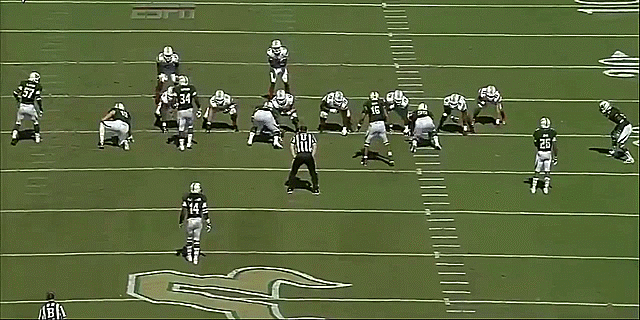 That doesn't mean it's always that way. There were times where he would predetermine where he was going with the football. Here's a look at a pick against Cincinnati where the receiver fell down, and the corner got an easy interception. But even if the receiver doesn't fall, it's an interception because Bridgewater had no business throwing there.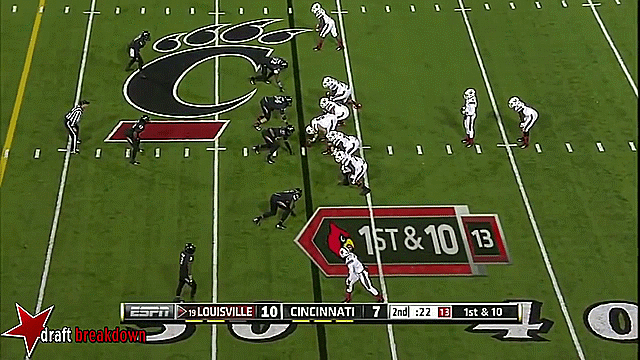 At times, Bortles looked as if he had a real command of his offense. At other times, it wasn't even close. Here's one of those plays.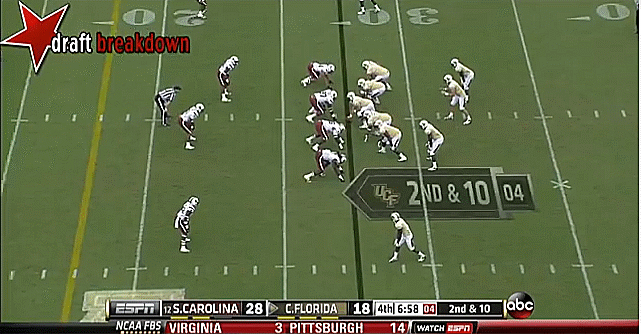 Bortles clearly didn't read the middle linebacker dropping to the deep middle. He thought he had an open receiver against the two-deep look, but the middle linebacker dropped into the middle and made the interception. That's not a complicated look, and it got the best of Bortles.
As far as using their eyes to move safeties and influence coverage, I would say Bridgewater is the best, with Bortles second and Manziel a distant third.
Athletic ability
There is no doubt who tops this list. It's Manziel by a lot. Some of the things he does are unreal, like jumping around to make plays, all the while avoiding being hit. He has quickness, and he's fast.
"He has a magic about him," Arians said.
That's the good news. The bad?
"You can hurt people with your legs and you can get hurt with your legs," Arians said. "Ultimately, you have to play within the framework of the pocket."
That's the question about Manziel. Can he harness those amazing gifts he has?
Bortles is also a good athlete. For a guy his size, he can move. He did some good things outside the pocket on the run and he also ran the football well at times. Bridgewater isn't a bad athlete, but he wasn't asked to run much at Louisville, which was wise. It doesn't mean he can't move.
This category is clearly a big edge for Manziel, however.
Summary
As one coach said to me this week about the three quarterbacks: "I like those guys, but I sure wouldn't want to be picking at the top with my future tied to them."
I am not sure I would either. There is speculation involved on all three. The odds are that one will be a star, one will be OK, and one will be a bust.
I like my quarterbacks big, strong and playing in the pocket. That's why my preference is Bortles. But he will take time. He has the most upside, but it's not going to happen overnight, and we know how impatient NFL owners are these days.
It's a solid class, but I am not sure there's a future All-Pro in the group.
My ranking:
1. Bortles
2. Bridgewater
3. Manziel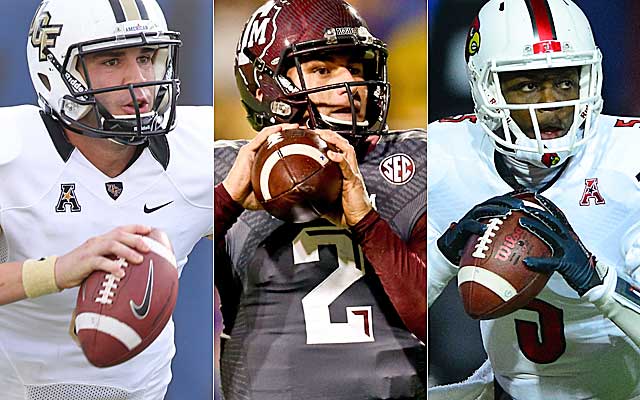 Lawrence graded out as one of the NFL's best pass rushers last season

In three seasons, Taylor has 51 touchdowns and just 16 interceptions

The Vikings quarterback, soon to be a free agent, missed all but two of Minnesota's games in...
Miami needs to make some roster moves to be salary-cap compliant

Carolina is a weird spot and might be overthinking this franchise tag stuff

Alex Van Pelt didn't specify whether Dalton could be Joe Flacco-level elite, however