After Further Review: Broncos O-line stronger than sum of parts
Prisco: The Broncos patchwork O-line has overcome adversity all season, and facing a nasty Seattle front is just the latest test for a group greater than the sum of its parts.
More SB coverage: XLVIII odds | Expert picks | Super Bowl weather | Latest news
Peyton Manning is gold to the Denver Broncos, which means protecting him is a must.
So when left tackle Ryan Clady, one of the best in the NFL, went down for the season with a Lisfranc injury the second week of the regular season, it was surprising to hear concern about Manning's ability to stay upright. The Clady injury was on top of the Broncos' top two centers going down before the season.
Some predicted disaster.
It's been anything but that. The line, with just two players starting in the same spots from the 2012 playoffs, heads into Sunday's Super Bowl on a roll. In two playoff games, the Broncos have not allowed a sack. But the offensive line must now face an aggressive Seahawks pass rush that at times looks like it has 15 players coming at the quarterback.
"We've got our hands full," Broncos guard Louis Vasquez said. "It's going to be a battle up front. They're relentless up front, so we'll try to keep Peyton clean."
"They give a lot of different looks and work very well together, and they're very strong up front," Broncos center Manny Ramirez said. "I think it's just something that we have to make sure we're on-point with our adjustments that we make throughout the week. And with the different types of looks, just be ready to expect the unexpected, because, of course, they're going to throw some wrinkles in there for us that we haven't seen yet."
Ramirez is starting at center because J.D. Walton and Dan Koppen went down with injuries. He was a guard and some wondered if he could make the transition. He's done it with big-time success, developing into one of the league's best centers this season. Ramirez works in concert with Manning to line up protections and make the calls for a line that will be key come Sunday.
The rest of the line is Chris Clark at left tackle for Clady, Zane Beadles at left guard, Vasquez at right guard and Orlando Franklin at right tackle. Only Beadles and Franklin were starters in Denver last season.
"Those guys have been through a lot of adversity," Manning said. "They've overcome a lot of obstacles."
Playing in front of Manning can be good and bad. He's so good at feel in the pocket and he has a fast release that makes it tough to hit him, let alone sack him. It's also harder to play in front of him because of all the line checks he makes.
"You've got to tune in for 60 minutes," Franklin said. "You got to be able to pay attention with Peyton because he could change the play at any given time. You have to check into the game and stay into it for 60 minutes. And you have to understand that just because you haven't run anything in three or four weeks that it doesn't mean it won't be called. You have to study each and every week and you have to understand what is in your playbook."
So easier or harder to play in front him? Both?
"Easier, he gets rid of the ball so that always makes our job easier and we don't have to protect him as long," Vasquez said. "Harder, his vocabulary is very extensive, so that's a lot of memorization and things of that nature."
I studied this line closely on tape and what I saw was five guys who might not be as good individually as the sum of their parts. They work well together, which is a tribute to Ramirez in his role as a first-time center.
The right side of the line with Vasquez and Franklin is the strong side. Beadles is probably the weak link on the line. Ramirez can be powerful at the point of attack, while Clark has stepped in and done a heck of a job for Clady.
When the Broncos played the Chiefs in Week 11, the pressure was on the tackles outside in pass protection. They didn't allow Justin Houston and Tamba Hali to get a sack. Clark and Franklin had solid games.
The thing that caught my eye, though, was Ramirez in the middle against Chiefs nose tackle Dontari Poe. The reason that is important here is that Seattle's run defense is keyed by nose/defensive tackle Brandon Mebane. He is a force in the middle like Poe.
Here's a look at Ramirez handling Poe in the run game.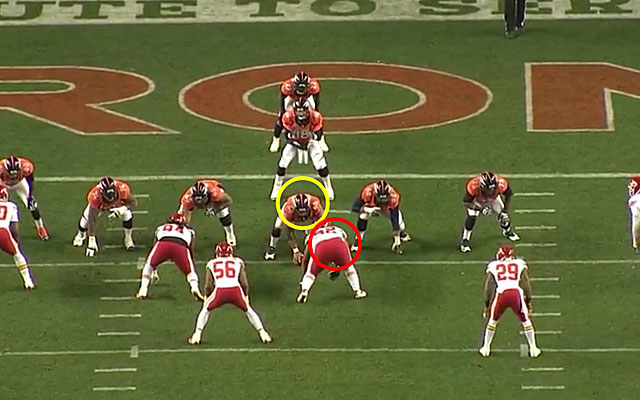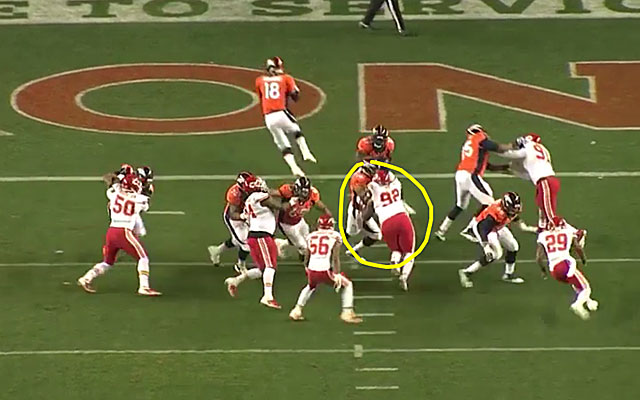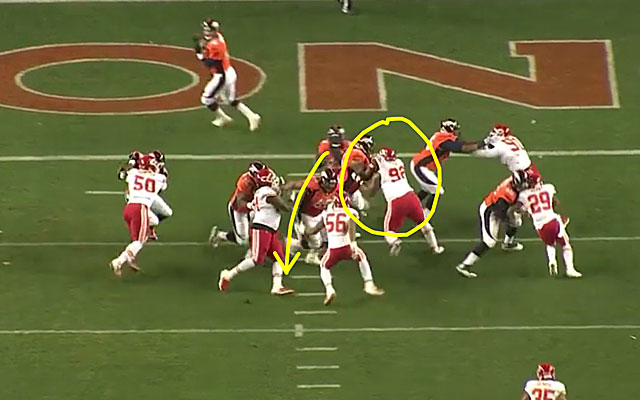 This is a look at a run play to Knowshon Moreno. Poe (red circle) was lined up shaded to the left shoulder of Ramirez (yellow circle). At the snap, Ramirez came off hard and got underneath Poe, which you can see by the second shot. The battle is over then. He moved Poe out of the hole (maybe with a little hold late in the block) and helped Moreno cut back for a solid gain.
Here's where Manning makes his line better. This was a critical third-and-17 play from the Denver 20 late in the AFC Divisional playoff game against San Diego. The Broncos needed time for Manning to hit Julius Thomas for a big 21-yard gain. They knew the play would take protection. San Diego rushed four.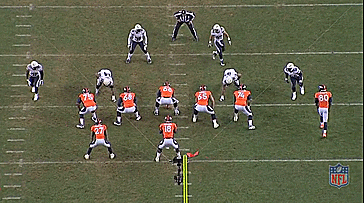 As you can see, Manning got good protection inside where it was 3-on-2 and Clark did a good job at left tackle. But Franklin was having some problems with Melvin Ingram, who was pushing him into the backfield. Manning sensed it, and stepped up around him to make the throw. That's pocket feel. That's why he hardly gets touched, let alone sacked.
With the Broncos using a lot of 11 personnel (one back, one tight end, three receivers), it leads to a lot of light boxes up front. That's why Denver has had success running it. This isn't an overpowering line, but they play well together to get the cracks for the run game.
This is a third-and-10 play against the Patriots last week. Denver had Julius Thomas inside of Demaryius Thomas and Wes Welker on the right side with Eric Decker alone on the left. Moreno was the back next to Manning in the shotgun. The Patriots were in man-under, two-deep with a four-man front.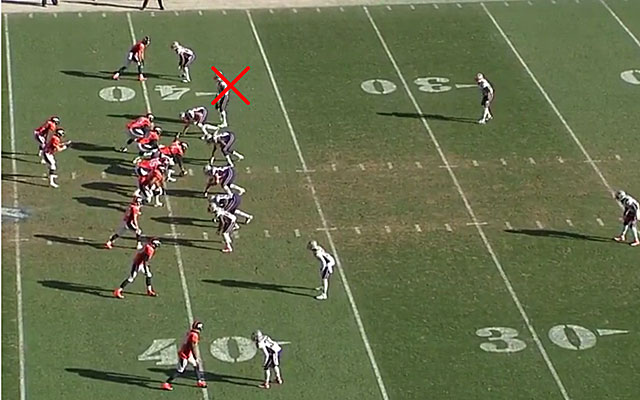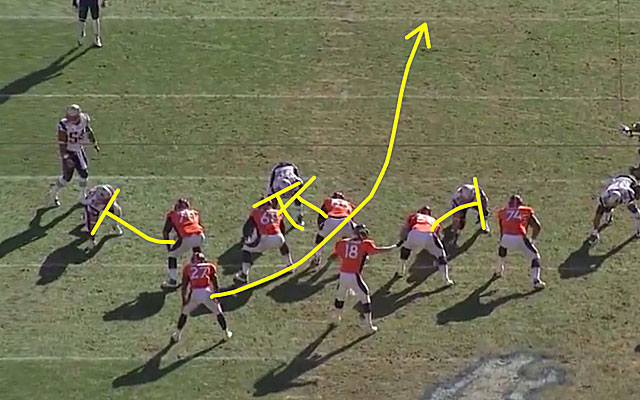 But as you can see, the Patriots didn't have a linebacker in the middle of the field. They were in the dime look, so the only linebacker was Dont'a Hightower (red X) at the end of the line. Manning saw that and said after the game that he checked out of a pass play with the idea of trying to get into field-goal range. But the hole opened up when Ramirez and Beadles got a great double on Chandler Jones, an end lined up inside, and Vasquez mauled Chris Jones. When safety Duron Harmon missed the tackle, Moreno had a 28-yard run to set up a touchdown.
Summary
The Broncos line has done a heck of a job considering all the things they've overcome. It is a cerebral approach to playing on the line, but they can be physical when need be. But I would caution that approach could be problematic against Seattle.
Brain over brawn will be key for the five guys up front this week, as it usually is every week as they try to keep the other guys off the star passer in their backfield.
The NFL is going to have to look for a new commissioner

The Washington Redhawks are not an actual thing

CBS All Access allows viewers to stream every NFL game on CBS in their local market
CBS All Access allows viewers to stream every NFL game on CBS in their local market

CBS All Access allows viewers to stream every NFL game on CBS game in their local market

This should be a galvanizing moment for an NFL process that's just not good enough