After Further Review: Broncos will put Sherman to the test
There's no question Richard Sherman is the top cornerback in the NFL in the game today. However, the Seahawk is far from flawless and certainly beatable. Expect Peyton and the Broncos to put him to the test.
More SB coverage: XLVIII odds | Expert picks | SB weather | Latest news
If you asked him, Seattle Seahawks cornerback Richard Sherman probably would tell you he has better coverage than any insurance company, does more blanketing than the one on your bed and hides receivers better than the car cover on the old jalopy in the front yard.
Sherman is indeed a heck of a corner, the best in the NFL, but he isn't quite as good as he thinks -- and he is certainly beatable.
He isn't Deion Sanders in his prime. The old joke was 2/3 of the world is covered by water and the other third was covered by Prime Time.
Sherman isn't that.
I don't think he's even in the same class as Champ Bailey was back in his prime. Sherman is, however, the NFL's best corner right now. But he does things a lot differently than guys like Bailey and Sanders did in their prime.
There isn't a Sherman Island, that's for sure.
Unlike most of the great corners through the years, Sherman isn't strictly a press-man corner who excels when matched in one-on-one situations. Yes, he can do that. And, yes, he's good at it when asked to do so. But Sherman plays well in zone coverage -- they love the Cover-3 in Seattle -- and off-man as well as being asked to play physical tight man. He is smart, heady and understands the passing tree.
This is what a general manager had to say about Sherman when I asked him to sum up Sherman's game: "Great instincts and feel for the game. Cheats like hell and holds. Below average movement skills and speed."
Sherman, who had eight picks this season and had only 10 percent of the passes thrown his way completed, is indeed physical. He loves to get his hands on receivers, and often times he gets away with holding. To him, and the Seattle secondary, it's worth the risk. Get called once or twice in exchange for getting away with it 10 or more times.
Here's a look at a few of Sherman's holds that went without a flag.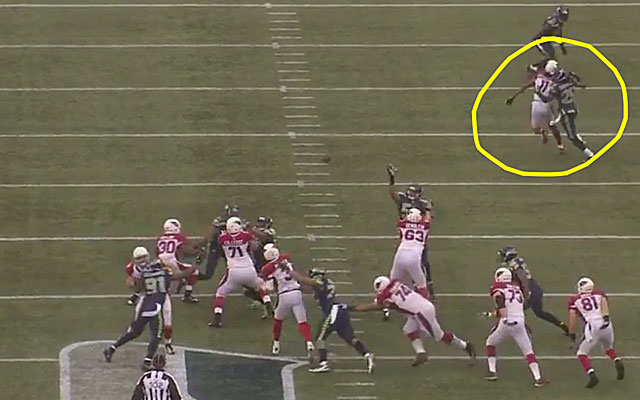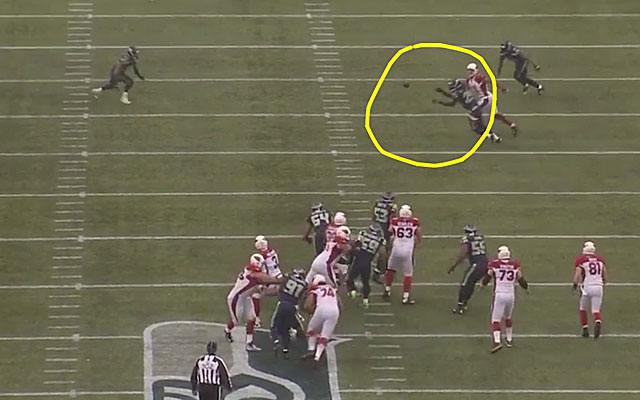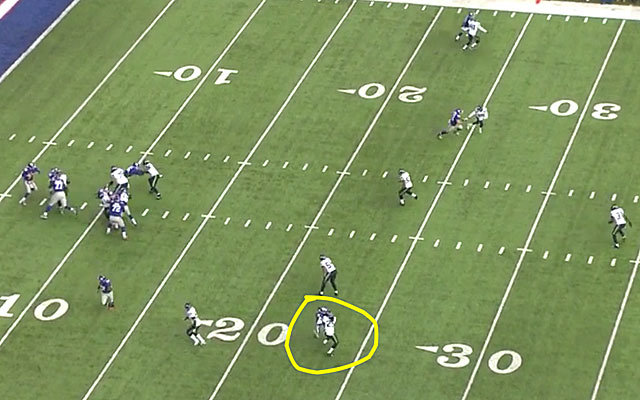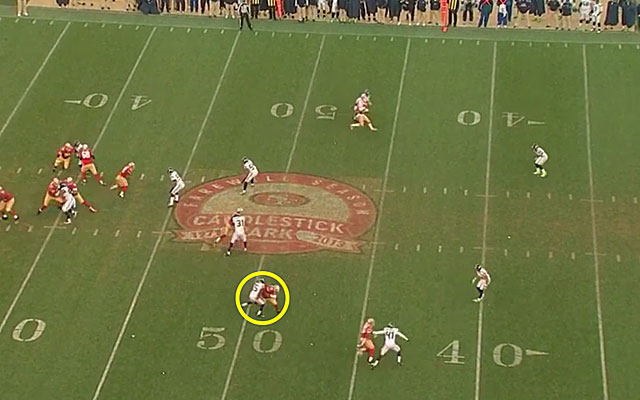 The first hold you see came on the very first play of the Seattle-Giants game in Week 15. Sherman mauled Victor Cruz (yellow circle) and there was no flag on the play.
The second hold, which came against Larry Fitzgerald , actually ended up with Sherman getting a pick. He should have been flagged. But as they say, it isn't holding if it isn't called. As you can see by the two pictures, Sherman held, and then undercut Fitzgerald to make the pick.
The third picture shows him holding Anquan Boldin in the second game of three games against the 49ers. Again, there was no flag.
The Super Bowl might be called differently with Peyton Manning on the other side. They could call it tighter, although they've pretty much let the defensive backs play in the postseason.
At 6-foot-3, 200 pounds, Sherman has the size to be physical with any of the Denver receivers. He can match up with Demaryius Thomas and Eric Decker , both who stand 6-3, or he might even match up with tight end Julius Thomas , who is 6-5.
Sherman stays mostly on the left side of the defense -- Manning's open side -- but he will flop inside to a slot receiver or a tight end at times. He spent time in single coverage on Boldin in his team's first game with the 49ers, but didn't do as much of that in the last two.
The problem I see with Sherman is that he has trouble changing directions at times and he can be overly aggressive. I love the way he tries to make big plays, taking chances, but that can work against him.
Then again, that's how a lot of the great corners played. Give up one, but get two back. That's why they are so good. They take chances.
The good ones compensate when they are beat. Sherman does a great job of that as well. And he has great ball skills. When the ball is in the air, he goes and gets it. He high points it better than some of the receivers he covers.
Sherman does have good speed, but his best trait is his understanding of the routes. That should come as no surprise since he is a former receiver.
Here are some of the things I saw about Sherman's game on tape:
Sherman's aggressive nature gets him in trouble
Here's a GIF that shows him beaten for a touchdown that actually ended up with him getting an interception. His aggressive style, biting on the fake, was his downfall here, but he got away with it. On this same type of play, Manning has a touchdown. Take a look.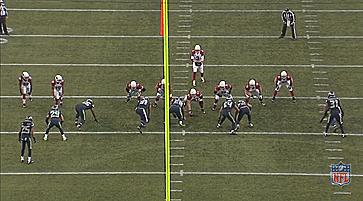 On the play, the Seahawks attacked with seven men and left four in coverage, including Sherman in off-man against Michael Floyd , who beat him with a hard fake outside and then cut inside of him for what should have been a touchdown. Sherman did a poor job of backpedaling, rather than turning to run with Floyd. He let Floyd get on top of him before he turned his hips. As you can see, Sherman was almost facing the sideline as Floyd broke into the clear, the fake nearly turning him around. He was a spinning top. The only problem was that Cards QB Carson Palmer took a shot from Cliff Avril as he threw, and the ball floated into the air and Sherman picked it off. In that same scenario against the Denver Broncos , that's a touchdown because Manning would throw to the spot anticipating the receiver coming open. Palmer waited too long. Sherman got a big plus for the play on the stat sheet, but the reality is he should have received a negative. He was torched.
Small, quick guys give him trouble
Floyd is a bigger receiver, which surprised me. Sherman usually does a nice job against taller receivers. But he has had some problems with smaller, quicker players in man coverage.
Here's a look at him against Minnesota's Jarius Wright earlier this season.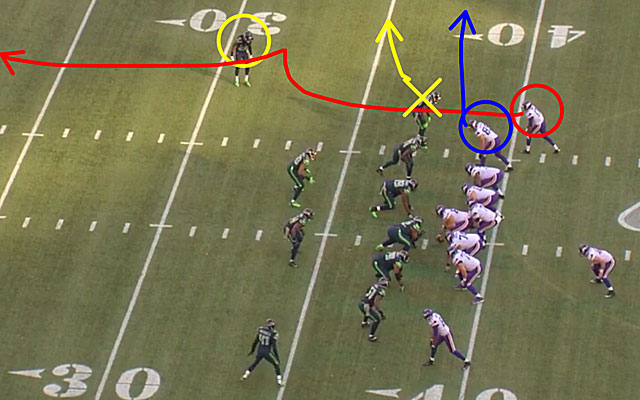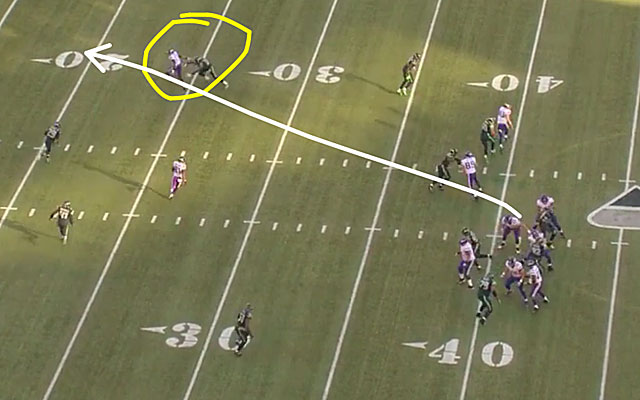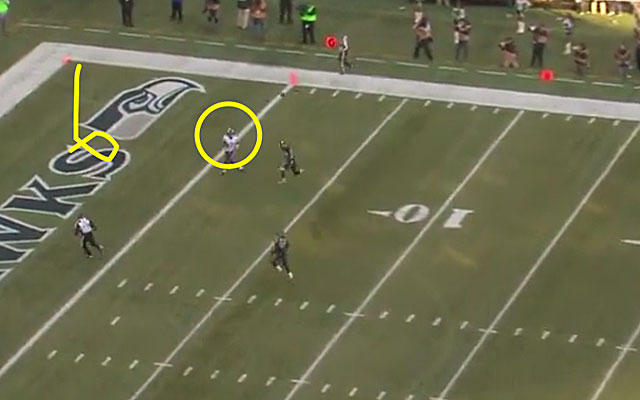 Wright was in lined up outside tight end Kyle Rudolph with Sherman in off-man coverage against him. Wright got on top of Sherman quickly, and faked an out to get Sherman to bite. And he bit badly. You can see by the second picture that Sherman is grabbing to try and prevent the touchdown. But he missed, and Wright got by him for six.
Here's a look at Buffalo's Stevie Johnson getting Sherman in man coverage in 2012. This time, Sherman was in press-man.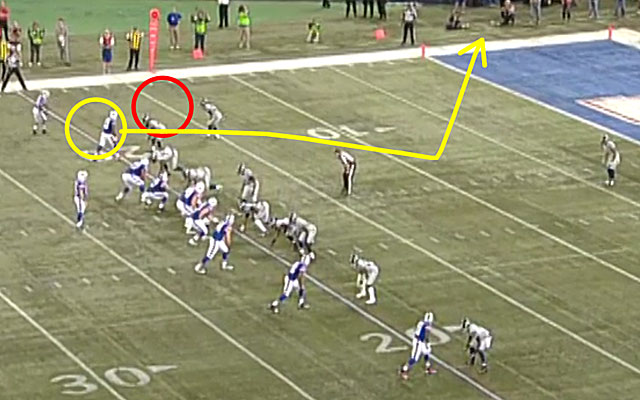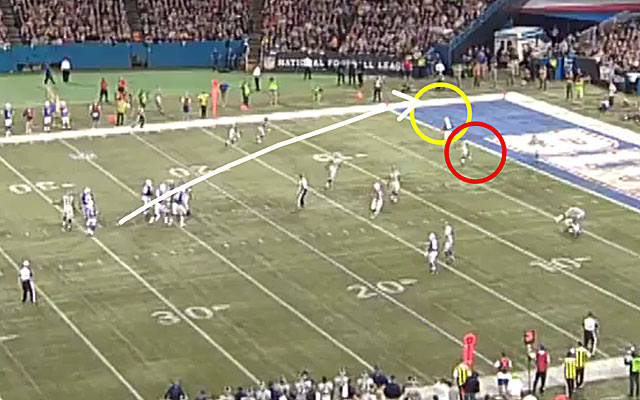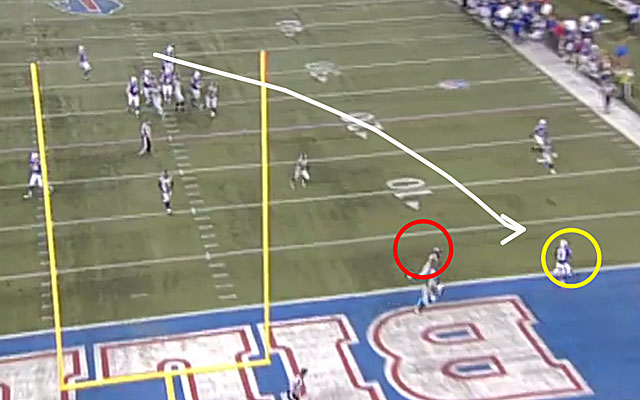 Johnson lined up in the slot to the left. Sherman went to that side, matched up with him more than he does usually in games with just one receiver. Johnson beat him off the line with a clean release, not allowing him Sherman to get his hands on him. He then ran hard inside to what looked like a post route. Sherman trailed the entire way, but when Johnson snapped it off for a post-corner route, Sherman couldn't change direction and it was an easy throw for a score.
Textbook coverage There are also plenty of Sherman highlights on tape. One of those came against the Giants. He picked off an Eli Manning pass in what was a textbook example of the way to play press-man skills. He almost ran the pattern better than receiver Hakeem Nicks .
Here's a look: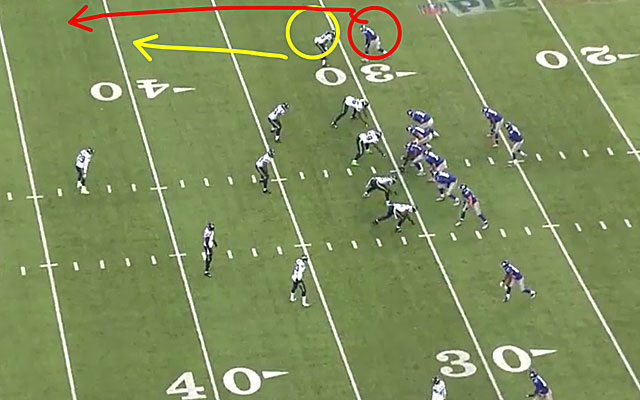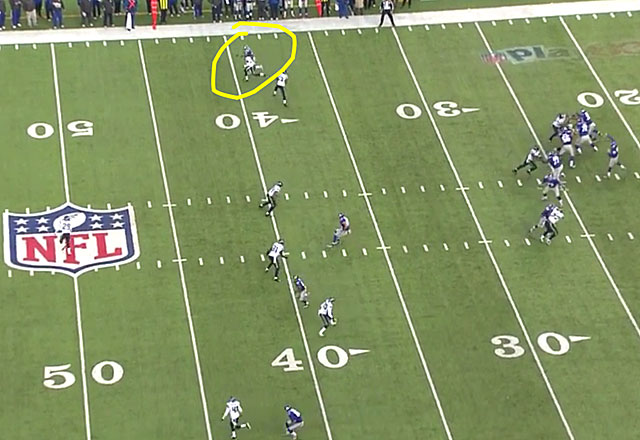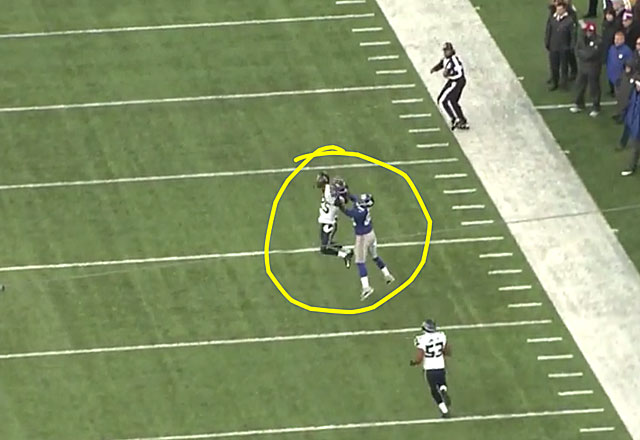 There is Sherman (yellow circle) lined up at the top across from Nicks. At the snap, Nicks took an outside release and Sherman turned and ran with him. He was step-for-step next to him, but Manning took a shot anyway. The result was Sherman high-pointing the ball and getting the interception. That was truly an impressive showing of man-cover skills.
This is what having a corner with those types of skills allows the Seahawks to do. At times, it lets Seattle play zone on one side of the field while leaving Sherman in man-to-man on the other. This is what it looked like against the Colts.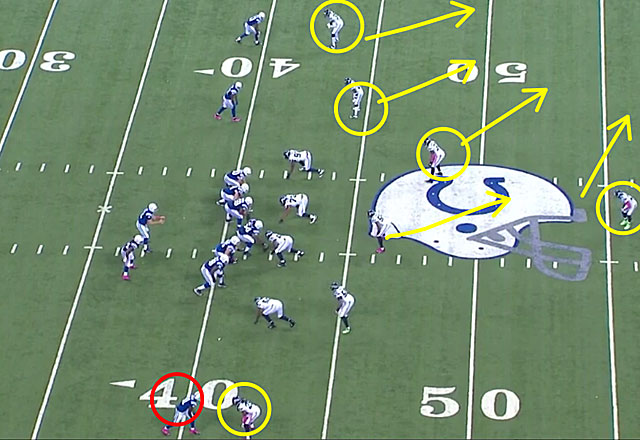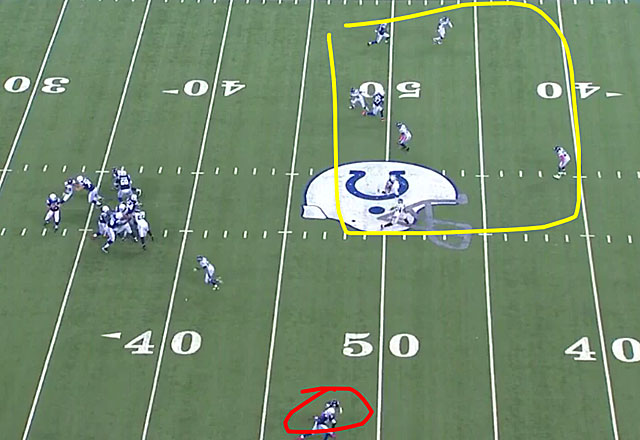 If he can hold his own in man coverage like he did on that play against Darius Heyward-Bey, it makes it so much easier on the other side of the field. Coverage can roll that way. That's something Bailey and Sanders both did in their prime.
You won't see Sherman in press coverage most of the time. He mixes it up. Sometimes, he is on off-man and playing Cover-3 and at other times he's up in a receiver's face. Seattle's Cover-3 looks might be risky against Manning.
As one NFL defensive back told me this week, "If they think they're going to run single-high [safety] all game, it's a wrap."
Seattle will have to change up some of the things they do, play more two-deep looks than they are used to playing. Man-under, 2-deep would mean a lot of crossing routes, similar to what Denver did in the AFC Championship Game against the Patriots.
Summary
Sherman is a heck of a player. He has great ball skills and a knack for the big play. He is really good against bigger receivers. So look for him on Demaryius Thomas or Eric Decker against the Broncos. He would have problems with Wes Welker .
Sherman might talk a big game, and he took a ton of heat last week for his post-game interview, but he backs it up with big talent. Having said that, he's not quite the corner he thinks he is -- not yet anyway.
He is beatable -- and I imagine if he's in man coverage Manning will attack him, especially when it's off man.
Sherman was thrown at only twice in two playoff games. Manning isn't about to back down, so we will soon find out early if Sherman can hold up on the biggest stage.
Golden Tate seemingly gave the Lions the lead with eight seconds left, until he didn't

Thanks to Brady and Cooks, the Patriots beat the Texans on Sunday

There was only one Steelers player on the field for the national anthem in Chicago
CBS All Access allows viewers to stream every NFL on CBS game in their local market

Miller pulled the "too slow" move on Bills quarterback Tyrod Taylor

CBS All Access allows viewers to stream every NFL on CBS game in their local market