After Further Review: Bush, Sproles lead emerging class of 'air backs'
Prisco: Step aside, you 'three yards and a cloud of dust' running backs. Reggie Bush and Darren Sproles are leading the next wave -- quick, play-making 'air backs.'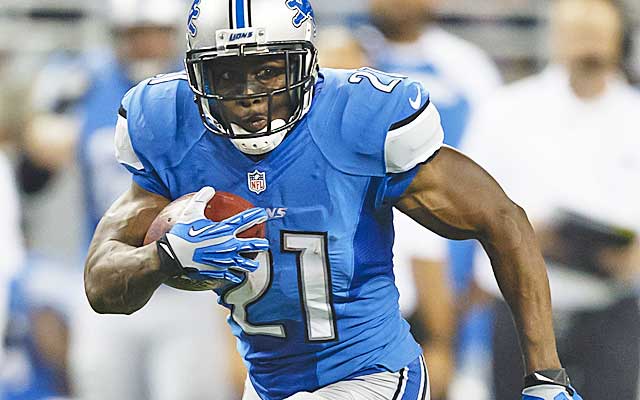 Week Four of the NFL was an "air back" weekend, highlighted by two of the best in that category, Reggie Bush and Darren Sproles .
The days of the pound-it runners are over. The chic NFL back can line up in a spread offense and rip off runs with his speed, create mismatches in the passing game with his ability to cut on a dime and also scares the heck out of opposing coordinators on third down.
Aside from Adrian Peterson of the Minnesota Vikings , who else is a traditional between-the-tackles runner among the league's best? There aren't many. What we are seeing is the natural evolution of the position.
With teams using more spread formations, with three- and four-receiver sets on early downs, the speed back that can also factor in the passing game is as valuable as ever.
Both Bush and Sproles had big games for their teams this week. Sproles helped the New Orleans Saints stay unbeaten with a 38-17 blowout of the Miami Dolphins Monday night. Bush played a big part in the Detroit Lions getting to 3-1 by beating the Chicago Bears Sunday.
As I watched both games, I couldn't help but think that more and more teams will be going to this type of back in their offense on a regular basis.
People often ask what I mean when I call players like that "air backs." They are backs who do their best running in air, which means space, which means in a spread offense. It's one cut, make a man miss, and off they go.
Or in the passing game, it means slipping out of the backfield on an option route, shaking a linebacker in coverage, and turning a short pass into a long gain with their speed and quickness. The San Diego Chargers got two touchdowns from Danny Woodhead , another smallish back, by getting him out of the backfield on a linebacker against the Dallas Cowboys .
Neither Sproles nor Bush, despite what the latter might say, is a line-up-and-run-it 25 times style of back. But the way their teams play offense -- spreading it out and playing wide open -- makes them so much more effective.
Against the Bears, Bush ran for 139 yards on 18 carries, including a 39-yard touchdown run, and he also caught four passes for 34 yards. Sproles had four rushes for 28 yards with a touchdown against the Dolphins, and caught seven passes for 114 yards and a touchdown.
I first studied Bush's game against the Bears and saw what I expected: A spread-out offense that enabled him to make some really nice good runs. His 39-yard touchdown run was a perfect example of why I love when teams run inside with three-receivers sets. As you can see by the pictures below, the Lions have two receivers to the left and one to the right. Tight end Brandon Pettigrew goes in motion from right to left and settles outside the left tackle. Bush (red circle) is the single back to the right of Matt Stafford in the shotgun. You can see by the blue Xs that the Bears are spread out because of the formation. Look at all the space behind the two linebackers. The second picture shows how well the play is blocked up front, which creates the alley for Bush. Once to the second level -- or the air space -- he only has to beat safety Major Wright for a big play. Wright comes hard at Bush, but he leaps over him, as you can see by the third picture, and off he goes for the score.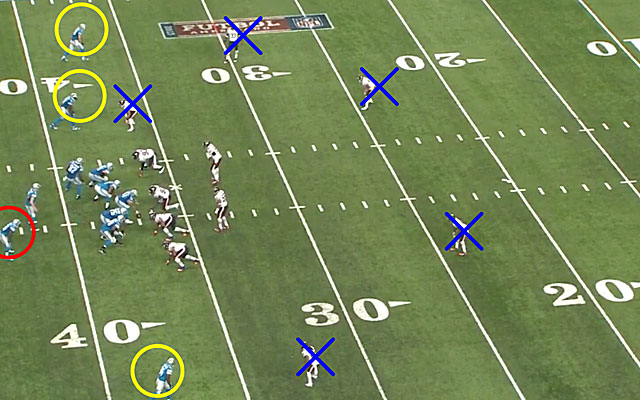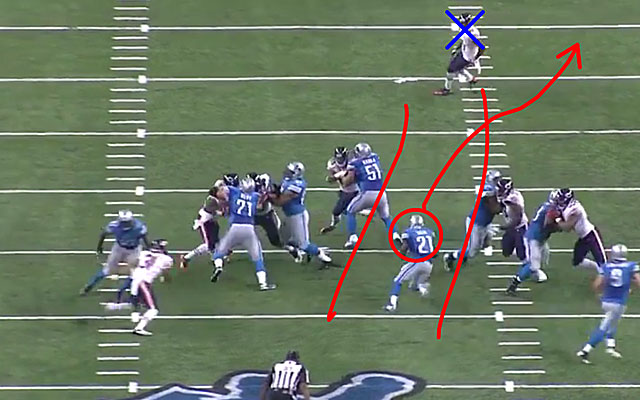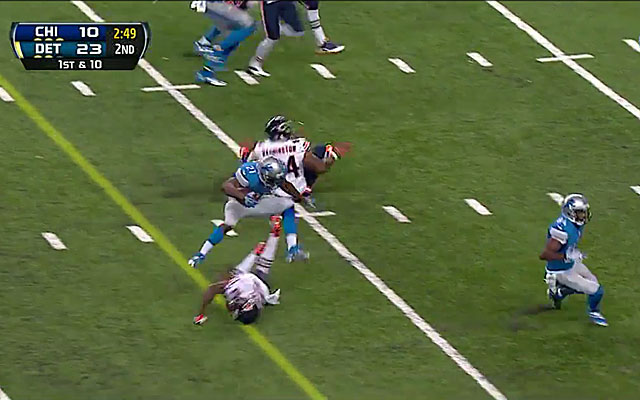 The Lions line Bush up as a receiver in the slot on one play, and he makes a short catch against zone coverage. But it is the play below -- a 14-yard catch -- that caught my eye in the passing game. Bush (red circle) is the lone back next to Stafford in the shotgun. The Lions are in a two-by-two set with all four receivers running vertical routes. That leaves some space underneath for Bush. He slips out of the backfield on a delay and catches a pass before he turns it up to the right for a nice gain.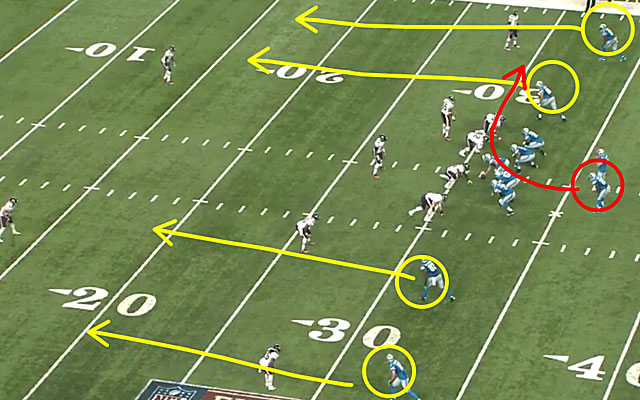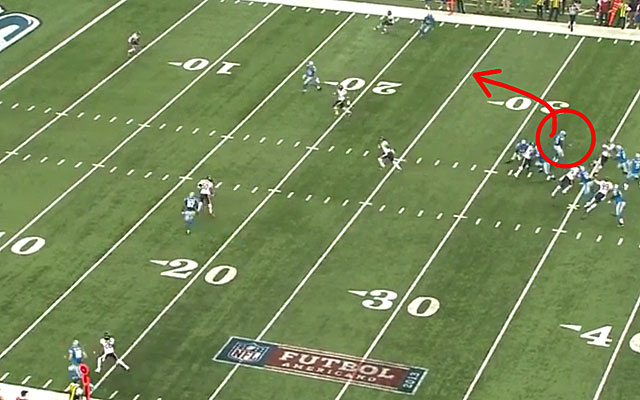 Sproles was much more of a receiver than Bush last week against the Dolphins. But he also ran one in for a touchdown. The first play I want to show here is his 48-yard catch on the Saints' second offensive play. As you can see by the pictures below, the Saints empty the backfield and put Sproles (red circle) in the slot on the left side of the formation. With three receivers to the opposite side, counting tight ends Jimmy Graham and Ben Watson, the overload was to that side. So the Saints work the weak-side with Sproles and receiver Marques Colston . With Colston running an in-cut, it leaves Sproles in man coverage with safety Reshad Jones . He runs a flat-and-up against Jones, who bites on the out, and Sproles easily gathers in the pass from Drew Brees for a 48-yard gain to set up the Saints first touchdown, which Sproles would score.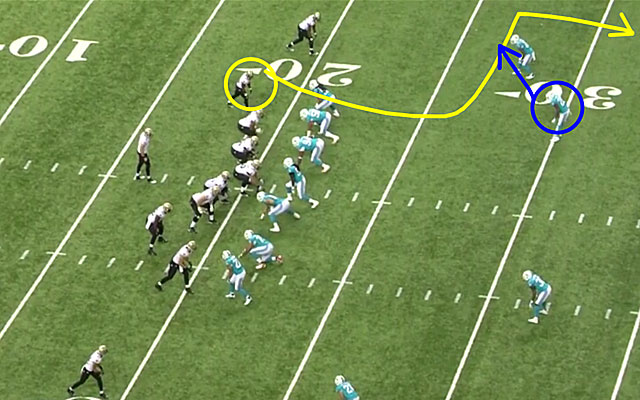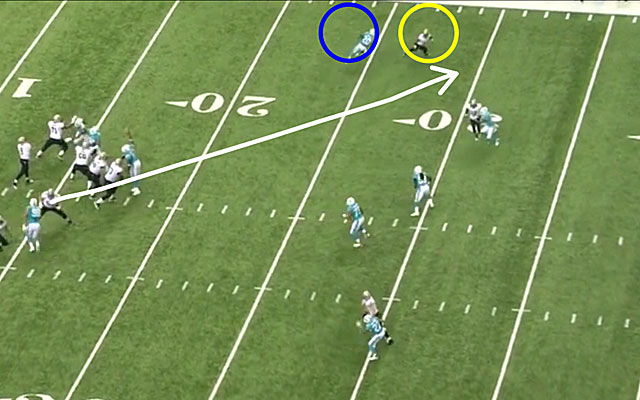 The touchdown run, a 5-yard jaunt through the middle, speaks of both the Saints' design and Sproles' ability to move in space. The Saints had a first-and-goal at the 5, but rather than bring in a bunched-up run formation, which a lot of teams do, they spread the Dolphins out with four receivers, two on each side of the tackles. The receivers weren't lined up wide, but the threat they could run outs helped keep the middle open, which you can see in the pictures below. At the snap, all four receivers run their routes away from the middle. That leaves a huge cavity inside. With a good block from left tackle Charles Brown , and a double team inside, Sproles (red circle) is able to almost walk into the end zone for the score. That's the type of run you can call with a back like Sproles, who has the speed to hit it up quick inside.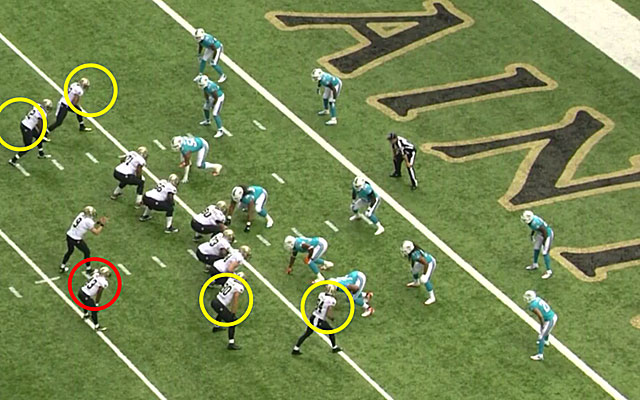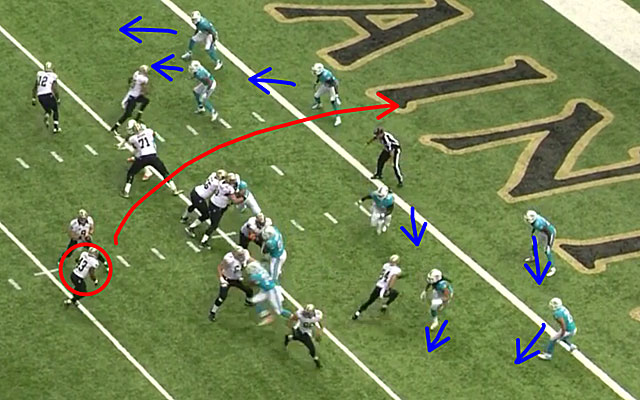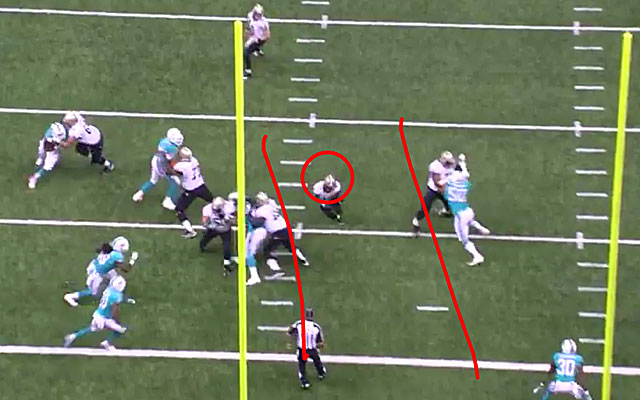 For the season, Bush has 254 yards rushing for a 5.3 average. He also has 11 catches for 179 yards and a touchdown for an impressive 16.3 average. He's also scored two touchdowns.
Sproles has 22 carries for 92 yards for a 4.2 average, but he has 23 catches for 277 yards and a touchdown.
While neither has great numbers, their value to offenses that play a spread out style is invaluable. They are two of the "Air Backs" who are taking over the league. LeSean McCoy in Philadelphia is another, and he leads the NFL in rushing.
There used to be an NFL Films clip where John Facenda talked about how the whip-it backs couldn't hold up in the NFL and that the Brahma Bull backs were the rage. The voice of God is no longer with us, but if he were, he'd say it like it is.
The Air Back might not be big in stature, but he's big when it comes to the way the game is played.
I have a feeling we will be seeing more and more of this as teams continue to spread it out.
Other things I saw on tape this week
• When I visited Tennessee camp this summer, there were a lot of Tennessee Titans people, coaches included, who thought Tommie Campbell would take over as the starting corner opposite Jason McCourty . The thinking was that Campbell, who is 6-foot-3, could fit better in the Titans' new press-coverage style than Alterraun Verner , who is 5-10. But Verner beat out Campbell for the job, and now we see why. Verner, whom I put on my Better-Than team coming out of UCLA in 2010, is having a heck of a year at corner for the Titans. He had two picks and a fumble recovery against the New York Jets last week. What's impressive about Verner is that he has shaken off any doubts that he wasn't physical enough to play the press-man scheme the Titans are using more this season. He might be short, but he is tough.
Here's a look at Verner's two interceptions last week. In the first set of pictures, he is lined up in man coverage to the left against Stephen Hill , who runs a deep in. Verner (red circle) is in off-man, so he doesn't get his hands on him, but essentially runs the pattern with Hill and cuts underneath him to pick off Geno Smith .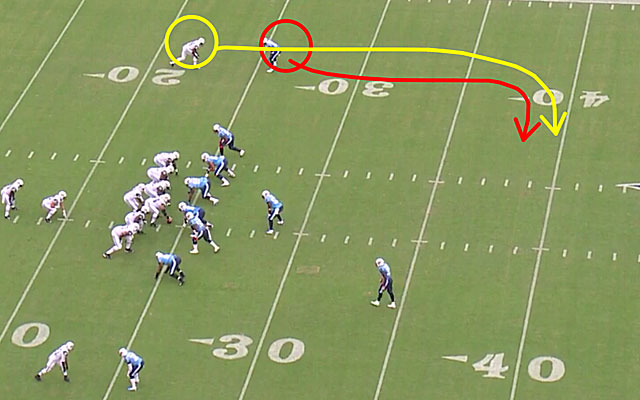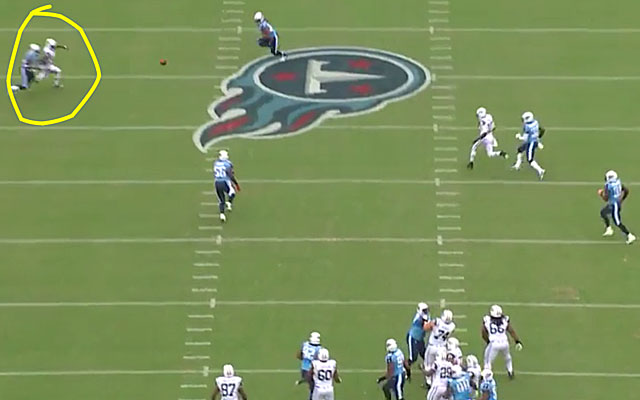 The second interception came with Verner lined up in man coverage against Santonio Holmes . He gets his hands on Holmes to prevent him from getting separation on the short route. He jumps inside of him with the ball in the air and easily picks off Smith.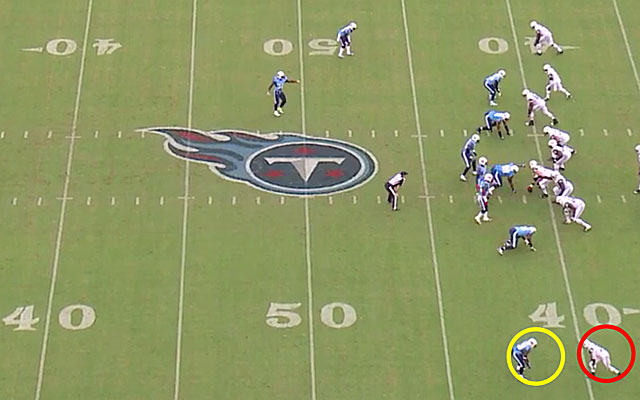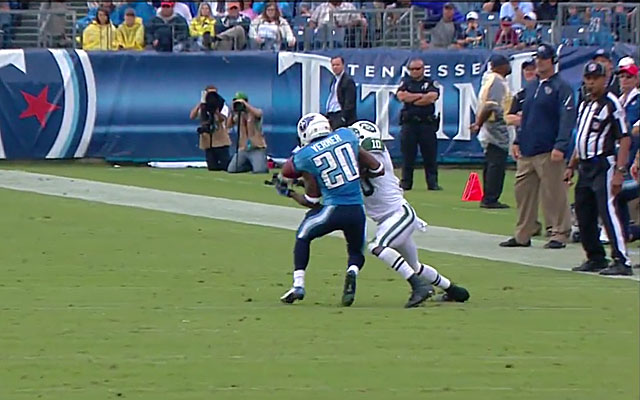 Even though Verner isn't a big corner, he is also solid in the run game. He won't shy away from contact. He will mix it up. It's always nice to see guys like this -- the players you can tell work at it -- have the kind of success he's having now. The Titans knew they had to find a way to keep him on the field. But what he's doing now has far exceeded even their expectations.
• The Cleveland Browns defense is eighth in points allowed and third in total yards. The front seven is a big reason why, as is corner Joe Haden . But I always like to look for young, rising guys who are also playing a part. One of those is free safety Tashaun Gipson . What I like about him is that he can run. That's a must now for these safeties that are looking more and more like bigger corners.
Gipson dropped a sure interception last week against the Cincinnati Bengals , getting over from the deep middle to make a play on the sideline, but he also broke up two passes and seemed to have a knack for being around the football. Haden is the star in the secondary, and T.J. Ward is good at strong safety, but I think Gipson's play in the first four weeks of the season is a big reason why the Browns have improved on defense. Gipson was signed as an undrafted free agent from Wyoming in 2012. When he won the job in the summer, it marked the fourth consecutive season that the Browns had a different opening day starter at free safety. With the way he's played so far, I doubt it will be a fifth in 2014.
• Lions defensive tackle Ndamukong Suh is off to a great start. He had two sacks last week against the Bears, but he's also doing a great job against the run and getting pressure without the sacks. Last week, he helped the Lions get the play that all defenses love, which is the Triple S: Sack, Scoop and Score. On the play, which you can see below, Suh (red circle) lines up over right guard Kyle Long . But the Lions run a tackle-end stunt with Willie Young . As Young crashes down inside, Suh shows off his quickness to come around the corner on a short circle to hit quarterback Jay Cutler , force the sack, and have Nick Fairley pick it up to run it in for a score. That's the type of athletic ability Suh has. Now if he can only stop all the other stuff so people can appreciate how well he is playing.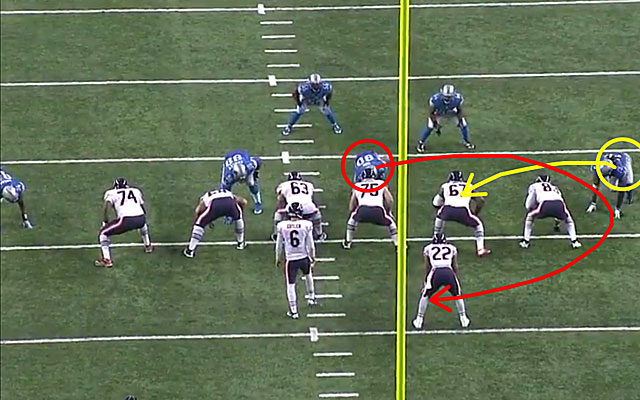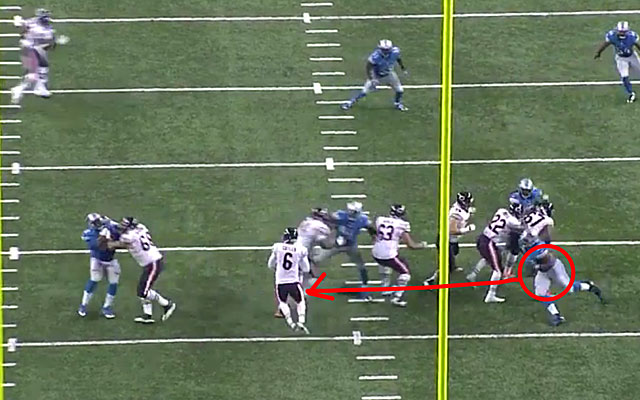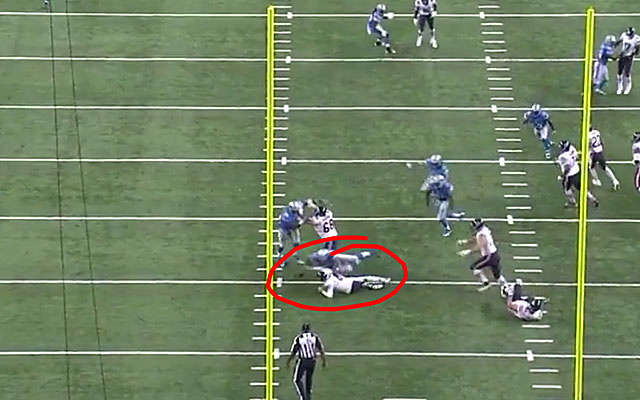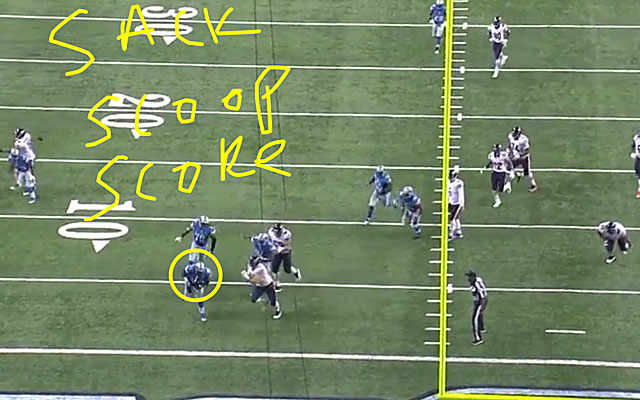 • A young player who seems to be growing into a top quality left tackle is Anthony Castonzo . The Indianapolis Colts left tackle has really improved as both a run blocker and in pass protection. He impressed two weeks ago in San Francisco with his physical style, and also did a nice job last week against the Jacksonville Jaguars . He is important this week as the Colts ready to face that tough Seattle pass rush. There were some doubts about Castonzo coming into this season, but he's made big strides. The 2011 first-round pick seems to have settled in nicely at left tackle. That's important for Andrew Luck 's blindside.
• The Atlanta Falcons are 29th in the league in red zone offense. There is no way they should be down that low. I wanted to get an idea as to why they are, so I studied all their red-zone plays from their loss to the New England Patriots last week. What I saw was quarterback Matt Ryan off on three throws, rookie Levine Toilolo dropping a touchdown pass late and a lot of receivers who didn't get open, including Julio Jones and Roddy White . Atlanta has scored seven touchdowns on 18 red zone trips. Two of those came at the end of games, both losses with incomplete passes in the end zone on fourth down. Offensive coordinator Dirk Koetter said this week he would eliminate some of the calls he used in the red zone against the Patriots. It's more than just the calls. Players have to win outside, and Ryan has to be sharper. With a struggling line, it seems like he was quick to get rid of the ball at times against New England.
Three and out
Three players who need to pick it up
1. Cortland Finnegan , CB, St. Louis Rams : He's been torched all season long. What is wrong with him?
2. Morris Claiborne , CB, Cowboys: This former first-round pick was supposed to elevate his game, not regress. He's been benched.
3. Nick Mangold , C, Jets: Watching the Jets-Titans tape, he just didn't look like the same guy.
Three shocking stats
1. The Lions are first in the league in third-down defense.
2. The New York Giants , with Eli Manning and his receivers, are last in third-down offense.
3. C.J. Spiller is averaging just 3.5 per carry after gaining 6.0 per rush last season.
It looks like we're going to have a quarterback competition in Jacksonville

Smith is facing up to seven years in prison if convicted

Plus everything else you need to know about Week 2 of the 2017 NFL preseason
This is why being a rookie in the NFL isn't fun

The Raiders running back went Beast Mode on reporters

Elway tried his best to emphasize how complicated the situation is