After Further Review: Colts' bad line, stalled run game making Luck press
A weak offensive line. No run game. Unreliable receivers. And a defense that's not living up to expectations. It's no wonder Andrew Luck is pressing in Indy.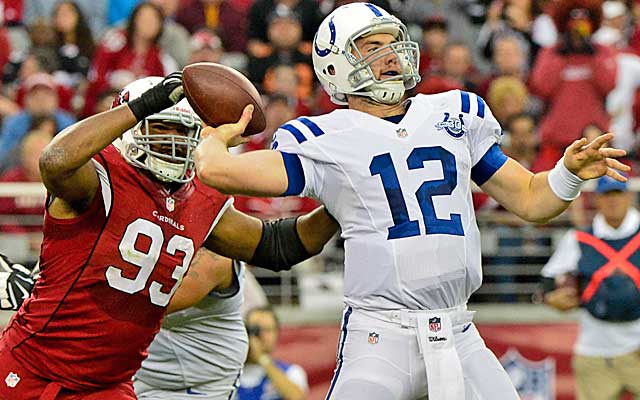 The Indianapolis Colts have three of the more impressive victories this season: Beating the 49ers on the road and both Denver and Seattle at home. Those three teams are a combined 29-7. Take away the three losses to the Colts and they are 29-4.
So what has happened to the 8-4 Colts since then, with blowout losses to the St. Louis Rams and Arizona Cardinals and a tight game vs. the Titans? This stretch has many wondering if the Colts are any good, even if they are about to be crowned AFC South champions.
I went back and studied several of their games to see what the reasons are for their decline, and why they've gone from elite to questionable.
Here's what I found:
• The offensive line is bad. It is especially bad inside, where center Samson Satele, a weak spot last season, continues to struggle. The guards have been just as bad. There is little push in the middle for the run game and the pass protection inside isn't good.
• Since Reggie Wayne went down, the receivers have had trouble getting open. They don't win outside and when they do there have been drops, like the one Darrius Heyward-Bey had last week against the Titans.
• The running game can't get going. They traded for Trent Richardson, and he has been a flop. Donald Brown has been better, but with the bad line play and penetration inside on almost every play, it's tough to run. The tight ends can't block the edge either. So where do they run if they can't go inside or get the edge? Brown has done some good things by sidestepping tacklers, but Richardson's bad vision has kept him from doing the same.
• That brings me to quarterback Andrew Luck. He has special talents, the kind you build a franchise around. But in the past month, he hasn't been the same player he was last season and earlier this season. I think it's all about the clock in his head. It's off -- in a big way. The poor line play, coupled with the loss of Wayne, has changed his pocket awareness. He is one of the best young quarterbacks I've ever seen when it comes to climbing the pocket, but now with so many problems he's struggling with that too. He is, like so many great quarterbacks who carry teams, pressing to do too much. Even his mechanics have fallen off.
Now for some of the troubles for the defense:
• Aside from outside linebacker Robert Mathis, who leads the NFL in sacks with 15, the defense doesn't get much pressure. That shouldn't be the case with a great pass rusher like Mathis on one side. Aside from Mathis, nobody has more than 3½ sacks. That's weird to see.
• Corner Vontae Davis was having a Pro Bowl season in the first half but he has tailed off in recent weeks. It hasn't helped that Greg Toler, the other corner who started the first seven games, has missed the past six. Davis has been beaten too much in recent weeks. He's too inconsistent. The lack of a pass rush doesn't help either.
• Several defensive players haven't played up to expectations this season -- linebacker Erik Walden, inside linebacker Pat Angerer, veteran safety Antoine Bethea and first-round pick Bjoern Werner. Safety LaRon Landry, who they paid big money to sign, has been just OK, which is about who he is as a player.
Add it all up, and now we know why there are concerns. I thought initially the Colts would have a step-back season before roaring back in 2014. Now we might be seeing what I thought we would see: A team not ready to push for a Super Bowl.
I mentioned Luck's troubles with his mental clock and how the pressure in his face is impacting the way he is playing. Here's a look at a play from last week's game that shows that.
It's second-and-7 from the Colts' 30 in the fourth quarter. Luck has Lavon Brazill in man coverage wide left with T.Y. Hilton in a slot inside of him. Brazill beats Alterraun Verner for what should be a big play and Luck appears to be going there, but the pressure, as you can see from the pictures below, prevents him from stepping up to make the throw. Jurrell Casey hits Luck's arm, causing the ball to flutter and the Colts to miss out on a potential big play. Guard Hugh Thornton is also pushed back into Luck's face to prevent any chance of him stepping up to make the throw -- which he is usually good at doing.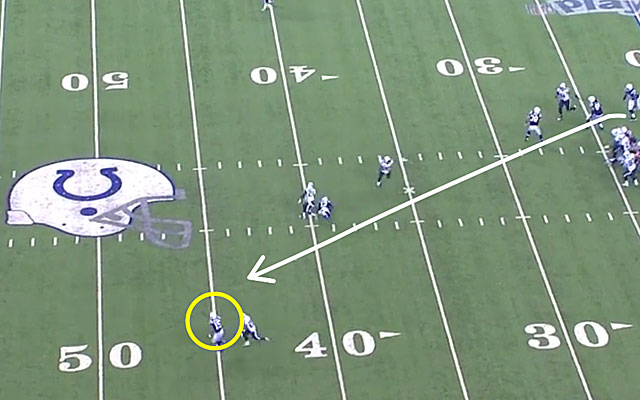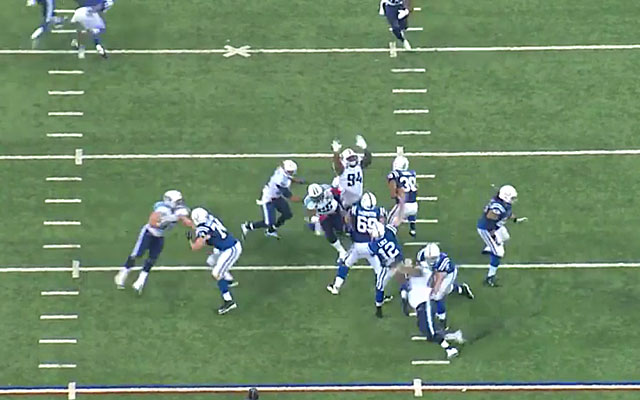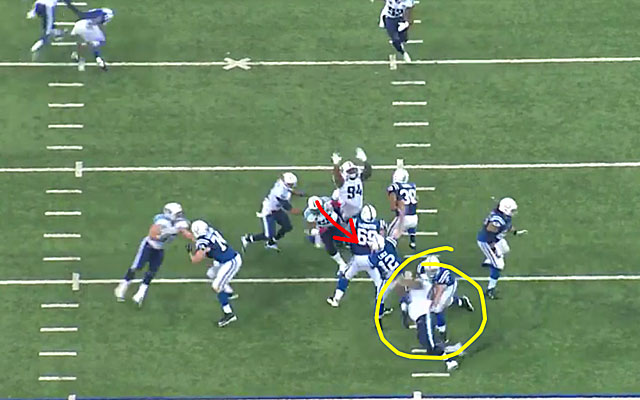 Here's another look at what should have been a big play, a wheel route to fullback Stanley Havili. The Colts catch the Titans in the perfect defense and Havili runs a wheel route against safety Bernard Pollard, who isn't great in coverage. Havili is wide open for a big gain when Pollard is caught looking into the backfield. But Luck has a little pressure in his face and never really sets up to make the proper throw. He instead hurries it, with Casey bearing down on him, and the ball sails high and Havili had no chance.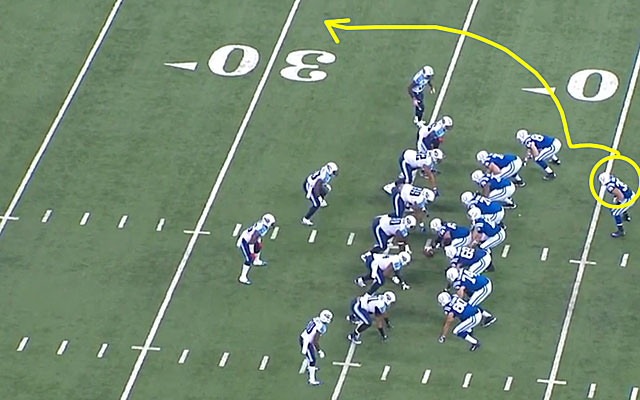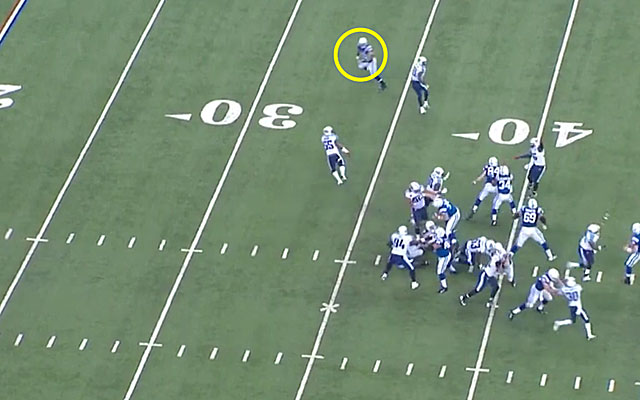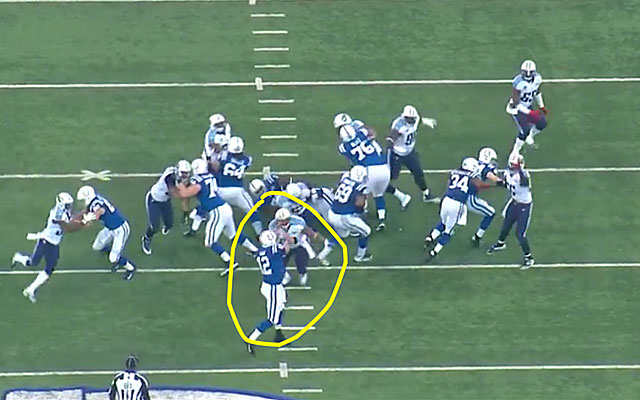 Two weeks ago against the Cardinals, Luck made another one of those pressing-too-much plays that I've noticed in the past month and it ended up in a pick-six for Arizona.
Here's the play: The Colts have a second-and-10 from their 20. Luck has two receivers to his left and runs tight end Coby Fleener from the right to the left across the field. Fleener appears to be open underneath against the drops of the two inside linebackers. But Darnell Dockett beats left guard Mike McGlynn and gets a hit on Luck. Rather than take the sack -- which is what he should have done -- Luck tries to get the ball to Fleener. But Karlos Dansby steps in front of Fleener and picks off the soft throw and returns it for a touchdown. Luck is smarter than that, but this shows how much he thinks he has to do for this team to win games.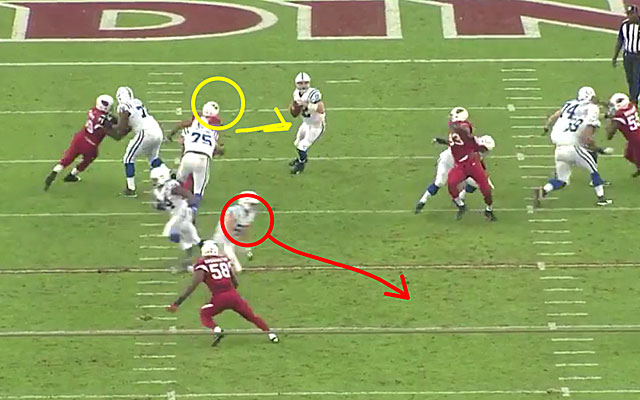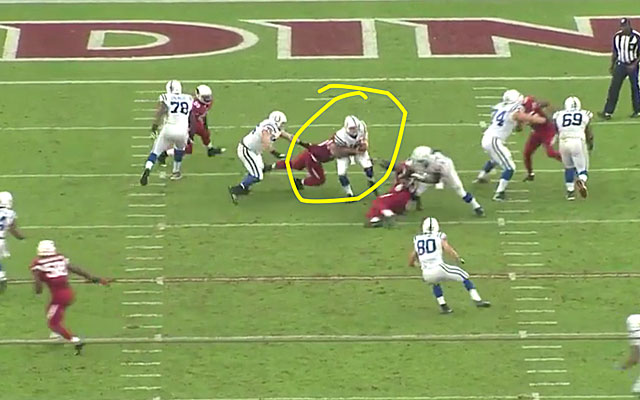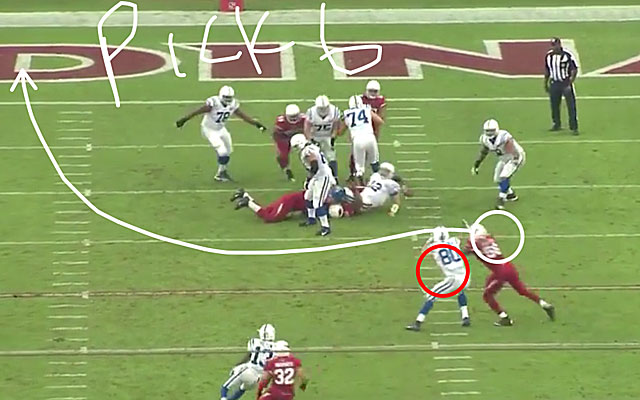 Here's a look at some of the plays where receivers didn't win. There are far too many of these types of plays on the tape. Do you see anybody open in these pictures as Luck is ready to throw? He is really missing Wayne, his security blanket.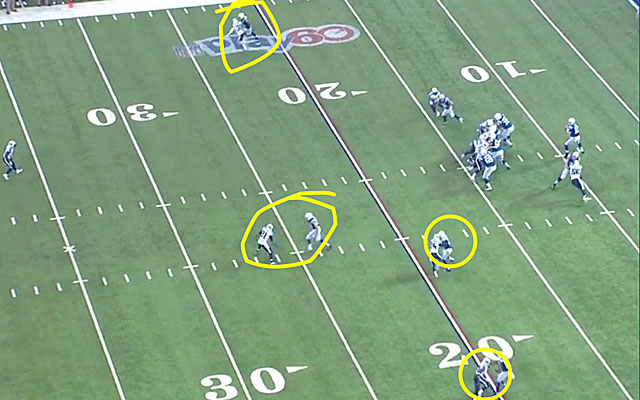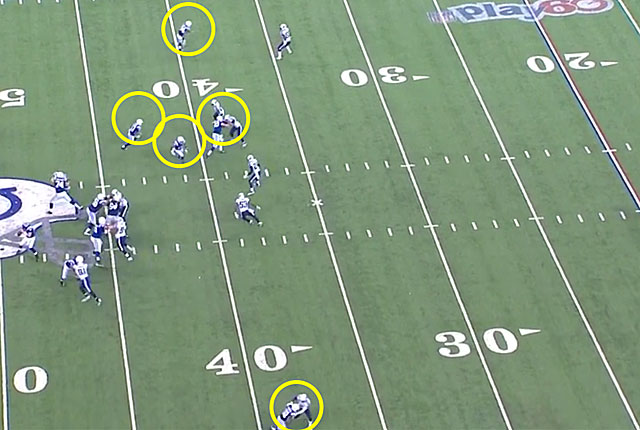 Luck has just 15 touchdown passes and eight interceptions and his passer rating is 82.4, which is near the bottom of the league's starters. He's also only completing 58.1 percent of his passes and his yards per attempt is a lowly 6.68. Those are not the numbers we expected from Luck this season.
The Colts are 20th in total offense, 20th in rushing and 20th in passing. On defense, they are 22nd overall, 28th against the run and 17th against the pass.
I think part of the problem is the Colts wanted to become a run-first team this season. With Luck at quarterback, that makes no sense. So in the final four games, they have to turn him loose. They have to put it on him. Play up-tempo. Forget about being a run-first team.
This is Andrew Luck's team. It will go only as far as he takes them, not anybody taking handoffs from him.
Some things I saw on tape
1. When Jurrell Casey came out of USC, I put him on my Better-Than team, the list of players I liked more than the scouts did.
I never thought he would be this good, though.
Casey is a force inside for Tennessee. He had two sacks last week and was all over the field against the Colts. The sacks were impressive, and he had other pressures, but the play that stood out to me was a fourth-and-1 stop that he helped make early in the game.
Here's a look:
Casey (red circle) is lined up shaded inside of right tackle Gosder Cherlius. At the snap, Casey crashes hard inside and Cherlius appears to get a good block on him, but Casey throws him aside, then takes on pulling guard Hugh Thornton, sheds him, and pulls Trent Richardson down for no gain. It's quick, it's violent and it's a big-time win for Casey. It's as good a play as any interior linemen made this week, and few saw it.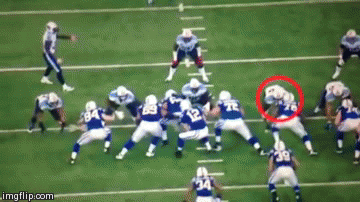 Casey was credited with one sack in the game, but he actually had two, which would give him nine on the season. Derrick Morgan was credited with one of his sacks. He got that one looping around from the right to the left. The other sack came when he looped from the left to the right. He has amazing quickness for a man who weighs 315 pounds.
2. If you're looking for an improving player who has that look of a future star, take a look at Jaguars rookie safety Jonathan Cyprien on Thursday night on national television against the Texans.
For the first part of the season, his head was spinning. He didn't look comfortable and he didn't play as fast. His reaction time wasn't as good, and it showed. But in the past month, he has really improved. He sees things now and reacts faster.
There is a play from the second quarter of last week's game with Cleveland that shows the type of player he can become. The Browns had first-and-10 at their 47, and ran a power play to the left with 35. Cyprien, lined up 10 yards off the ball, came up and dropped the runner for a 1-yard gain with a textbook tackle.
By reading his keys, which is essential to good safety play, he was able to diagnose and make the play. He also had his first career interception on a badly thrown ball by Brandon Weeden, but he made a nice play to pick it off.
For now, he is much better up near the line of scrimmage but as he gets more comfortable his coverage skills will improve. He has the speed.
3. Browns receiver Josh Gordon is a heck of a player. He is big, strong and fast. His performance the past two weeks has been special, going over 200 yards receiving in both games. But in watching the Jaguars-Browns game, something about him stood out on the negative side. When there is a run play called, he doesn't even try to block. There were several run plays where he just jogged off the line without any intention of blocking the corner. That's a bad habit he has to fix. It's not all about catching the football. There are times when a receiver has to block. To be honest, he almost tips off the run-pass plays. Keep an eye on that.
4. The Bengals moved left tackle Andrew Whitworth to left guard against the Chargers when Clint Boling went down. They put Anthony Collins at left tackle. That seemed to work. Whitworth had a heck of a game. On one play, he pulled around and just engulfed Manti Te'o on a 13-yard run by BenJarvus Green-Ellis. The Bengals have to make a decision this week whether they stay that way now that Boling is out for the season. They could move Whitworth back to left tackle and put Mike Pollak, who started for the injured Kevin Zeitler at right guard last week, over to left guard if Zeitler is back this week. One thing's for sure, the linebackers will be happy if Whitworth goes back to tackle. He is a big, mean, violent player when he pulls and comes around that corner. He is strong and powerful at the point as well.
5. One of the more surprising improvements with the Panthers this season is the cornerback play. Carolina still lacks a top-level corner, but the trio of Captain Munnerlyn, Drayton Florence and Melvin White has done a nice job and seems to be getting better. That is key this week against the Saints. It helps that the pass rush is good in front of them, but those three have made big strides as a trio. They've had some moments where they've been beat, but for the most part they've held up. They will have to play well this week against the Saints in their big division game. In last week's game with the Bucs, they blew a couple of plays down the field, but for the most part they had a solid game. Ron Rivera talked up his corners in camp, and I thought it was just lip service, but they've been better than expected. White, a rookie, has been a nice surprise.
Three and outs
Three things I like about Alabama quarterback A.J. McCarron's game and why I think he will be a quality starter on the next level:
1. Accuracy. The ball goes to the right spot.
2. Ability to read defenses and check to the right plays. He has a good feel at the line of scrimmage.
3. Pocket awareness. He isn't a great runner, but, like a lot of top quarterbacks, he knows how to move in the pocket to avoid pressure.
Three eye-opening stats
1. Seattle, San Francisco, Carolina and Kansas City are all among the bottom third in the league in passing, yet all could be playoff teams. Flaw?
2. San Diego quarterback Philip Rivers leads the NFL with a completion percentage of 70 percent.
3. Ryan Fitzpatrick leads the NFL in third-down passing. That is amazing.
Linda Del Rio is not happy with the president

The former New Orleans Saints wideout leads the NFL in 40-yard catches with New England

SportsLine's Mike McClure, a DFS pro with more than $1M in winnings, gives optimal lineup...
Three games with NFL playoff implications make Turkey Day drama easier

The Raiders made the decision to dump their defensive coordinator on Tuesday

The Redskins quarterback is ready to take credit for DeMarcus Cousins' tenacity