After Further Review: Colts' Mathis exceeding as premier rusher
Dwight Freeney is gone, but Indy still has an elite pass rusher. Robert Mathis is having a monster season, and he might be a thorn in Peyton Manning's side Sunday night.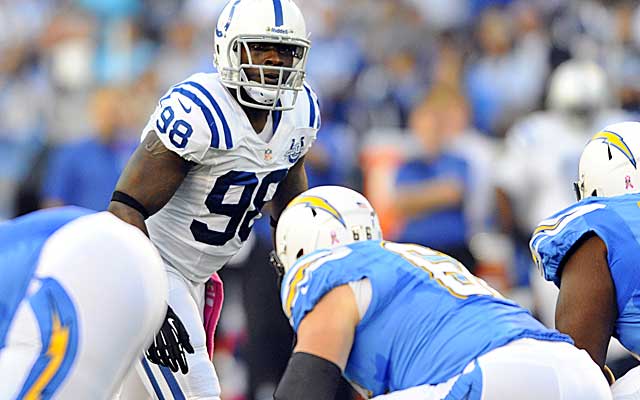 At one of his first live practices as a rookie back in 2003, Robert Mathis came off the edge and got close to Peyton Manning, then his teammate with the Indianapolis Colts.
The reaction was what you would expect, what with Manning being the franchise and all.
"I learned that lesson right way to stay away from him," Mathis said.
He said he got yelled at loudly for even coming close. By who, I asked?
"The entire team," he said. "It was like in practice if you even got within two feet of him you could be cut. I am not kidding."
For nine years, Mathis and Manning were teammates, winning a Super Bowl together in 2009, one a key player on defense as a pass rusher, the other the quarterback who made it all work on offense. This week, for the first time, Mathis can hit Manning, sack him even, and nobody will say a word.
It's his job this week since Manning is now the quarterback of the Denver Broncos, the Colts' opponent Sunday night.
"I know how competitive he is," Mathis said. "I am looking forward to it."
Mathis comes into the game tied with Kansas City's Justin Houston for the sack lead with 9 1/2, although he was held without a sack Monday night against the Chargers. He is one of only 30 men in league history to have 100 or more sacks in a career. Mathis has 101. With six more, he will pass friend and former teammate, Dwight Freeney, as the all-time leader in sacks for the Colts.
"It would be special to do that since he's done so many great things," Mathis said. "He's not just a former teammate, he's a lifelong friend. He was in my wedding. I learned a lot from him."
The numbers are pretty amazing when you consider Mathis had one scholarship offer coming out of high school and seemed puzzled when agent Hadley Engelhard recruited him out of Alabama A&M before the NFL Draft.
"I thought it was a joke," Mathis said. "I wondered who he was and what he was up to. Now we are great friends."
When Mathis came out, he was a 6-2, 240-pound pass rusher. The market for those guys at that time wasn't great. He was a defensive end in college, but how could he do it in the NFL at that size?
Here's how: A relentless work ethic and speed, speed and more speed.
Teammates rave about Mathis and how he works. As for the speed, that's something you can't teach.
In studying his performance this season on tape, Mathis seems to be flourishing at the team's No. 1 pass rusher for the first time in his career. Freeney was always the top guy -- even though Mathis led the team in sacks seven of the past eight seasons -- but with Freeney gone Mathis moved into the primary role. He is seeing more rushes from the weak side than in the past, after playing defensive end for most of his career and then strong-side linebacker last season.
That means more chances to show off his abilities.
"I am loving it," he said. "For the first time in my career, I am the No. 1 rusher. It's like being the pacesetter."
I broke down all 9 1/2 of Mathis' sacks. I can tell you that two of them were credited sacks where he didn't even touch the quarterback.
"Hey, they are hard to get," Mathis said laughing. "I'll take them any way I can."
To be fair, he also has had plenty of pressures where he didn't get a sack but caused the play to break down. What I saw on tape was a player who could line up on the left or right side, standing up or with his hand down. No matter where he's been aligned, he's been a handful for the opposition.
Mathis said he wants to play four or five more seasons. If he does, he has chance to get to 140 sacks. There are only five men in the history who have hit that number.
"I just want to be mentioned as a possible Hall of Fame candidate," Mathis said. "Just get my name in the conversation."
Here's a close look at his sacks with some pictures and Mathis' comments on two of them.
Sack No. 1 vs. Oakland in Week 1: Mathis was lined up on the right side in a down stance in a 4-3 look. Just before the snap, he moved inside of left tackle Khalif Barnes. He then knifed between Barnes and guard Lucas Nix to sack Terrelle Pryor for a 16-yard loss. It was the speed of Mathis that made the difference on this play.
Sack No. 2 vs. Miami in Week 2: On a third-and-15 play, Mathis was lined up on the left side of the defense as a stand-up rush end in a 4-3 front against Miami right tackle Tyson Clabo. At the snap, he beat Clabo with an inside shake and then went around him to drop Ryan Tannehill.
Sack No. 3 vs. Miami in Week 2: On a first-and-10 play, Mathis was lined up as a stand-up outside linebacker in the 3-4 look. At the snap, tight end Charles Clay cut him, but when Tannehill held the ball for a few seconds, Mathis popped up and used his speed to dump Tannehill for a 5-yard loss.
Sack No. 4 vs. San Francisco in Week 3: This sack was a cheap one, and not really a sack, even if he got credit for it. Lined up on the right side as a 3-4 linebacker, he chucked the tight end, then released him and settled into a short zone coverage. When Kaepernick scrambled to his left Mathis ran over and Kaepernick ran out of bounds for a 1-yard loss. Mathis didn't even touch him, but he was the closest defender, thus the credit for the sack.
Sack No. 4 1/2 vs. San Francisco in Week 3: Lined up as a down right end on a third-and-13 play, Mathis exploded up the field against Joe Staley and then spun inside of him with one of his patented spin moves to get a split sack with Cory Redding.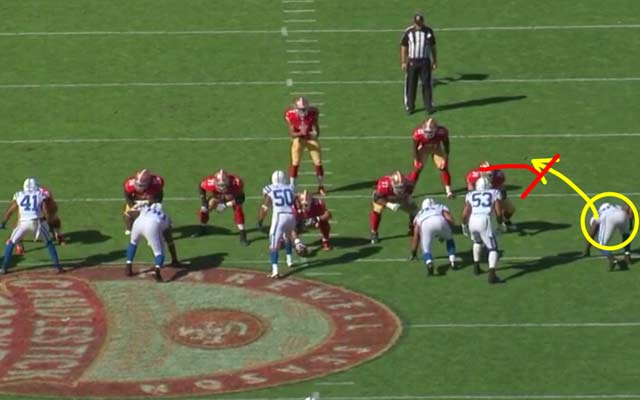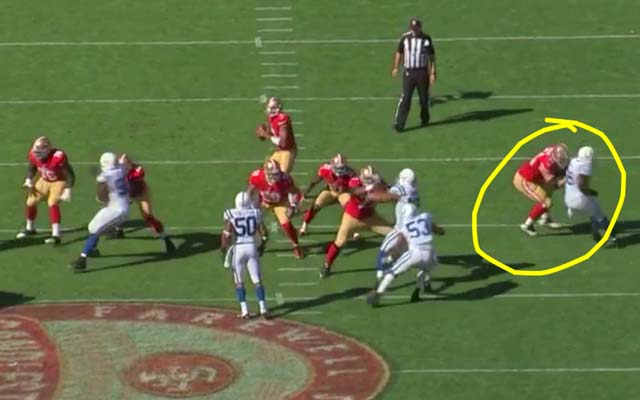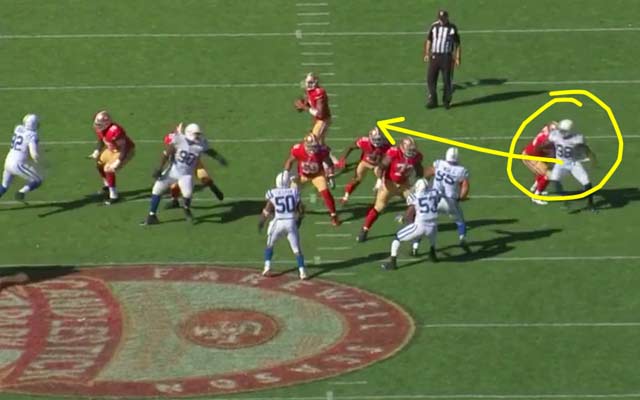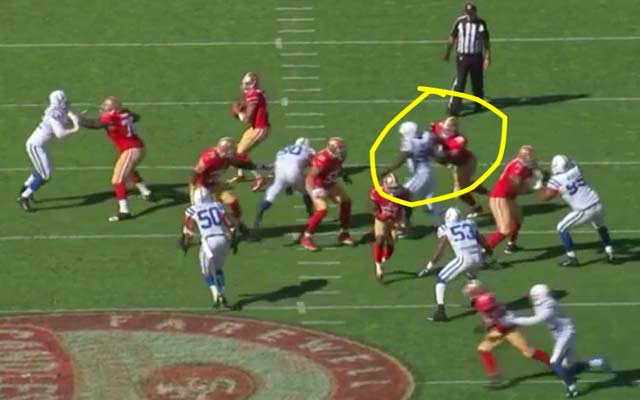 Mathis on the sack: "I was doing some outside speed stuff setting up Staley for that. I was trying to get him to honor my outside speed. I told our defensive tackle to cover me on the outside because they have a mobile quarterback and if you spin inside, he can get outside of you. We traded rush lanes and I got it done with the spin move."
Sack No. 5 1/2 vs. Jacksonville in Week 4: Lined up standing up on the left side of the defense on a four-man front, Mathis was actually blocked on the play, although it took a double by the tight end and back. When the coverage was good, Blaine Gabbert scrambled and Mathis came off the block to sack him for no gain.
Sack No. 6 1/2 vs. Jacksonville in Week 4: Lined up as a down right end against Eugene Monroe on a first-and-10 play, he exploded up the field and went around Monroe to dump Gabbert for a 6-yard loss.
Sack No. 7 1/2 vs. Jacksonville in Week 4: On a third-and-7 play, Mathis was lined up on the left side of the defense in a standing position outside of Luke Joeckel. The Colts came with a blitz, and Mathis looped from the left to the right around linebacker Jerrell Freeman, cutting the corner sharply with great speed. There was a huge hole initially between the center and left guard, but running back Justin Forsett filled it and center Brad Meester slid over to help. Mathis hit Forsett and then bounced off to sack Gabbert.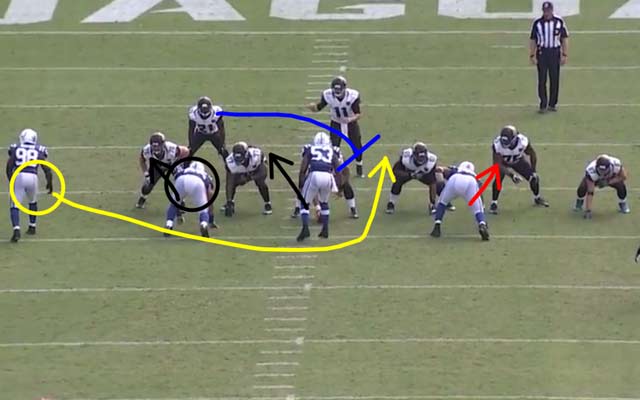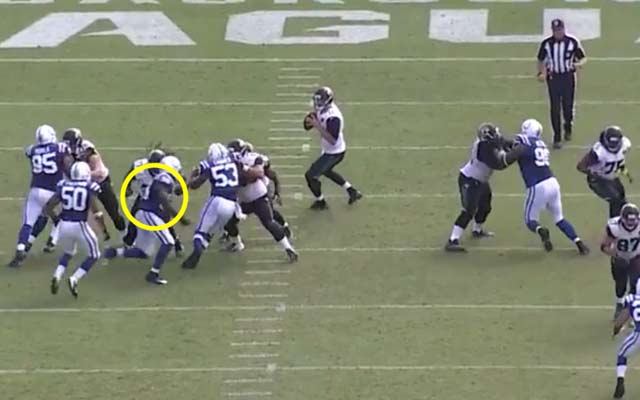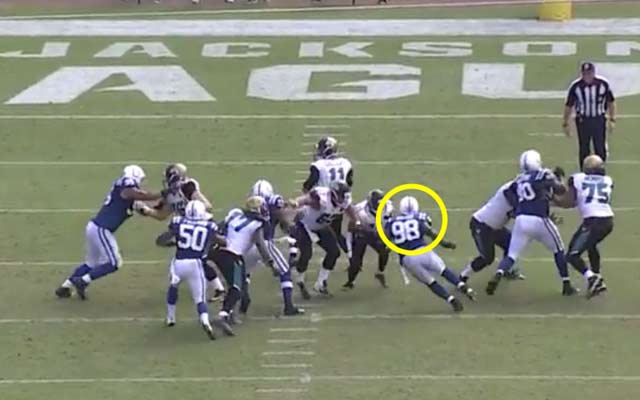 "We do a lot of stuff to get me free. It's not me beating guys on that play. They did a good job helping me. That was coaching. Our defensive coordinator [Greg Manusky] is not just into me being stationary. As for cutting the corner, our old defensive line coach John Teerlinck used to harp on cutting the corner tight. He used to say he didn't want any of those Queen Mary turns, the big, wide turns that boat took. He wanted sharp turns off the corner, which is what I try to do."
Sack No. 8 1/2 vs. Seattle in Week 5: On a fourth-and-10 play at the end of the first half, Mathis lined up as a down right end. He exploded around tackle Paul McQuistan and was able to knock the ball free from Russell Wilson's hand as he attempted to throw. The Colts recovered.
Sack No. 9 1/2 vs. Seattle in Week 5: This was another cheap sack. Mathis was lined up as an outside linebacker on the left side in a 3-4 look. At the snap, he dropped into coverage. Wilson scrambled and Mathis ran him out of bounds and was credited with the sack for no yards without even laying a hand on him.
Other things I saw on tape this week
• During the preseason, Packers rookie defensive back Micah Hyde caught my eye. He isn't a fast corner, but the Packers use him as a nickel player up near the line of scrimmage and he did some really good things last week against the Ravens. He had a sack on a blitz off the left side, exploding into Joe Flacco for a 10-yard loss. He made a hustle play on a reverse, chasing it down for a 2-yard loss. On that play, Hyde was lined up on the left side of the defense. When Flacco faked inside, Hyde went to Bernard Pierce, which was his responsibility, but Flacco pulled the ball out and handed it to Marlon Brown coming from Flacco's right. Hyde was able to chase down Brown. He also did a nice job in zone coverage on a pass play near the Packers end zone when he was able to stay in his zone, read it right, and came up to drop Brown for a 1-yard gain on a shallow cross. If Hyde doesn't stay in his area, it's a touchdown. The rookie from Iowa has a chance to be a really good football player. I know he's listed as a corner, but the Packers are using him like a dime linebacker. Down the road, he might be a heck of a safety.
• Why can't the Baltimore Ravens run the football better? I would start by looking in the middle of their line at center Gino Gradkowski. Matt Birk, the center last season, wasn't an overpowering player at the point, but Gradkowski has really struggled this season. The rest of the line hasn't been much better. The Packers had a lot of activity in the Ravens backfield last week. This was expected to be a strong area for the Ravens. But in addition to Gradkowski's struggles, left guard Kelechi Osemele, who showed future Pro Bowl ability during the team's run to the Super Bowl, has also had his share of problems. Eugene Monroe, who came over in a trade two weeks ago from the Jaguars, is an upgrade at left tackle over Bryant McKinnie. But this line has to play better or the offense will have problems all season long.
• When you are playing San Francisco and Seattle in consecutive games, one thing you can't have is poor play from the left tackle spot. That's exactly what Arizona got last week from Bradley Sowell, who has taken over as the starter with the trade of Levi Brown. He gave up a sack to Corey Lemonier for a safety and seemed way too slow out of his stance on the play. He struggled a lot in that game against the 49ers in pass protection. With Seattle coming up this week, expect the Seahawks to attack him with a bunch of different pass rushers. On Lemonier's sack, Sowell was one-on-one with him without any help and Lemonier just exploded around him to dump Carson Palmer.
• I took a close look at the Patriots' game-winning drive against New Orleans and a couple of things stood out. The Saints played soft in the back end the entire drive. They played zone the entire way. That cost them when Jabari Greer kind of got lost and Tom Brady was able to hit Kenbrell Thompkins for the game-winning touchdown. Safety Rafael Bush did a horrible job of getting over on that play as he froze by peeking inside to the slot receiver who was clearly covered. The Patriots ran four vertical routes, which was the right thing to do. To be fair to the Saints, left tackle Nate Solder held Junior Galette on the play and there was no call. Another thing I noticed was that when Brady missed a wide open Julian Edelman two plays earlier in the middle of the field, short-hopping the pass, Thompkins was wide open on the left sideline as Greer again seemed to get lost in the zone. Brady has 28 career fourth-quarter comebacks, but this was one of the most impressive. The Saints helped his cause by playing so soft on their side of the ball. Rob Ryan needs to take some of that blame.
Three and out
Three strange stats
1. The Chiefs are ranked 31st in the league in rushing yards allowed per carry. That's weird for such a good defense, one with Dontari Poe in the middle.
2. The Giants are 32nd in the NFL in sacks per pass play on defense. How is that possible?
3. The Packers are third in the league in rushing yards per attempt. The Packers?
Three things that have me fired up this week
1. Coaches going for two way too early. Please, please, don't put your team in situation to chase points.
2. The stupidity of Colts owner Jimmy Irsay. He should be kissing Peyton Manning's butt, not taking shots. I estimate Manning made him $1 billon over his time in Indy.
3. Talk that any college team could beat an NFL team. The worst NFL team would beat the best college team by 40.
A Dallas Cowboys Salute to Service thermal pullover makes for the best early Black Friday...

It's time to hook up that jersey of your favorite NBA player with some Black Friday deals

The Cowboys owner says this has nothing to do with Goodell's six-game suspension of Ezekiel...
John Elway addresses the Broncos' major need at quarterback by drafting the Oklahoma State...

The QB carousel could spin more than usual in 2018 with some big names likely on the move

The Pro Football Hall of Fame is one step closer to announcing the Class of 2018