After Further Review: Finding clues to Eagles-Cowboys, Packers-Bears
Prisco: Nick Foles stunk in a Week 7 loss to the Cowboys, while Tony Romo may miss the rematch. But don't expect Foles to falter again with the NFC East title at stake. After Further Review
We have two rematches that will decide division champions Sunday, one featuring the Dallas Cowboys against the Philadelphia Eagles for the NFC East crown and the other the Chicago Bears against the Green Bay Packers for the NFC North title.
The Cowboys beat the Eagles 17-3 in Week 7, while the Bears beat the Packers 27-20 in Week 9. Packers fans might not want to remember that game because early in the first quarter quarterback Aaron Rodgers was knocked from the game with a broken clavicle. The Packers were riding high then, but have since limped along without Rodgers, doing just enough to get to this chance to make the playoffs.
The great news for the Packers is they'll get Rodgers back for the season finale, after Mike McCarthy announced Thursday that his franchise QB has been cleared to start. 
Again, it goes to prove just how how valuable a franchise passer is to a team. Of the four quarterbacks who started in those first meetings, only Rodgers and Philadelphia's Nick Foles are likely to start this week. Chicago's Josh McCown is now back on the bench with Jay Cutler back starting after missing time with an abdominal injury.
The Cowboys' Tony Romo is questionable with a back injury that could require surgery. The Cowboys are hinting at a chance he might play, but are they just being coy? 
Also notable: Foles was downright awful against the Cowboys in Week 7.
So to prepare for this week's matchups, I went back and studied the first meetings to see what I might find that could be a hint of what might come this week.
That was tough to do with so much quarterback uncertainty, but there were some things that caught my eye. Here's a look.
Clues to Philadelphia-Dallas
• Foles really struggled against the Cowboys. Wathcing the tape, it's hard to believe it's the same guy who has 25 touchdown passes and two interceptions and leads the league in passer rating.
• The right side of the Eagles' offensive line had a rough go of it. Guard Todd Herremans and tackle Lane Johnson struggled.
• The Eagles receivers didn't win outside much against a bad Dallas secondary.
• The Dallas defense, without DeMarcus Ware (injured), was able to limit LeSean McCoy, the league's leading rusher, to 55 yards on 18 carries and did a great job on McCoy in the passing game. His longest play of the day was 12 yards.
• The Cowboys, without DeMarco Murray, didn't do much on the ground and the Eagles came after Romo with a lot of blitzes. Joseph Randle ran for 65 yards but had a 3.4 average.
• Romo threw for 317 yards, but it took 28 completions and he had a passer rating of 69.2.
• Cowboys linebacker Sean Lee, who probably won't play this week because of injury, was all over the field. He had 11 tackles and an interception. He was key in stopping McCoy.
• The Dallas defense used a lot of 4-2-5 looks that helped limit the Eagles passing game and the spread runs. It also appeared that the defensive line wasn't attacking at the snap all the time, but rather using a softer "mush" rush to keep an eye for any zone-read plays. The Eagles actually ran more power runs in this game than they do now, rather than zone reads.
It was Foles that really caught my eye -- for negative reasons. He is currently the only quarterback in the NFL averaging more than nine yards per pass play, so how did the worst pass defense in the league, one of the worst all time, limit him to under three yards per attempt in the first meeting?
For starters: He was awful. He wasn't accurate. He missed when there were chances down the field and he never looked comfortable before being knocked from the game with a concussion. He entered the game with groin issues, but he moved around fine. That wasn't the excuse.
Foles was 11-of-29 for 80 yards and he was sacked three times. It was, by far, his worst game of the season.
It didn't help that his receivers didn't win like they normally do. Cowboys corners Brandon Carr and Orlando Scandrick both had good days. DeSean Jackson was held to three catches for 21 yards before leaving late in the third with an ankle injury.
Here's a look at the second play from scrimmage to give you an idea as to what Foles was dealing with that day.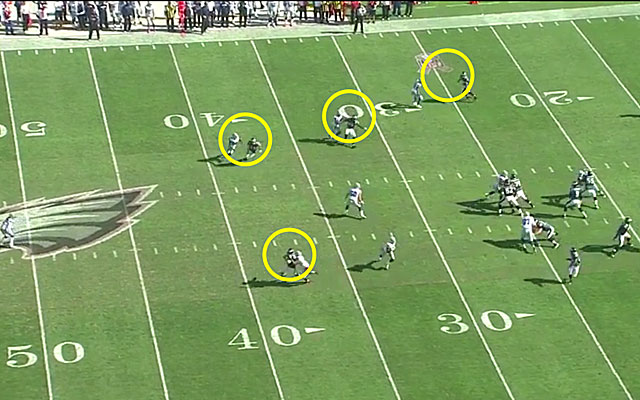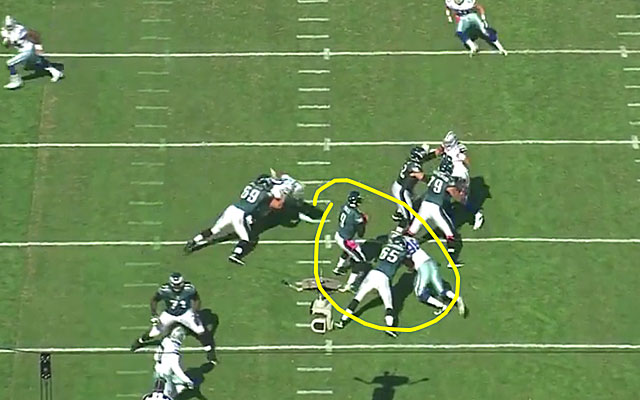 As you can see by the first picture, Foles' receivers are blanketed in man coverage. That leads to a sack when Johnson can't handle George Selvie in pass protection. Selvie doesn't just blow by Johnson, but the combination of the tight coverage and his persistence pays off with a sack.
When Foles did have open receivers, he wasn't nearly as decisive making throws like he is now. Here's a look at what should have been a touchdown to Jackson.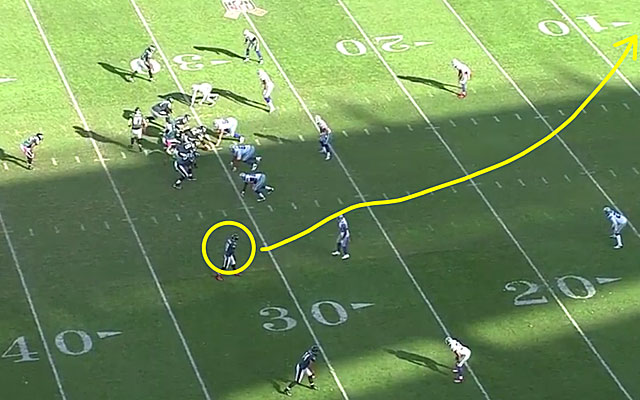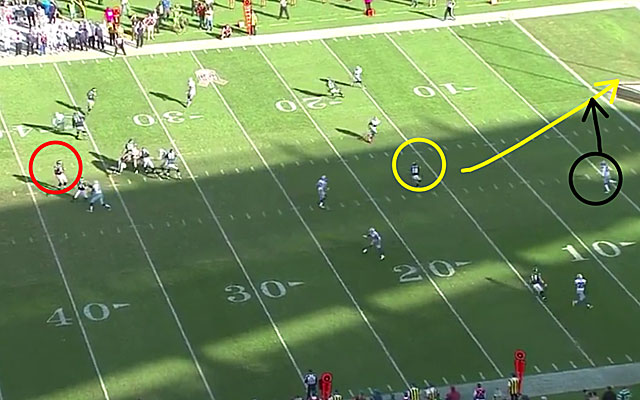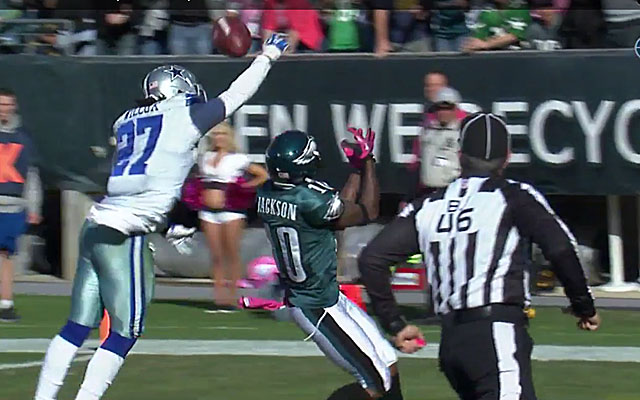 The Eagles line up Jackson in the slot to the right (yellow circle) and run him down the middle, a play they used to score a touchdown the week before against Tampa Bay. He runs inside against the zone and is wide open. The problem is that Foles doesn't hold safety J.J. Wilcox (black circle) long enough with his eyes. He also waits too long to make the throw and should throw it more to the sideline. By not doing that, it allows Wilcox to fly over and just get a fingertip on the ball to knock it away.
He also missed McCoy on a wheel route down the left sideline for what should have been a big play and missed a couple other open receivers with bad throws.
The Cowboys' ability to limit McCoy helped. Dallas played the extra defensive back down a lot of the time. That meant man on the outside with a lot of single-high safety. Usually McCoy can make that man miss. He didn't in this game. Here's a look at a McCoy run against that look.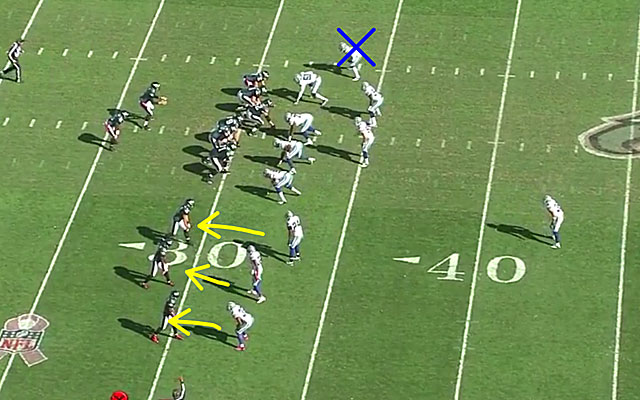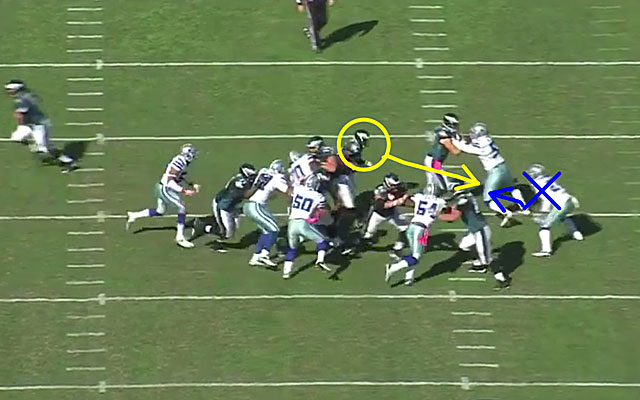 The Eagles line up three receivers to the right and the Cowboys match up with man coverage and a single safety cheating to that side. The Eagles counter with a McCoy run to the left. But Wilcox (blue X) is lined up outside the end and is free to step in and make a play for a 2-yard gain as an unblocked player.
As for the Dallas offense against the Eagles' defense, the Eagles threw a lot of blitz looks at Romo. Here's a look at one that led to a sack.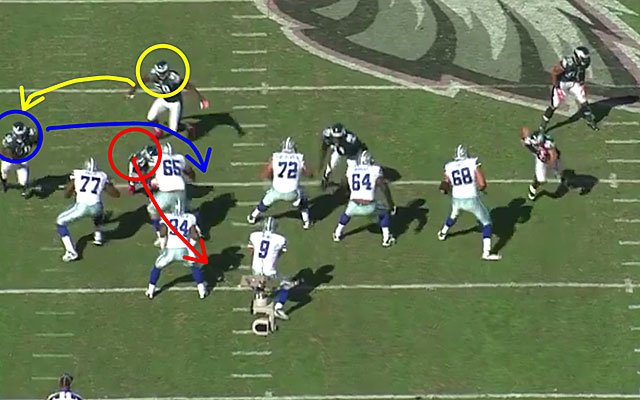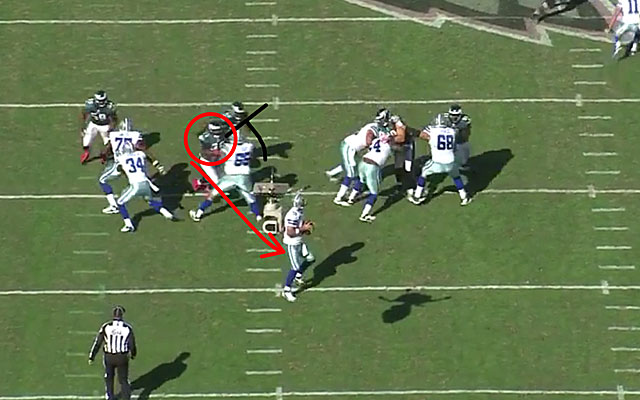 Romo is in the shotgun on a third-and-10 from his own 39 with Philip Tanner offset to his left. The Eagles have a blitz coming to that side. The Cowboys have the right numbers, but Tanner seems to be confused about who to block. The Eagles send DeMeco Ryans (yellow circle) on a loop to the outside and bring end Trent Cole (blue circle) inside of him on a loop to his left. Vinny Curry (red circle) is engaged with left guard Ron Leary. As Cole loops inside, Leary releases Curry to pick him up and Curry is able to drop Romo for the sack. Tanner clearly needs to get inside to help.
Blitz him once, and you get him. But blitz him again, and Romo got the Eagles. Here's a look at a 9-yard touchdown pass to Terrance Williams to make it 17-3.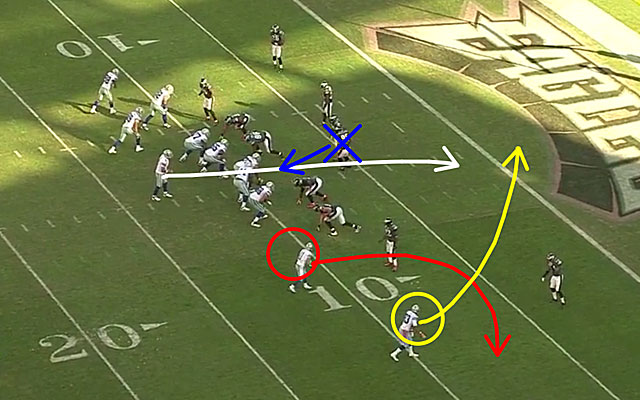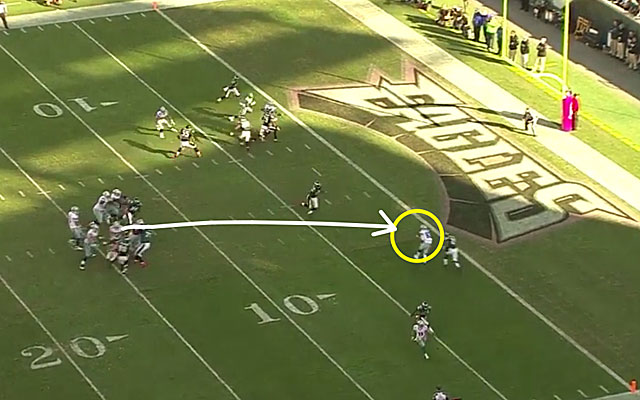 The Cowboys have a first-and-goal from the 9. They line up Williams wide right with Cole Beasley in the slot inside of him. Beasley (red circle) runs and out and Williams runs a slant inside. With Mychal Kendricks (blue X) blitzing inside, Romo has an easy lane to throw to Williams since Ryans can't get over into that area.
If Romo can't play, I would imagine the Eagles will again blitz the heck out of Kyle Orton. So what will the Cowboys do to Foles now? Ware is back, which will help. But they will likely be without Lee and corner Morris Claiborne is iffy for the game.
Foles missed the next week after the Cowboys game with a concussion, but he has been on fire since then. So the Cowboys' bad pass defense will be lucky if they come close to duplicating what they did in the first meeting. This one, unlike the first, will be a shootout.
Clues to Bears-Packers
I won't break down any plays from that game here with pictures since it was so different in terms of who played that day compared to this one -- especially at quarterback. Seneca Wallace, who came in for Rodgers that night, is now on IR. They're two quarterbacks removed from him with Matt Flynn now the starter.
But some of things that I did see from that first meeting:
• The Packers had a tough time pressuring McCown, getting just one sack. They were without both Clay Matthews and Nick Perry that day. Matthews re-injured his thumb this past week and might not play again.
• Brandon Marshall and Alshon Jeffery used their size to make big days. They had 12 catches for 167 yards and two scores. They got both touchdowns in man coverage and used their height to score them.
• Even after Rodgers went down and Wallace went in, the Packers ran it right at the bad Chicago run defense with success. Eddie Lacy had 150 yards and a touchdown and James Starks had 40 yards on six carries with a touchdown. The pair averaged 6.7 yards per carry between them.
• Julius Peppers had his best game of the season as a pass rusher that night with a sack and a handful of pressures. Does he only show up in nationally televised games?
• Rodgers got hurt when Shea McClellin hit him from behind on passing play, forcing him to land on his shoulder. But the reason he had to move out of the pocket was because the Bears did a great job of playing zone coverage on a route tree where Rodgers clearly expected to see man. Nobody cleared open and he had to step up when they didn't.
With all the quarterback uncertainty, it's tough to get a real gauge on what to expect this week. But one thing we do know: The stakes are higher for all four teams than they were in the first meeting.
Pick Six Newsletter
Get the day's big stories + fun stuff you love like mock drafts, picks and power rankings.
Please check the opt-in box to acknowledge that you would like to subscribe.
Thanks for signing up!
Keep an eye on your inbox for the latest sports news.
Sorry!
There was an error processing your subscription.
The Falcons handled the Giants at home in one of the sloppiest games of the season

Here are the Week 7 grades for every team that played on Sunday

RJ White has his finger on the pulse of Matt Ryan and the Falcons
A detailed look at the prospects the Raiders might (and should) target with their 2019 first-round...

The Cowboys added the wide receiver, the Raiders' first-round pick in 2013, as Oakland continues...

Lynch suffered a groin injury and it had previously been reported he'd be out for at least...