After Further Review: Fleet, fierce Seattle defense isn't invincible
Seattle's D thrives on speed and violence, giving QBs little time to think. But this swaggering group does have weaknesses, and you can bet the Broncos will find them.
More SB coverage: XLVIII odds | Expert picks | Super Bowl news
The Seattle Seahawks' defense is in elite company when it comes to defensive stats, becoming only the third team since the NFL-AFL merger to lead the league in points allowed, yards and turnovers.
The other two were the 1970 Minnesota Vikings and the 1985 Chicago Bears, which some consider the best defense ever.
This Seattle defense is indeed special. And, much like that 1985 Bears team, it is nasty and fast up front. That front, coupled with an aggressive secondary that can cover and tackle, and with speed at linebacker, gives Seattle one of the best defenses we've seen in recent years.
How will Denver Broncos quarterback Peyton Manning attack it in Super Bowl XLVIII? Will two weeks worth of film study allow him to find the weaknesses? And, believe this, there are weaknesses just like with any other defense. It's just they do a great job of covering them up with that speed and aggressive play.
The Seahawks are considered a 3-4 front, but they are far from that. They use the 3-4 looks. They use 4-3 looks. They use looks where they play a 3-4 two-gap style on one side and a 4-3 one-gap style on the other on one play. They also use looks with three guys inside over in the interior offensive linemen and two outside rushers.
That's what helps make this Seattle defense unique. They love the aggressive one-gapping attack style up front, yet they also ask some of the players to play a two-gap style in some looks.
In the secondary, their favorite coverage is "cover-3," which is a single-high safety with the corners playing zone outside. Strong safety Kam Chancellor is used a lot like a linebacker in that defense.
They will also play press-man outside with the single-high safety and also play some two-high looks.
It is not a complicated defense. It is one that plays fundamentally sound and has the speed that is needed for what Peter Carroll wants to do.
Here are some of the things I saw on tape when studying the Seattle defense:
The NASCAR package
When you think NASCAR, you think speed.
It's no wonder the Seahawks love to use their NASCAR package, which lets them show off their speed up front. At times, opposing quarterbacks have to feel like the heat is on them as soon as the ball is snapped and that there are 15 players coming at them.
Seattle uses this look on passing downs. What they do is bring in all pass rushers up front. At times, they've used all defensive ends. Now the package mostly includes pass-rushing defensive tackle Clinton McDonald insde, who could be key to getting pressure up the middle on Manning.
The Seahawks stunt and loop off the look, sometimes even throwing in a blitzing linebacker or two, and it puts a lot of pressure on an offensive line. The pass rushers are so fast, and you can't double them all.
Here's a look at a GIF from Seattle's game with the Giants when they went to the NASCAR look and blitzed out of it.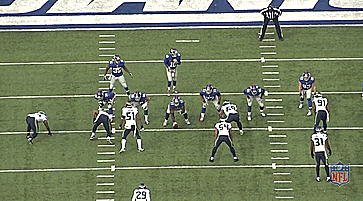 The Seahawks had three ends in Cliff Avril, Michael Bennett and Chris Clemons on the field with McDonald. They also blitzed linebackers Bruce Irvin (a former defensive end) and Bobby Wagner. With the pressure, the Giants left running back Andre Brown with the job of picking up Wagner. He whiffed. Wagner was the first to get near Eli Manning, who slid down when he saw all the pressure. Manning and his offensive line were overmatched.
Here's another example of some of the different looks the Seahawks can present with the speed package.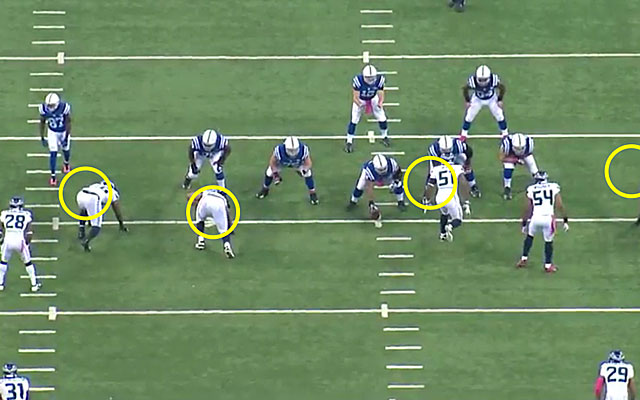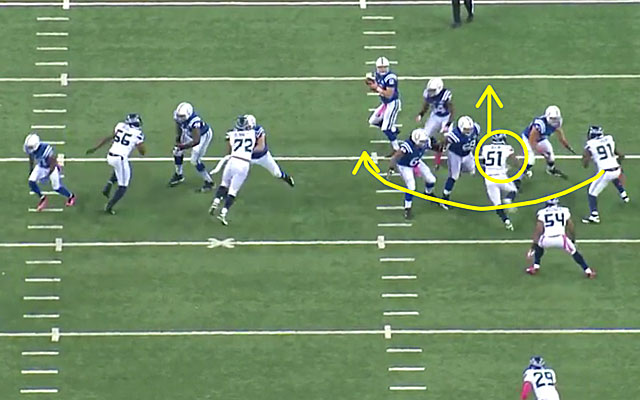 This is a play from their game against the Colts earlier this season. The Seahawks lined up with three down ends -- Avril, Bennett and Clemons -- and had Irvin (No. 51) standing up over the right guard. At the snap, Irvin charged hard to the guard's outside shoulder and Clemons looped inside to sack Andrew Luck.
Cover-3 is their coverage of choice
Although corners Richard Sherman and Byron Maxwell are more than capable of playing man, which they do, the Seahawks are a cover-3 team mostly on passing downs.
That means Sherman and Maxwell sink from their corner spots to form a three-deep look with Earl Thomas in the middle of the field. At times, the Seahawks will press outside and leave Thomas, who has great range, alone in the middle.
The four underneath defenders usually play a four-across zone.
This is what it looks like: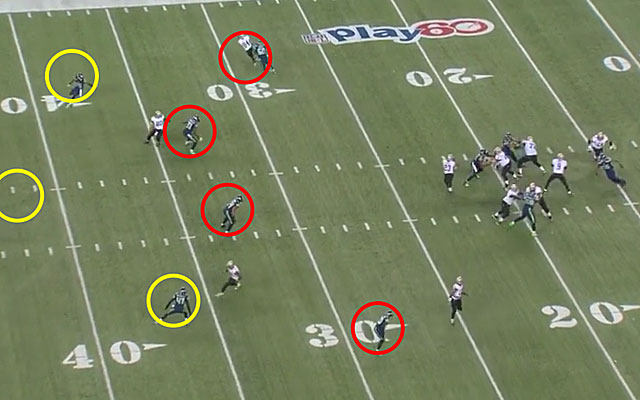 So what's the best way to attack the Seattle defense?
Here are some ideas:
• Throw on early downs. Do not let the speed package get on the field. Red Bryant and Tony McDaniel, two starters up front, are not good pass rushers. So throw when they are on the field.
• Attack the cover-3 with flood routes or four verticals.
Here's a look at a 72-yard touchdown pass from Luck to T.Y. Hilton with the zone flooded.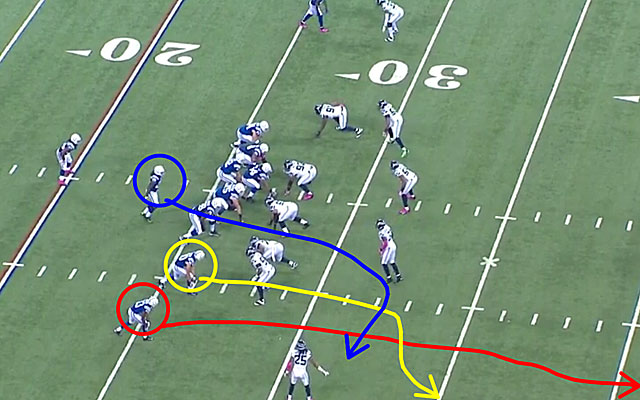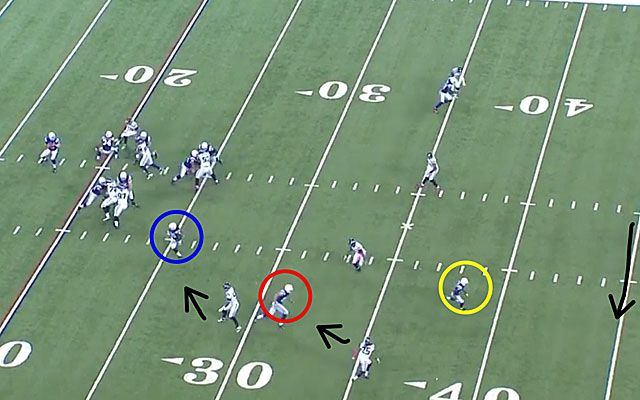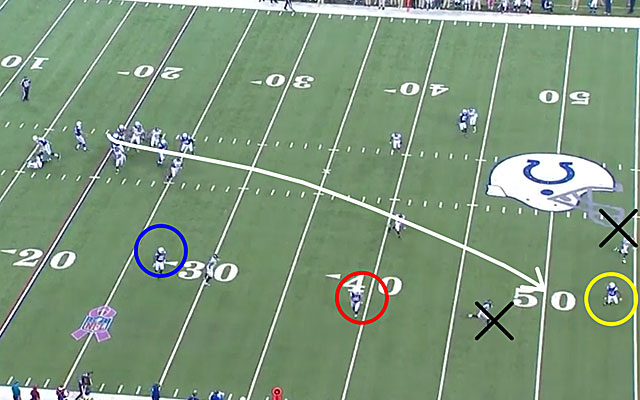 On the play, the Colts had Coby Fleener (yellow circle) in the slot and Hilton (red circle) outside of him. At the snap, Fleener ran a deep out and Hilton ran up the seam. The Colts also circled back Trent Richardson into the short flat. With Fleener in the medium zone, he put pressure on Sherman to press up the field. When he did, Hilton went flying by and Thomas could not get over in time to make the play. That's the type of route I expect to see from the Broncos.
• Attack the tight coverage with crossing routes.
Here's look at a play Atlanta ran against them this season. It was an incomplete pass, but you can see the play was designed right and should have been a big gain.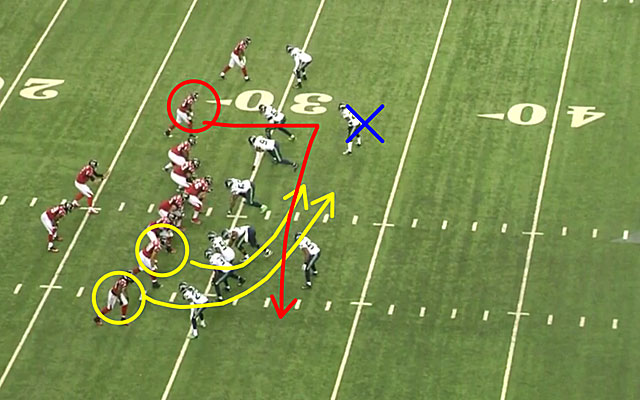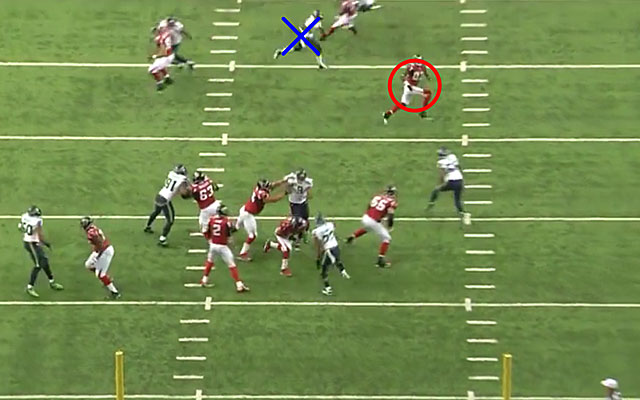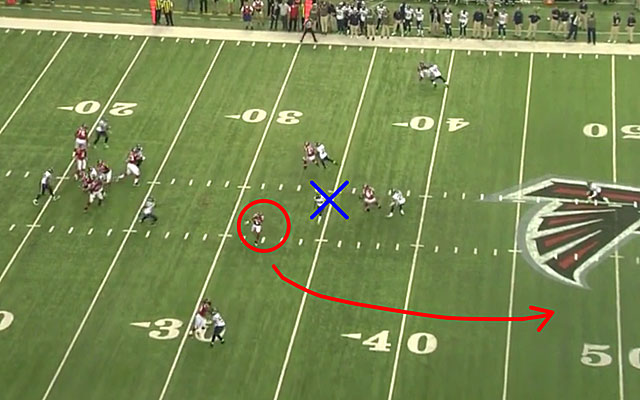 The Falcons lined up in 11 personnel with one back, three receivers and tight end Tony Gonzalez. Seattle was in their nickel package, matched up in man coverage. They had Sherman on Roddy White, Walter Thrumond (blue X) on Harry Douglas and Maxwell outside on Drew Davis. Chancellor was in man coverage on Gonzalez in the slot. At the snap, Gonzalez and White ran crossers from right to left and Douglas crossed from left to right. The Falcons also put running back Steven Jackson in the flat against Bobby Wagner. As you can see, Douglas got open on the cross when Maxwell had to maneuver through traffic. It should have been a big play, but Matt Ryan misfired on the throw. Manning should be able to kill that look if he sees it. Denver is also good running those pick plays.
•Have success running it when they don't use gap control. The one-gap style of defense can lead to big plays on defense, but can also lead to big runs. It takes gap discipline to work. When a defense loses that, there is a huge hole that can be exploited. Tampa Bay did a nice job of that in their loss to the Seahawks.
Summary
Yes, this defense is special. The speed makes it so. But there are holes in it that can be exploited. The secondary is good, but that pass rush is what makes those guys in the back end go. If they are to beat Manning, they better get him up front. If not, those cover-3 looks will be there for the taking. I love watching fast, aggressive defenses play. This is one of those and it's a joy to watch.
Everything you need to know about the Packers-Panthers game on Sunday afternoon

The Lions will be wearing their Color Rush uniforms for the first time on Thursday

The Lions look to maintain playoff positioning while the Bears attempt to play spoiler
The Panthers have hired an outside law firm to conduct the investigation

Here's every official injury designation for each NFL team for Week 15

Bennett was one of the few players who escaped punishment after Sunday's melee in Jacksonv...