After Further Review: Focus on Bengals' Nelson, Chargers' Dunlap
Reggie Nelson gives the Bengals many dimensions from his safety spot. King Dunlap is a tower of strength for San Diego. Both will be key Sunday.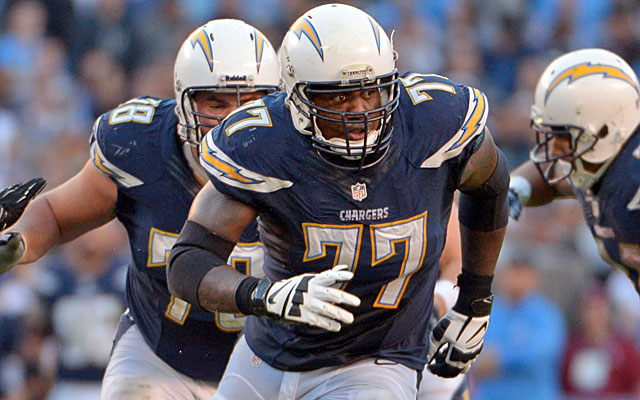 The playoffs, as we know, are usually about stars. Better yet, they're usually about quarterbacks.
But we've also come to learn through the years that it takes far more than stars and quarterbacks to win Super Bowls. It takes a deep, talented roster of players who can help augment what the stars do.
So to help get you ready for this week's four playoff games, I decided to do a little different take on my After Further Review column. I will do four mini-reviews, focusing on each game.
Rather than highlight some key matchups, I opted to make the focus on one player you might not know from each team who could have a major say in how far his team advances. It might be a player who does the little things that go unnoticed. It might be a player who is ready to break out for more. It might be a player who should be getting more recognition, but isn't.
None of the players I will highlight would be considered superstars. Most are players fans outside their playing cities might not even know. But put on the tapes and these guys show up -- some of them in a big way.
There are four After Further Reviews, one for each game, one player highlighted per team. Eight teams. Eight players you should know more about heading into the playoffs.
This is a look at the Chargers-Bengals game Sunday in Cincinnati. I will first take a look at Bengals safety Reggie Nelson. For the Chargers, it's a look at San Diego left tackle King Dunlap.
In his first couple of seasons after being a first-round pick by the Jaguars in 2007, Nelson was considered a bit of a disappointment. He wasn't as focused on the game as he should have been, and it showed up.
I remember when a quarterback readying to face the Jaguars a few years back told me how excited he was to get Nelson on a double-move. And he did.
Nelson's tackling was bad in large part because he wasn't as focused on his craft. Poor recognition led to poor angles and missed tackles.
When he left Jacksonville, Nelson signed with the Bengals as a free agent in 2010. At about the same time, Nelson admittedly changed the way he did things. He became a student of the game and spent the offseason working on his body as hard as anybody in the league, a far different approach than early in his career.
The result is a playmaking safety that can excel in the run game, cover in the deep middle and come up and be a factor near the line of scrimmage. Nelson isn't the biggest safety at 200 pounds, but he's more than willing to throw his body around. In the tapes I studied, he sure isn't afraid to mix it up.
Bengals defensive coordinator Mike Zimmer is outstanding at using Nelson in a variety of ways. In his exotic looks, Nelson can be lined up anywhere on the defense. It helps him in the run game where he can be free to run down runners and it helps him get pressure at times as a blitzing safety.
Here's a look at Nelson up near the line of scrimmage on a run play against the Browns.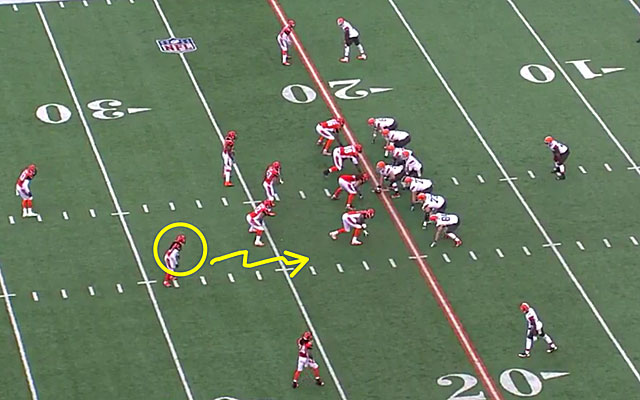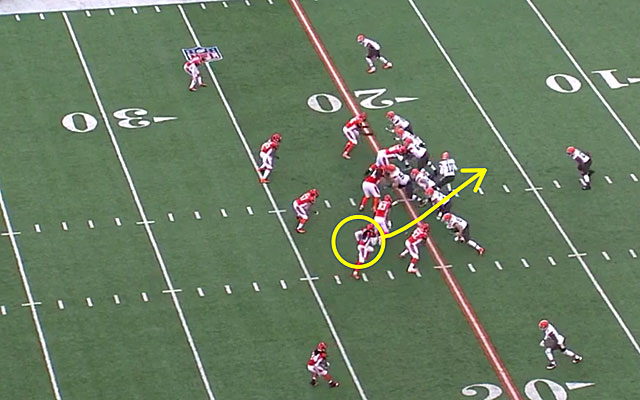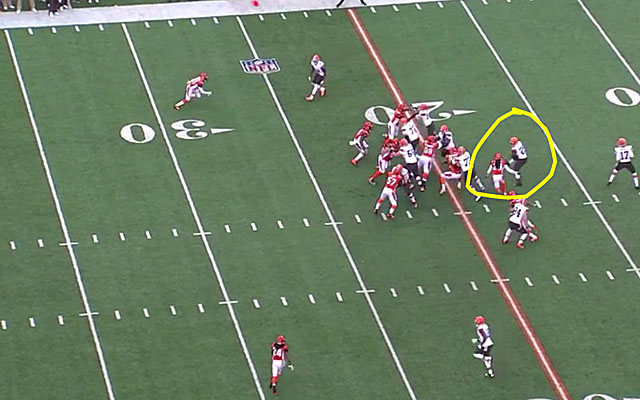 As Browns quarterback Jason Campbell called out his signals, Nelson (yellow circle) started to creep up closer to the line. At the snap, he was lined up as the eighth guy down in the box just inside of right end Wallace Gilberry. He fired through the gap between Gilberry and Michael Johnson (on an inside push) to drop Chris Ogbonnoya for a loss.
Here's a look at a play where Nelson shows his range in the deep middle.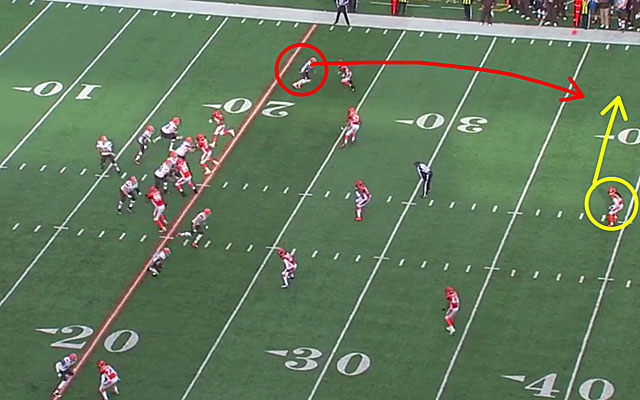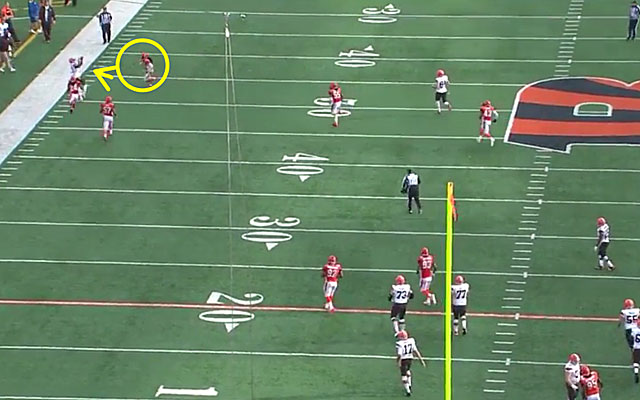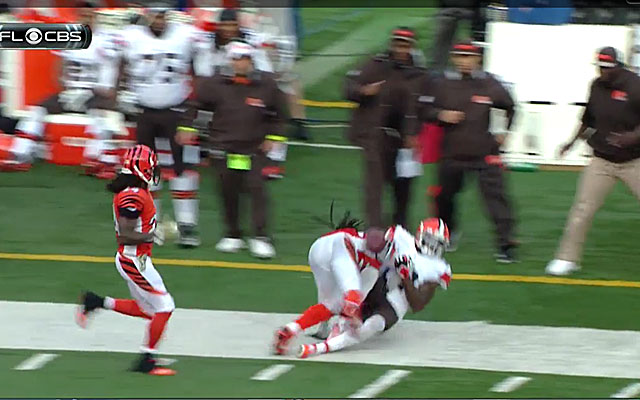 The Bengals were in a two-deep look. At the snap, Browns receiver Josh Gordon (red circle) went on a go route down the left sideline. As you can see from the first picture, Nelson had a lot of ground to cover. But he covered it. As the ball was coming into Gordon's hands, Nelson blasted him and knocked the ball loose to prevent a big play. It was a classic safety play for a guy playing over the top.
Nelson will be key to how the Bengals go after the Chargers' offense this week. If you are watching the game, keep an eye on No. 20. He will be lined up all over the field. And you can bet that Philip Rivers will find him before every snap.
When the Chargers signed Dunlap as a free agent from the Eagles, I thought it was little more than a stopgap move. That's because he had moments in Philadelphia where he really struggled in pass protection. But with the Chargers, he has been a pleasant surprise.
He has done a really sound job in pass protection when he has been in the lineup and he has been especially good blocking for the run. Dunlap is a big man at 6-feet-9 and 330 pounds. That can make it tough to get leverage in the run game, but he has improved in that area as well.
Here's a look a look at him in the run game against Denver.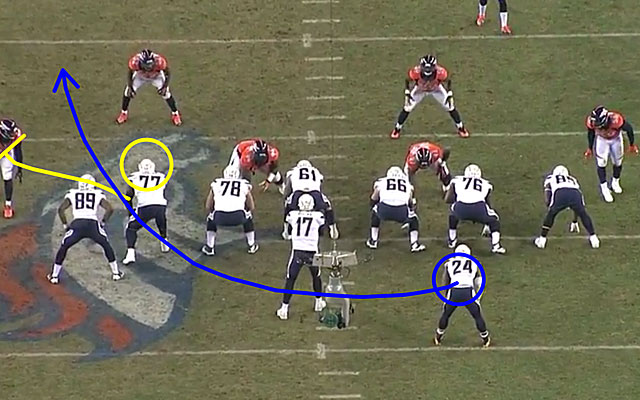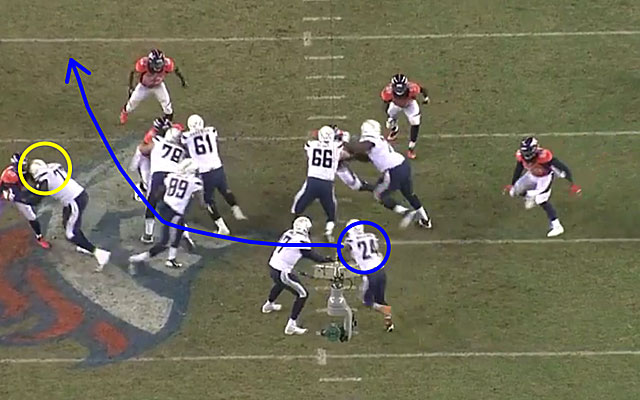 The play was a Ryan Mathews run to the inside hip of Dunlap (yellow circle), who was locked in a one-on-one situation with Shaun Phillips. He completely mauled Phillips, pushing him to the outside to open a huge hole for Mathews. It was a classic case of getting on a man and driving him out of the hole.
Here's a look at Dunlap in pass protection against Denver. This was a deep completion to Vincent Brown. It was the type of play that needed time to let the receiver get down the field.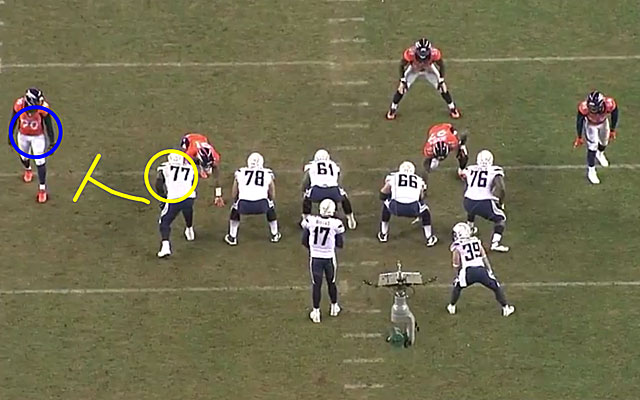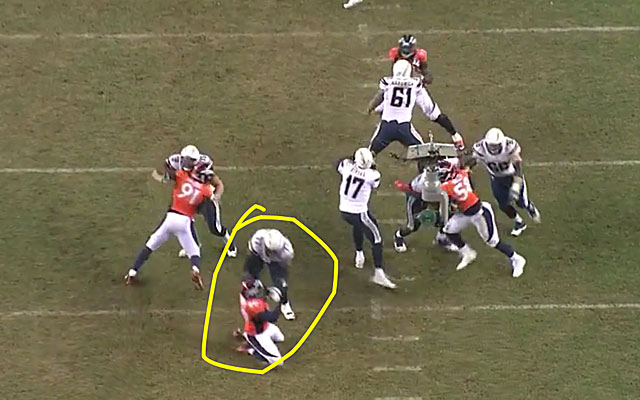 Dunlap was once again locked in a one-on-one situation with Phillips. At the snap, he got a good set and when Phillips tried to overpower him, Dunlap was able to push him up the field and away from Rivers, who was stepping up. As he finished his block, Dunlap drove Phillips to the ground for good measure.
When the Chargers lost to the Bengals 17-10 earlier this season, Dunlap didn't play, one of three games he missed with a neck injury. Rookie D.J. Fluker moved from the right side to the left side for that game to face Michael Johnson, who didn't get a sack but had several pressures.
The Dunlap-Johnson battle will be key this week in deciding the outcome. Can he keep Johnson off of Rivers? And will he be able to move him in the run game, especially since Johnson is so good against the run?
Here are 10 things to watch in Week 15, including a hot Bortles, a cold Brady and a new Eagles...

A couple of potential playoff teams have trouble covering against cellar dwellers in Week...

Siemian said he knew the injury was serious as soon as it happened
After an injury to Trevor Siemian, Brock Osweiler entered the game and helped the Broncos to...

The 32-year-old running back is done for the year

Brandon Williams was involved in a scary situation in the first half against Denver