After Further Review: Focus on Colts LB Freeman, Chiefs DE DeVito
Colts' LB Jerrell Freeman was in the CFL not long ago, while Chiefs DE Mike DeVito rarely shows up on the stat sheet. But both will be key to which team moves on Saturday.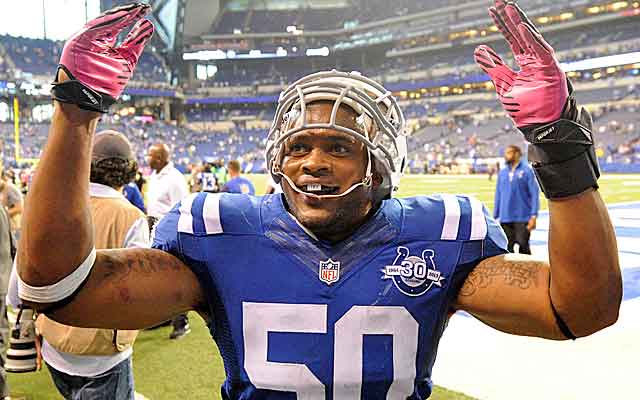 The playoffs, as we know, are usually about stars. Better yet, they're usually about quarterbacks.
But we've also come to learn through the years that it takes far more than stars and quarterbacks to win Super Bowls. It takes a deep, talented roster of players who can help augment what the stars do.
So to help get you ready for this week's four playoff games, I decided to do a little different take on my After Further Review column. I will do four mini versions of After Further Review focusing on each game.
Rather than highlight some key matchups, I opted to make the focus on one player you might not know from each team who could have a major say in how far their team advances. It might be a player who does the little things that go unnoticed. It might be a player who is ready to break out for more. It might be a player who should be getting more recognition, but isn't.
None of the players I will highlight would be considered superstars. Most are players fans outside their playing cities might not even know. But put on the tapes and these guys show up -- some of them in a big way.
There will be four After Further Reviews coming, one for each game, with one player highlighted per team. Eight teams. Eight players you should know more about heading into the playoffs.
Let's start with the first AFC wild-card game on Saturday, which matches the Indianapolis Colts against the Kansas City Chiefs .
The player I want to highlight for the Colts is linebacker Jerrell Freeman . The player who will be highlighted from the Chiefs is defensive end Mike DeVito.
Jerrell Freeman, LB, Colts
I will start with Freeman. His story is a great one. The Colts signed him out of the Canadian Football League last season and he earned a starting job. He performed so well that some scouts and personnel people thought he should have gone to the Pro Bowl last season.
I, for one, think he should be going to Hawaii this season. He has been a force on the Colts defense. Aside from outside linebacker Robert Mathis , who leads the league with 19 sacks, Freeman has been the best defender for the Colts. Two weeks ago, he was named the AFC Defensive Player of the Week for his play against the Chiefs in the first meeting between the teams. He had five tackles, a sack, forced fumble, fumble recovery and an interception to help the Colts beat the Chiefs.
Last week against Jacksonville, he had eight tackles, a sack, two passes defensed, a forced fumble and two quarterback hurries. He was all over the field. He was even better than he was against the Chiefs.
I studied both games and the thing that caught my eye is how he can do so many things so well. In 2012, his pass coverage wasn't as good, but it's clear he has worked to improve in that area. The Colts use him in a variety of ways, and his speed and instincts to get to the football help big time in the run game.
Here's a look at his forced fumble from last week's game. It happened on the third play from scrimmage.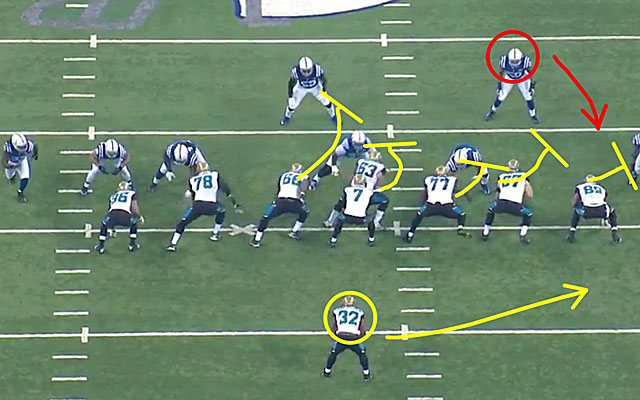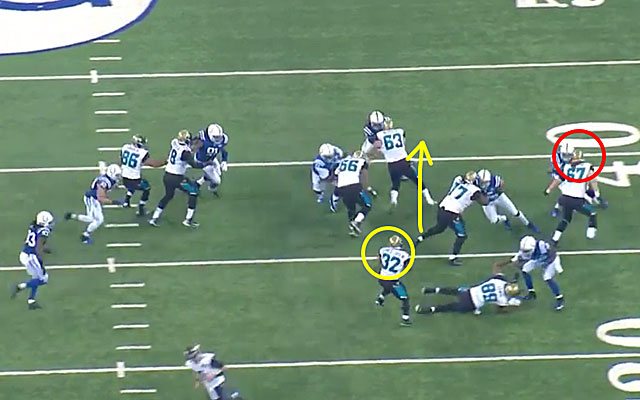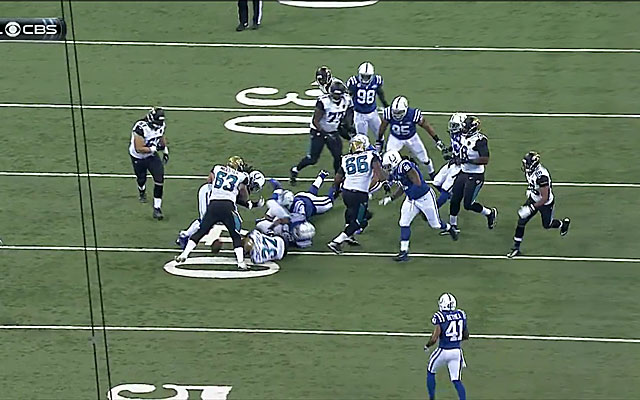 The Jacksonville Jaguars are running a stretch play to the right with Maurice Jones-Drew (yellow circle). All the blocking action is to that side and Freeman (red circle) does the right thing and jumps to the outside to turn the play inside. He engages Austin Pasztor , but when Jones-Drew cuts it up inside, Freeman sheds Pasztor and is able to hit Jones-Drew to force a fumble and a turnover.
The Colts also used him in the pass rush as well. Here's a look at his sack from last week.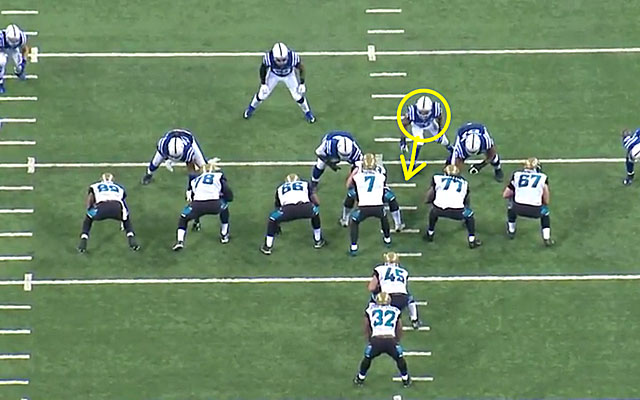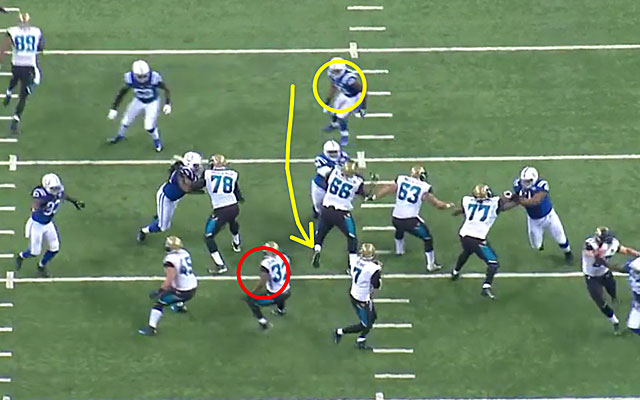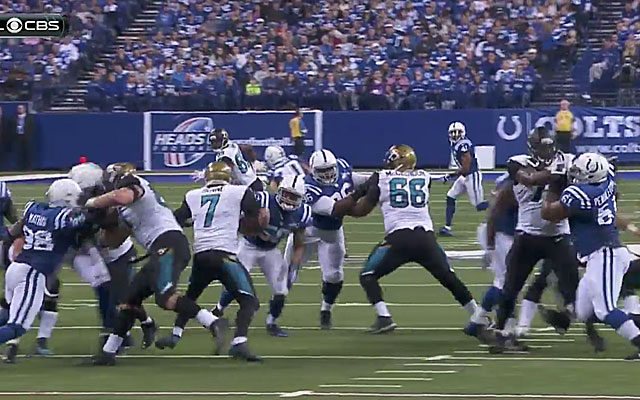 Freeman (yellow circle) is lined up in the A-gap between the center and right guard. At the snap, he takes a step back but then realizes that Jones-Drew is staying in to block. That means he has a chance to come after the quarterback. When Jones-Drew looks outside to his left, and Mathis forces Chad Henne to step up, Freeman comes inside to get the sack on Henne.
Freeman also showed in both games that I studied that he can match up with backs in the passing game and has a feel for coverage when in zone.
Keep an eye on him this week against the Chiefs. He will play a big role in how the Colts defend Jamaal Charles . It's too bad he didn't get recognized enough to be going to Hawaii.
Mike DeVito, DE, Chiefs
Earlier this season, DeVito was given a game ball after the Chiefs had nine sacks of the Oakland Raiders , even though he didn't get one.
Why?
His ability to help stuff the run was key to putting Oakland in passing situations. DeVito, who came over as a free agent from the New York Jets , does a lot of the grunt work on the Kansas City defense as a 3-4 end. Along with Tyson Jackson , their jobs are to choke off the run and take on doubles to free the linebackers to make plays. If they make tackles, it's a bonus.
Here's a look at DeVito on a run play against the Colts on a third-and-1 from two weeks ago.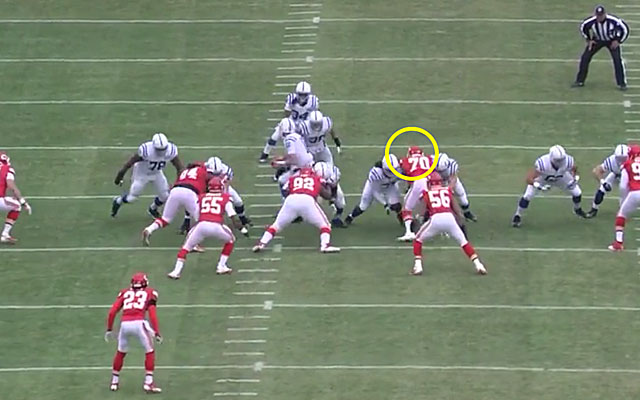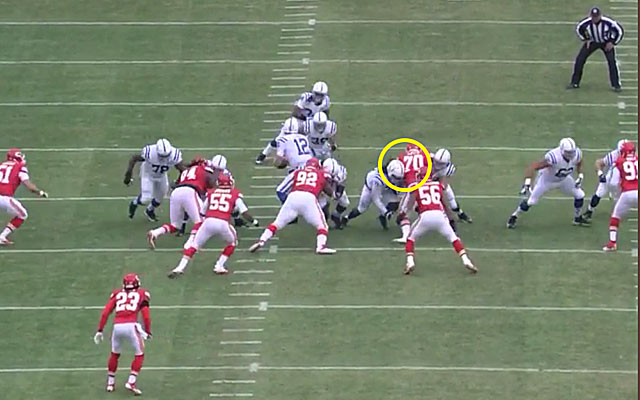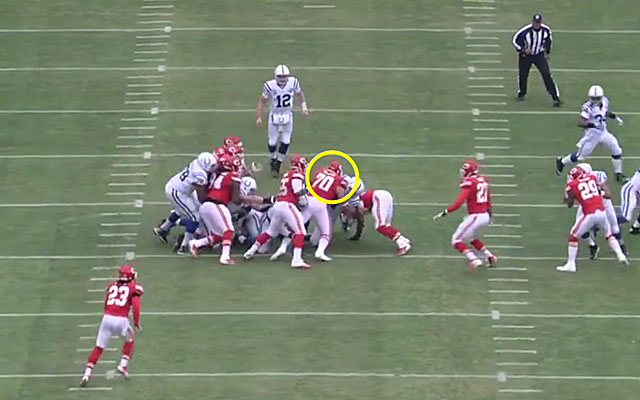 DeVito (yellow circle) is lined up shaded outside the left shoulder of the guard in the guard-tackle gap. At the snap, the Colts try to double him with guard Xavier Nixon and tackle Anthon Castonzo. But DeVito, as you can see, attacks the double. He's able to split it, shed Castonzo, and hold up to make a tackle for no gain on fullback Stanley Havili to force a punt. That's his strength, the ability to hold the point on running downs. You won't see a lot of him on passing downs, but he is key to getting teams in passing situations.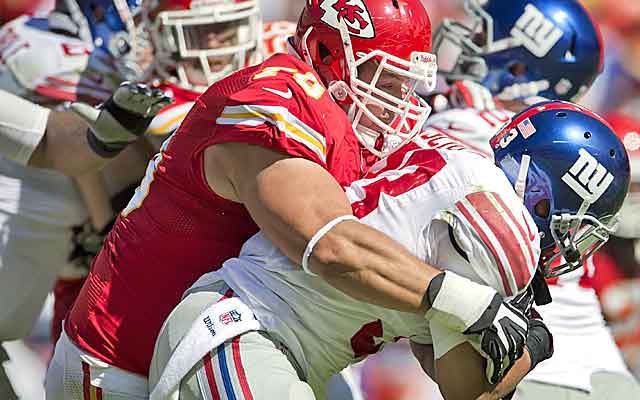 If the Colts can't run on the Chiefs at all, it will put a lot of pressure on the Colts offensive line to keep the Kansas City pass rushers off Andrew Luck . That's where DeVito is so valuable.
The pass rushers get the sacks, but he does the dirty work.
Cowboys rookie Jourdan Lewis got some good news on Tuesday.

The Ravens might need some help at running back

The Jaguars are making people rich
It looks like Michael Vick is hoping to make the transition from player to coach

The former undrafted free agent is about to get a huge raise

Both Malik Hooker and Andrew Luck are on the PUP list, so maybe it's time to start worryin...