After Further Review: Focus on DE Thornton, C De La Puente
Eagles' DE Cedric Thornton was on the practice squad not long ago, while Saints C Brian De La Puente is an unheralded journeyman. But both will be key to which team moves on Saturday.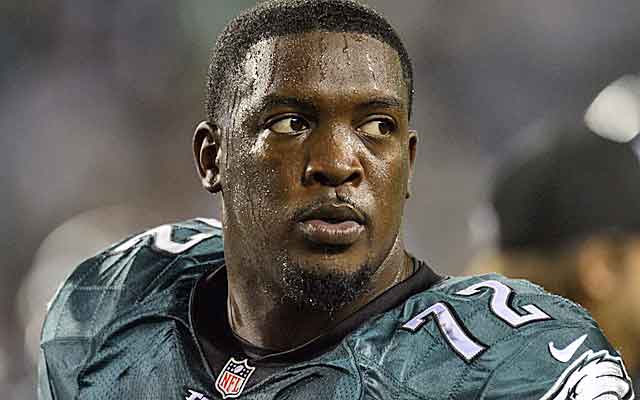 Every team has stars. You know them.
But you might not know some of the key players on the playoff teams in action this week.
During the regular season, I do one big After Further Review column, but for the opening week of the playoffs I am doing four mini-After Further Reviews to highlight the four games.
The idea I had was to take one player you might not know on each team, a player I think will be key to any playoff run they make, and highlight them here. They might not be household names, but the tapes I've watched show how critical these players are to the success of their teams.
Some are stars in waiting. Some are players having career years. Some are just good football players who don't get their due.
This column will focus on the Philadelphia Eagles-New Orleans Saints NFC wild-card game. You know Drew Brees and Nick Foles and LeSean McCoy and Jimmy Graham in that game.
But do the names Cedric Thornton and Brian De La Puente mean anything to you? They do to the Eagles and Saints. Thornton is a starting defensive end who is having his best season. The feisty De La Puente is the Saints starting center and is key to what they do on offense.
Here's a look at both.
Cedric Thornton, DE, Eagles
The Cedric Thornton story is a good one. He wasn't recruited out of high school, walked on at Southern Arkansas, grew from 210 to 260 pounds, was dismissed from the team for disciplinary reasons for his final two games as a senior, didn't get drafted, spent 2011 on the Eagles' practice squad and 2012 as a reserve before emerging as a force this season.
That odyssey makes Thornton play hard all the time, never wanting to waste this opportunity. And it shows on the tape.
Thornton has emerged as a big part of the Eagles' defense. Now settled at left end after spending time at both end and on the nose, he will be a key in whether the Eagles make a playoff run.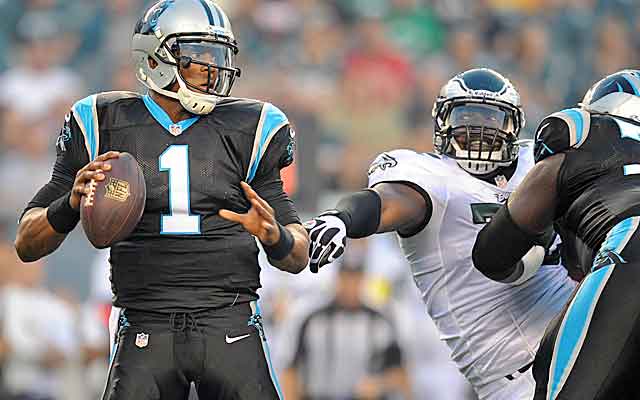 If you simply look at Thornton's stat line, it is far from impressive. He has just one sack on the season, but he has 60 tackles and has been around the quarterback more than his sack numbers would indicate.
Now 6-foot-4 and 309 pounds, he is an all-day sucker for whoever is lined up against him. He is relentless. He does a lot of the dirty work for the Eagles. He takes on doubles to help free up others. But he also beats the double to make tackles as well.
Here is an impressive play from when the Eagles played the Cardinals earlier this year. It was a run for Rashard Mendenhall to the right or directly at Thornton.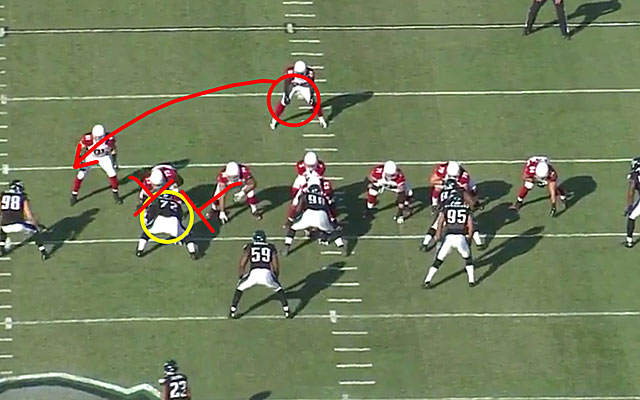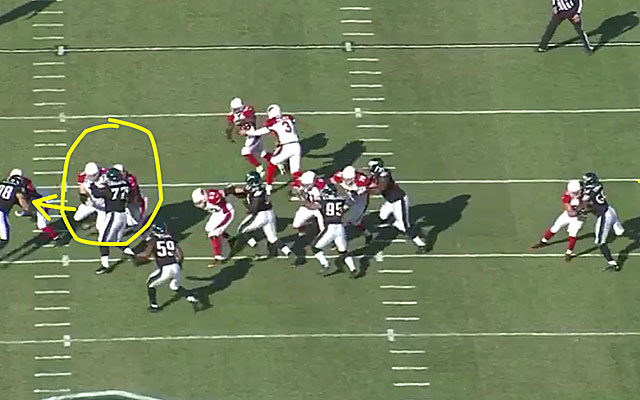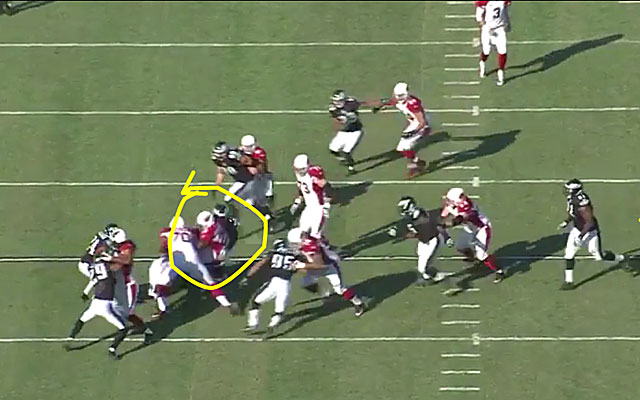 The Cardinals have a double on Thornton with right tackle Eric Winston and right guard Paul Faniaka. At the snap, Thornton powers into the double, getting the edge. As he does, he continues to use his hands to help split the two offensive linemen as Winston moves on to the next level to block DeMeco Ryans. The problem is Thornton is beating Faniaka and comes down the line to stop Mendenhall for no gain.
Here's a look at Thornton's only sack this season, and it came against Peyton Manning. It also shows his versatility since he's lined up over center Manny Ramirez.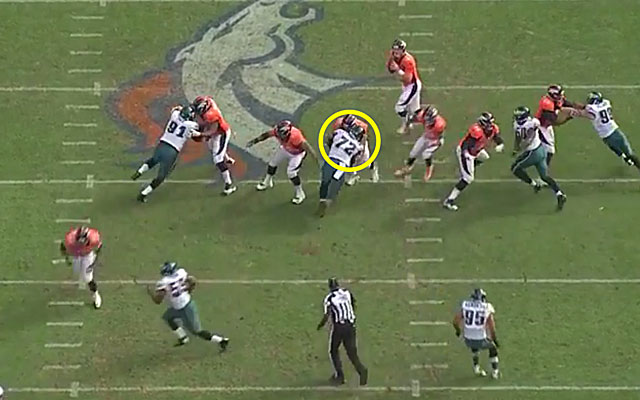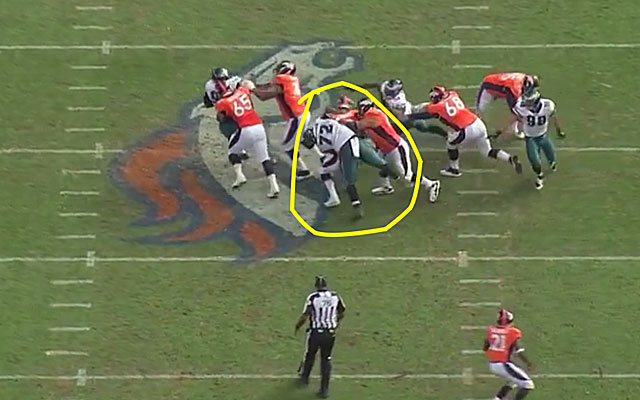 At the snap, Thornton bull-rushes Ramirez, getting him off-balance and pushing him back into Manning. As Manning scans the field, Thornton reaches over Ramirez and grabs Manning and pulls him to the ground. It is an impressive feat of power and strength. Ramirez is a heck of a center to push back in that way.
So as you watch the Eagles this week, and players like Trent Cole and Ryans are getting all the hype, keep an eye on Thornton and fellow down end Fletcher Cox. They will be key to getting push on Drew Brees and freeing up others to go make tackles and blitz through open lanes.
Brian De La Puente, C, Saints
This is another player who had a long journey to become an NFL starter. He went undrafted out of California in 2008, signed with the 49ers, but was waived on the final cuts that season. He then bounced around five times with four other teams and another stint with the 49ers before signing as a practice-squad player with the Saints in 2010.
In 2011, Saints starting center Jonathan Goodwin signed with the 49ers and Olin Kreutz was expected to be the starter. But he got hurt and De La Puente went in as the starter and played well. Kreutz retired and the job has been De La Puente's ever since.
With a short quarterback, and a proficient passing attack, having a smart, strong center in the middle is a must for the Saints. They have that in De La Puente.
If you watch the Saints, he does a great job of identifying blitzers and seems to have a knack for sliding the line and protections the right way. Here's a look at De La Puente on a 44-yard touchdown pass from Brees to Lance Moore last week against Tampa Bay.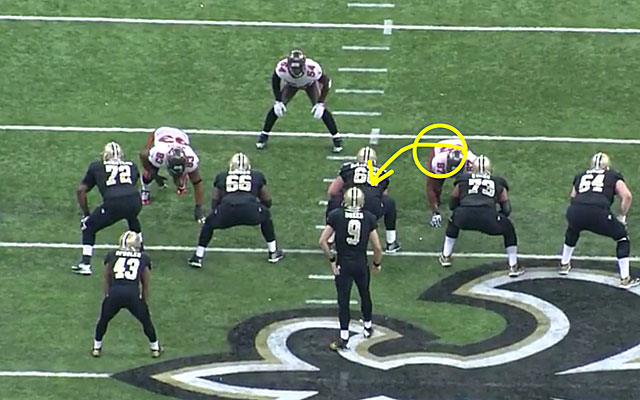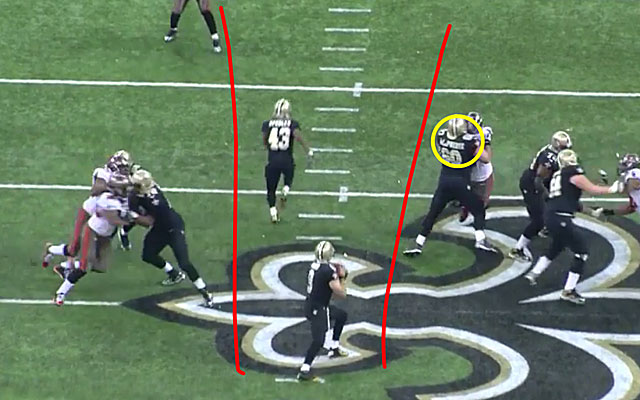 On this play, De La Puente is uncovered. But the Saints slide both sides to their outside in protection. So when right guard Jahri Evans slides to the right, Bucs defensive tackle Akeem Spence jumps to the inside and is met by De La Puente. As you can see from the picture, he does a great job and allows Brees to have a clear lane to look down the field to fire the rifle shot for the score.
That lane, especially for a short quarterback like Brees, is so vital to the passing-game success. This week, De La Puente will be matched up with rookie Bennie Logan, the Eagles' nose tackle.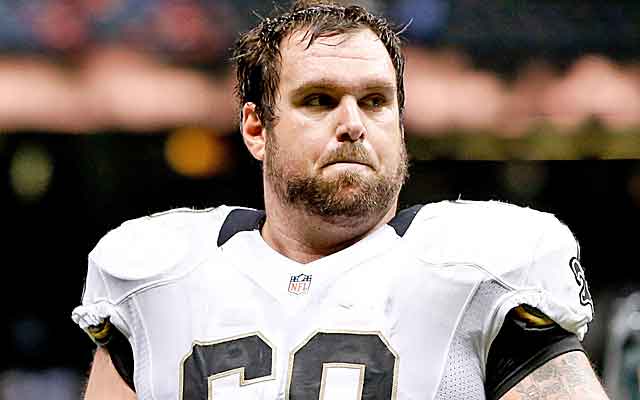 He has to handle him in the middle to get the running game going. On passing downs, the Eagles will throw a lot of looks and blitzes at the Saints, and De La Puente will be key to how the Saints handle that up front.
One more thing about De La Puente: He will become an unrestricted free agent after the season. For a pass-first team, he might be worth a look.
R.J. White, who nearly won the Las Vegas SuperContest, locks in his pick for the NFC Championship...

Mike Tierney has owned NFL totals and has a strong pick for the AFC Championship Game

The Saints coach wasn't in the mood to answer questions about Drew Brees on Tuesday
This is footage that you'll definitely want to see

It wasn't the matchup that we expected, but the Jaguars would argue that's everyone else's...

The Eagles quarterback and the Vikings quarterback have paths that have crossed many times