After Further Review: Focus on DT Knighton, safety Mitchell
Coming off bye weeks, the Broncos and Panthers are rested and ready for their playoff openers. Denver's Terrance 'Pot Roast' Knighton and Carolina safety Mike Mitchell might make a big difference this weekend.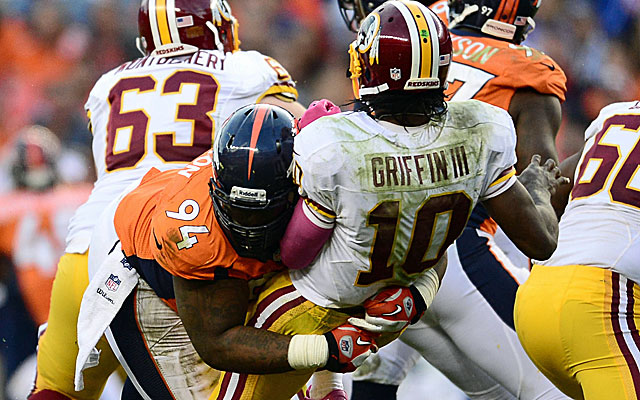 More NFL: Focus on Pats' Ninkovich, Seahawks' Maxwell | Playoff Bracket
With the NFL Playoffs in the Divisional Round, we all know the stars expected to shine this weekend.
But to help prepare you for the games, I always like to take a look at some of the lesser-known players who could have big roles in the outcomes. Last week in After Further Review, I looked at eight players from the eight teams playing on Wildcard Weekend, guys that you might not have known, but should.
This week, it's one from each of the four teams that had the bye. In the first installment I broke down Seattle corner Byron Maxwell and New England defensive end Rob Ninkovich.
In this one, I will take a look at Denver Broncos defensive tackle Terrance Knighton and Carolina Panthers safety Mike Mitchell.
Terrance Knighton, DT, Denver Broncos
Take one look at the guy they call "Pot Roast" and you will see why he's so key to what the Broncos do on defense.
His listed weight is 330, which he weighed earlier this season. That seems to be low now looking at him, but despite his body, Knighton moves well for a big man and had a Pro Bowl-type of season.
If you want to run on the Broncos inside, you better handle Knighton. He is good at taking on double teams in the run game, which his power and size allow him to do. He's also athletic enough to get push inside in the passing game. Ask Robert Griffin III or Andrew Luck, two quarterbacks he sacked this season.
When the Jacksonville Jaguars drafted Knighton in the third round in 2009, he had a ton of potential. And at times, he flashed it. But he had a tendency to get heavy and slow down late in the season.
Then he had an off-field incident in the spring of 2012 where he was hit in the eye with a bottle during a bar fight -- that he was allegedly trying to break up. He nearly lost his eye, and his vision was badly affected.
Since he couldn't work out, he came to camp heavy in 2012. That didn't sit well with overbearing head coach Mike Mularkey.
Eventually, Knighton got his weight down but still had to be weighed every week and meet his number. He told me he made weight every week, but once after making weight on a Friday, the team said he had to be weighed again on a Saturday at the team hotel. He said he was two pounds over after going out for a nice dinner the night before.
They put him on a treadmill at the team hotel until he got down to the weight of 330. Knighton said the two pounds were gone in minutes on the machine, but they kept him on it for a lot longer to prove a point.
"On the night before a game," he told me this summer. "How did they think my legs would feel the next day?"
When a new coaching staff came in, Knighton was a free agent and they opted to go in a different direction, which, I think, was a mistake. Former Jaguars coach Jack Del Rio, who was the coach when the Jaguars drafted Knighton, was the defensive coordinator in Denver, so Knighton signed there.
The Broncos have to be thrilled he did. Knighton has been one of their better defenders this season. He shows up week in and week out on tape.
Quite frankly, he is a bargain at two years, $4 million. Denver is 19th in total defense, but seventh against the run and 10th in yards per carry, the most important rush stat. Teams are averaging 3.9 per rush.
Here's a look at a play he made against the Texans that shows how athletic and strong he is as a run player.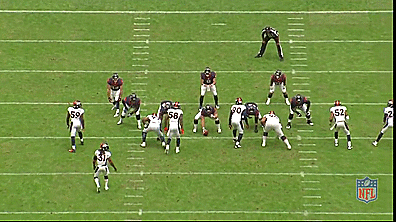 On the play, a run at him, the Texans tried to block down on him with Duane Brown, one of the better tackles in the league. But as you can see, Knighton swatted him away, and when tight end Ryan Griffin tried to block him, he slipped him and was able to keep Dennis Johnson to no gain. The movement on that play was so impressive for a man his size.
Here's a look at one of Knighton's three sacks this season.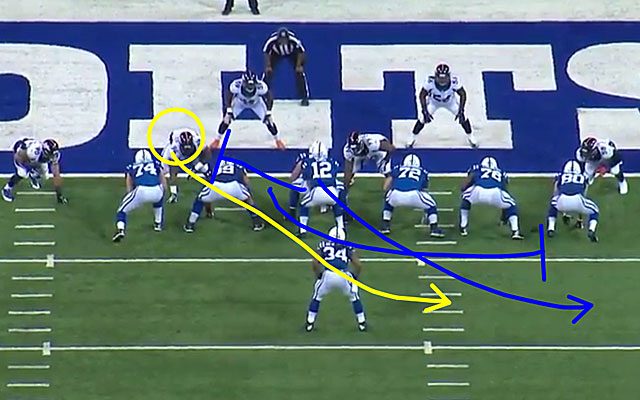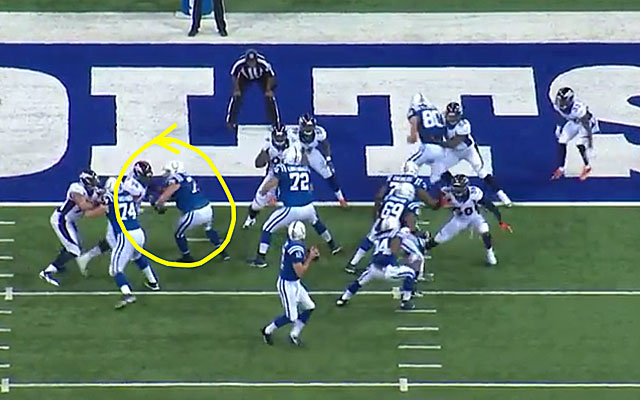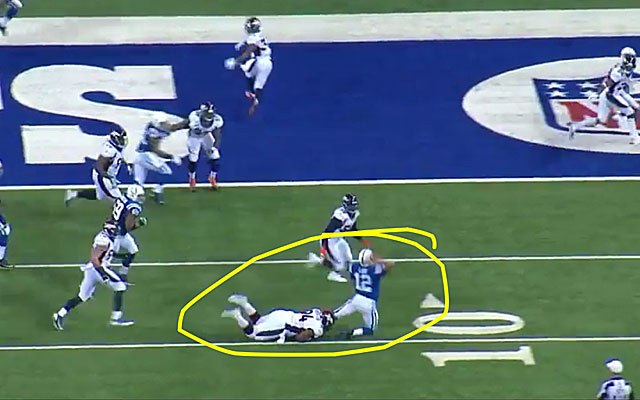 On the play, Knighton (yellow circle) was lined up outside the left shoulder of the left guard. The play was a designed roll to the right. The Colts pulled left guard Hugh Thornton and they tried to block Knighton with center Mike McGlynn. But Knighton used his hands to throw McGlynn aside and then chased down Luck from behind, showing off his athletic ability.
The last time the Chargers faced the Broncos, they ran for 177 yards against the Denver defense. But a lot of that yardage came on the edge, and Knighton actually played a solid game inside.
If the Chargers want to run this week, they'd be wise to try and handle Knighton inside -- even if it takes two blockers to do so.
Mike Mitchell, S, Panthers
When the Carolina Panthers signed Mitchell to a one-year deal for $1 million last spring, they did so with the idea he would come in and maybe compete for a job.
He's done a lot more than that.
Mitchell tied linebacker Luke Kuechly for the team-lead in interceptions with four and also had four sacks.
More importantly, he became the signal caller for secondary that was viewed as a major question mark before the season. When Charles Godfrey went down in the second week, Mitchell moved from strong safety to free safety and has done a nice job in the deep middle.
Mitchell was a second-round draft pick by the Raiders in 2009 even though he didn't get invited to the combine. Some said he was an Al Davis special, a speed, size player with little true ability.
Mitchell had nine starts in four seasons in Oakland, two last season, and had just two interceptions in his time there.
In Carolina, he looks like a different player. He reacts better. He reads things better. He's just much more confident in what he's doing.
Here's a look at Mitchell on a blitz against the 49ers. He timed it just right.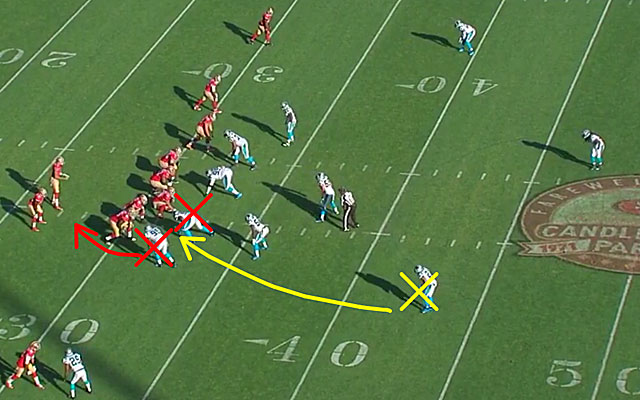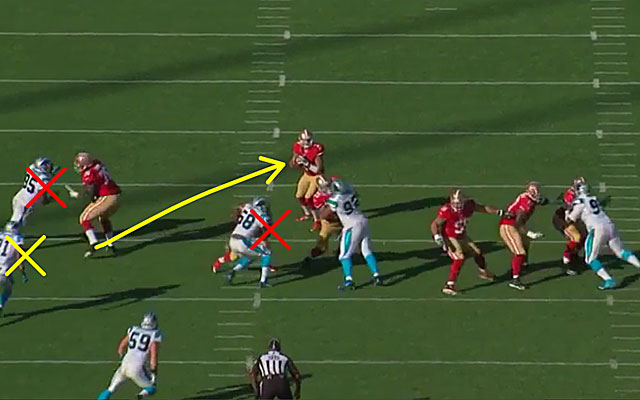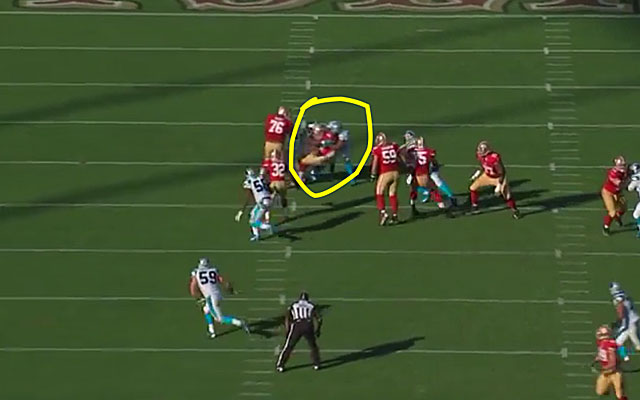 Mitchell (yellow X) was lined up in what looked like a two-deep look. But just before the snap, he started to creep up. When the ball was snapped, he took a fast run toward Colin Kaepernick. Charles Johnson went wide and blitzing linebacker Thomas Davis went inside. That left an alley for Mitchell, and he flew up and helped drop Kaepernick for the sack.
The Panthers ran the same exact blitz against the Bucs in Week 13 and Mitchell didn't quite get there, but the back had to pick him up and Davis was able to hit Mike Glennon to force an incomplete pass. Mitchell also got a sack off the same type of look in the season finale against the Falcons.
As a cover guy, Mitchell often plays a deep single-high safety. The Panthers love to bring Quintin Mikell down in the box as an extra run defender and use Cover-3 looks with the two corners and Mitchell deep. The fact Carolina is so good getting pressure with four guys most of the time allows them to play this way.
The Panthers got 33 of their 60 sacks this season in a four-man front. That's huge.
Against Atlanta, Mitchell showed what he could do from the deep middle on one sure completion to Roddy White that he broke up. Here's a look: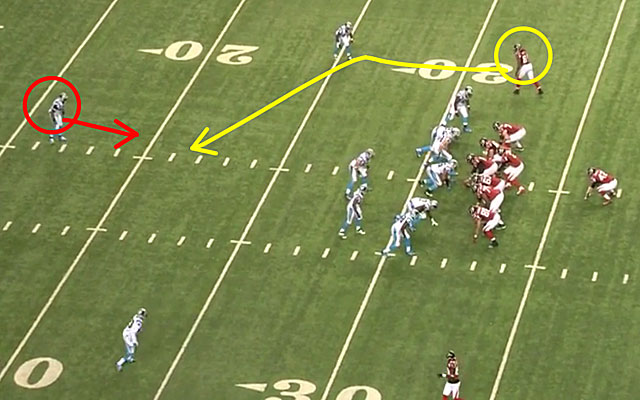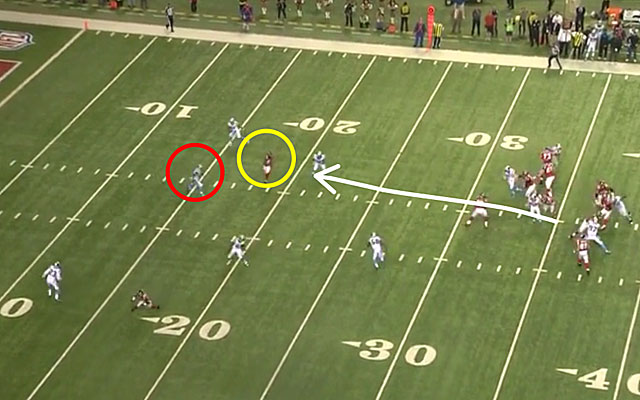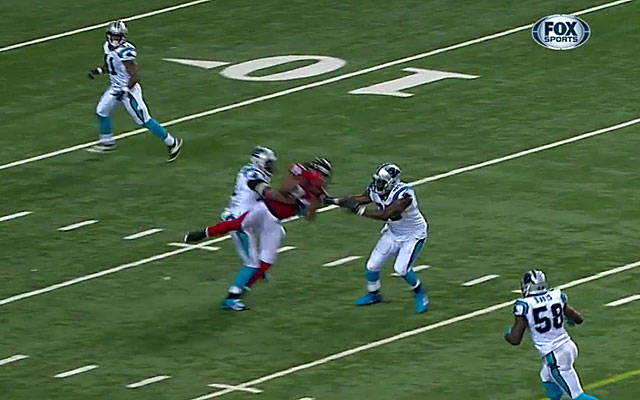 White (yellow circle) ran a deep in against the Cover-3. He was clearly open in the middle of the field and Matt Ryan came back to him and thought he had a completion. But Mitchell read the play and came down hard on White to jar the ball loose.
Mitchell isn't a great cover guy, and his aggressiveness coming down in the run game can be used against him at times, but he has the speed and range to make up for some of his mistakes.
Mitchell signed a one-year deal, so he will be a free agent after the season. If he can show up big in the playoffs, he just might be on his way to a big deal.
A driver alleges that Winston grabbed her crotch while at a drive-thru in March of 2016

Larry Fitzgergald might not ever retire, but when he does, he could be second all-time in receiving...

Adam Silver immediately said no when approached about the job, according to a report
That was Jerry's response after Goodell informed him of Ezekiel Elliott's suspension

Josh Nagel is a whiz at picking Seahawks games and makes a strong pick for 'Monday Night F...

Philadelphia is going to put the hammer down on Dallas Sunday night