After Further Review: Focus on Pats DE Ninkovich, Seahawks CB Maxwell
Cornerback Byron Maxwell has come up huge for a depleted Seattle secondary while DE Rob Ninkovich has earned his keep in New England. Both will play key roles Saturday.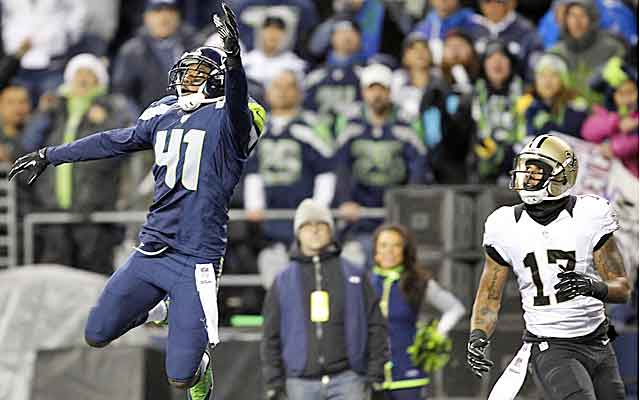 Prisco's picks: Seahawks will squeak past Saints | Playoff Bracket
Last week in After Further Review, we took a look at eight lesser-known players from the eight teams playing Wild Card Weekend.
This week I am breaking down four lesser-known guys from the teams that had the byes -- one for each team -- who I think will have an impact this week and could play a big part in whether their teams can get to the Super Bowl.
The four players are Seattle corner Byron Maxwell, Patriots defensive end Rob Ninkovich, Panthers safety Mike Mitchell and Broncos defensive tackle Terrance Knighton.
Those four aren't big names. Nor do they make huge money, although Ninkovich got a new deal a few weeks ago. All four have played major roles for their teams this season. Two (Knighton and Mitchell) are in their first years with their respective teams. One (Maxwell) is an injury and suspension replacement. The last(Ninkovich) was cut by two teams before making himself into a solid starter.
When you watch this week, keep an eye out for all of them. I bet they show up.
Let's start first with the two players who are playing in Saturday's games and then will come back with a second After Further Review on the two playing Sunday.
Byron Maxwell, CB, Seahawks
Maxwell came into this season, his third with the team after being a sixth-round pick in 2011, with little playing experience. He made the team this summer, but like last season he was Seattle's fourth or fifth corner coming out of camp.
But here's something you might not know: He was ahead of Richard Sherman on the depth chart in 2011. But injuries and a bout with pneumonia limited him to nine games. Last season, injuries cost him another six games, but he did get time late in the season when Brandon Browner was suspended.
He played some nickel early this season, but was largely a special-teams player until Browner was injured and then suspended for violating the league's substance-abuse policy. That, coupled with the four-game suspension of fellow corner Walter Thurmond, put Maxwell into the starting lineup five games ago. His first start came against the New Orleans Saints -- the same team Seattle will face Sunday in the divisional round-- and he made some big plays right off the bat.
At 6-1, 200 pounds, Maxwell isn't as big as the 6-4 Browner, but he's been an upgrade in terms of coverage skills. With Thurmond now back playing in the slot, the Seahawks have a heck of a corner group when you add in All-Pro Sherman.
Maxwell's play as a starter has been truly impressive, and, despite what the Seahawks might say, it has to be surprising. Up until he took over as the starter, Maxwell hadn't played more than 41 snaps in a game, and that was as an extra defensive back in sub-packages. In the five games since, he's played over 50 in all of them and over 70 in two of them.
In his first start against the Saints, he made two impressive plays. One was in a three-deep look where he came up and knocked away a deep ball intended for Jimmy Graham.
Here's a look at another impressive play from that game.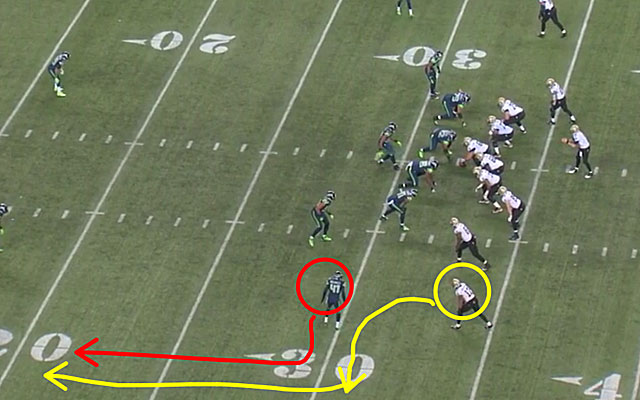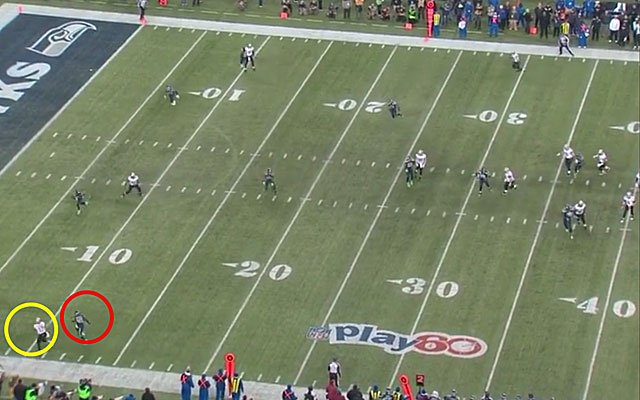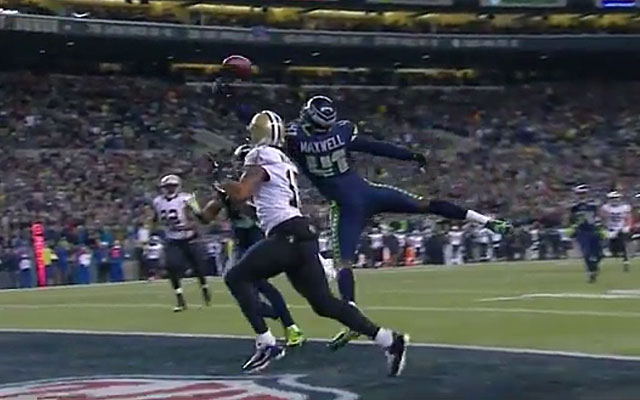 It's Seattle playing a Cover-4 zone with Maxwell against Robert Meachem (red circle) in his zone. Meachem runs a wheel route and Maxwell runs with him, diagnosing the route as the deep safety is pressed by the inside receiver. Late in the route, with plenty of time for Drew Brees to scan the field, Maxwell seems to slow down and look into the backfield. That's when Meachem gets behind him. But with the ball coming to Meachem, Maxwell makes a great leaping recovery to knock the pass away.
Here's a look at a GIF showing Maxwell picking off one of the two passes he got against Eli Manning of the Giants.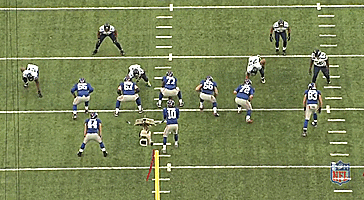 On this play, Maxwell is lined up in press-man against Hakeem Nicks. When Nicks runs a shallow cross, Maxwell goes right with him. When the ball is thrown slightly behind Nicks, Maxwell breaks on the ball and makes a heck of an interception.
With Thurmond back and Sherman playing at such a high level, I would expect the Saints to go after Maxwell more on Saturday. Can he hold up? He sure looks like it. The Seahawks thought enough of his play to keep him starting even with Thurmond back in the lineup.
Like Browner and Sherman and all the corners in Seattle, Maxwell will play a physical style outside. That means they grab and hold and beat up receivers as much as they can -- and some say even more than they should be allowed to do so. But that's what makes them so good.
Maxwell has had his share of coverage lapses, but most of that is due to inexperience. He tends to drift sometime when playing off-man or zone. Like Sherman, he's better when he's up on a guy in press-man. He did get beat for the game-winning touchdown against Arizona in man coverage, but he was right there with Michael Floyd, who made a great catch on a great throw.
With one year left on his deal after this season, Maxwell might be earning himself a nice payday down the road. He has more than held up in Seattle's aggressive man-cover schemes, often on an island on the right side of the defense matched against a top-level receiver. The question with Maxwell was whether he had the hips to turn and run with receivers, and he's shown he has that and more.
Forget the sometimes-talk about him moving inside to safety. In a Seattle-style system, he is perfect for the corner spot.
Rob Ninkovich, DE, Mew England Patriots
I love self-made players who came up the hard way to become quality starters. Ninkovich fits that description perfectly.
After being drafted and cut by the Saints in 2006, he suffered two knee injuries in his first season that led to him being released. He signed with the Dolphins, played with them in 2007 and 2008, moving to outside linebacker. He was signed by the New England Patriots
in 2009 and played outside linebacker before moving to defensive end last season.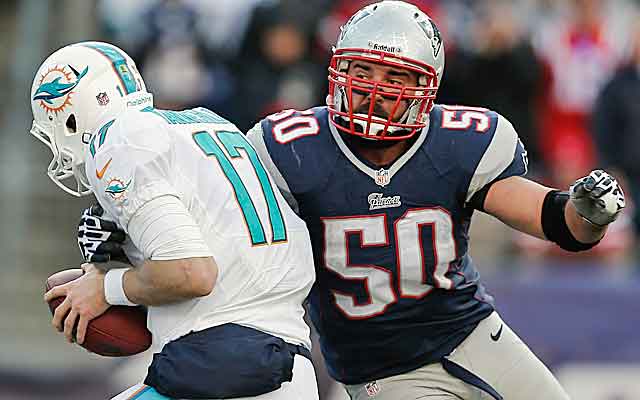 This season, he has played almost every snap for the Patriots on defense. He has always been solid against the run, but he had eight sacks this season.
The Patriots rewarded him with a three-year contract extension in December.
Here's a look at a Ninkovich sack from the Patriots' victory over the Baltimore Ravens in Week 16.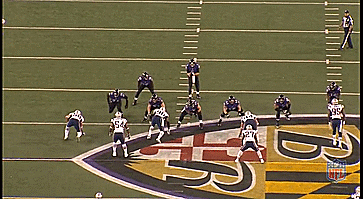 On the third-and-11 play, Ninkovich starts as a stand-up end, but puts his hand down just before the snap. When the ball is snapped, he takes a hard inside rush against Michael Oher. His power gets Oher off-balance and he is able to sneak inside of him to drop Flacco for the sack. It's that type of strength that has helped turn him into a solid pass rusher, maybe one of the more underrated in the league.
Here's a look at him in the run game from that same game.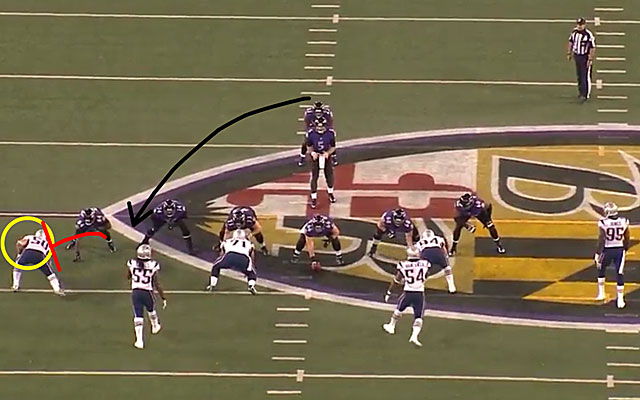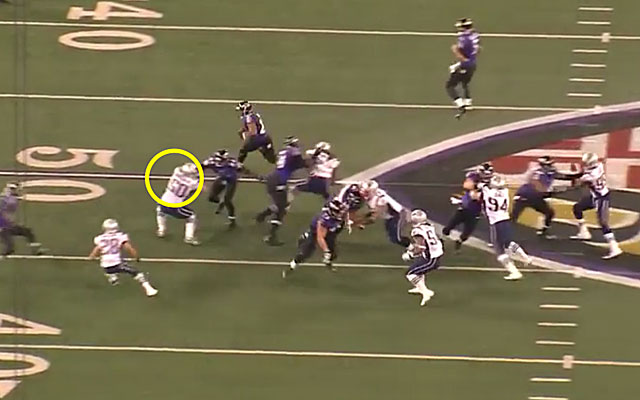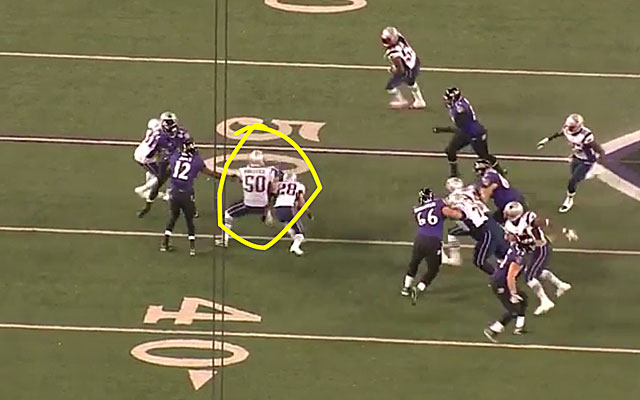 The Ravens try to run Ray Rice to the right. Ninkovich is being blocked by tight end Ed Dickson. At the snap, it appears Dickson gets the best of Ninkovich, who appears to lose his balance. But he is able to get his feet under him, then jumps outside to turn the play back inside and is able to dive at Rice and keep him to a 3-yard gain.
This week, Ninkovich will be matched against Colts right tackle Gosder Cherlius, who was given a big contract by the Colts in free agency. That matchup will be huge in determining whether the Patriots can get off the field on third down, something they have not done well this season.
The Pro Football Hall of Fame is one step closer to announcing the Class of 2018

Grab some turkey and get ready for this NFC North showdown

SportsLine's top NFL and college football experts pick a 4-team parlay that pays 10/1
After an epic collapse against the Saints, the Redskins are hoping to right the ship

Brice Irvin is not a happy camper right now

Linda Del Rio is not happy with the president