After Further Review: Four ways Seahawks could rattle Peyton
Peyton Manning and the Broncos can be unstoppable, even for Seattle's suffocating defense. But Manning can be slowed, mainly by disrupting his timing.
More SB coverage: XLVIII odds | Expert picks | Super Bowl weather | Latest news
The question that will be asked a lot in the coming days is one that I asked several coaches and players in recent weeks:
How do you slow down Peyton Manning and the Denver Broncos' passing game?
The numbers say you don't. Manning rolled up more passing yards than any other passer in league history this season and threw a record 55 touchdown passes. The spread-it-out, up-tempo offense dictates to defenses and puts a lot of pressure on coordinators to slow it down.
There have been moments when the offense seemed to struggle. Teams slowed the Broncos for spurts, but in typical Manning fashion he usually figured it out and got the offense back on track. Slowing that offense for an entire game is almost impossible, even for a great defense like the Seattle Seahawks in Super Bowl XLVIII.
The Patriots limited him to 150 yards passing in a regular-season victory by playing a ton of two-deep -- which Seattle doesn't utilize a lot -- but Denver ran it for over 250 yards. Manning threw for more than 300 yards in all but four games this season and threw for 400 in the Broncos' victory over the Patriots in the AFC Championship Game.
So what are the keys to trying slow him?
"Disguise, pressure, never show the same defense within the same series," one NFL defensive back said. "And if you are lucky enough to have a vet at safety or linebacker, it's key to audible off their audible. If they realize a blitz is coming and check away, being able as a defense to reset the blitz from the other side or change to a different blitz or coverage when they do it [is key]. And no big plays at all. If you do that, you will have a great chance of winning."
Yeah, that's all.
"You have to make them [the defenses] all look alike," one defensive coordinator said. "More 2-deep. No single high."
Guess what Seattle plays mostly in the secondary? Yep, single high with Earl Thomas in the deep middle. That could be a risky proposition against Manning, even for a defense as good as Seattle's.
In studying Manning's tapes over the years, especially those in the past couple of seasons, here are some of the things I've noticed which slow him down some:
• Pressure up the middle with your down players.
• Jumping from look to look right before the snap.
• Disguise in the secondary.
• Blitzing secondary players in the middle.
I will take a look at those here with some pictures and GIFS that show exactly how they can be disruptive to Manning. I use the word disruptive because he is a groove quarterback, a player who flourishes when he gets on streaks. But when it goes bad at times, his body language shows the frustration and he can sometimes have a hard time getting out of the rut. The head goes down, the frustration goes up.
That doesn't happen often. So when it does, defenses must take advantage.
Manning's brain is the best weapon in football. With two weeks to prepare for Seattle, it will be interesting to see what he comes up with in terms of a plan of attack.
Here's the best ways to fight back against him.
Pressure from down players inside
Here's a look at a play from the Jacksonville-Denver game in Week 5. It was on a first-and-10 play from the Denver 30.
The Broncos were in "12" or "Ace" personnel (one back, two tight ends, two receivers) and Jacksonville matched up with a Cover-2 look with their corners off. Manning ran Eric Decker from the inside slot on the right on a deep cross in the middle. If he had time, he had a chance for a big play. The problem, as you can see by the pictures below, was he didn't have the time.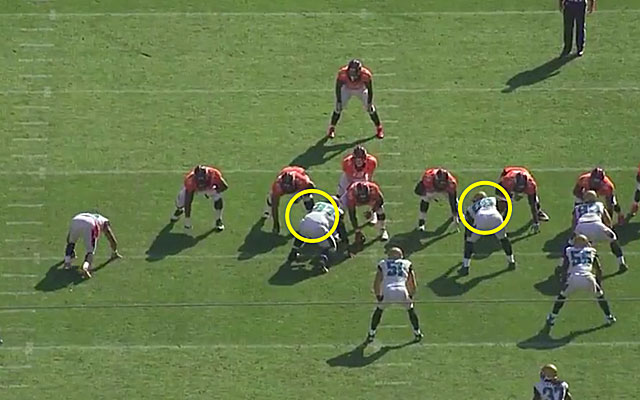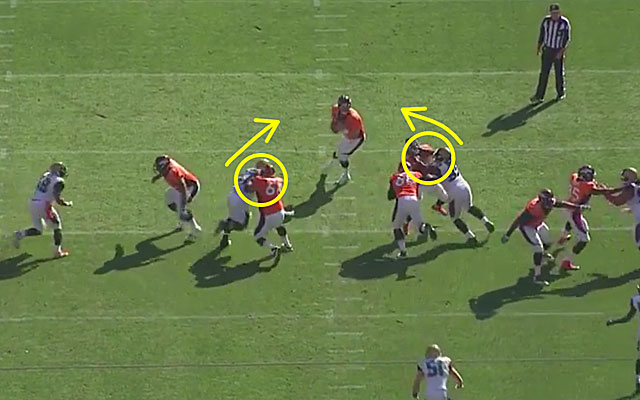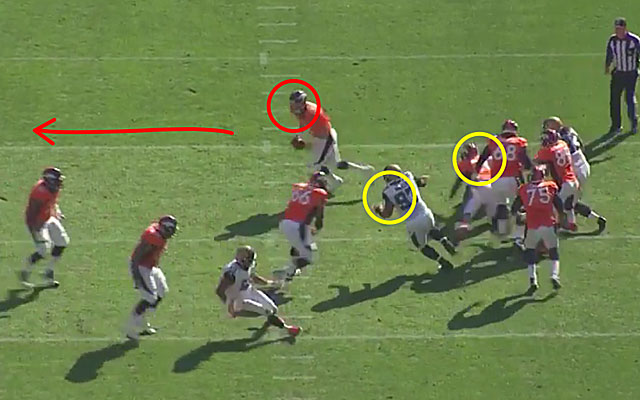 The reason Manning didn't have time is because defensive tackles Roy Miller and Sen'Derrick Marks beat the guards to get immediate inside push. Manning saw it right away and started to get off the spot. He couldn't sit and wait for Decker to cross the field, which he did to get open, and Manning bailed to his right. When he did, Manning saw Decker come back to him in scramble-drill mode and hit him with a 14-yard strike. That was a positive play on the stat sheet, but it's the type of pressure that seems to get the best of Manning. He is so good at feeling the outside pressure that it's tough to influence him in that manner unless the defensive end can win in a big way.
The Seahawks love to put speedy Michael Bennett inside in their pass-looks. Clinton McDonald, a defensive tackle, is also good as an inside rusher. They will be key against Manning this week.
Jumping looks before or right after snap
Manning usually knows what your defense is doing before the ball is snapped. His countless hours of film work pay off in a big way on Sundays. But there are times when teams can move a chess piece right before the snap to confuse him. It doesn't happen a lot, but it happens. Here's a look from a play from the 2012 Atlanta-Denver game when it did. He admitted to me last summer that he had some uncertainty in that game, his first road game back after missing the 2011 season.
The Broncos had a third-and-12 at their own 12-yard line. They lined up "21" or "regular" personnel (two tight ends, one back, two receivers) and one of those tight ends (Jacob Tamme) was in the slot on the right. The Falcons showed a Cover-3 look with safety William Moore lined up close to the line with the linebackers.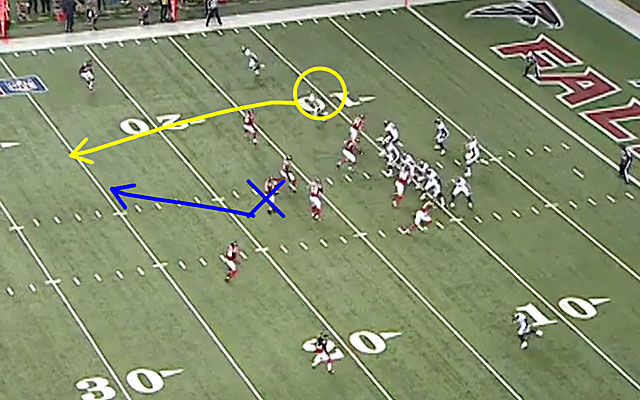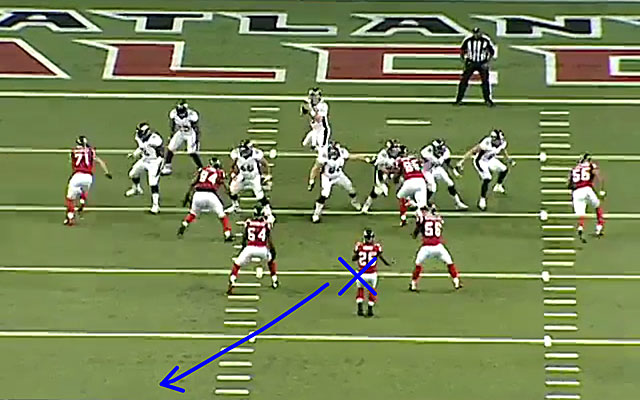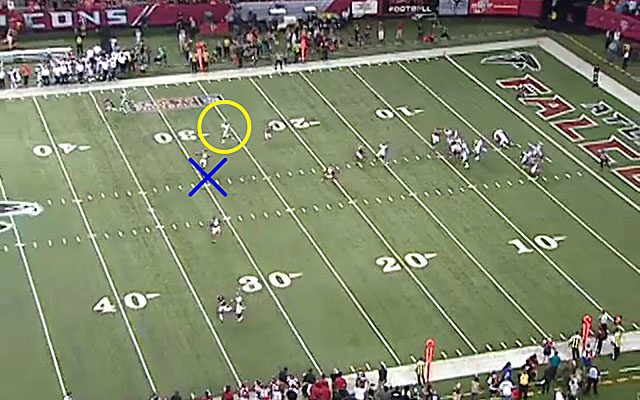 But at the snap, Moore (blue X) bailed. Manning thought he had Tamme open inside when corner Christopher Owens released him in zone coverage. The only problem was Manning didn't read Moore dropping out. Moore undercut the throw, picked it off and returned it 33 yards to set up the game's first touchdown.
Disguise, disguise, disguise
The Broncos' movement and multitude of formations make it tough to disguise coverage. They almost force a defense to declare. But it doesn't mean you can't do it.
Here's a look at a play from the Chargers-Broncos game in Week 14 at Denver which demonstrates how showing one thing and doing another can confuse Manning at times.
The Broncos had a first-and-10 at their own 33 in the fourth quarter. They were in their usual "11" or "posse" personnel (one back, one TE, three WR) with Demaryius Thomas lined up to the left outside of tight end Julius Thomas. Eric Decker and Andre Caldwell were to the right. The Chargers showed a two-deep look, but at the snap they rotated to a three-deep look with safety Jahleel Addae coming down.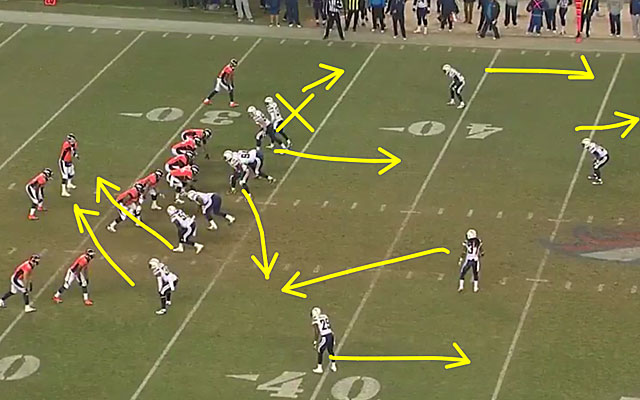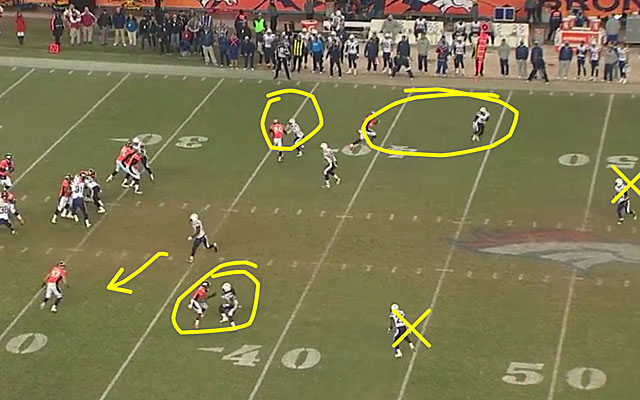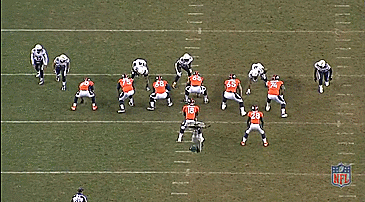 They Chargers blitzed corner Marcus Gilchrist from the left side and dropped linebacker Donald Butler into the middle and outside linebacker Thomas Keiser into the short zone on the right. Safety Eric Weddle, who was lined up on the line, took the flat on the right. Manning took the snap and was forced to hold the football. When he came back to the left, he attempted to throw a ball to Demaryius Thomas, but Corey Liuget got a hand on it and it fell into Keiser's arms for a turnover. The disguise worked.
The Seahawks will jump into a bunch of different looks up front, coming from all angles, but their base coverage in the secondary is a Cover-3 look. They will have to change it up more than normal against Manning -- or face the consequences.
Use secondary blitzers like linebackers
Here's a look at a play from the first Denver-Kansas City game that shows how blitzing secondary players inside can affect Manning.
It was second-and-9 for the Broncos at the Kansas City 36. They were in "11" personnel with one receiver to the top and two to the bottom, with Wes Welker inside of Demaryius Thomas. The Chiefs matched up in man-press coverage with their corners and had two deep safeties, so man-under, two-deep. They also had starting strong safety Eric Berry lined up inside as a linebacker, so a dime package, or six defensive backs.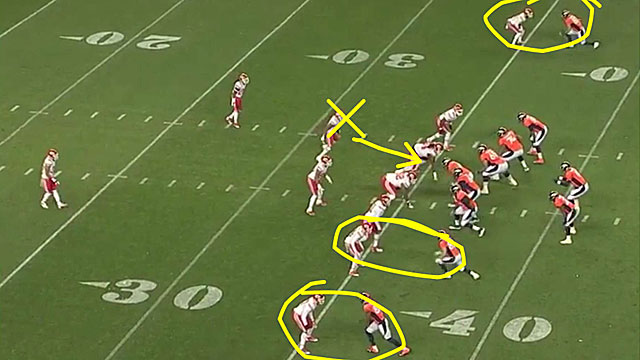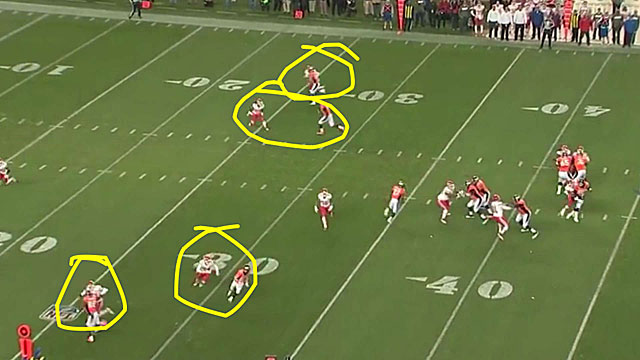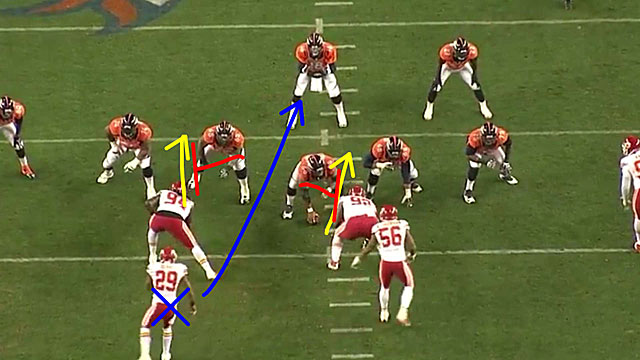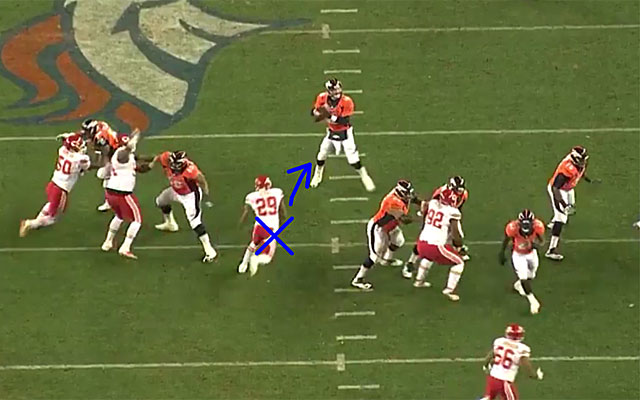 At the snap, the Chiefs brought Berry (yellow X) on a hard inside blitz between nose tackle Dontari Poe and defensive end Tyson Jackson. With center Manny Ramirez blocking down and right guard Luis Vasquez blocking out, it left a lane for Berry, who came hard at Manning and forced an errant throw to Welker, who was open.
That's the type of timing disruption you need against Manning. Make him move a little off the spot.
So there are a few things that teams have used to try and slow Manning. Beating up his receivers has worked at times. Washington did a nice job with press-man coverage for the first half of their game vs. Denver. Indianapolis played a lot of press-man when they beat the Broncos during the regular season. That invites big-play throws from Manning, who took more shots down the field in that game.
Seattle will play some of that tight man with a single safety, but the Broncos will counter in those situations with crossing and rub routes. They eventually beat Washington with a couple of those in their game.
The Seahawks can't simply play their Cover-3 looks on third down -- or Manning will kill them.
But I hope these ideas give you an indication of possible answers to the one question everybody is asking:
How do you slow that Manning guy down?
The 3-7 Broncos are not in a good place right now

This young fan wins Thanksgiving

Pete Robertson ran a downed punt into the end zone, costing his team 13 yards
The Chargers are finally looking like a playoff team after a 28-6 win over the Cowboys on...

The Vikings, led by Case Keenum, are one of the NFL's best teams

The Vikings' pass rusher revealed the latest addition to the family after sacking Matthew...