After Further Review: Freeman the scapegoat for Bucs' bad scheme
Josh Freeman's NFL-worst completion percentage gets him benched in Tampa, but the tape shows that an unimaginative scheme and underwhelming receivers are also to blame.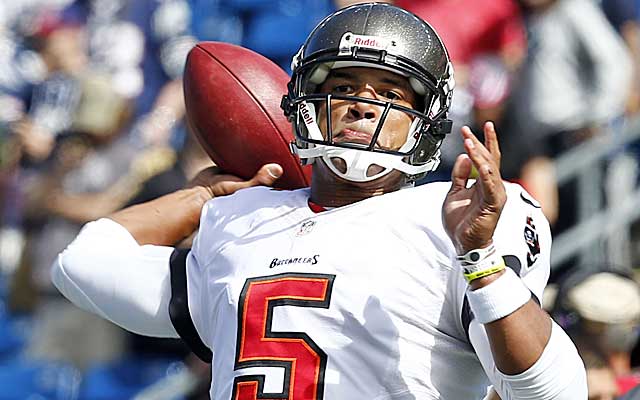 The Tampa Bay Buccaneers have given up on Josh Freeman. He is being benched after three games for a rookie third-round pick who didn't exactly light it up when he played in the preseason.
The question I ask is this: Are the Bucs doing the right thing by sitting Freeman and playing Mike Glennon?
I've heard and written about the disconnect between Freeman and coach Greg Schiano for the past six months, and this is clearly about that as much as anything. Schiano can't possibly look at the tape from the past two games and put his offensive troubles all on Freeman.
Has Freeman been great? No. Has he been adequate? After a bad first game, I would say he has done some good things and some bad things. You can clearly see by studying the past two games on tape that there are reasons for the offensive problems and reasons why the Bucs have looked so bad throwing it.
Among them:
• Poor offensive design. The system under coordinator Mike Sullivan is a deep-ball passing offense. That's why Freeman's completion percentage, the number being touted by his critics, is a horrendous 46.7 percent, the worst in the league. His passer rating is also the worst in the NFL at 59.3. There aren't a lot of intermediate routes in this offense.
• No threat in the middle of the field. When the Giants had success with the same offensive system that Sullivan now uses -- he learned under Tom Coughlin -- they did so with a tight end who could make plays in the middle. The Bucs have no threat at all at tight end, which takes away a lot of the crutch needed by a quarterback inside. There is no option in the middle to help open things up outside or to go to when the outside receivers are covered. That leads to forced throws at times. With the emergence of the pass-catching tight ends in the league, the Bucs lack one.
• The receivers aren't helping like they should. Vincent Jackson has done his share of good things, often facing doubles, but even he has had some big-time drops, one I will show here later. Mike Williams, who received a big contract this summer, isn't winning enough down the field. What we don't know is how much better these two would be if given the chance to run more crosses and shorter stuff. The Bucs don't do a lot of pre-snap movement, so it's easy to match up for a defense. A lot of times it's two by one in terms of the receivers in the formation with little imagination. They run a lot of isolation routes down the field. Why not more bunch? More movement? More anything?
• Freeman's tendency to stay put. At times in the past, Freeman has made nice throws on the move. But it looks like he's trying to do more in the pocket, almost as if it's mandated. That's a mistake. He's an athletic kid who can throw on the run. He seems less apt to move now. Is that a Schiano thing or is he just playing tight?
All of this isn't to say that Freeman doesn't have his share of the blame. He sometimes forces his passes in situations where throwing it away would clearly be the best option. It's almost as if he predetermines where he wants to go with the ball, and then goes there no matter what. He seems to be pressing, far from the player he was even last season when he threw 27 touchdown passes.
As for his demeanor and work ethic and being late for meetings and team pictures, that's another issue. I've been told he works at the game, studies the tape, but he isn't a grinder-type like Peyton Manning or Tom Brady. That has to eat at Schiano, who is the ultimate grinder.
From a strictly football standpoint, here are a few of the plays that stood out to me on tape from the past two games.
The first is a bad interception Freeman threw against the Saints in Week 2. I point to that one because it was a bad decision, but it was also a terrible design. On the play, the Bucs run a two-man route. They keep seven in to protect, eight until the back releases late, and that allows the Saints to easily cover both receivers, who you can see in the yellow circles below. Freeman tries to go to Jackson on the cross, but he ends up throwing off-balance with pressure in his face and appears not to see safety Malcolm Jenkins, who jumps in front of Jackson for the pick. It's a bad decision, but the design is at fault too.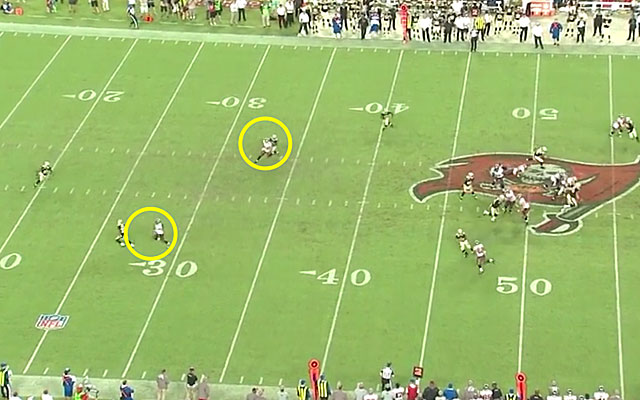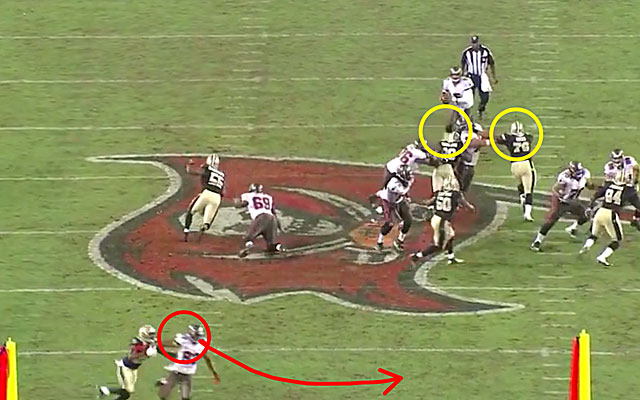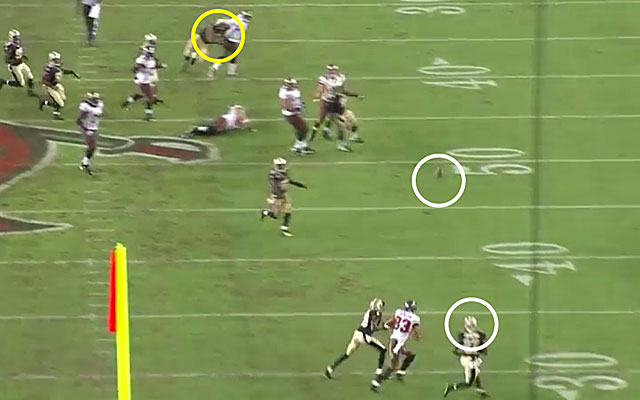 Here's a play from the Bucs-Patriots game that shows how Freeman isn't getting enough from his receivers. On a second-and-15 from the Patriots 33, Jackson (yellow circle) runs an inside slant against Aqib Talib. He beats him inside and Freeman fires a bullet on his hands. But Jackson drops it as you can see from the pictures below. That had big play all over it. If Jackson catches it in stride, he might score based on the way the play develops. As it turns out, the Bucs settle for a field goal try, which misses.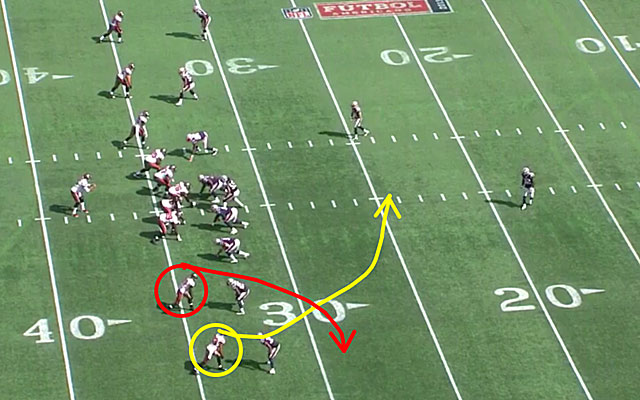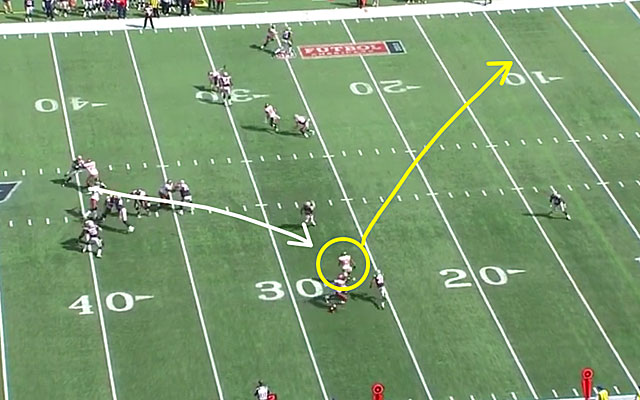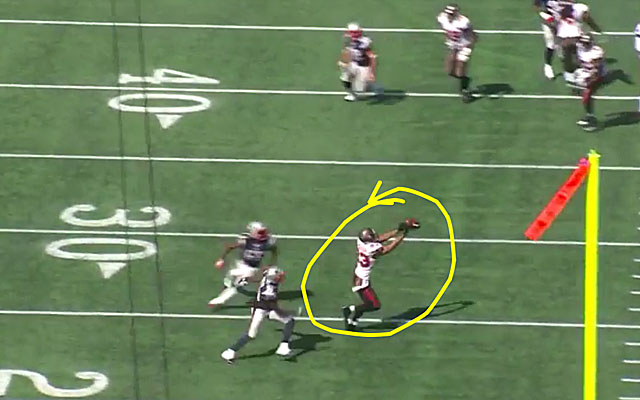 Here are three more pictures that show some of the Bucs' other problems against New England, none of which are on Freeman.
The first one shows a third-and-15 play, right after the Jackson drop, where the Bucs motion running back Doug Martin (red circle) wide right and run him down the right sideline. Good idea. Bad execution. Martin doesn't run to the stick, which leaves the Bucs short of the first down and forces the missed field-goal try. You can see that nobody else is open. Freeman had to go there.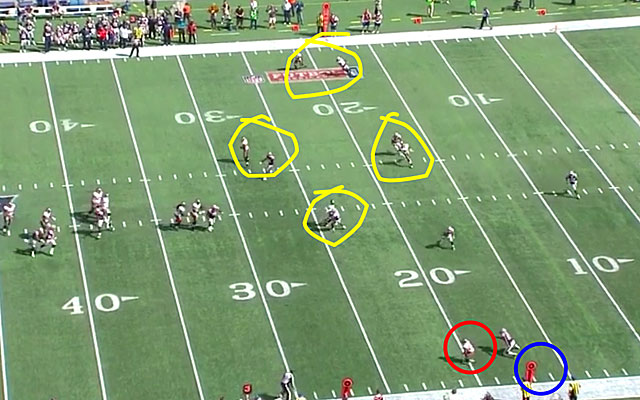 The second picture shows a play from the Patriots game that shows two receivers in the same area. You can see the two Bucs players (yellow circle) in the same vicinity. Martin runs a wheel route right to where Williams is running. That makes it easy for safety Devin McCourty to get over and make a play. There is no way the design of that play would put Martin and Williams that close together.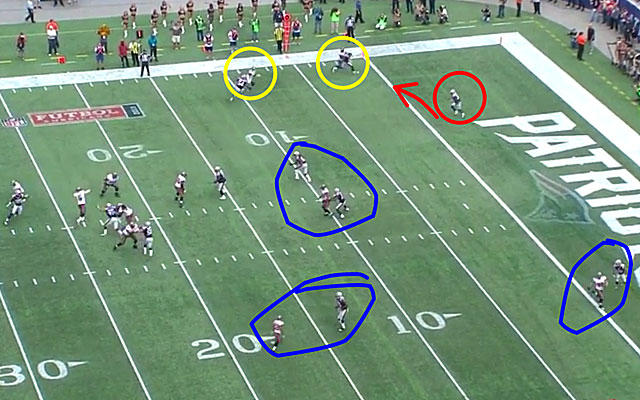 The third play from that game shows tight end Timothy Wright letting a pass go through his hands on what could have been a touchdown. It's a tough catch for sure, but he has to make that play.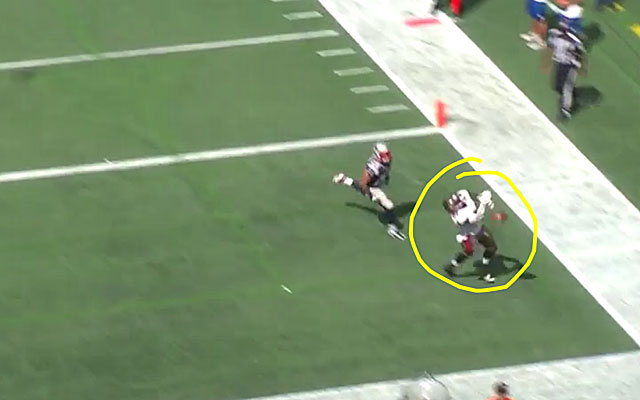 So, you see, it's not all on Freeman. He has made a few horrible decisions -- like the interception he threw at New England last week -- but there are so many other factors at play here.
He is 25 and coming off a 2012 season where he threw for 27 touchdowns and more than 4,000 yards. There is value there. I still think he has a chance to be a good quarterback. He might not be great, but he can be good enough to take a team to a Super Bowl.
Don't get caught up in all the talk about his completion percentage. As you can see here, the offense is a deep-ball attack that won't be good for those completion numbers. It's hard to complete passes to receivers running covered down the field.
The final verdict is this: The Bucs don't like Freeman, but I think he can still be a quality passer for a team that does. Minnesota?
Other things I saw on tape this week
• When the NFL Draft rolled around last spring, the scouts and media raved about the tackle class. When four tackles went in the first 11 picks, it appeared to live up to the hype. There are five rookie tackles taken in the first round starting in the league right now. But based on the first three games, none of them is living up to the draft hype.
To be blunt, as a group they've been just OK.
The Kansas City Chiefs drafted Eric Fisher with the first overall pick and Jacksonville took Luke Joeckel second. The Eagles took Lane Johnson with the fourth pick and the Chargers took D.J. Fluker with the 11th. The Giants selected Justin Pugh with the 19th pick. Only Fluker, who missed last week's game at Tennessee with a concussion, has missed a start.
None has looked like a future Pro Bowl player yet.
To be fair, four of the five are starting in different positions from their college careers. Fisher, Joeckel, Johnson and Pugh were all left tackles on the college level but have started on the right side. Fluker, a natural right tackle, is also starting on the right side.
That move can be a tough transition, even if it doesn't sound like it would be. Even so, their play has been worse than just making a transition.
The film shows some of them really struggling with the athletic and powerful defensive ends in the NFL. The mental side seems to be getting the best of them more than the physical side, though. Their technique also needs to improve.
I studied Fisher's three games closely -- I picked him because he was the first pick -- and saw him do some good things when he got his hands on a player, but also saw him get overpowered at times and miss some assignments. His feet seem to be a problem, and he often gets off-balance.
Here's a play against the Cowboys where they used a line stunt to beat him. The Cowboys looped defensive end Anthony Spencer inside and Jason Hatcher made a hard inside charge to help free up Spencer. But Fisher was caught off-balance and when guard Jon Asamoah picked up Spencer, it was Hatcher who came free inside. That's just technique there. That can be fixed.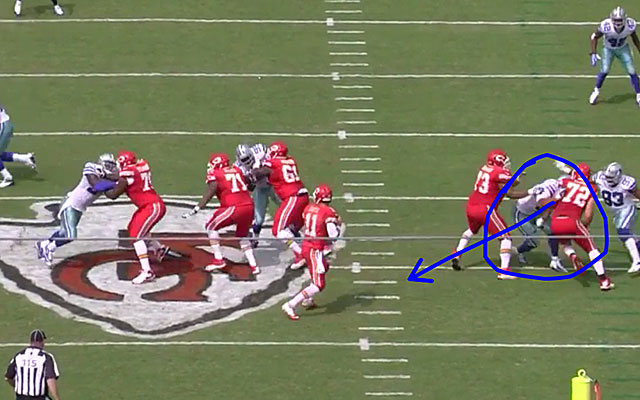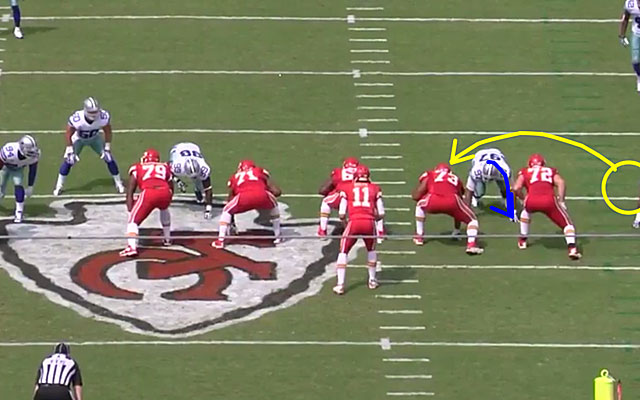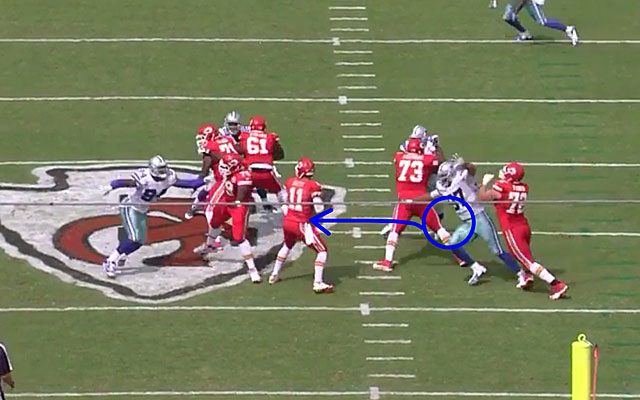 Here's a run play where Cowboys defensive end George Selvie knifed inside of Fisher to drop Jamaal Charles for a 4-yard loss. Fisher allowed Selvie to get across his face at the snap, which made it tough to cut him off. That, too, is technique.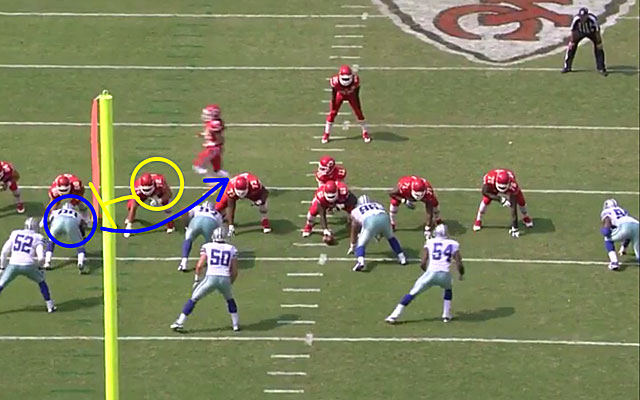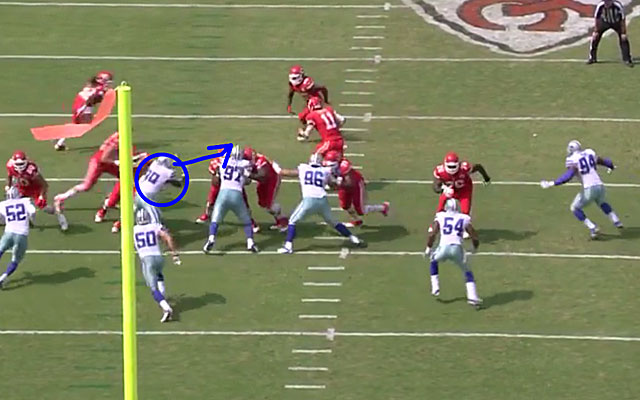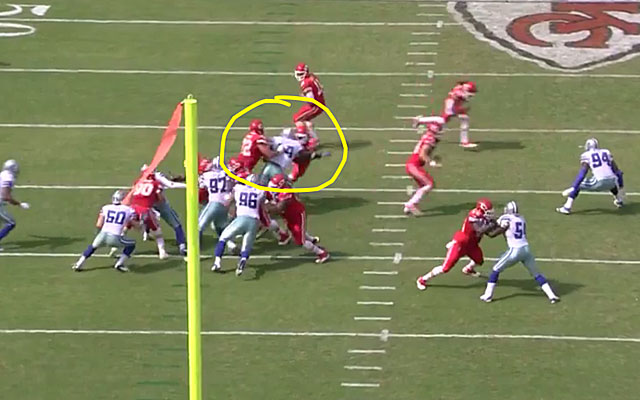 I did see Fisher do some good things, like handling pass rushers in one-on-one situations and pushing some guys around in the run game. But he has a long way to go to be considered a top-level starting tackle.
The rest of the rookie first-round starters are in the same boat. It's going to take some time for them to really get it going.
• The move to a 4-3 scheme has really helped Hatcher. He has been a solid player for the Cowboys, underrated in fact, the past couple of seasons, but he has emerged a potential Pro Bowl player inside in the new 4-3 defense. Hatcher was solid as a 3-4 end, but he's much better as a 4-3 tackle. He is quick, strong and tough to block. I noticed him a lot against the Chiefs, but he was even better against the Rams. Hatcher had a sack on a play where he overpowered left guard Chris Williams and knocked him on his butt as he sacked Sam Bradford.
• One of the things I wanted to watch last week was how Cowboys left tackle Tyron Smith did against Rams defensive end Robert Quinn. I would say Smith won the battle. He held Quinn without a sack and did a solid job in the run game. Quinn, who might be the most explosive edge down end in the league right now, did do some good things like when he got under Smith on a run play late and dropped Phillip Tanner for a 4-yard loss. For the most part, I say Smith won the day, which isn't easy to do against Quinn.
• Quinn will be matched against 49ers left tackle Joe Staley this week. Staley, who went to the Pro Bowl last season, is off to a slow start. Robert Mathis beat him for a sack on a spin move last week. But he is not alone in his struggles up front for the 49ers. At different points this season, all five of the linemen have had their issues. Center Jonathan Goodwin is also struggling in a big way. The line was the team's strong point the past couple of seasons, but it hasn't been so far. It will be interesting to see how they do against the Rams front that got the better of them in two games last season.
• One thing I noticed from the Colts-49ers tape was how quickly 49ers quarterback Colin Kaepernick wanted to get off his spot -- even without true pressure. It's becoming apparent that he doesn't trust his receivers to get open. They didn't against the Colts, but Kaepernick also has to do a better job of staying on the spot and letting plays develop.
Three players who need to pick it up
1. Ravens LT Bryant McKinnie: He sure doesn't look like he did in the playoffs last season.
2. Bucs G Davin Joseph: He has had all kinds of problems inside.
3. Jaguars RB Maurice Jones-Drew: He just doesn't seem to have the same pop into the hole. He has been bothered by injuries so far.
Three pleasant surprises
1. Broncos C Manny Ramirez: He was a guard moved to center because of injuries, but he has played at a high level.
2. Titans CB Alterraun Verner: The thinking was Tommie Campbell would take his job. He fought him off and three games in we can see why.
3. Ravens LB Daryl Smith: He was on the street until just before the open of camp and he has been a big reason why the Ravens have played well on defense.
This might be the one guy who actually understands the catch rule

Jackson is 1-29 since becoming the Browns coach in 2016

Also featuring holiday-themed celebrations, a pit crew, the Ickey Shuffle, and some racewa...
The former NFL quarterback sounds like he's ready to move to the front office

Mike Tierney has owned NFL over-unders and just locked in a strong pick for 'Monday Night...

Davante Adams was forced from the game with a concussion after Davis' headshot