There were times last year you could have put a water balloon between Buffalo Bills defensive end Mario Williams and the offensive tackle across from him and it wouldn't have popped as he tried to rush the passer.
That's the type of effort Williams gave last year for the Bills.
Let's just say he did a lot of dancing.
The Bills released Williams on Tuesday to help free up some cap room, but it was more than that.
To be blunt: Williams dogged it last year. It's hard to believe this was the same player the Bills saw in the first three years after signing him to a $100-million contract in 2012.
Williams rolled up 38 sacks in his first three seasons with the Bills, showing that perhaps that mega-deal he signed to leave Houston was worth it. But last season his sack number fell to five and his reputation took an even bigger fall.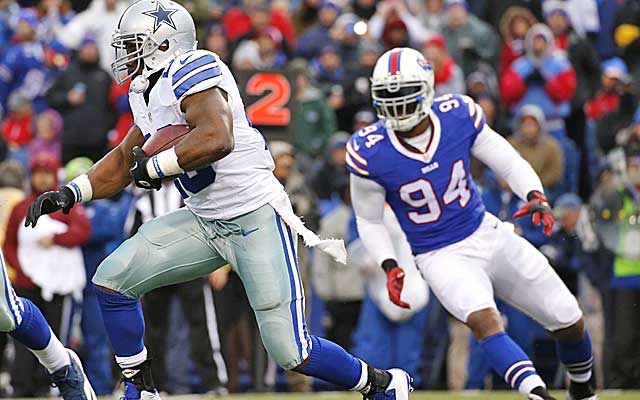 It's clear to anybody who watched the Bills' tape from last season that Williams wasn't the same player. Yes, he was asked to do some different things in Rex Ryan's defensive scheme, but not much. He dropped out maybe once or twice a game into coverage, yet his on-field demeanor for much of the season was awful. The body language was bad.
The tape was even worse.
When he was released Tuesday, making him free to sign anywhere he wants, I contacted three general managers and asked if they thought Williams dogged it.
"Badly," one said.
"The tape I watched this morning was awful," another general manager said.
He is being kind. Forget the ability. We know players who get older have their skills erode, and Williams is 31 and coming off his 10th season, but this was much more than that. In many of Williams' games, he appeared to have one of those wink-wink deals guys make in practice. I won't go hard if you don't. Let's just make it look good.
It was sad to watch.
Yes, Williams had issues with Ryan, but why let those find their way onto the field? Isn't their some pride involved?
I went through his tape and found many plays where he appeared to be going less than 100-percent. I used a game early in the season and two late-season games to show some of those plays here.
Here's a look at a few from the Week 2 game with the Miami Dolphins in Miami.
This is the third play of the game and Williams' second chance to rush the passer. If this is going hard, then what's not trying?
This next play came later in the game in the second quarter on a run play. He came up the field and then made barely any effort to come around and get back into the play. He just stopped. There's no saying he gets into the play, but at least try.
I also studied the Dallas game in Week 15. The Bills were out of the playoff race, and Williams didn't seem interested.
Here's a second-quarter play where he danced with right tackle Doug Free. This is effort?
Here he is in the fourth quarter, again against Free, and he offers little in terms of effort to get to the passer. Is that trying?
The next week against the Jets, Ryan's former team, he did get a sack. But that doesn't mean the loafing stopped.
Here's a touchdown pass from Ryan Fitzpatrick to Brandon Marshall where Williams just stopped. Flat-out stopped. Why? Is that effort?
Here he is on a run play inside of him where he made little effort to disengage from right tackle Breno Giacomini. At least give the impression that you care.
Now contrast that with the effort he played with in 2014 in Week 15 against the Packers. He was trying. He seemed to care. And he had a 13.5-sack season.
Here are a handful of plays from that game, the last one being a sack, fumble he got to secure the victory. But let's start with Williams getting a strong rush on Aaron Rodgers. You can see the effort here:
On this next play, he continues to fight after initially being blocked, which is something he didn't do much of all in 2015.
And on this play, again, he gets great push, while having his way with Packers tackle Bryan Bulaga.
And here's the forced fumble he got on Aaron Rodgers to secure the Bills' victory.
Williams clearly didn't like the way Ryan used him. He dropped into coverage at times and he slid inside at others. Here's a look at him in coverage, and, yes, it doesn't look natural. But it's not like it was a five-time-a-game thing.
As Williams hits the market in a pass-rusher needy league, there are questions about the player a team would be getting if they signed him. He still has tools to be a 10-sack player, but what does 2015 say about him in terms of motivation? Was it just because he didn't like Ryan? What if he doesn't like the new coach? At least as a free agent, he can pick his team.
Does Williams care? Will he quit when things don't go his way?
I always thought Williams would be a pass-rush star, a Bruce Smith-type of rusher who would be a generational defensive player. He's been good, despite those amazing tools he possesses, but he's never been great.
Maybe the 2015 season is a hint as to why. You can't just go through the motions when things aren't going your way.
Now we know why there were rumblings that his teammates thought he quit last year.
Pop in his tape. You will see one heck of a dance party.