After Further Review: Only a matter of time before Pats offense clicks
Conventional wisdom says the Patriots are in trouble, despite a 2-0 start. A closer exam says new WR corps has potential to be really good.
All I've heard for the past week is how pathetic the New England Patriots' passing game is right now.
It always includes this line: The receivers stink.
I beg to differ.
The passing game is not working like it normally does, but there are signs that tell me that it will be just fine in a couple of weeks to maybe a month. So if you are going to get the Patriots, now is the time.
After their 13-10 victory over the Jets last week, which included Tom Brady screaming and ripping his young receivers for their poor play, I went back and watched the first two Patriots games in detail.
What I saw was a passing game that is just off a bit here and there. That included Brady last week against the Jets. I know it's sacrilegious to say that Brady was at fault, but I saw several instances where he missed big play chances with poor throws. It wasn't just his receivers, although they made their share of mistakes too.
Rookie receivers Kenbrell Thompkins and Aaron Dobson both showed me something against the Jets. They know how to beat man coverage, and do a nice job on their releases at the line of scrimmage. Did they make some mistakes? Yes. They don't always look to be so sure of their route running, and they did have the drops, but there is talent there.
It's only a matter of time before they get the timing right -- and then watch out.
When they get tight end Rob Gronkowski back in a week or so, this offense has the potential -- I said potential -- to be even better than it has been in years past. Why? The rookie receivers can get deep. They scare down the field.
This week the Patriots face an improved Tampa Bay secondary led by Darrelle Revis, who knows the Patriots offense well, having faced it twice a year when he was with the Jets. But these young receivers give the Patriots a dimension he saw only when they had Randy Moss in 2007.
Here's a look at a play that shows what impressed me about the young receivers. Thompkins (yellow circle) lines up on the right side against Antonio Cromartie, who is in man-press coverage. At the snap, Thompkins gets a great outside release, which keeps Cromartie's hands off him, and he then runs a go or 9-route. He's wide open, so much so that you can see by the picture below he actually puts his hand up. The problem is Brady doesn't step into his throw, with a little pressure in his face, and the pass flutters short and incomplete. Brady first looks to his left on the play, and then comes back to the right. When he does, his mechanics aren't sound. With slight pressure, he doesn't reset his feet and fire a shot that would have been a score. He instead throws a soft pass falling backwards as you can see by the last picture below. Yes, there's some pressure, but he had the room to make that throw. That's on Brady. It should have been six.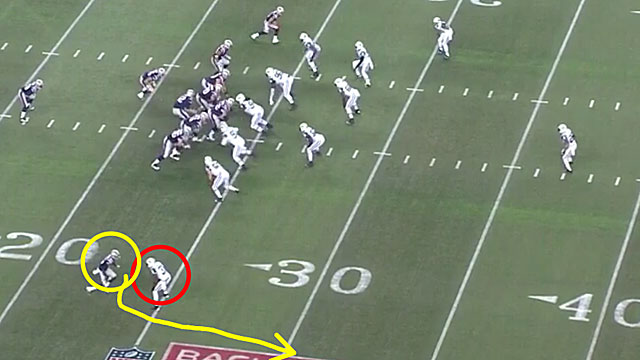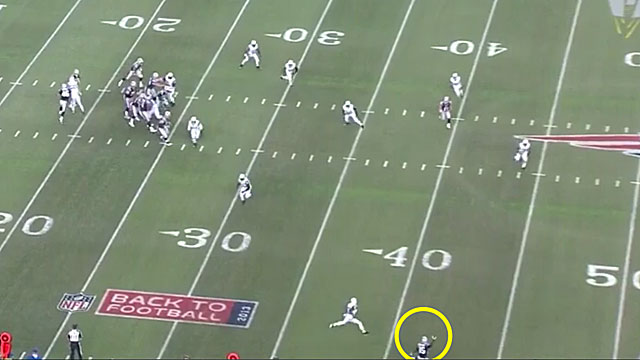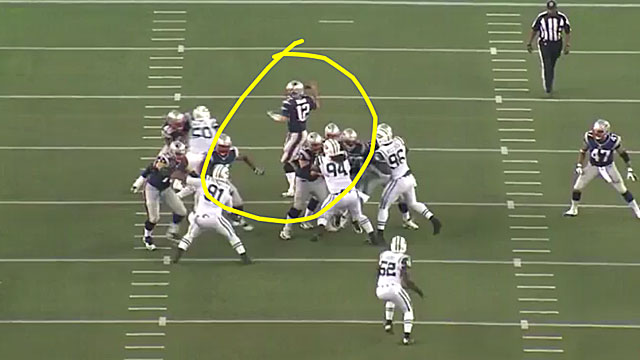 Here's a play that again shows the timing needs work. Dobson lines up on the left side in man coverage with Dawan Landry, a safety who shows blitz but drops into a man coverage on Dobson Landry and follows in trail position on Dobson as he crosses the field, with Dobson clearly open in front of safety Jaiquawn Jarrett, which you can see by the second picture. But Brady throws behind Dobson. Is it catchable? Yes. Is it a good throw? No. That's the timing. If Brady puts that ball in front of Dobson, he has a chance to turn it up for a huge play. It ended up being a third-down incompletion and the Patriots had to punt.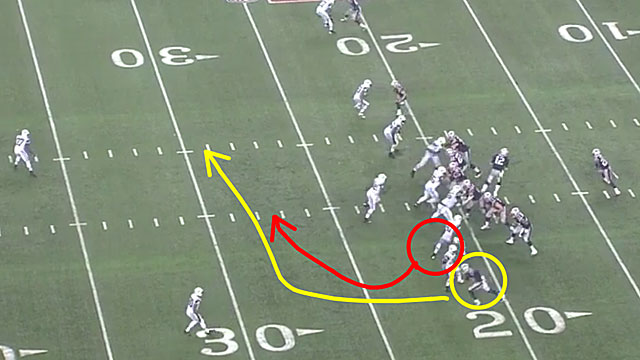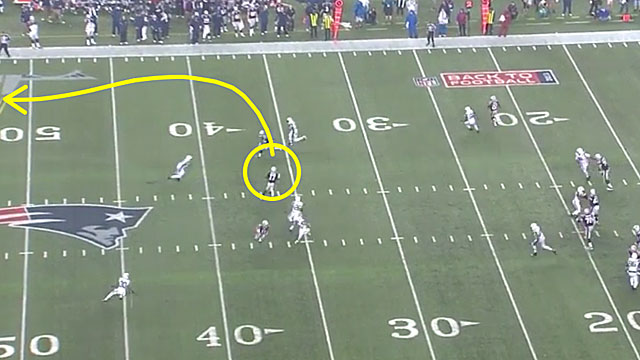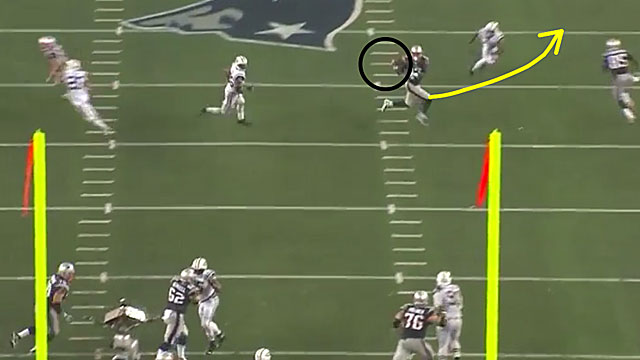 Here's the throw that led to Brady screaming at Dobson. It comes on a third-and-5 from the New York 12. Dobson (red circle) lines up in the slot inside of Julian Edelman (white circle). Dobson runs a corner route, while Edelman runs a cross. The Jets are in a zone, which seems to confuse Dobson. He runs his route right into the zone defender, rather than sit down in the open area at the in the end zone, which is where Brady throws the football. You can see by the second and third pictures that Brady could have waited and hit Edelman in the middle of the field. He was wide open for what could have been a touchdown.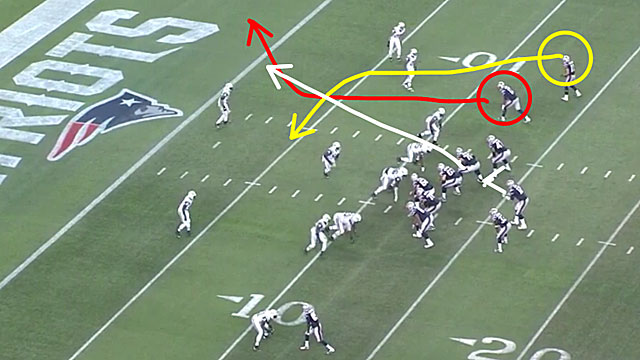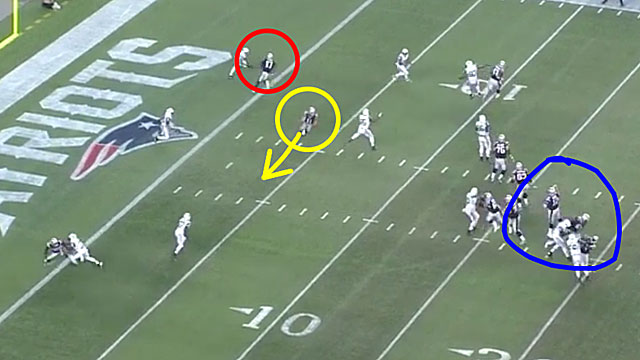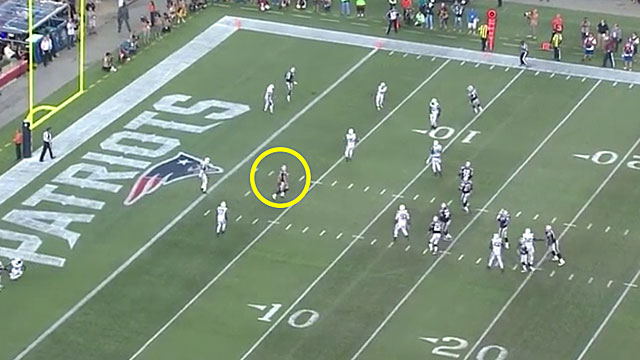 So, as you can see, the potential for big plays and touchdowns are there for the New England offense. There can't be panic. The young receivers have talent. The timing will come.
Six weeks from now, we will look back at that Jets game and think how wrong many were to think the New England pass offense had too many issues and couldn't overcome them. They will be more than OK, especially when Gronkowski returns.
Other things seen on tape
• The Panthers complained about the pass-interference call on linebacker Luke Kuechly that helped set up Buffalo's winning score last week in the final seconds. The reality is that it was interference since Kuechly hooked Stevie Johnson. Two plays later, EJ Manuel hit Johnson for the game-winning score from 2 yards out.
But the real problem for the Panthers on that final drive was the strategy they used. They rushed four and played a soft zone. I know they were banged up in the secondary, but come on. That allowed Manuel to drive the ball down the field without throwing a completion longer than 14 yards.
On the tape, the Bills line did a great job against the front to give Manuel time to hit the dump-off passes. Kuechly missed a couple of tackles early on that drive -- not his best by far -- to get it going.
The only play the Panthers pressured on that drive was the last one. They brought seven on the play, and then they blew the coverage to give Johnson an easy score. That was the focus of most on that play, how badly the Panthers played it. But the important part went unnoticed. Kuechly had a chance to dump Manuel coming off the right side of the defense as a blitzing linebacker. He had a free run. But (as you can see below) Fred Jackson got a little piece of Kuechly to knock him off-balance and allow Manuel to hit Johnson for the game-winner. It's the little things that make the big things happen.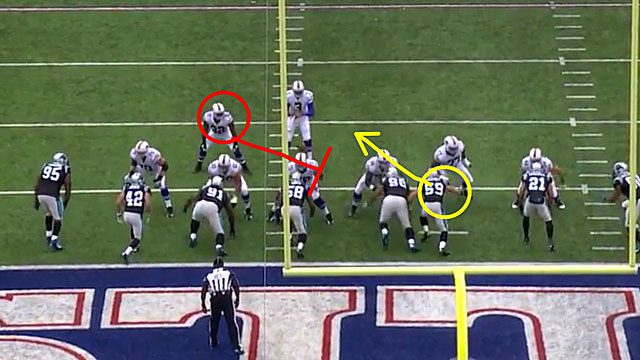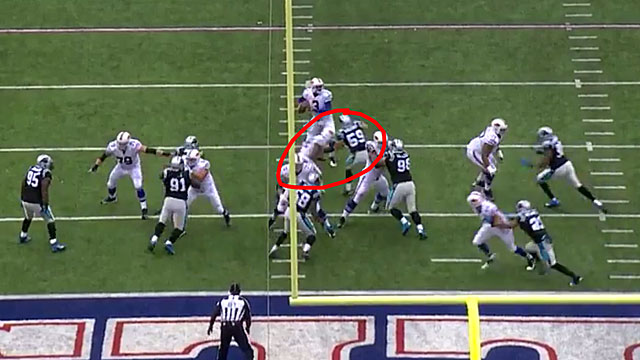 • What went wrong with the 49ers offense in Seattle? For one, they played a fast, motivated, athletic defense. But they also had some disappointing performances from their best players. Quarterback Colin Kaepernick wasn't very good, missing receivers, throwing inaccurately and was never able to get into a groove.
It didn't help his cause that the left side of the line, tackle Joe Staley and guard Mike Iupati, had horrible games. Those two Pro Bowl players couldn't block Red Bryant, who had a heck of a game, but also had trouble with stunts and blitzes and anybody else who came their way.
Receiver Anquan Boldin, fresh off his big game against Green Bay, couldn't win against man coverage, which is something that he has to improve on as the season moves along. Richard Sherman took him away the entire game. The only catch Boldin had came against a Seattle zone late when Boldin caught a short cross. Sherman was right. He was nowhere near Boldin on that play. That means Sherman shut him out. So add it all up, and it is no wonder the 49ers couldn't score more than three points.
• In the first quarter of the Rams-Falcons game, Rams corner Janoris Jenkins broke up a pass on the sideline to Falcons receiver Julio Jones. After he did, he leaned over Jones as he sat on the ground and taunted him as you can see by the picture here.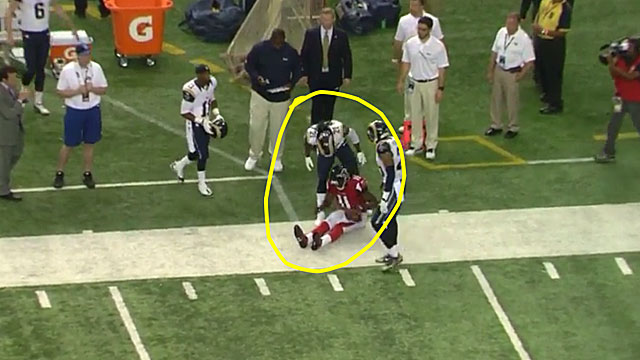 That wasn't a smart thing to do. On the Falcons' next drive, Jones got even -- and then some. He caught an 81-yard touchdown pass from Matt Ryan by beating Jenkins badly. I love the anatomy of the big play, and this was an interesting one as you can see by the pictures below.
The Rams had Jenkins (red circle) in off-man coverage on Jones (yellow circle) with a single-high safety shading that way over the top as you can see below.. At the snap, Jones ran hard at Jenkins and made it look as if he were going to run an out. Jenkins bit. By that time, safety Rodney McLeod was moving to the deep middle of the field, away from Jones. Jones was past Jenkins at the 30, hauled in the ball at the 40, shook off the diving attempt by Jenkins to tackle him at the Rams' 45 and he romped into the end zone. Jenkins should have worried more about covering Jones than taunting him.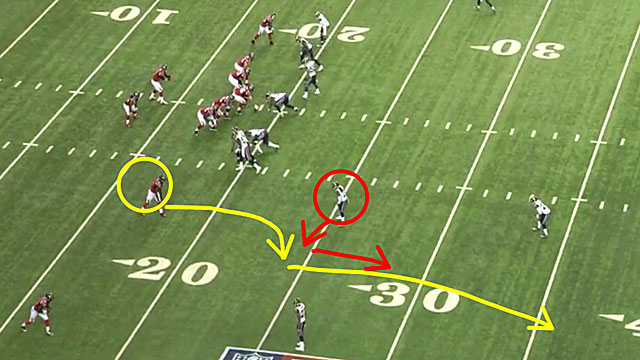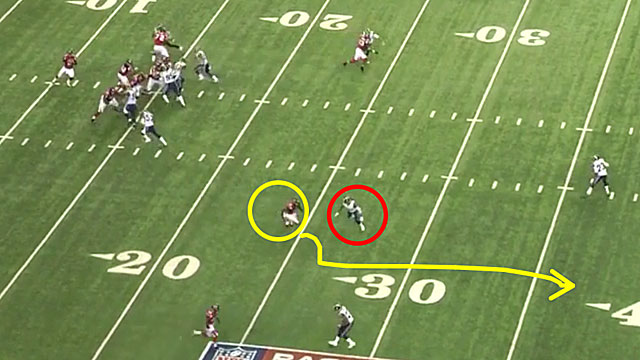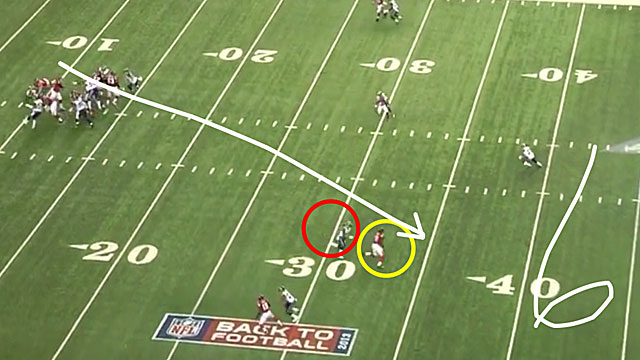 • Have to give props to Colts right tackle Gosder Cherilus. He did a solid job on Dolphins defensive end Cameron Wake, holding him without a sack. Cherilus, who was signed as free agent this spring, did get help on several of Wake's pass rushes, but when he had him single-blocked he did a nice job. He kept a wide base and made it tough for Wake.
Three and out
Young players who have impressed
1. Ram DE Robert Quinn: He abused Sam Baker against the Falcons. He had one sack and several pressures.
2. Falcons LB Jopio Bartu: This rookie was not drafted and has earned a starting spot. He had two tackles for loss against the Rams, knifing through to stop a run for a loss and making a great play on a pass to Daryl Richardson.
3. Chiefs C Rodney Hudson:This third-year player, who was a guard in college, has a chance to be special. He is athletic and smart.
Veterans who need to pick it up
1. Rams CB Cortland Finnegan: I love him as a player. He's tough and feisty. But he's not playing to his salary so far in the first two weeks.
2. Giants DE Jason Pierre-Paul: Yes, he's coming off a back injury but it you are on the field you are open to the criticism. He hasn't done much.
3. Colts C Samson Satele: -- If the Colts want to run newly acquired Trent Richardson, they better get more push. Satele wasn't good last season and is struggling this season.
The quarterback also says he's open to exploring politics and a law degree after football

It's time to hook up that jersey shirt of your favorite NFL player with some Black Friday...

Big Ben may not have eye-popping stats but critics are wrong to say he doesn't care
Pugh is staring down a second contract and has learned some important lessons

After tossing five picks in his NFL debut, Nathan Peterman is heading back to the bench

Micah Roberts has the pulse of Bill O'Brien's team and just made a strong play for 'Monday...