After Further Review: Packers are not getting prime Julius Peppers
The Julius Peppers the Packers signed isn't the same one who was a freaky terror in Carolina. Video shows a much different player at age 34.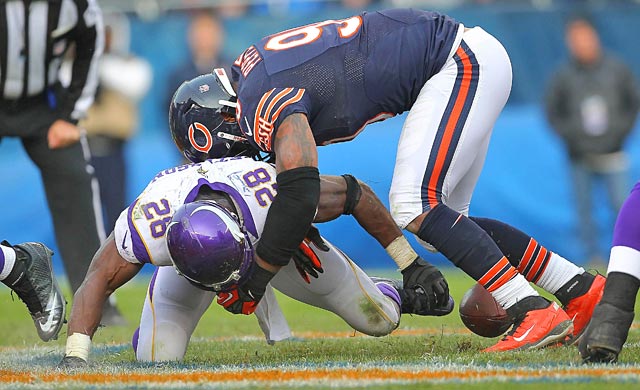 More NFL offseason: Mock Drafts | Prospect Rankings | Pro Days | Top free agents
Julius Peppers was once a freak. He was big, strong, powerful, fast and had the feet of the college basketball player he once was, which is why I would marvel at how he played defensive end.
He would go around guys. He would run over them. He would play the run. He was everything you wanted in a modern-day defensive end.
Julius Peppers isn't a freak anymore.
He's just a good, solid player. The explosion he once had is gone, but that doesn't mean he can't be an effective defensive lineman and pass rusher.
At 34, Peppers, who signed a three-year deal with the Green Bay Packers last week, is capable of still playing at a level that can be productive, but he is far from dominating most of the time. There are plays where he looks like a freak again, but they are limited.
After a deep dive into Peppers' 2013 tapes, I came away thinking he is far from done, but if anybody in Green Bay thinks the Packers are getting the guy who put up big numbers in his 20s, they are woefully wrong.
Peppers doesn't win around the corner anymore. The burst is gone. What he can do is win with ability to overpower a tackle or guard, and he can still chase down plays when he wants to do so.
Notice the "wants to do so" part. In studying his tapes from 2013, there are times when Peppers looks disinterested. There are times when he doesn't appear to play as hard as he could.
That's always been the knock on him, but back in the day he could overcome it with bursts of special plays. There were times when he looked to take it easy on some plays last season, which has to be a concern for the Packers.
Look, I know guys sometimes take plays off, but when your reputation is that you would think it would be less obvious.
Yet in some games, he played hard all the time. One of those came against Green Bay late in the season, which could by why the Packers signed him. In fact, seven of his sacks the past two seasons came against the Packers. Packers general manager Ted Thompson had to notice. Peppers had seven sacks last season, and three came against the Packers.
The Packers are a 3-4 defensive team, which would seem to be an odd fit for Peppers, but he has played inside at tackle in the 4-3 in passing situations, and defensive line versatility is the trendy way of the league after Seattle won the Super Bowl that way.
There is also talk that the Packers will use an "elephant" rush position this year, which would be perfect for Peppers. That's like a 4-3 end who doesn't put his hand on the ground.
Here are some of the things I saw when I studied Peppers.
Lack of passion (at times)
I am not here to say he doesn't play hard. But at times, like I mentioned, he seems to play harder and maybe take other plays off. I know guys do that at his age, but some of those were concerning to me.
Here's a look at one of those plays from the season opener against the Bengals.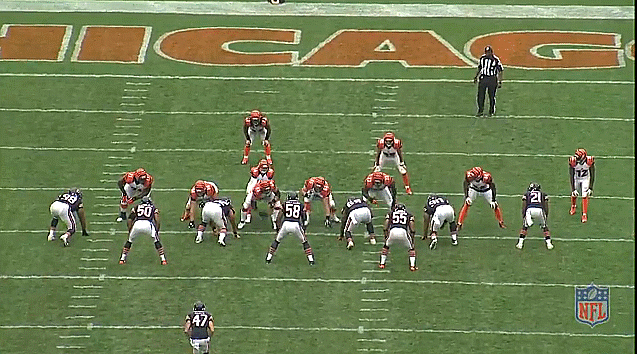 Peppers (No. 90) was lined up at right end. He was engaged in a one-on-one block with Bengals left tackle Anthony Collins, their backup to open the season who was pressed into starting action because Andrew Whitworth was hurt. It was a running play to BenJarvus Green-Ellis that he cut back. As you can see, Peppers seemed to stop when he thought the play was going the other way, and it was cut back right inside of him. He certainly seemed to dance with Collins rather than try to shed his block.
Here's another example on a play against the Lions.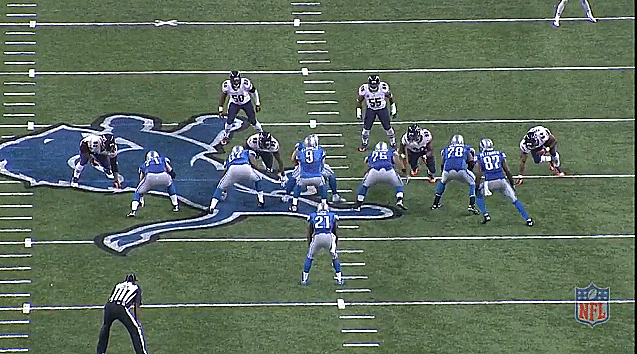 It was an inside run to Reggie Bush. Peppers had to respect the boot by quarterback Matt Stafford in case he pulled the ball out. But as you can see, Peppers clearly saw the ball handed off to Bush. As he did, tight end Brandon Pettigrew came down the line to trap him. Instead of taking on Pettigrew, Peppers jumped outside of him to create a hole inside of the tight end. Some will say he did that to respect the possible play-action boot. But the reality is he saw the ball handed off and then sidestepped the block. That had to be concerning to Bears coaches who saw that.
Am I nitpicking the effort? Not when you consider that's what a lot of scouts say about him -- and have for much of his career. Others will say he's so talented that he makes it look so easy that it looks like loafing. I don't buy that anymore.
More bull rush than explosion
The ability he had to go around a tackle with speed and bend to get to the quarterback isn't as pronounced as it used to be. Translation: He has slowed down.
There are moments when he does it. But there are not enough of them. It's almost as if he's morphing into more of a power player as the speed is leaving his game. Once in a while, he flashes that speed and it makes you think of Peppers in his mid 20s.
Here's a look at one of his sacks from last season against the Ravens where he looked young again.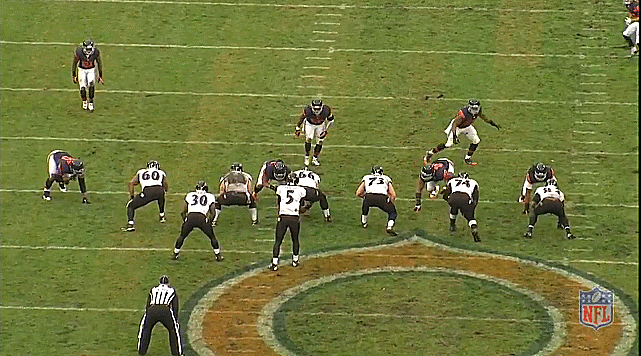 He was lined up in a one-on-one situation with Eugene Monroe, a tackle who just received a mega-deal from the Ravens after coming to them in a trade last season. On this play, Peppers exploded past him for the sack. He certainly didn't look like he was lacking speed on that play. But too many times in the tapes I watched, he didn't have the bend and explosion to beat the tackle.
That's why I think he's now more of a power player. I was more impressed with his ability to push the pocket when he moved inside to tackle. Here's a look at one play against the Rams where he didn't get a sack, but forced an incompletion because he was able to bull rush inside against the guard.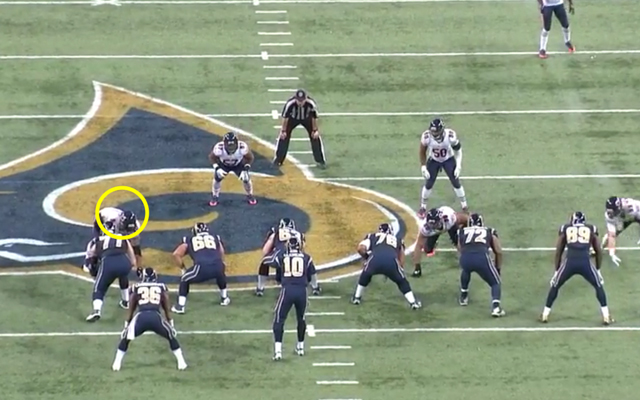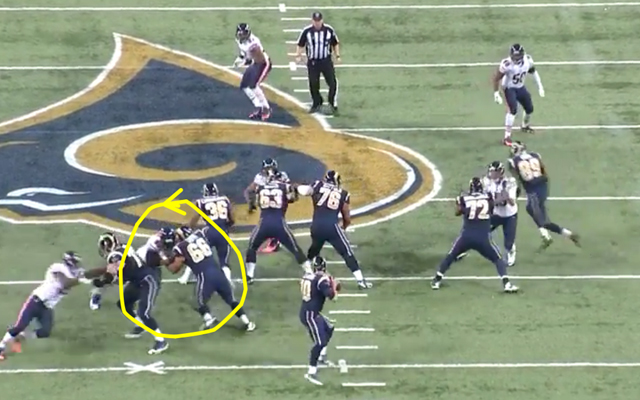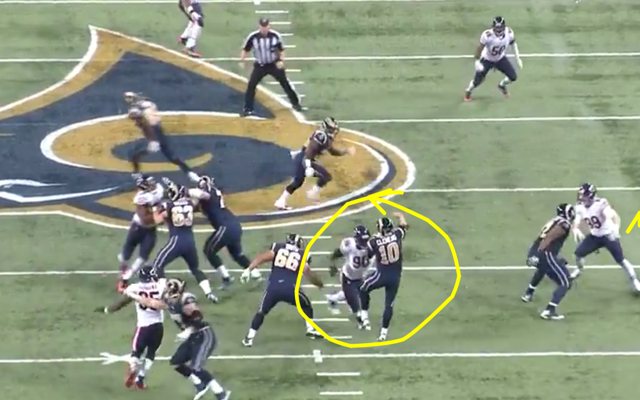 Next we have a sack he got against the Vikings with a power rush inside against the guard.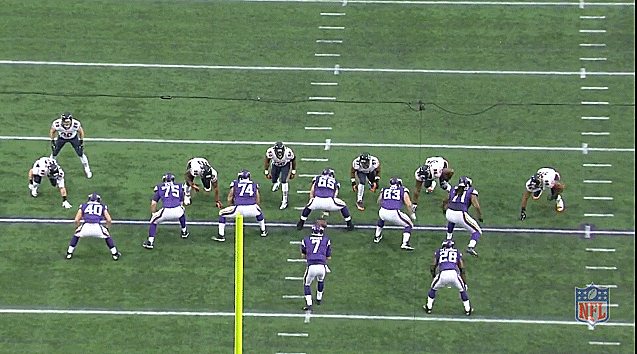 You can see that the Vikings tried to block him in a one-on-one situation but he was able to power rush over guard Charlie Johnson for the sack.
I think the Packers can expect more power rusher than speed rusher from Peppers in 2014 if last season can be used as an indicator.
Inconsistent against the run
Peppers has great size for a pass rusher, which is why he's been a pretty good run defender in his career. But that tailed off some too last season. There were times where he was mauled in the run game.
Here's an example from the Bears-Cowboys game.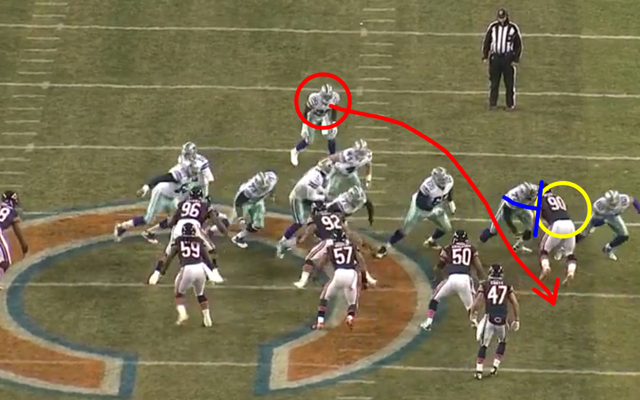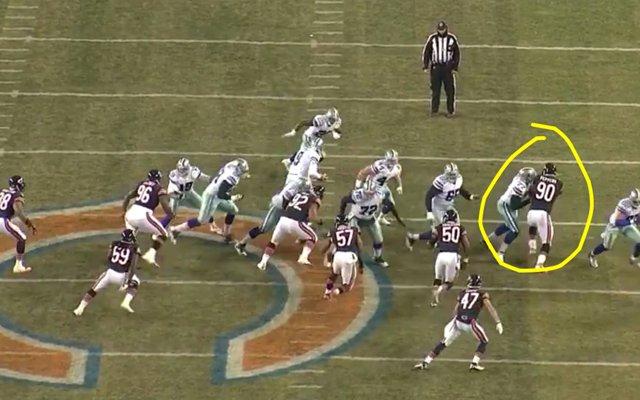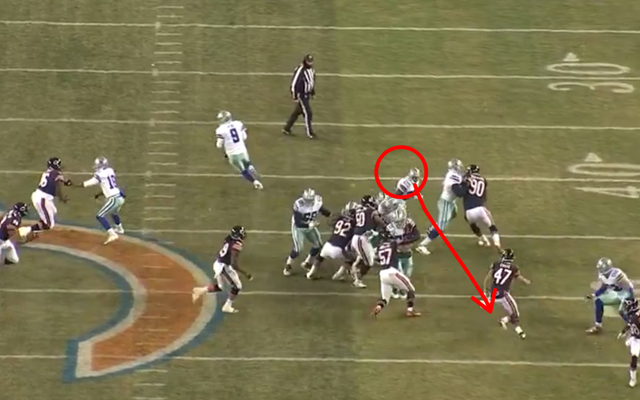 Cowboys left tackle Tyron Smith ate him up in that game. And this play was no different. You can see Peppers (yellow circle) was lined up on the outside shoulder of Smith. At the snap, Smith got into his body and moved him off the ball with power to the left. He got underneath Peppers and actually stood him up as DeMarco Murray ran through that hole for a nice gain.
Here's another look at a run against the Giants where Peppers got put on his butt in the run game by left tackle William Beatty.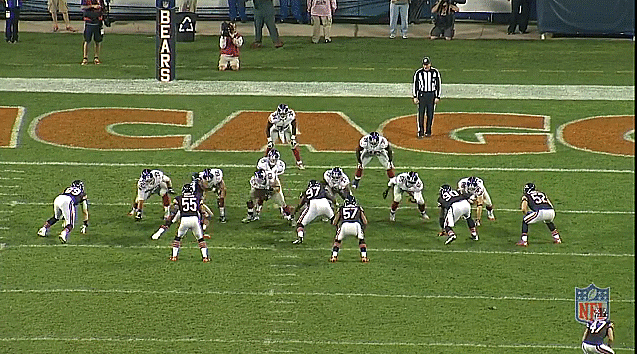 You can see Beatty got on him and never let up. It seems strange to see Peppers getting mauled in that fashion.
That isn't to say he can't play the run. There are times when he looks like his old self. Here's an example of that against the Lions.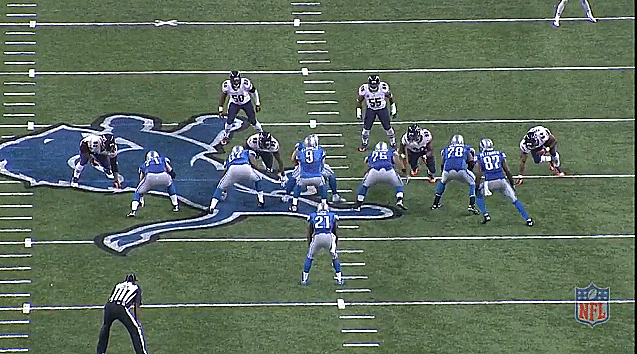 Peppers was lined up over left tackle Riley Rieff, who quickly got on him. But Peppers was able to shed Reiff with his power and then show some of that old quickness moving down the line to tackle Bush. That's a flash of the old Peppers.
Summary
I thought Peppers had some rough moments on tape against some of the better tackles he faced. But that's to be expected as he ages. He can't do the same things anymore. That's why he's evolving more into a power player. At 34, he can still give the Packers some good plays from week to week. I just don't think there will be as many as his name might make you think.
But on a one-year deal (which is essentially what he got), for a team looking to get more creative on defense, I think Peppers can help. He's still better than a lot of defensive linemen in the league, but he's not what he used to be, that's for sure.
The freak athleticism is gone. To borrow an analogy from his old basketball days: Peppers is now playing his game under the rim, more smarts than athletic ability, but at times he's still able to put the ball in the basket -- or in this case rush the passer or make a play in the run game.
Landry's girlfriend has stated that she was not physically harmed by him in any way

The Eagles rookie kicker's heroics may have cost Wentz nearly $32,000

Timmons was suspended indefinitely after going AWOL during Week 2
Dallas receiver has only 11 catches for 114 yards through three games

Go ahead and doubt Pete -- because this is the week he turns it around with this picks

The president believes people are really responding to his criticism of the NFL