After Further Review: Ravens' problems on O-line taking a toll
Halfway through the season, the Ravens look anything but a Super Bowl team with the running game stuck in neutral behind a struggling offensive line.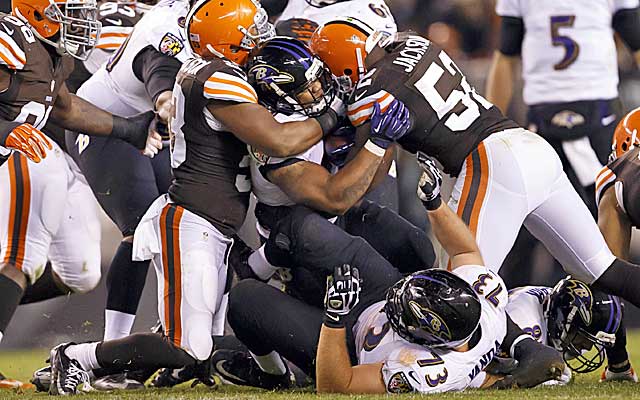 The Baltimore Ravens are last in the NFL in yards rushing per attempt.
That is simply amazing when you consider they are coming off a Super Bowl season, Ray Rice is their lead back and they returned four of five starters from their Super team on the offensive line.
Baltimore is 3-5 and faces a huge division game this week against the Cincinnati Bengals. If the Ravens are to make any sort of playoff push, they have to be better than their season average of 2.8 yards per rush.
Rice, considered one of the league's top backs, has 259 yards on 97 carries for a 2.7 average. Bernard Pierce, his backup, is also at 2.7 per rush.
To get an idea about what's wrong with their rushing attack, I went back and studied four of their games. What I found was a variety of reasons why the team can't run. It isn't all on the offensive line, a unit coach John Harbaugh tried to defend this week, although that unit has to take a big part of the blame.
In studying the Ravens run game, here are some of the things that stood out to me:
• The scheme has changed under new run-game coordinator Juan Castillo. The linemen seem to be struggling with it some. It calls for more zone-blocking, rather than hat-on-hat. That's where communication and precision become key. That isn't happening. Too many times the linemen seem to miss assignments. They don't look comfortable in this scheme. It is a scheme that takes a lot of repetitions and working together. There are a lot of plays where you see the backside not getting blocked the right way. That is key to a zone scheme. And when they move their linemen on pulls from one side to the other, they have a hard time getting out because there is so much penetration inside.
• All of the offensive linemen have had moments where they've struggled. That includes perennial Pro Bowl guard Marshal Yanda. Center Gino Gradkowski, who opened the season as the only new starter, has really struggled to get push in the run game. He did look a little better against the Browns, but isn't going to overpower any defensive tackle/nose tackle. Left tackle Bryant McKinnie was bad when he started, and Eugene Monroe has been better since starting the past three games, but he's never going to be considered a bruiser in the run game. The guy I thought would take a huge step forward this season was left guard Kelechi Osemele. But he really struggled from the start and now we know why. He was playing with a bad back that will require surgery. Replacement A.J. Shipley is really a center and he was manhandled last week against the Browns.
• The tight ends can't block. Ed Dickson and Dallas Clark have had a tough time sealing the edge. They get little push in the run game. Both are more pass-catching tight ends, and it shows. It's hard to run wide when ends and outside linebackers are whipping your tight ends on a regular basis.
• With only Torrey Smith as a real threat in the passing game, teams are using a lot of eight-man looks to stop the run. That leads to unblocked defenders and the backs aren't winning against that defender when given the chance.
• Rice isn't playing with the same quickness and decisiveness he has in the past. He has tap-danced at times, and he doesn't seem to have the same good vision. I will show some plays here that show that. Maybe he's adjusting to the zone scheme as well.
So there are some of the reasons for the struggles, now here are some pictures that help tell the story.
The first play is a zone run from last week's game against the Browns. The play is a handoff to Rice with the design to go to his left. But the backside has a chance for a big play. The problem is that right tackle Michael Oher needs to cut Ahtyba Rubin on the backside to help open up that lane. Oher doesn't do it, so when the front side is jammed up, Rice can't pick up much on the cutback because Oher doesn't get Rubin on the ground.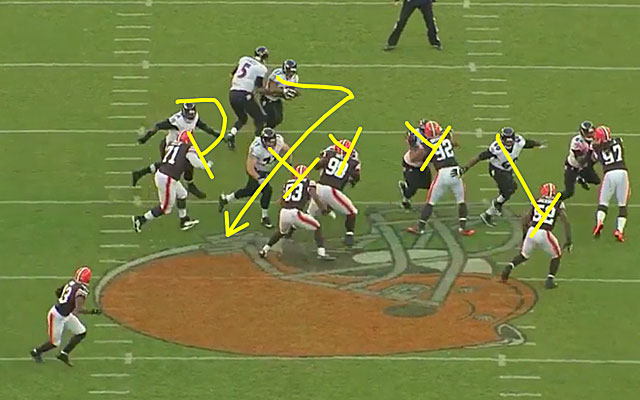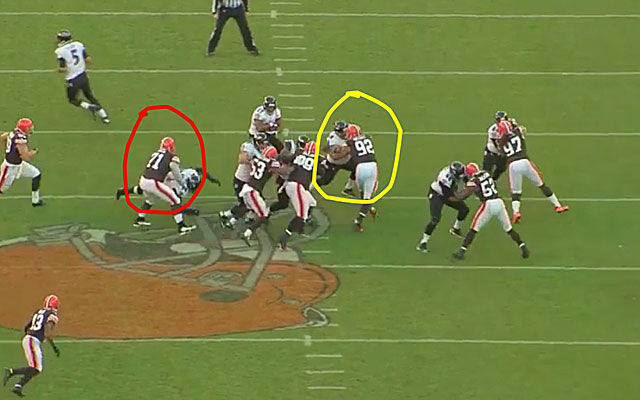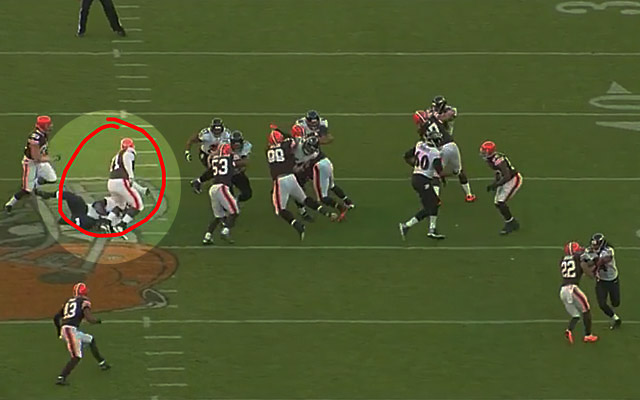 Here's a play from that game where Phil Taylor dumps Rice for a loss. On the play, Taylor is lined up over Yanda and takes a hard inside move against him. Gradkowski comes over to help, but Taylor splits the two of them and is able to drop Rice for a loss. This is just bad technique on the part of the Ravens. This is a play that shows the problems they are having with the zone scheme. It appears that Yanda thought he might get some help from Gradkowski, who didn't come over in time. That play had a chance if they block it the right way.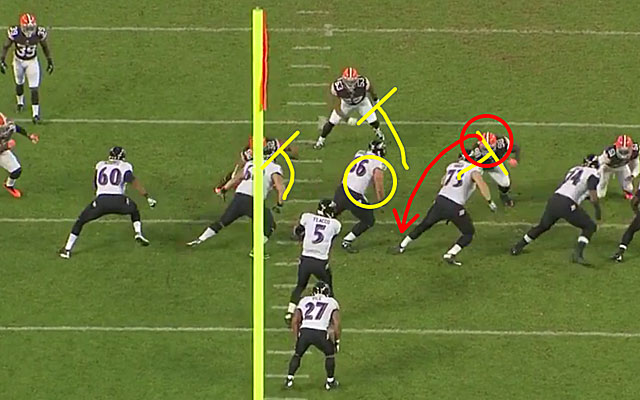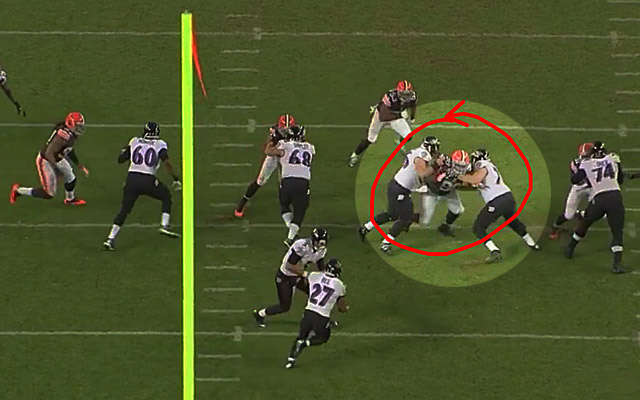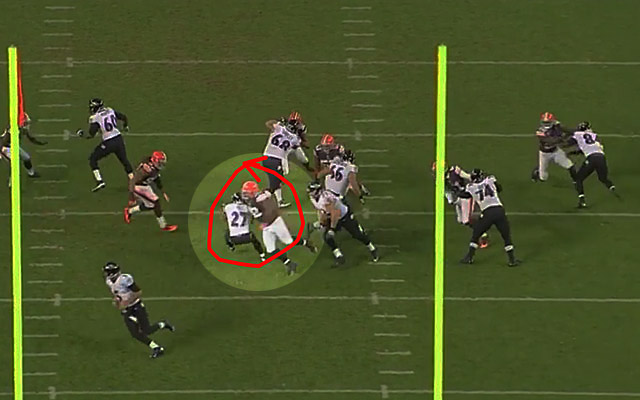 Here's a Rice run against an eight-man front. The play is actually blocked well. There is a lane for Rice inside of Monroe and Shipley. But Rice takes too long to hit the hole and safety Tashaun Gipson (blue circle) is the eighth man down. Rice needs to make him miss, and he doesn't. He is held to a 3-yard gain. That's on Rice.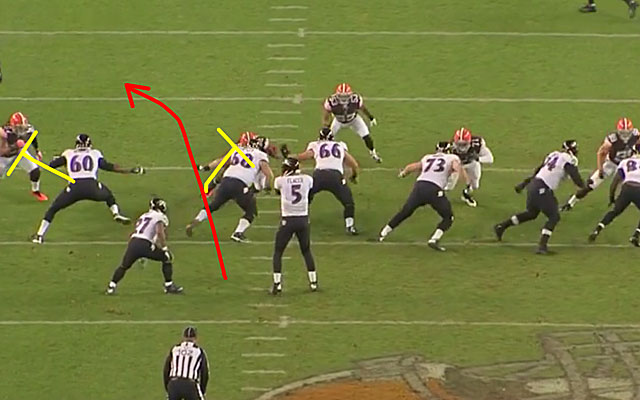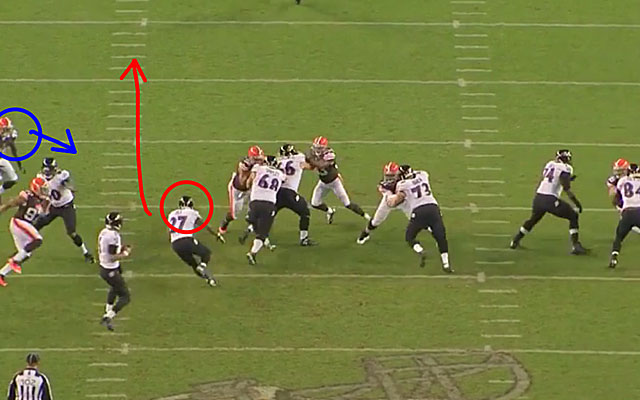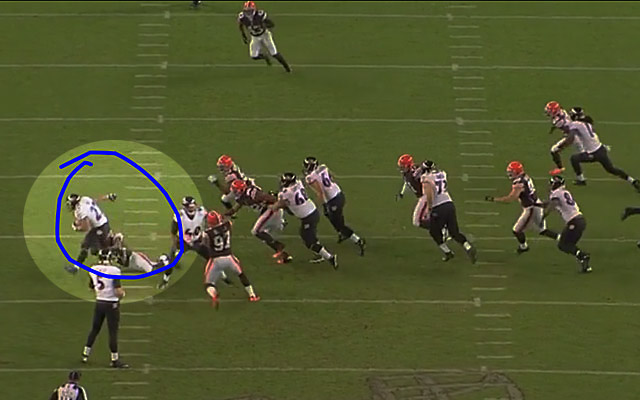 Here's a play against the Steelers where Rice has a choice of two lanes to take. You can see by the first picture that he can go left or right. He opts to go right. Yanda is having trouble with Cameron Heyward on that side, so Rice opts to cut it back inside. But that's where Lawrence Timmons is waiting to hold him to a short gain. That play shows the little things that are hurting the running game. Osemele needed to get Timmons on the ground, and maybe there would have been a lane for Rice on the cutback. He didn't.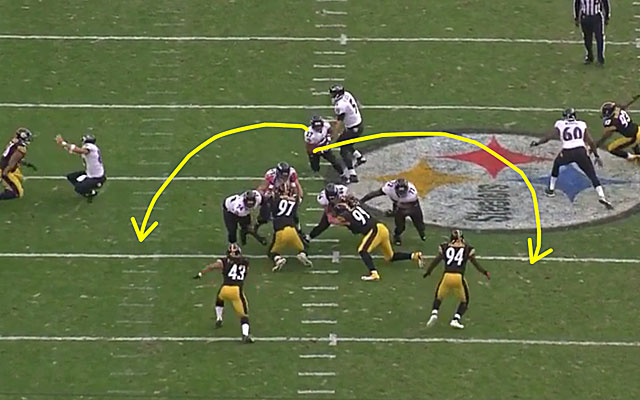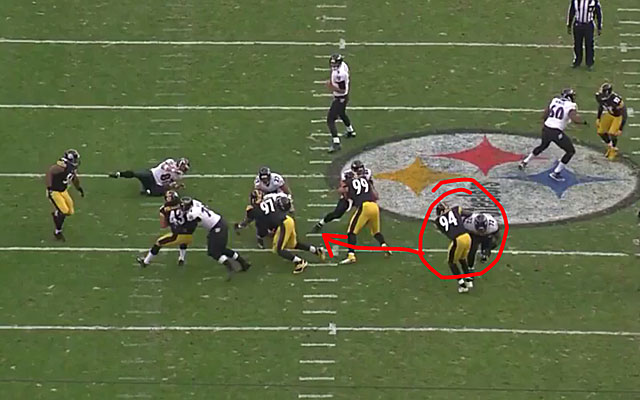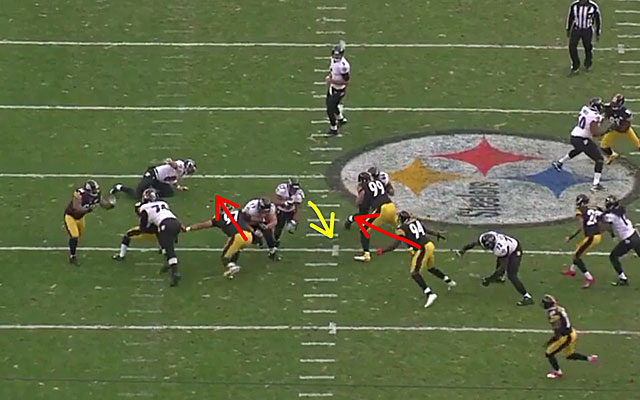 Here's a look at another run against the Steelers, who are in an eight-man front. The Ravens actually do a good job blocking this run. The problem is Rice tip-toed into the middle of the line. As you can see by the second picture, he should pop it wide for a good gain. Instead he runs inside for a 1-yard gain.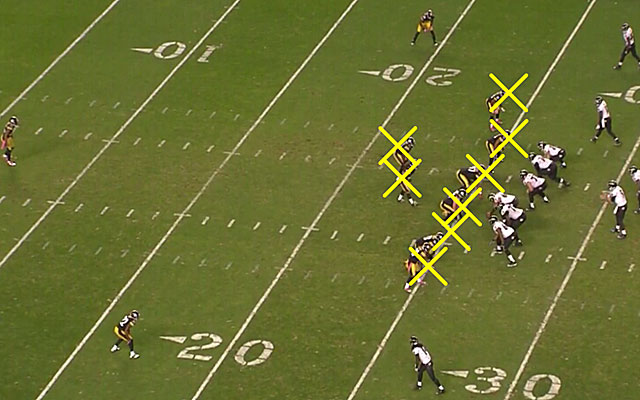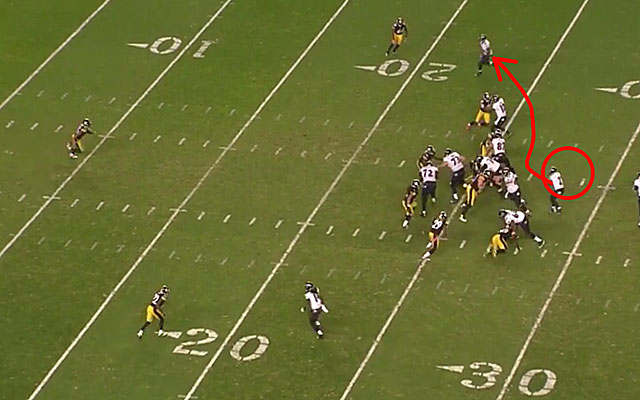 There is also that horrible goal-line fiasco against the Packers in Week 6. The Ravens have a first-and-goal at the Packers' 4 and run it four times and can't score. There is little push in the middle by Gradkowski and Osemele and the tight ends do a poor job as well. Even extra tackle Ricky Wagner, inserted as a tight end, does a poor job on the edge.
The inability to run has led to problems with blitzes on third down. The Browns sacked Flacco five times, and two were by secondary players on blitzes. The Ravens seemed to have trouble figuring out who was coming and who each player needed to pick up. Here's a look at a blitz where corner Christopher Owens ended up with a sack. Owens (blue circle) comes on an inside blitz from the right side of Flacco. The Ravens have Rice there to help pick either Owens or blitzing inside linebacker Craig Robertson up since he is also coming. The problem is Yanda stays inside and doesn't turn to his right fast enough. Rice picks up Robertson with a nice block, but Owens has a free lane to dump Flacco.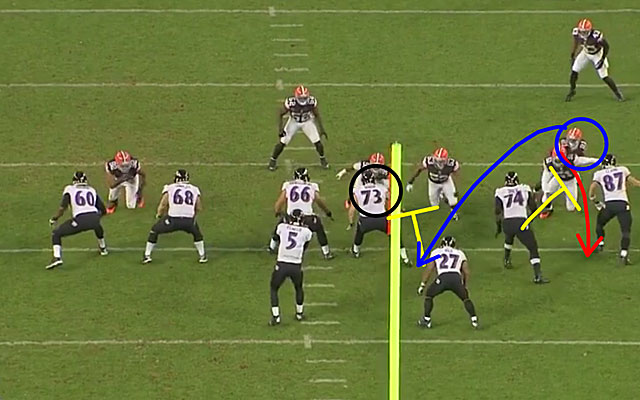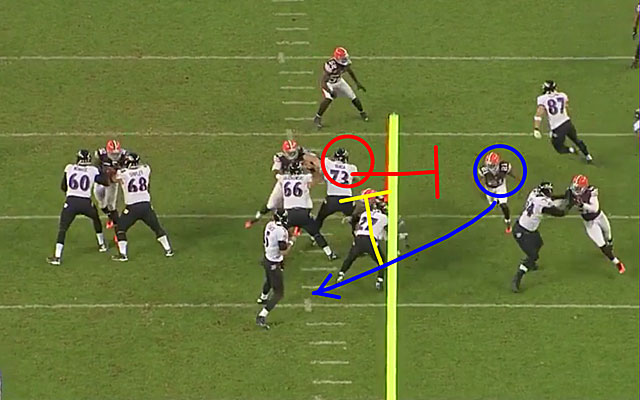 Now you have a better idea of why the Ravens can't run it and why they are having trouble scoring. The Ravens are tied with Buffalo for 21st in scoring this season. That isn't good enough. If they are to make a playoff push, they have to do a better job with their run game. If they don't, the chance of a repeat will end quickly.
Things I saw on tape
1. Cowboys left tackle Tyron Smith had a good game against Vikings pass rusher Jared Allen. Even when Allen tried to use his spin move on one second-quarter pass play, Smith stayed with him and continued to drive him out of the play. Allen was credited with one tackle on the day, and he did get a pressure on a play where he looped inside around the tackle to find a rush lane. It didn't come against Smith, who passed him off to left guard Ron Leary on that play. Allen did get another pressure against Smith, but when they were matched one-on-one Smith came up big.
2. I love the anatomy of a scoring play. When Tony Romo hit Jason Witten for a 26-yard touchdown pass, it was a success because of the design of the play and the influencing of the linebackers. Here's a look.
As you can see from the pictures below, the Vikings are in a two-deep zone with linebacker Erin Henderson (red circle) expected to drop deep in the middle in that defense. But the Cowboys pull Leary from left to right and Tony Romo play-fakes to DeMarco Murray in that direction. That leads to Henderson and fellow linebacker Chad Greenway (blue circle) both to take false steps forward, which enables Witten (yellow circle) to get down the seam for an easy score. Henderson seems to read his run keys, which is the idea of the play, and he gets sucked up in a big way. The safeties widen, which they were supposed to do, and Witten is wide open and has an easy catch for the touchdown.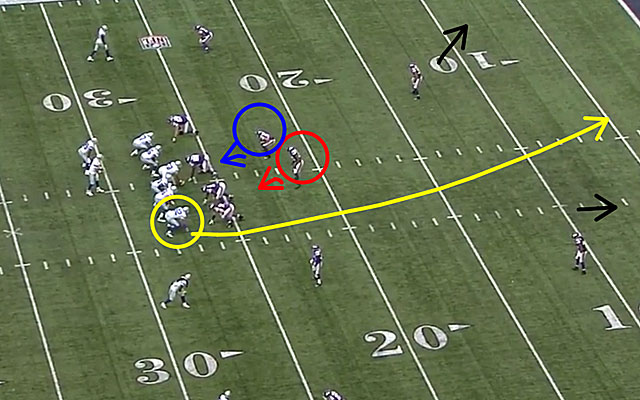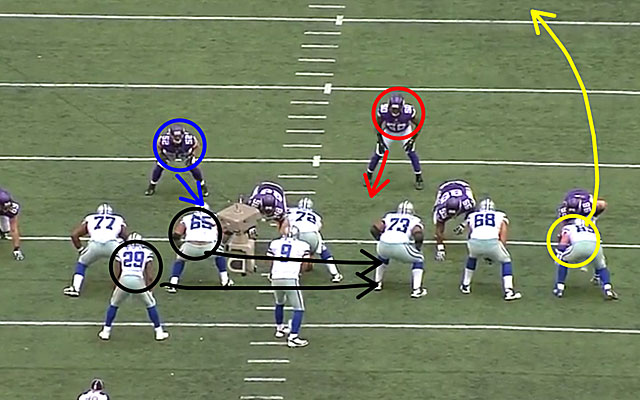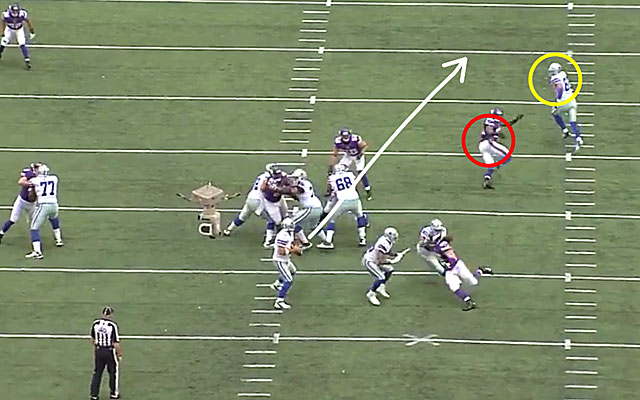 3. I wanted to see why Kansas City, a defense that is supposed to be so good, is having trouble with its run defense. The Chiefs are ranked last in yards per rush against. That's terrible for an undefeated team. The Bills ran for 241 yards last week and had a 6.3 average. C.J. Spiller had a 61-yard run and a 29-yard run. Fred Jackson had runs of 15 and 13 yards.
So what did I see: The Chiefs were vulnerable to the cutback runs. Both of Spiller's big runs were cutback runs. The action started the defense one way, and he was able to take it back the other. That's what can happen when you have an aggressive front. On Spiller's 61-yard run, the action all went to the right side of the defense, the weak side. The Bills made it look like a run to the weak side. But Spiller, who took the handoff in the shotgun, took a couple of steps to his left, and then quickly cut back to his right, the left side of the defense. It was there that he found a huge hole made possible when right tackle Erik Pears and tight end Chris Gragg, who was lined up in the backfield just outside of the right shoulder of Pears, were able to get a double on Tyson Jackson.
Scott Chandler, lined up on the line just outside of Gragg, got a seal block on Justin Houston to the outside. Receiver Stevie Johnson came down and got a block on safety Eric Berry in the hole and corner Brandon Flowers missed a tackle on Spiller -- and off he went. The action starting one way and coming back to the other helped take linebacker Akeem Jordan out of the play as he flowed to that side. This was the same type of problem the Chiefs had on Spiller's earlier run of 29 yards. Going forward, look for more and more of this type of run game from teams facing the Chiefs. It's good to be aggressive, but this is where discipline is key.
4. What can the Packers expect now that Seneca Wallace is starting for Aaron Rodgers? The Bears showed him some pre-snap looks and then jumped out of them just before the snap, sometimes coming with a blitz and at other times changing coverage. That seemed to confuse Wallace, but then again he had very little time working with the ones. I expect the Packers to change things up some. They will roll him out and get some throws out of his hands. Wallace should expect to see teams load up against a Packers run game that has improved in a big way with Eddie Lacy. That could mean shots down the field. The problem I saw against the Bears is that he wasn't willing to make them. He took the easy throws. I will say he had a potential big play to Jordy Nelson that was knocked down at the line of scrimmage. As a shorter quarterback, that could be a problem.
5. I can't believe how poorly the Steelers secondary played against the Patriots. And it was all of them. But the guy who has really struggled is Ryan Clark. On the 81-yard touchdown throw from Tom Brady to Aaron Dobson, Clark took two steps forward before trying to get back and recover. He could never get over to help corner Ike Taylor, who was also torched on the play. Troy Polamalu was a spinning top in coverage for most of the day, getting beat for a touchdown in deep zone by reading Tom Brady's eyes. Polamalu has at least played well against the run this season. Clark has really struggled in both areas. He is about done.
Three and outs
Three unsung players on good teams
1. Colts DE Cory Redding: They are tougher up front and he's playing some good football.
2. Chiefs CB Marcus Cooper: Yes, he got beat for a touchdown last week, but this rookie has impressed. The 49ers messed up releasing him this summer.
3. Patriots OLB-DE Rob Ninkovich: He has four sacks and has proven to be a steady force against the run.
Three unheralded rookies having good seasons
1. Falcons CB Desmond Trufant: He has quietly developed into a quality cover corner in his first season.
2. Lions LG Larry Warford: it can be tough for a rookie lineman on a passing team, but he's done a nice job.
3. Packers CB Micah Hyde: He has been good in the return game, but he has done some good things on defense as well. He is good near the line of scrimmage.
The Eagles cemented their status as the best team in the NFC

Wentz is a magician who pulled his greatest trick so far on Monday night against the Redsk...

Wentz is carving up the Redskins on Monday night
Peters was quickly ruled out by the Eagles with a knee injury

Wentz rebounded from an awful interception with a 64-yard touchdown pass against the Redsk...

Cousins did not want to miss a meeting or his wife delivering their child, so he found a way...