After Further Review: Scary-good Graham continues to haunt defenses
Prisco: Linebackers, safeties or corners. Zone, man or double coverage. Doesn't matter for Jimmy Graham. The Saints' super freak is all but impossible to cover. After Further Review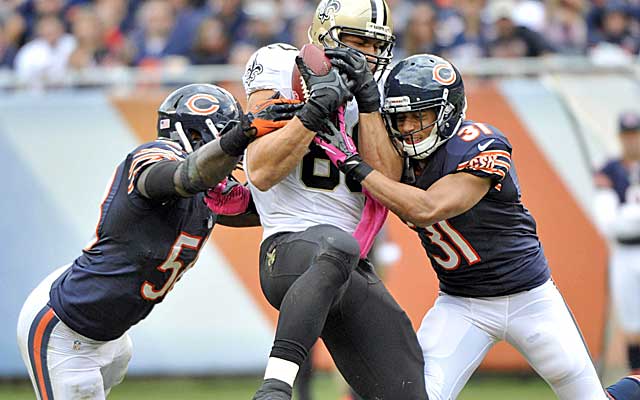 There's been a lot of chatter in the media about figuring out ways to stop Peyton Manning .
Here's another one to ponder: How do you stop Jimmy Graham ?
Graham has been sensational this season for the New Orleans Saints , a pass-catching tight end who is too big for defensive backs and too fast for linebackers. Graham is second in the league in catches with 37, leads the NFL with 593 receiving yards and has six touchdown catches, which is tied for second in the league.
With Rob Gronkowski missing the first five games, there is no doubt that Graham is the best tight end in the league right now.
If you can call him a tight end, that is.
He is so much more. The Saints use him in so many different ways that it's hard to just pencil him in as a tight end. Yes, he lines up as a conventional tight end at times, but you can also find him in the slot, wide right or left and just about anywhere else the Saints can get him into a favorable matchup.
What's even more revealing from the tapes I've studied is how he also opens things up for the backs out of the backfield, something he did twice last week against the Chicago Bears , one of which I will show here. After studying the Bears-Saints tape, a game that saw Graham catch 10 passes for 135 yards, you can see the Bears had all kinds of trouble with Graham and his ability drew a lot of attention at times, helping to open up big plays for the backs in the passing game.
The Saints got him matched up on corners, linebackers and safeties, and, at times, he was doubled. He did a great job against the Bears zone, sitting down in soft areas to provide a nice target for Drew Brees .
"Everybody has tried everything: tried to jam him at the line, at times he's had linebackers on him, safeties on him, double cover him," said New England Patriots coach Bill Belichick, whose team faces the Saints this week. "Each team's kind of got some of their own matchups. But he's seen a lot of different coverages -- man, zone, in-and-out, short-and-deep, jam at the line of scrimmage -- he's seen all of it. He's been matched up differently on different plays. A lot of times, he's split out, he's not always in the normal tight end position. Sometimes he's extended in a receiver type of look, so he's had corners on him."
What I couldn't understand about the way the Bears defended him was how they didn't get hands on him when he was lined up tight. He had too many free releases, which was strange to see.
Here's a look at one of those plays. Graham (yellow circle) is lined up tight on the left side of the formation. He takes a free release at the line of scrimmage and is matched in man coverage with safety Major Wright . Graham runs an out and up, beating Wright when he makes his cut up the field. As you can see by the second shot here, Wright tries to hold him but Graham is able to pull away and get open for a 38-yard gain to set up a touchdown.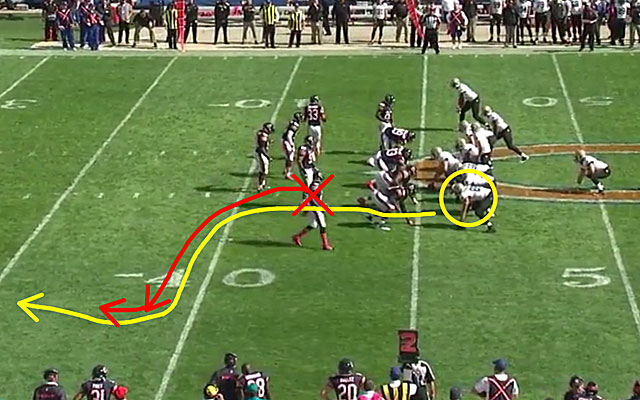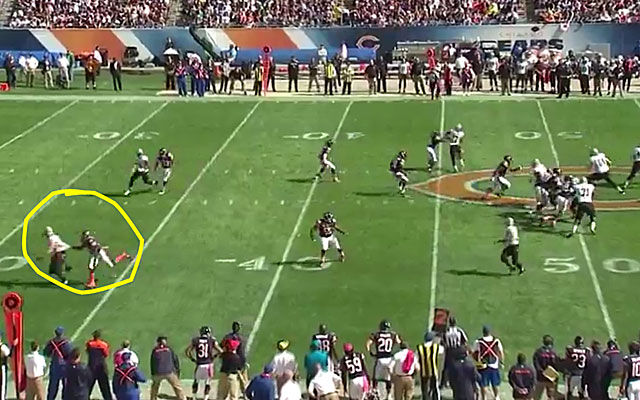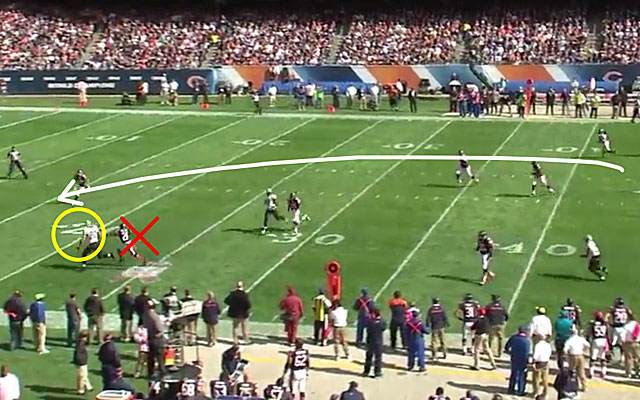 Here's another look at a big play from Graham when he lines up in-line on the right side. Again, the Bears don't get a hand on him at the line of scrimmage, giving him a free release. Graham (yellow circle) runs a simple route down the field, but Bears linebacker Lance Briggs (red X) takes a false step on the play-action fake to Pierre Thomas , which helps leave a wide-open area for Brees to hit Graham in front of the safeties for 29-yard gain.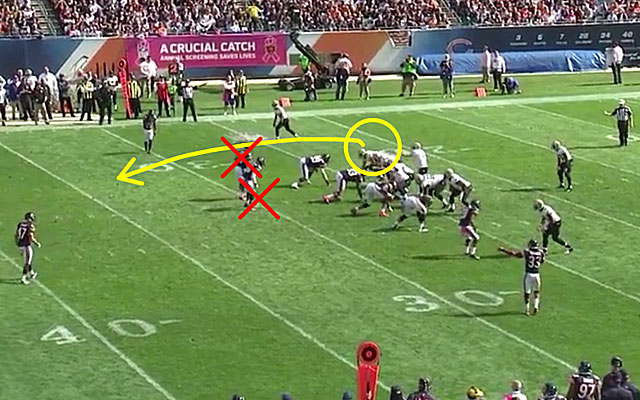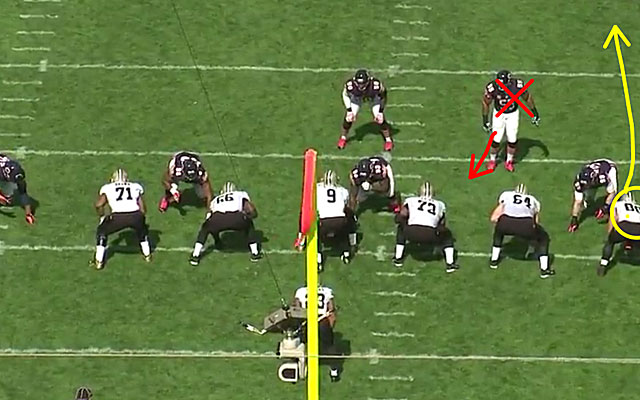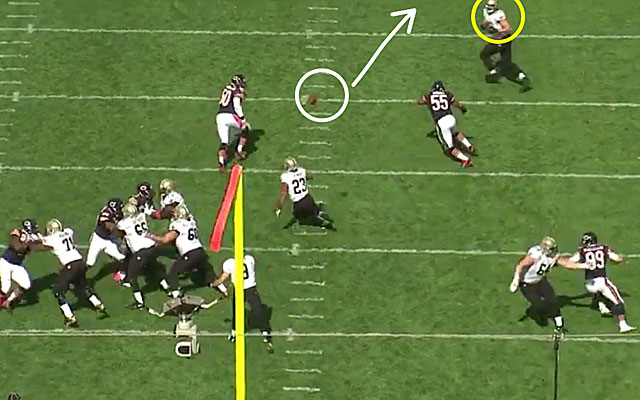 Here's a look at Graham (yellow circle) lined up wide left in man coverage with corner Charles Tillman (red circle). He beats him easily with his big body boxing Tillman out for a completion. The thing about this type of play is that Tillman is a bigger corner, but was no match for Graham. What can a smaller corner do?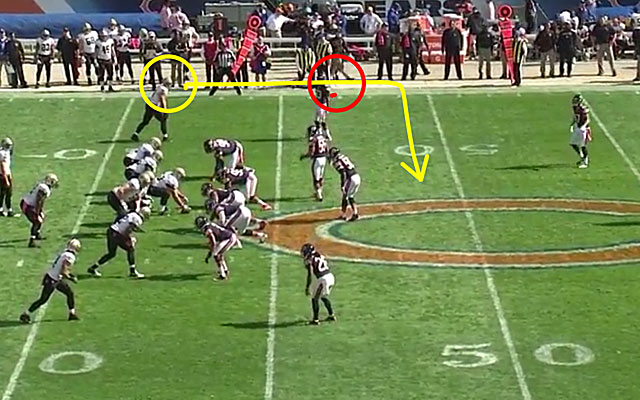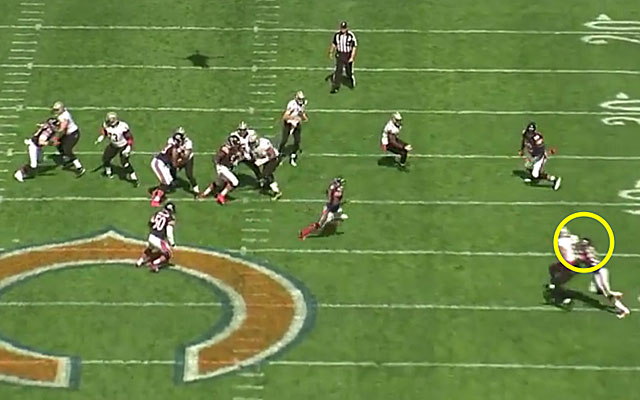 Graham's pass-catching skills helped to set up the 35-yard screen pass for a touchdown from Brees to Pierre Thomas. On the play, Graham (yellow circle) is lined up next to left tackle Charles Brown . He runs a shallow cross, and when he does both linebackers (Briggs and D.J. Williams ) take steps to go with him. As you can see by the second picture here, they both are with Graham. Even Wright in the deep middle was making a move in that direction. So Tillman is alone on the left side with Marques Colston in coverage. The Saints sneak Thomas out of the backfield and when they do, he has a convoy of linemen to lead him into the end zone. The design of the play for one of the NFL's best screen teams is impressive. But Graham's ability to scare defenses and make plays helped make it success.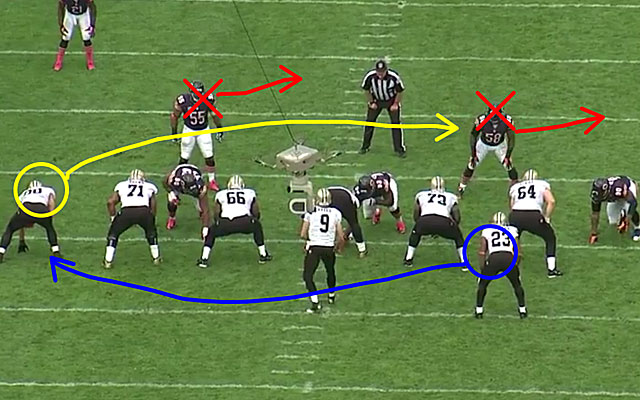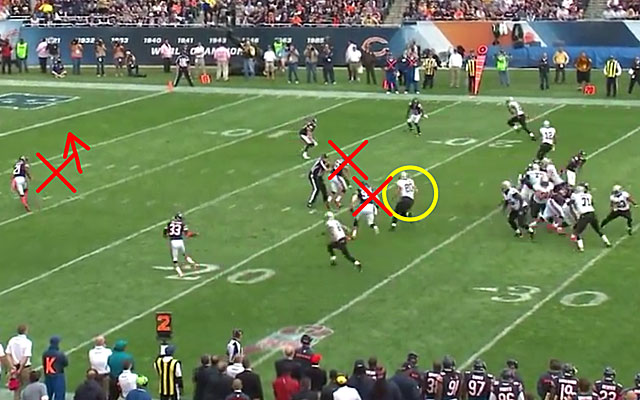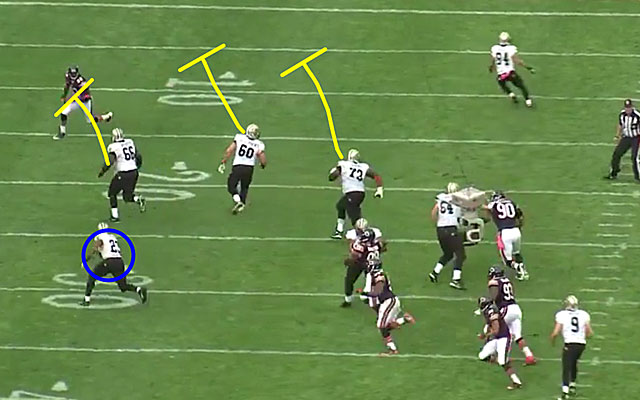 So how do you stop Graham if you are the Patriots this week?
I'd start by getting hands on him at the line of scrimmage. No free releases. And, it might be wise to double him as much as possible. Belichick does a great job of taking away a team's top threat. But as you can see by the Thomas play here, if that happens it will open up other things for Brees, who is sensational at finding the optimal matchup.
Graham or Gronk? For now, it's not even a debate. But when Gronkowski is truly healthy, and he might play this week, it's a lot closer now than people might have thought a year ago.
Things I saw on tape
• The Indianapolis Colts took advantage of Richard Sherman 's aggressiveness last week for a big play to set up their game-winning touchdown. Here's a look:
The Colts line up with trip receivers to the right. It's T.Y. Hilton inside of Reggie Wayne and Darius Heyward-Bey. At the snap, Hilton takes a step back to make it look as if the play is a quick screen outside. Sherman (yellow circle) lines up in a three-deep zone look, sees the play develop and takes a few hard steps forward to try to make the play on Hilton. But Andrew Luck pump-fakes to Hilton and Wayne and Heyward-Bey both get open deep for a big play.
I still can't understand how both Wayne and Heyward-Bey were in the same spot -- one had to bust his route -- but it's Wayne who makes the catch for the big play. Wayne is helped by safety Kam Chancellor , who is also too aggressive with his initial reaction when he thinks the play is to Hilton. I think more and more teams will try and take advantage of that aggressive Seattle secondary as the season moves along.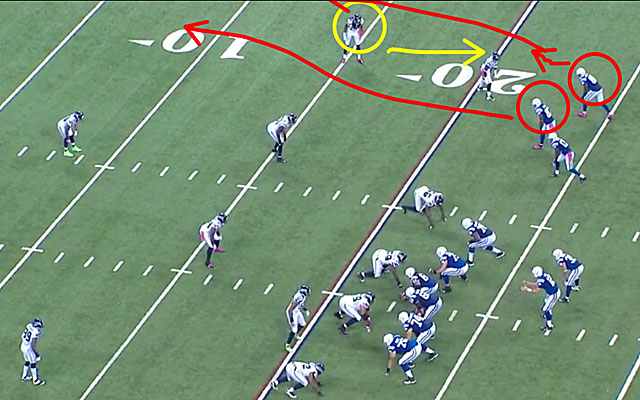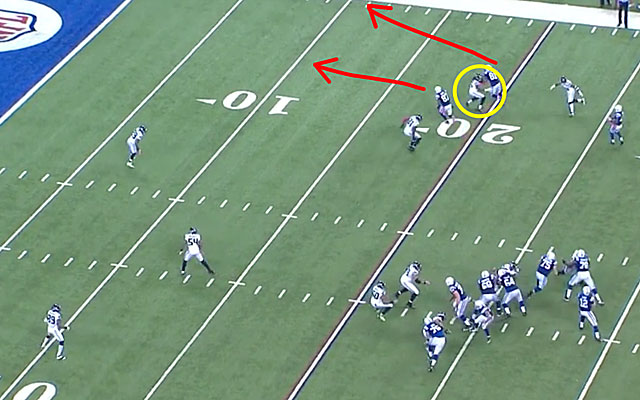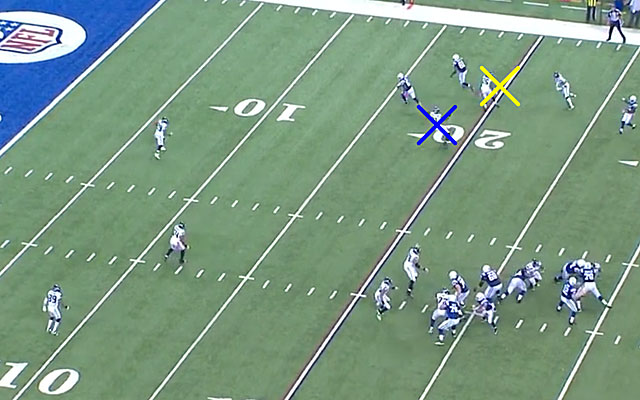 • You don't hear a lot about defensive linemen Brandon Mebane and Red Bryant when people talk about the Seattle defense. That's because they aren't flash players. But watching the tape shows two big keys to what they do on defense. Both are outstanding against the run. They are big, strong and powerful. Bryant is a huge man who really clogs up things for the run game. Mebane is more active and moves better. He had an impressive game on tape last week against the Colts. Those two are big reasons why the outside rushers get singled as much as they do. So when you watch the Seattle defense, keep an eye on those two big men. Without them, there is no way Seattle would be as good on defense.
• The more I watch the Kansas City Chiefs on tape, the more impressed I am with defensive tackle/nose Dontari Poe . He is a force in the middle and he abused the Tennessee Titans inside people last week.
On the game's first snap, he was lined up in the guard-tackle gap between Andy Levitre and Michael Roos . At the snap, both linemen got on Poe, but Roos slipped off to get to the second level. As he did, Poe powered through Levitre, shed him, and tackled Chris Johnson for a 1-yard gain. On the next series, he lined up on the nose of center Rob Turner. At the snap, he exploded into Turner, shed him, and dropped Jackie Battle for no gain.
The quickness and the power he showed on that play was impressive. In the second quarter, on another Johnson run, he whipped Turner again by exploding into him, getting rid of him, and then made a tackle to keep Johnson to a 2-yard gain.
On Jackie Battle's 37-yard run in the second quarter, it looked like Levitre got away with a hold on Poe to key the run. Poe clearly thought so by the tape, as he waved his arms to the officials on the non-call. On a fourth-and-goal play from the Chiefs' 1, Poe whipped rookie right guard Chance Warmack to stop Battle short of the goal line. Later, he split Warmack and right tackle David Stewart to make a play and hold Johnson to a 2-yard gain.
In his second season, Poe is emerging as a special player inside for the Chiefs. The outside rush tandem of Justin Houston and Tamba Hali might be getting all the attention, but Poe helps their cause by being so good against the run. He will play a key role in the two games against the Denver Broncos down the road.
• The Miami Dolphins ' offensive line has given up 24 sacks this season, six of those coming last week against the Baltimore Ravens . The Dolphins can't win games the way they are protecting right now. I wanted to see where the problems came against the Ravens, and surprisingly the line started out playing decent in the game. Then it faded. Quickly. The only starter who didn't give up a sack on the line was center Mike Pouncey . Right tackle Tyson Clabo and left tackle Jonathan Martin each gave up two. Left guard John Jerry was beaten for one and right guard Richie Incognito was beaten on an inside stunt. Here's how I saw the six sacks:
1. Ravens linebacker Courtney Upshaw , who lines up in a down spot in the guard-tackle gap, comes up the field to attack Incognito. As he does, linebacker Daryl Smith comes on a blitz, and is picked up by Lamar Miller . Upshaw loops around Smith, and Incognito disengages, which allows Upshaw an easy sack.
2. Defensive tackle Pernell McPhee is head-up on Jerry and beats him with a quick outside move to get to Ryan Tannehill .
3. Terrell Suggs gets the first of his three sacks in the fourth quarter by beating Jonathan Martin around the corner.
4. Two plays later, Suggs bull-rushes Martin to dump Tannehill again.
5. Suggs gets the hat trick when he flops to the left side and beats Clabo with a hard inside move.
6. The last of the sacks comes on the Dolphins' final drive when Elvis Dumervil drives Clabo back and comes underneath him for the sack.
The Dolphins are on a bye this week, and you can bet they will spend a lot of time before they play again working on their pass protection.
• After watching the Carolina-Arizona game, especially the Arizona defense, I was really impressed with the way the Arizona Cardinals blitzed Cam Newton . They came at him from all directions, with a lot of different types of blitzes, and ended up with seven sacks, four by their linebackers. Karlos Dansby and Daryl Washington each had two from their linebacker spots, while Calais Campbell , who is playing at a high level, also had two. Safety Tyrann Mathieu had the other. The Cardinals did a great job of delaying the inside blitzes, and timed them just right to get pressure and sacks on Newton. Carolina never seemed to adjust. I think the Minnesota Vikings , who play the Carolina Panthers this week, will come after Newton much like the Cardinals did. The Cardinals, by contrast, will probably try and use a similar strategy this week against San Francisco's mobile Colin Kaepernick in their game Sunday.
Three and out
Three the Jags should consider with the first pick
1. Marcus Mariota, QB, Oregon: He is big, has a cannon and he can move. Some will say he's a system quarterback. I beg to differ.
2. Teddy Bridgewater, QB, Louisville: He is a pocket passer who seems to have a great feel for standing in and making the reads. How tall is he?
3. Brett Hundley, QB, UCLA: He is a big, fast, quarterback who is rising up a lot of draft boards. He has a strong arm and he can move.
Three veterans who have to pick it up
1. Colin Kaepernick: Lost in Matt Schaub 's horrible game Sunday night was the Kaepernick struggles. He needs to improve his accuracy. I think he can. And he will.
2. Bears T Jermon Bushrod : They paid a lot of money to put him at left tackle and he hasn't played to that money. He struggled against his former team last week.
3. Detroit Lions DT Nick Fairley : Ndamukong Suh is killing it this season. But Fairley, expected to be right there with him, hasn't played as well as he did in 2012.
Can teams led by Drew Brees and Eli Manning contend for the top pick in the 2018 draft? Yes...

Goodell's current deal is set to expire in 2019, and his latest extension hasn't come without...

Eifert is dealing with back and knee injuries and could be in danger of missing time
The Giants' season is going down the tubes and it's all because of the Pythagorean theorem...

Haynesworth went on a Twitter rant about ex-Lady Vols player Brittany Jackson, the mother of...

The Patriots coach sees intangible similarities between Watt and Lawrence Taylor