After Further Review: Titans' future stars on D make presence known
Prisco: It's no fluke that the Titans pushed the Steelers around in Week 1. Young defensive stars Jurrell Casey and Zach Brown each had a breakout game. After Further Review
I love seeing young, emerging players who have a chance to be special -- even if few outside of their playing city know their names.
The Titans have two players who fit that category, two players who played big roles in limiting the Steelers to nine points last week, with the only offensive points coming in garbage time. They also helped limit the Steelers to 32 yards rushing and had five sacks as a team.
The two players who stood out are defensive tackle Jurrell Casey and linebacker Zach Brown. Casey is a third-year player from USC, while Brown is a second-year player from North Carolina.
When Casey came out, some scouts thought he might be too small at 6-foot-1, 300 pounds, which is why he was a third-round pick. Brown came in the second round, with speed his strong point having been a 60-meter track guy in college.
Both players are quick and fast and can move. That showed up big time on tape against the Steelers.
Casey had two sacks, two other pressures and was a force inside against the run. Brown had eight tackles, two sacks and a pass defense. The Steelers couldn't get anything all day on offense in large part because of those two. They will again be key against the Texans and their zone-running scheme this week.
Here's a look at the two sacks by Casey, coming in two different ways. His first one showed both his quickness and his power. The second was a quick stunt to the outside that showed off his speed.
Here's the first one in pictures. Lined up in the guard-tackle gap (yellow circle), Casey beats right tackle Marcus Gilbert with a quick inside move. As guard David DeCastro moves away from him to the next level, Casey slips inside of Gilbert. That's where running back Felix Jones tries to block him. He has no chance, and Casey blows past him and sacks Ben Roethlisberger.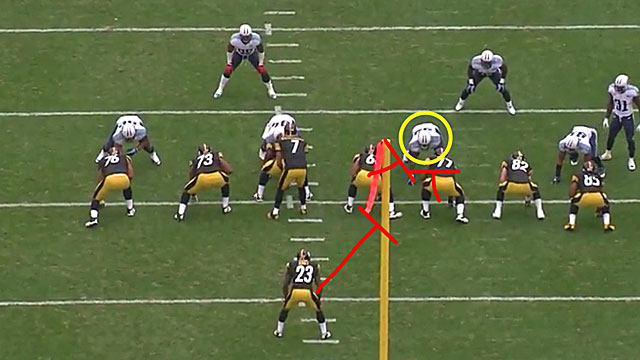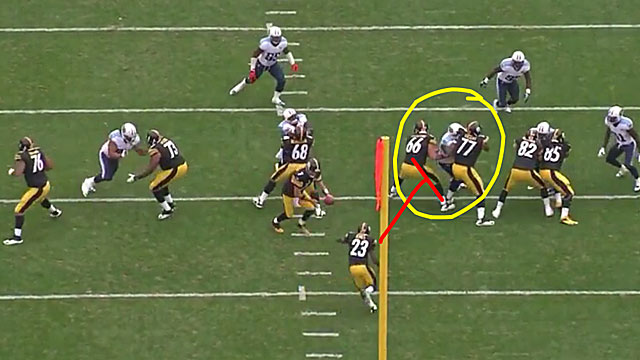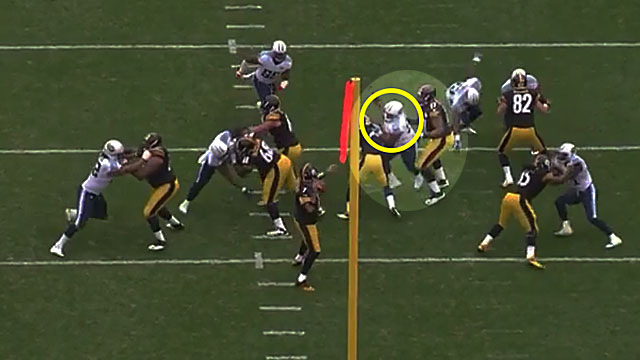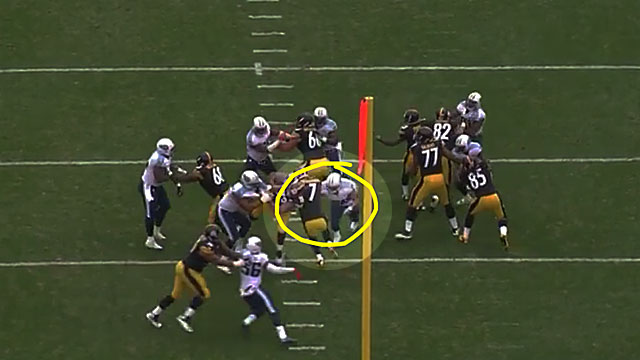 Here's his second sack. It came in the fourth quarter on a tackle-end stunt with Karl Klug. At the snap, Casey (yellow circle) takes a hard inside rush against Ramon Foster. When Klug starts looping around him, Foster releases Casey and goes to block Klug. That's where tackle Mike Adams underestimates Casey's quickness. As you can see by the third picture, Casey flies past before Adams can block him and has a clear path to knock Roethlisberger down.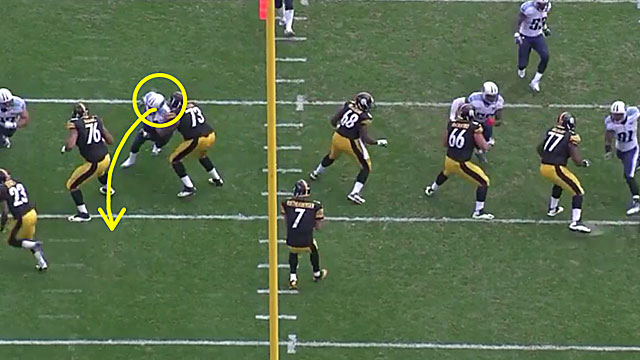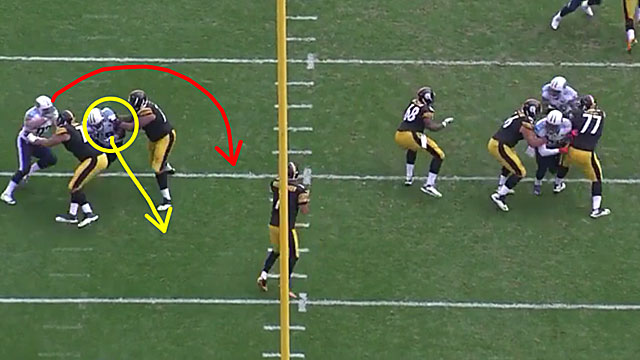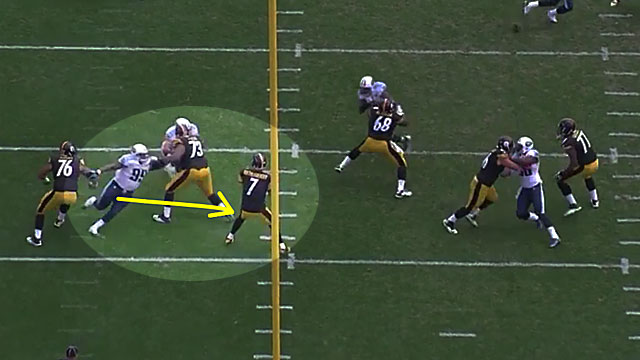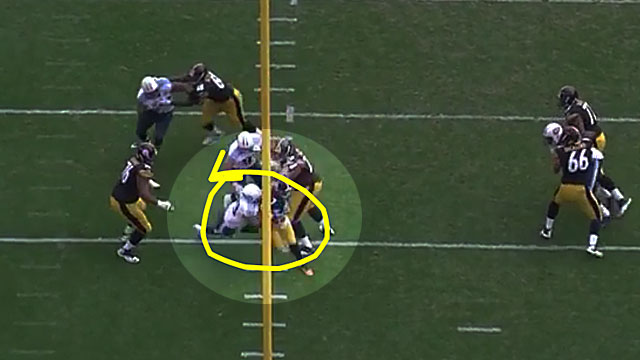 Both of Brown's sacks came when he beat the running back in one-on-one situations. The first was a 1-yard sack where he lined up on the outside and beat an Isaac Redman block. The second came later when he beat the block of LaRod Stephens-Howling and dumped Roethlisberger for an 8-yard loss. Here's a look at that play, with Brown (yellow circle) blitzing through the guard-tackle gap. You can see Stephens-Howling step up to meet him in the hole, but Brown overpowered him to dump Roethlisberger for the loss.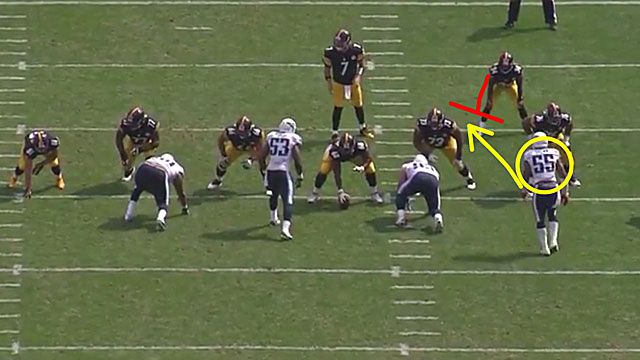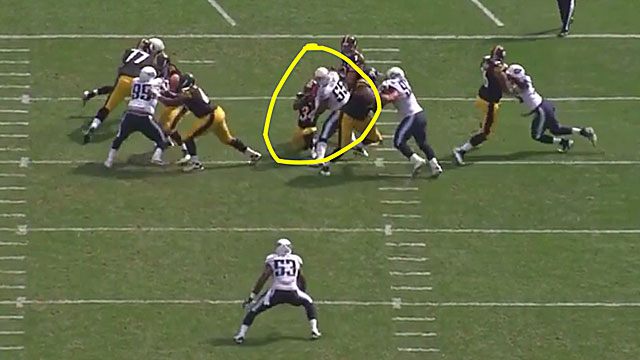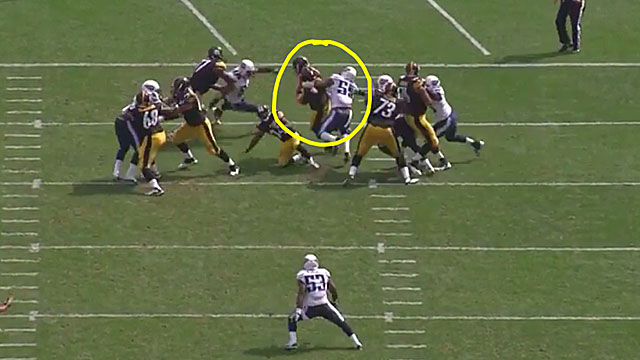 Brown can flat out run, and that helps compensate at times for his mistakes. He came on strong as a rookie in 2012, but he still made his share of mental mistakes. If he cuts those down, including too much gambling at times, he might be on his way to the Pro Bowl this season.
Keep an eye on this Titans defense. It is filled with young talented players. And with Gregg Williams adding an aggressive style, they might be tough to push around in 2013. The Texans will give them a heck of a test this week, but if they come through that looking this good again, who knows how good they can be?
Things I saw on tape
• 49ers quarterback Colin Kaepernick had a huge day throwing the football against the Packers, racking up 412 yards and three touchdowns. Much of that went to receiver Anquan Boldin. But one play that caught my eye that didn't go to Boldin speaks volumes to me about Kaepernick's growth as a passer.
• It came in the first quarter with no score and the 49ers with a first-and-10 at their 31. Kaepernick comes to the line with one receiver to his left and his right, with a tight end in the slot of each of them. He has one back behind him in the shotgun. At the snap, Kaepernick looks to his right to throw quickly to Boldin, but for some reason Boldin isn't looking. So he pulls the ball down and comes back to his left. There's nothing there immediately. So he looked to the middle, where he sees tight end Vance McDonald settled down in front of him. Kaepernick hits McDonald for a 26-yard gain.
The eye movement was impressive. That's what you have to do to succeed as a quarterback in the NFL. Kaepernick didn't pull it and run right away, which shows huge growth as a passer. But later in that same drive, he had Boldin wide open to his right deep for an easy touchdown and locked onto Vernon Davis in the middle of the field. He didn't see Boldin until he scrambled out of the pocket. Five games from now, that's a touchdown to Boldin.
• The Steelers suffered a huge hit to their offensive line when center Maurkice Pouncey suffered a torn ACL in the first quarter against Tennessee. The thing that stood out about the injury is that DeCastro was the cause. And what I couldn't figure out is what he was doing. With Pouncey engaged with Sammie Hill, DeCastro dove to cut Hill. That would have been a high-low (chop) block and a penalty anyway. But he missed Hill and ended up diving on the back of Pouncey's right leg as you can see by the pictures below.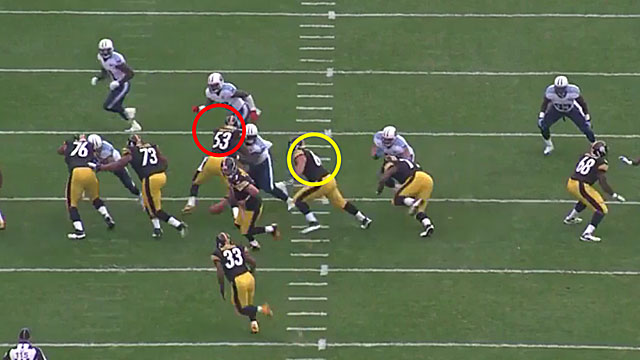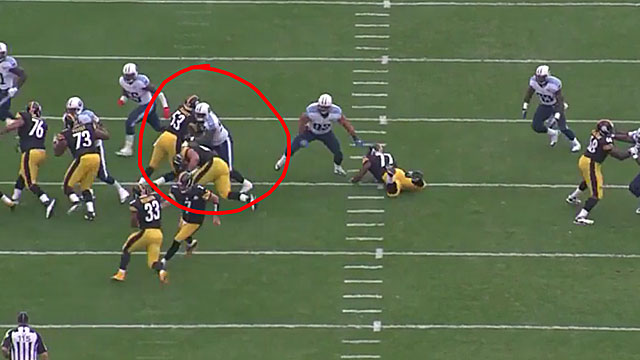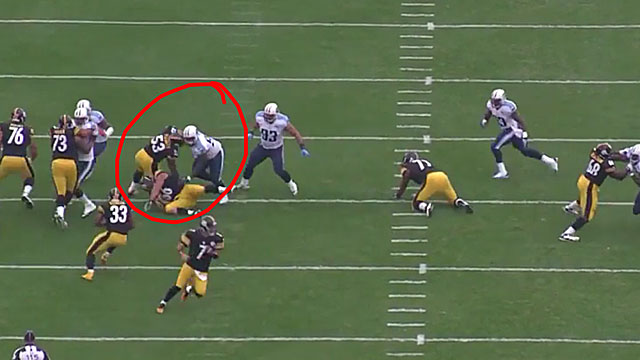 That's a big hit for a Steelers line that was questionable coming into the season. The Steelers signed former Titans center Fernando Velasco this week. Guard Kelvin Beachum filled in last week when Pouncey went down, even though he hadn't played the position at any level until Sunday.
• When I mentioned Chris Harris being a good nickel corner to Champ Bailey this summer, Bailey corrected me. "He's a lot more than that," Bailey said. "He has started and can be a good starter for a lot of teams."
Last week, he was a good starter for the Broncos. With Bailey out, Harris was a starting corner and had a pick and an overall good game against the Ravens. Dominique Rodgers-Cromartie did a heck of a job on the other side, especially against Torrey Smith, but Harris had another solid game. His interception was really an impressive play.
Here's a look. With the Broncos lined up in man coverage across with a single-high safety, he lined up on the right side of the defense in the slow against Brandon Stokley. When Stokley ran a crossing route, Harris ran with him across the field and made a diving interception of Joe Flacco.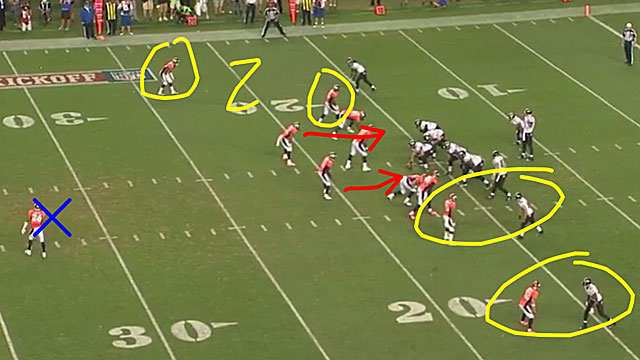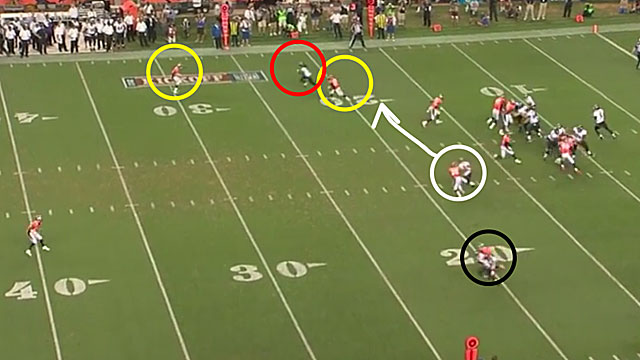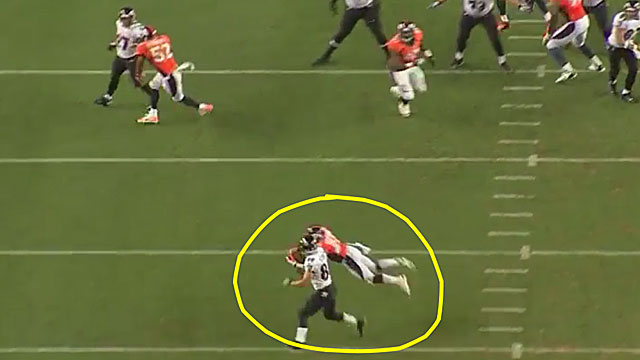 It's time Harris gets the due he deserves. He is, as Bailey said, much more than just a nickel corner. This week, he should spend time on Victor Cruz. That could be a heck of a battle of two undrafted players.
• The Saints used a lot of 3-3-5 looks against the Falcons on Sunday. That's three down linemen, three linebackers, two corners and three safeties. They used Roman Harper more like a linebacker in the game, and he had a sack, an interception and a fumble recovery. Rob Ryan had rookie Kenny Vaccaro and Malcolm Jenkins on the field with Harper much of the time. That gave them flexibility on the back end.
There were times where Harper dropped out and Vaccaro came up near the line. That type of defense is good against teams like the Falcons, who liked to spread a defense out. But it might not work against an offense that wants to run it more. It will be interesting to see how the Saints play it this week at Tampa Bay.
There, I said it
• The Steelers receivers didn't win against the Titans' man coverage. They miss Mike Wallace, even if they don't think they do.
• In Cameron Jordan and Akeim Hicks, the Saints have two impressive defensive lineman. They might not be sack stars, but both are good players whose best football is in front of them.
• Maurice Jones-Drew didn't have a lot of room to run against the Chiefs, but he also didn't look as if he had the same pop to the hole. Maybe it will take time since he's coming back from a foot injury.
• Rams defensive end Robert Quinn will lead the league in sacks and might get 20.
• The Eagles' tempo was impressive, but give teams time to figure out that offense. They will.
Three rookies who impressed
1. Eagles tackle Lane Johnson. He was the third tackle picked in the draft, but he was better than the first two this week.
2. Jets defensive tackle Sheldon Richardson. He had eight tackles and really excelled against the run.
3. Bears right tackle Jordan Mills. Matched up against Carlos Dunlap for much of the game, he helped the Bears hold the Bengals without a sack.
Three stupid things overheard
1. Mike Wallace is a waste of money.
2. Nobody can stop the Eagles offense.
3. Philip Rivers is still a choker.
Everything you need to know about the Redskins-Saints matchup this weekend

Here's every official injury designation for each NFL team for Week 11

The Dolphins took another blow amid a rough stretch of football
Our computer model simulated every Week 11 NFL game 10,000 times with very surprising resu...

The NFL on CBS broadcaster also broke down the differences between Dak, Goff and Wentz

The Legion of Boom is getting older and injuries are taking their toll