After Further Review: Why Aaron Donald is better than Watt right now
Aaron Donald is playing better than any defensive player in the NFL this year. A closer look at games tapes reveals what makes him so good.
The two best defensive players in the NFL are Houston Texans defensive end J.J. Watt and St. Louis Rams defensive tackle Aaron Donald. They are different in a lot of ways, but there is one thing that binds them together, which is their use of their hands.
For all the talk about power and strength and quickness and agility -- which both have -- the thing that stands out to me when watching tape of both players is how well they use their hands to get off blocks.
The word that comes to mind is finesse, but that would be an injustice to the power both can play with when needed. But these are two athletes, pure and simple, who grew into dominating defensive linemen.
Watt was a former tight end who grew and moved to the defensive side. He still plays with the agility of the tight end position. Donald ran 4.68 at the NFL scouting combine when he came out of Pittsburgh in 2014, which is blazing for a defensive lineman and he has used martial arts to improve his hand fighting.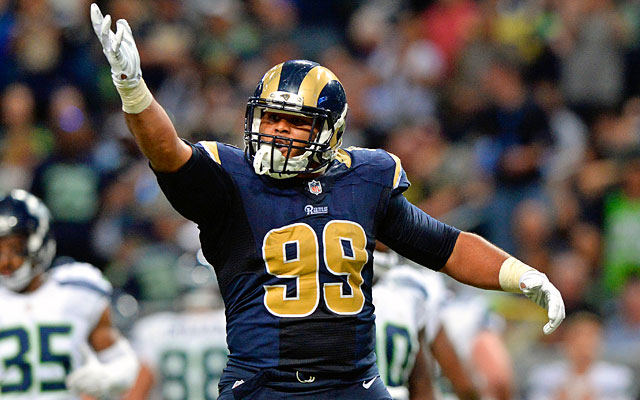 I break down Watt's games every week here as part of After Further Review. I study all of his snaps (later you will see the breakdown from last week's game). But this column is highlighted by a breakdown of Donald.
The debate this year is which player is better. I'll say it this way: Watt would be my pick if I were starting a team in terms of a defensive player, but Donald is playing better this season, which makes him a strong candidate to be the NFL Defensive Player of the Year.
The amazing thing about Donald's play is that he's 6-foot-1, 285 pounds and he looks even smaller than that in his No. 99 jersey. At times when he's running down plays away from him, Donald looks like a linebacker or even a strong safety. That's how athletic he is as a player.
When he came out of Pitt, there were a lot of scouts who had reservations about his size. Would Donald hold up in the run game? That was one of the most-asked questions about him coming into the league. Was he strong enough?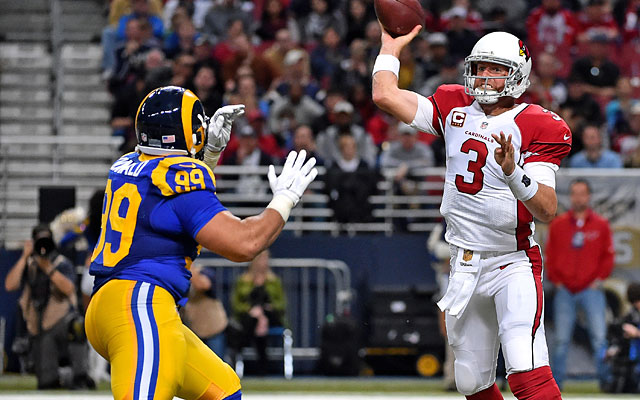 The answer to that question after two years is a resounding yes. Sure, there are times when a guard or a tackle can get their big bodies on him and root him out, but it doesn't happen a lot. His ability to use his hands and his quickness to prevent that from happening is as good as any inside player in the league.
Donald has 11 sacks this season, the most of any inside player, and he has 21 tackles for a loss. Without end Robert Quinn next to him -- he started seven games but is now out for the season -- Donald is also seeing more doubles. That's the next challenge for any great player, handling two big guys at once. It's even tougher for a smaller defensive player, but Donald has adjusted well.
Here's a play from the Week 13 game with Arizona that shows how Donald has learned to deal with the double.
Donald is lined up in his three-technique position, outside the shoulder of left guard Mike Iupati. At the snap, he exploded into left tackle Jared Veldheer and moved him back. It was a show of strength as he used his legs to push into Veldheer with a low center of attack.
That made it tough for Iupati to get a real good double on him. As running back David Johnson tried to get through on the left side, Donald was able to reach out with his right arm and get involved in the play. That's power.
Here's a look at Donald using his power as a pass rusher.
On this play, he was lined up over center Lyle Sendlein. At the snap, Sendlein had no chance. Donald got off the line quickly, and then used his powerful legs to get under Sendlein and drive him back. As Carson Palmer tried to move, Donald disengaged Sendlein and got the sack.
Take a look.
Here's a play from Week 15 against the Bucs where he overpowers guard Logan Mankins to make a stop in the run game. This is just brute strength on display.
It's a fourth-and-1 play in the second quarter. The Bucs want to run Doug Martin to the left behind the fullback, and it's a play that is well blocked up front.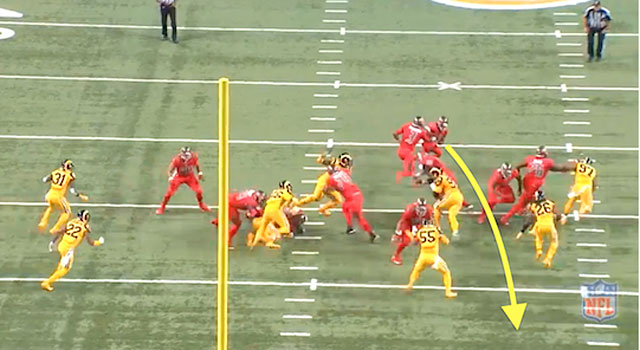 But Donald blows it up by powering into Mankins and tackling Martin for a 2-yard loss.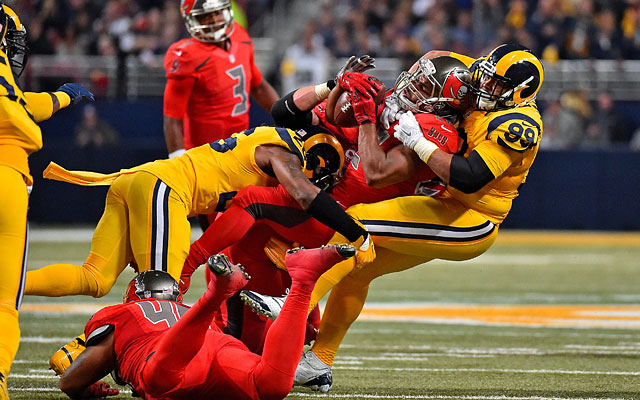 You can see by the screen shot that Martin would have had the first down and a lot more if Donald doesn't win and make the play.
Even when it appears Donald is handled on a play, he really isn't. Here's a look at a run play against the Cardinals that shows that.
Donald appeared to be cut off by right tackle Bobby Massie on the run to the left. That's tough to do with Donald being so quick, but Massie actually did a nice job getting in front of him. The problem was he didn't stay with his block. Donald was able to free himself from Massie's big body to slide over and help tackle Johnson for a 2-yard gain.
That's the type of effort Donald plays with every play. You don't see him take downs off.
The power is nice, but it's his quickness that sets him apart. There are so many plays where he's the first guy off the ball, which makes it so tough for the offensive linemen.
Here's another play that highlights his quickness from the Week 13 game with the Cardinals.
On this play, his ability to get off the ball prevented Massie from getting a down block on him. What I liked was how skinny he got to split to the two linemen to make the play.
That's technique of a player much older. You can tell he studies the tactical side of the position.
As far as pass-rush skills, he has all the moves. Like the one sack above, he can use power. He also can use his wonderful athletic ability and his bag of moves. Here's a sack from the Lions game that shows off his ability to use a variety of techniques to get the quarterback.
Lined up on the outside shoulder of rookie guard Laken Tomlinson, Donald charged hard into his body, then tried a swim move to disengage. But Tomlinson did a nice job initially. So Donald spun away from him and exploded to drop Matthew Stafford for a loss.
That is a lot of stuff happening in short time, which shows just how quick he is as a player and pass rusher.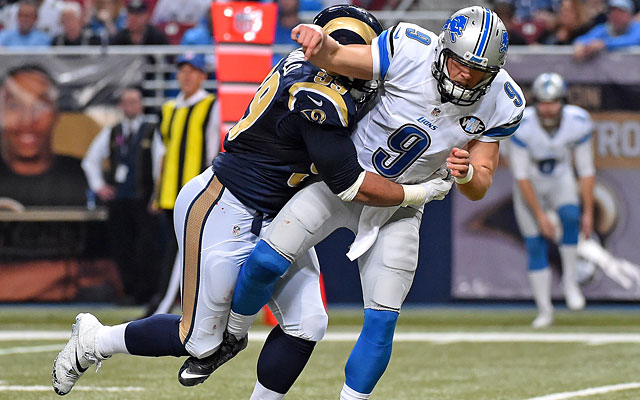 In the game against the Cardinals, Donald also dropped out in coverage . This is not something I would do ever, but the Rams like to use some blitz-replace concepts, with a linebacker coming and a lineman dropping out. This time, Donald dropped and nobody else came. The way Donald played it he looked like a much smaller man.
Donald dropped out from a down stance, knocked tight end Jermaine Gresham off his route and then got in on the tackle on Larry Fitzgerald when he crossed into his zone.
That is an amazing play for a man that big.
Watching him on tape, he comes across at times like a one-man wrecking crew, even on a talented defense. That's how much he shows up. Even when he's not making the stat sheet, he's impacting the game, which all the greats do.
Watt does it on weekly basis, which is where the comparisons are being made, even if they don't play the same position.
Who would you take?
I'd take Watt, but it's damn close. I think Watt gets way more attention from the opposing offenses than Donald does. But as the season has moved along, and Quinn hasn't been off the field, Donald is getting a lot more of the Watt treatment.
That's a sign of respect, a sign of greatness.
Most compare Donald to Warren Sapp. I'd also throw in former Minnesota Vikings star John Randle. Both of those players are in the Pro Football Hall of Fame, which is great company for Donald.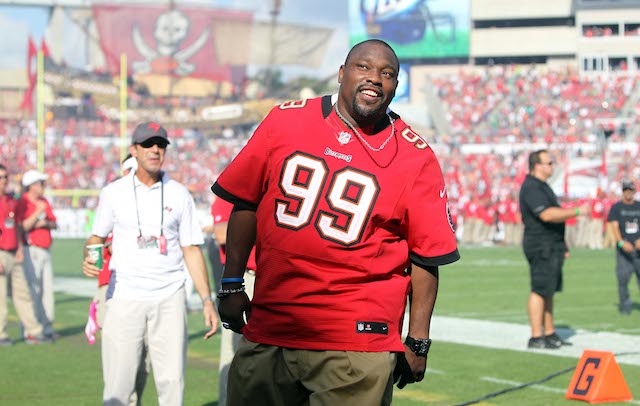 He's on his way.
Like Watt, he can thank his amazing hands and quickness.
More observations from watching tape this week
The weekly J.J. Watt review: Watt has gone three straight games without a sack, but two of those were played with a broken hand.
Even though he didn't sack the quarterback last week against the Colts, he still made plays. He had a few quarterback hurries and another hit, despite being given a lot of attention as usual. His pressure on one play from the right side did force Matt Hasselbeck into an intentional-grounding penalty.
One of the things that the Texans did with Watt that I liked was to stand him up off the line next to Jadeveon Clowney. They then used an X-stunt -- crossing each other --- to free up Watt to get pressure on Hasselbeck. This is something I think we will see more of going forward.
Watt was really good in the run game again. On one running play, he jumped around right tackle Joe Reitz and limited Frank Gore to a 1-yard gain. On another player where he was lined up off the ball over the center, he helped crash into the middle of the line to free up Brian Cushing and Benardrick McKinney, the two inside linebackers, to make the play for a 1-yard gain.
Watt might not be getting the numbers he has in the past, but he's still playing at a dominant level that commands a lot of attention.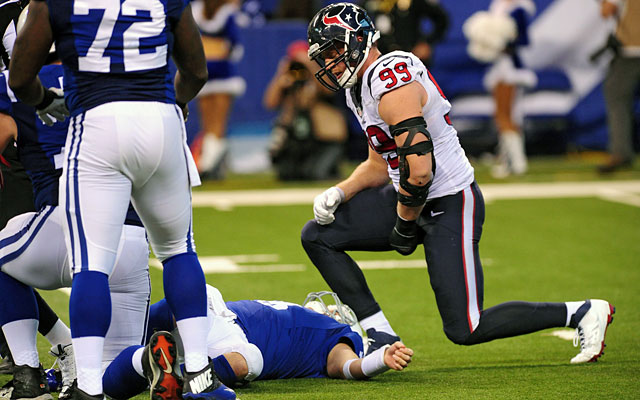 Improving Texans: Two of the most-improved young players in the league are Clowney and McKinney. Clowney is getting better and better as a pass rusher and remains a force in the run game.
Clowney didn't get a sack against the Colts, but he did get two pressures. On one play, he bull-rushed right through left tackle Anthony Castonzo. Clowney plays with a violent demeanor and is powerful. The sacks will come.
As for McKinney, he's becoming a good run player in his rookie season and he got a sack last week on a blitz. The play, though, that stood out to me was when he chased down Gore on the sideline for a 1-yard gain.
McKinney read the play, knifed through the traffic to get over to hit Gore. But just before he hit Gore, he had to leap over a fallen Colts player to dive on him and knock him out of bounds.
McKinney, Clowney and rookie corner Kevin Johnson are going to be big-time players.
Pick Six Newsletter
Get the day's big stories + fun stuff you love like mock drafts, picks and power rankings.
Please check the opt-in box to acknowledge that you would like to subscribe.
Thanks for signing up!
Keep an eye on your inbox for the latest sports news.
Sorry!
There was an error processing your subscription.
The suspended linebacker is officially permitted to resume playing on Dec. 10

Plus everything you need to know about this week's injury reports

La Canfora is taking a 16-8-1 record on his best bets into Week 11. Find out who he likes to...
It's the first time Trump has selected medalists for the United States' highest civilian h...

That will definitely make the work environment more comfortable for everyone

SportsLine's computer model simulated every Week 11 NFL game 10,000 times with surprising...