After Further Review: Wilson's great on the run, so why rush him?
Russell Wilson's strength is throwing darts on the run or picking up first downs with this feet. So why are teams so quick to rush him? After Further Review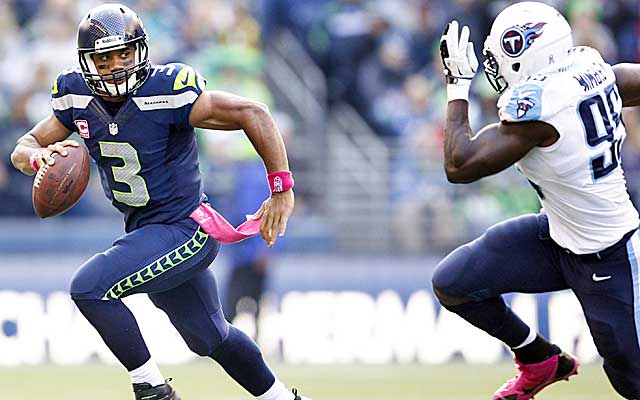 Watching the Arizona-Seattle game last week, it struck me that teams are defending the Seattle Seahawks the wrong way, playing right into quarterback Russell Wilson 's strengths: Getting the ball out quickly and utilizing his ability to make plays on the move.
I studied the past three Seattle games -- against the Indianapolis Colts , Tennessee Titans and Arizona Cardinals -- and saw all three teams defend Wilson with a lot of man coverage and plenty of blitzing by their linebackers, especially in the middle.
What I can't figure out is why.
Wilson is seventh in the league with a passer rating at 97.9, and he's completing 61.5-percent of his passes with 11 touchdown throws and four interceptions. But here's an interesting number: He is 19th in the league in third-down passing. That's something to watch moving forward.
Wilson is at his best when he gets outside the pocket, his feet become a weapon and he is good at throwing on the run. He keeps his head up to make throws down the field, which a lot of young quarterbacks don't do, and he is accurate usually when he does throw on the run. He can also turn scrambles into big plays when defensive backs are locked in man coverage with their backs to him.
The Colts saw that firsthand a couple of weeks ago when they beat Wilson. He ran for 102 yards that day and followed that up with 77 against the Titans the next week. He used his legs against man coverage to beat the Buffalo Bills as a rookie last season.
Against the Cardinals last Thursday night, he again saw a lot of man and blitz and did a great job to take advantage of it with some timing throws and some quick hits on rub routes. He is at his best when he gets the ball out of his hand quickly, and quick slants, rub routes and plays into the blitz seem to be what he likes to use a lot of the time. When he is forced to stand on the spot, he seems to get jumpy and uncomfortable and wants to leave the pocket early -- even when there isn't pressure.
I know why teams want to play man against Seattle. They don't think the Seattle receivers are good enough to win consistently against it, and they probably worry that the Seahawks will pound Marshawn Lynch if they play a soft shell scheme. But against man, the Seahawks can scheme the receivers open with the picks and rub plays, and Wilson is spot on with those types of plays and they become simple throws to make.
Here's a look at one of those from the Arizona game last week. It is a throw on third-and-3 play to receiver Golden Tate . He is in the red circle and in man coverage with corner Patrick Peterson (yellow circle). Tate runs a quick out, and when he does, outside receiver Sidney Rice runs a shallow cross to help pick off Peterson, who is running with Tate. It makes for an easy pitch and catch for Wilson and a first down when Tate turns it up for a 14-yard gain. As you can see by the picture, Doug Baldwin (black circle) is in the clear against Tyrann Mathieu for a big play. Wilson had a shot there but passed on it. He will make those plays the more he gets comfortable playing the position.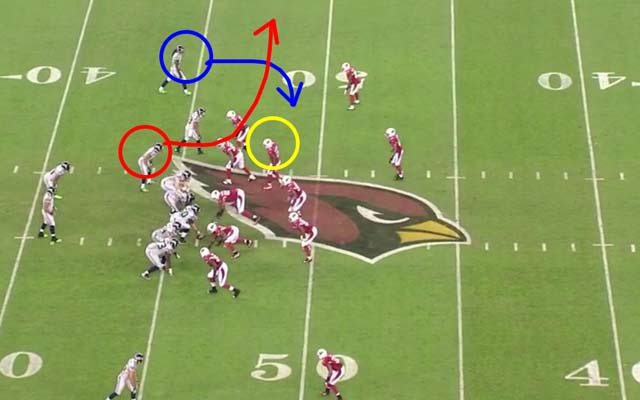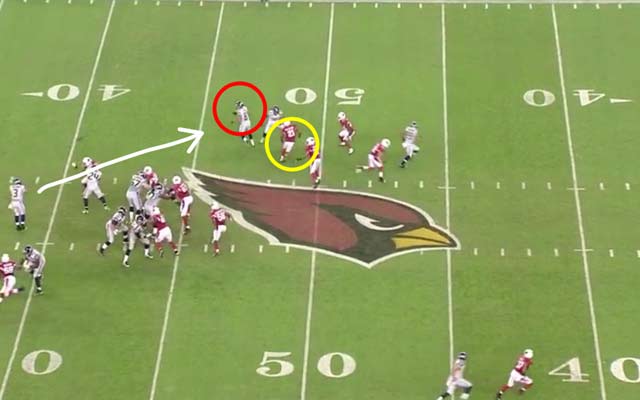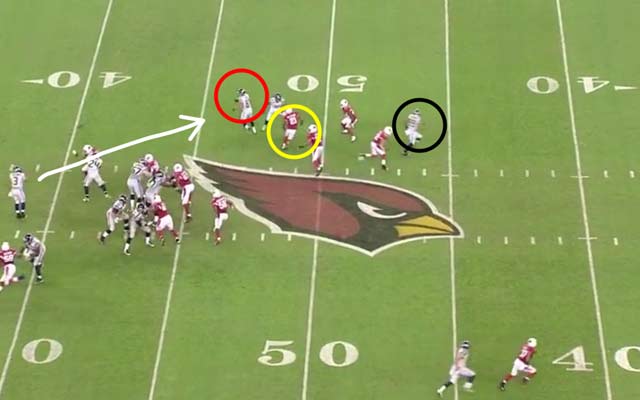 Here's a look at a run for Wilson against the Titans, which shows the danger of playing man against him. As you can see, the Titans have all of his receivers covered, although the shallow cross is available. But Tennessee sends two linebackers on a blitz, which forces Wilson out of the pocket. With nobody on the defense in front of him with eyes on him, he is able to turn it into a big gain. That's the risk of trying to match up with his receivers.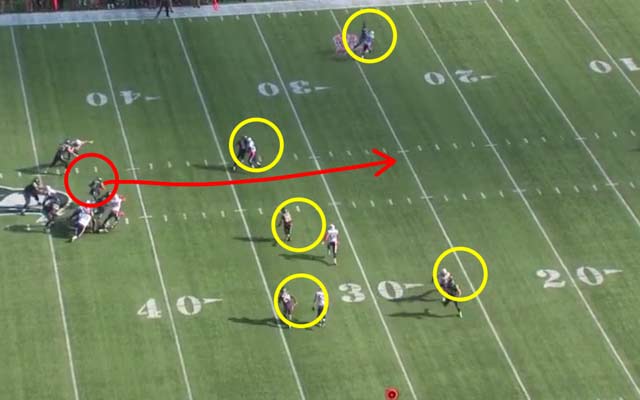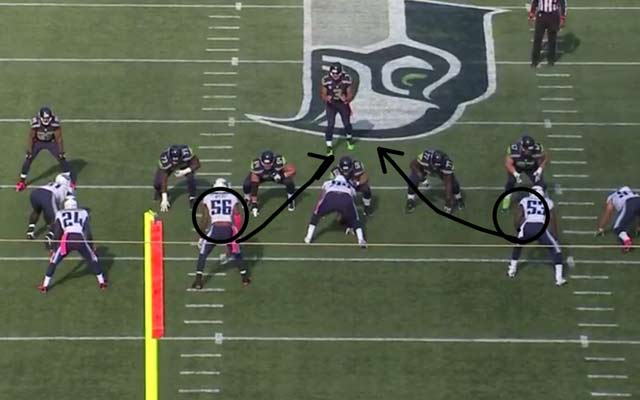 By contrast, here's a look at a play from Week 1 where the Carolina Panthers rush four and drop seven into coverage. As you can see, Wilson still has an open receiver in tight end Zac Miller. But he doesn't throw it. Even though the second picture here shows he has no real threat of pressure, he instead takes off and runs. That's the comfort level of being on the spot. His first inclination is to get out. That's good and bad. He can make plays with his legs and does throw well on the run, but it's also passing on potential throws if he goes through his progressions.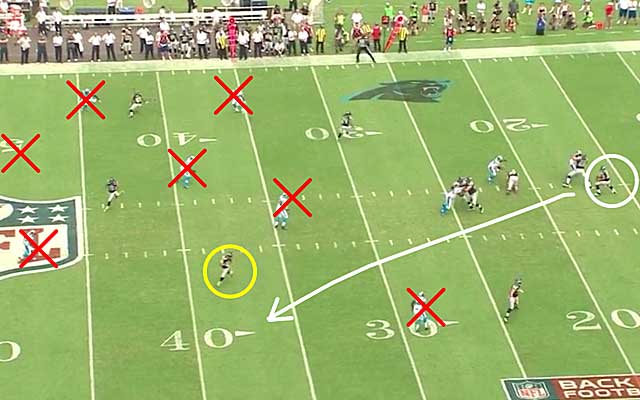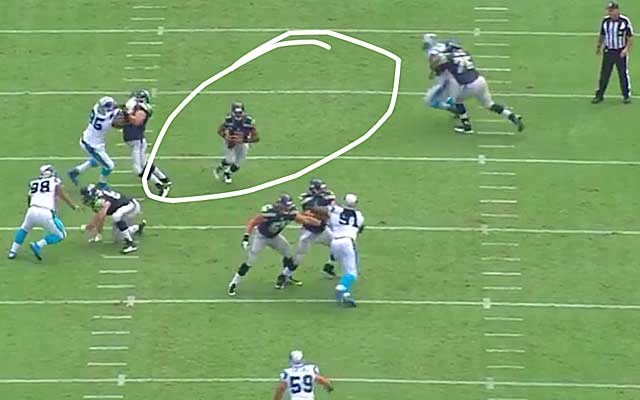 Here's another zone look against Houston. Wilson has a shot to Miller (yellow circle) against zone but he passes on it. He instead looks to run out of the pocket, but he is sacked when Whitney Mercilus comes free to hold him to no gain.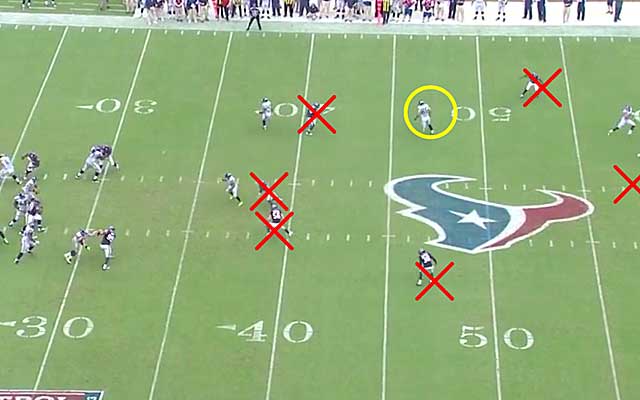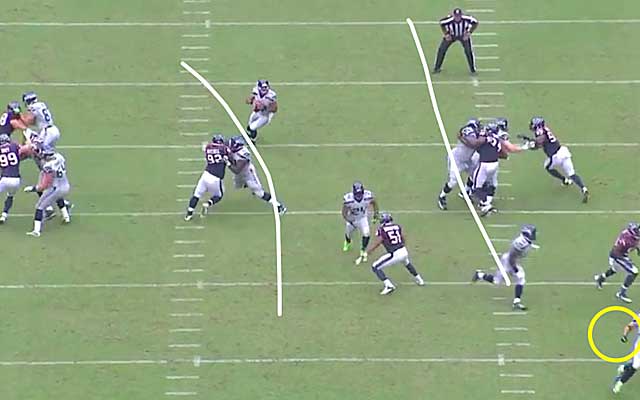 This isn't meant to pick on Wilson. It's just that the Seahawks are one of the best teams in the league and Wilson is one of the rising stars playing quarterback. What it is meant to do is show that teams might be better off defending Wilson a different way.
If you stay back in zone, Seattle might just pound Lynch at your defense, but isn't that worth the risk? Why make it easy for Wilson? He did throw a touchdown pass to Miller against the Cardinals zone last week, but I still think that's the way to go.
What I would do to defend Wilson is to rush him with the ends hard up the field, make the defensive tackles get their hands up when they don't get penetration to make it tough for him to see -- he is short after all -- and play more zone than man. Face him. See him. I think that's the right way to defend him. Wilson will get better against the zone defenses as he plays more, but for now why not make him find open receivers in spots against the zone.
Those rub routes and quick throws against man play right into his power alley. And when you blitz him, he can take off for big runs. Maybe the return of Percy Harvin from injury will make teams re-visit playing all this man. In the end, that might work against Seattle.
Patience is a trait that young quarterbacks need to learn. Teams need to make Wilson be more patient. I know I would.
Things I saw on tape
• In studying Tom Brady against the New York Jets , I thought he was way too focused on trying to get the ball to Rob Gronkowski , who was back playing for the first time. He targeted him 17 times. I get that Gronkowski is a good player, but there were times where Brady went to Gronkowski with two and three defenders on him.
On one throw to Gronkowski in the deep middle, there were three Jets defenders converging on him and Brady never looked off. If he had looked to his right, Aaron Dobson was wide open after winning in man coverage.
Brady was also wild with some of his throws. The throw that Antonio Allen picked off for a touchdown was a little off target, which allowed Allen to step in front of Gronkowski to pick the pass off.
Brady is better than he played Sunday, and he has to know that he has options outside of Gronkowski, even if they are young players. • New England Patriots rookie defensive tackle Chris Jones may have been called for that push penalty on the late field goal to help the Jets win, but that shouldn't overshadow how well he played against the Jets. He was credited with 10 tackles and two sacks.
On the first sack, left guard Brian Winters initially blocked him, but Jones was able to shed him and beat him with effort to dump Geno Smith . On the second sack, he pushed Winters back into the pocket and was able to knife underneath him to grab Smith's legs and pull him down. Another time on a run by Chris Ivory , Winters was able to get into Jones' body, but Jones was able to shed him and stop Ivory for a 3-yard gain.
Jones didn't get the 10 tackles he was credited for getting -- the tape shows a handful that he got credit for but didn't make -- but he has 3 1/2 sacks in the past two games.
Jones was a sixth-round pick of the Houston Texans , but they cut him this summer and Tampa Bay picked him up and then cut him and New England claimed the rookie from Bowling Green on Sept. 11. With Vince Wilfork out of the season, he has been a pleasant surprise. Joe Vellano , another rookie down lineman, also had a good day against the run vs. the Jets. And late in the game rookie linebacker Jamie Collins made a few nice plays as well. Those young players will be key to the New England defense moving forward.
• The Bucs paid a ton of money to sign safety Dashon Goldson and gave a bunch to Darrelle Revis when they traded to get him. They also have a first-round pick invested in safety Mark Barron and a second-round pick in corner Johnthan Banks .
So why are they 18th in passing yards per game and 22nd in passing yards per play?
The pass rush not being good is one reason. Tampa Bay is 24th in sacks per pass play. But I also think that Revis is being miscast playing too much zone and Goldson and Barron have struggled in pass coverage, something I thought they would do all along.
They are both more like box safeties and coverage is not their strong suit. Goldson was frozen like a statue on a 37-yard touchdown throw to Harry Douglas last week against Atlanta on a pass that went right over his head. On the play, Goldson was in a two-deep zone and he seemed to take a false step forward on a shorter route as Douglas ran by corner Leonard Johnson .
Goldson came from San Francisco and he was picked on some by Atlanta in the NFC Championship Game. The Atlanta Falcons knew his liabilities and got him for his aggressive nature. As for Revis, he played more man against Atlanta and while some said he didn't give up a completion, he did. He was beat on a cross in off-man by Douglas.
Revis should be playing more press-man, which he loves. What are the Bucs doing on defense?
• The Dallas Cowboys have a nice-looking rookie in safety J.J. Wilcox . When they took him in the third round, they thought they were getting a guy who is much better against the run than the pass. And that is still true, but Wilcox is improving in coverage.
Once he gets better at recognizing and thinks less, he has a chance to be a good one. His play to knock away a sure touchdown to DeSean Jackson last week was impressive.
Wilcox was lined up in a two-deep look with Barry Church as the other safety. Wilcox was on the deep left side of the defense. Jackson, lined up in the slot, ran a deep route through the middle of the Dallas defense. He had a free release against the zone and ran untouched down the middle. Church took a false step on the play, and was caught in nowhere-land when Jackson ran by him. That forced Wilcox, who had widened to his left, to make a fast run to track down the ball and a sure touchdown and tip it away.
It was 10-0 Dallas at the time and Tony Romo had just tossed an interception. That could have turned the game around. The Philadelphia Eagles settled for a field goal, their only points of the game. Wilcox also showed he can be a versatile safety by coming up near the line and tackling LeSean McCoy for a 2-yard gain in the hole. As he matures and understands offenses better, Wilcox has a chance to be a heck of a player. •What was the Colts' magic formula to slowing the Denver Broncos last week? What I saw on tape was a team that dared Denver to run. They used a six-man box for much of the game and Denver couldn't or wouldn't run it like they should against that alignment.
The Colts secondary players played solid man coverage against the Denver receivers, Robert Mathis got pressure off the edge and players like Ricky Jean-Francois were able to hold the point when the Broncos did try and run. It was a good plan, one that I think we will see a lot of teams use moving forward. Even when the Broncos tried to run it against the light box, they had issues.
For example on a second-and-5 in the second half, Peyton Manning handed off to Ronnie Hillman out of the pistol formation. But Cory Redding got penetration, which forced Hillman to bounce to his right and safety Antoine Bethea came up and blasted him for a 2-yard gain. The plan worked, but the play of several key players, including the corners and Mathis, made it possible.
Three and outs
Three 2014 free agents who need to pick it up
1. New York Giants WR Hakeem Nicks : He is a No. 1 receiver, but he sure isn't playing like it.
2. Baltimore Ravens RT Michael Oher : He couldn't play the Blind Side so they moved him to the right side and he has struggled there this season.
3. San Francisco 49ers C Jonathan Goodwin He has not had a good start to his 2013 season -- nor have many of his fellow 49ers linemen.
Three eye-opening stats
1. New England quarterback Tom Brady is 30th in the league in average gain per pass play. How is that possible?
2. Carolina quarterback Cam Newton is completing 74.3-percent of his third-down throws, by far the best in the league.
3. Despite having the 31st-ranked defense, the Detroit Lions are second in the NFL in third-down defense. It's the first two downs that are killing them.
You can find every official injury designation for each NFL team shortly after its Friday report...

The Raiders are heading across the country for a showdown with the Redskins

The Ravens and Jaguars head across to pond to play an early-morning game in Wembley Stadiu...
The lawsuit faces a legal hurdle, as Hernandez did not opt out of a concussion settlement with...

Everything you need to know for Week 3 of the 2017 NFL season is here

Bradford missed last week's game against the Steelers with a knee injury