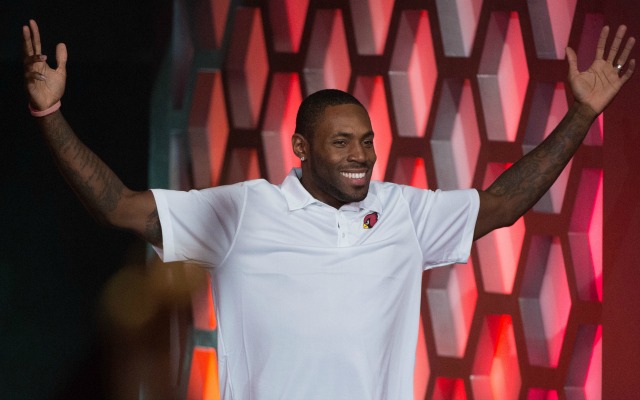 Antonio Cromartie will be keeping busy this summer, even if he remains a free agent. He also won't be getting much sleep.
On Sunday, Cromartie's wife, Terricka Cromartie, gave birth to twins, named Jynx Revell-Antonio Cromartie and J'adore Nayvi Cromartie, as US Weekly reported.
While a couple having twins doesn't typically qualify as news (after all, couples often have kids together), the birth of the twins is newsworthy for more than a few reasons.
For starters, it's important to point out just how busy Cromartie will be this summer: He just welcomed the arrival of his 11th and 12th kids to the world, and his third and fourth with Terricka. So, at the very least he'll be well-prepared for the lack of sleep in the coming months.
He will, however, be required to remember a few more names and birthdays:
(Video via Sporting News and HBO's Hard Knocks)
According to US Weekly, this will be the couple's final pregnancy:
But while the happy mom of four is delighted with her newest arrivals, she's taking steps to make sure these babies are her last -- she's getting her tubes tied!
No. 2, let's remember that Cromartie had a vasectomy in 2013. And now he's the new father of twins. 
That's not how a vasectomy is supposed to work. There's apparently a less than one-percent chance of getting pregnant after the operation.
"I didn't even tell Antonio right away because I didn't think it was possible," Terricka told US Weekly in January. "I was going back and forth in my head how it could even happen. In my head we were good to go, we were having free sex. I just really thought that his procedure was the best protection you could have at this point."
Cromartie's reaction?
"Originally, he was like, 'Oh, s--t! Are you serious? How did this happen?'" Terricka said. "It was shocking news for the both of us. It took me a while to process it, but Antonio stood firm and was saying, 'It's God's will.' And he's been excited the whole time."
No. 3, Sunday was Mother's Day. That's pretty fantastic timing.
"It was the most amazing, yet rewarding gift to give birth on Mother's Day. This is a storybook fairy-tale for Antonio and I," Terricka told US Weekly.
Congratulations to the Cromarties.