Age, production, not colluding owners, worked against Freeney
Dwight Freeney claims NFL owners worked together to lower the bar on free-agent deals. Pat Kirwan says the evidence shows what really worked against Freeney is his age and dwindling numbers.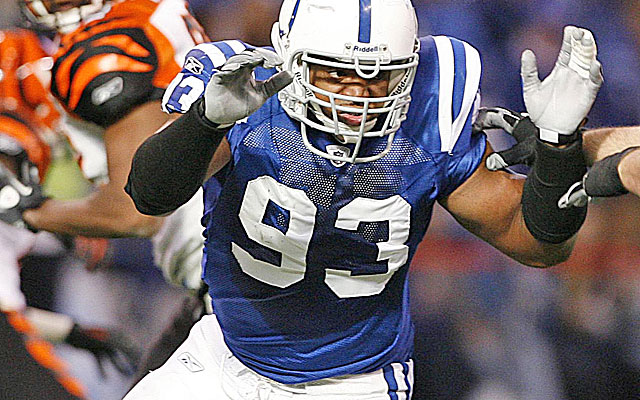 Dwight Freeney is going to be discussed for the Hall of Fame when his career is over and deservedly so. But, as I pointed out two weeks ago, he's 52 sacks behind Kevin Greene and Greene has struggled to get to Canton.
Freeney was a great player and remains a decent to solid veteran. The Chargers were lucky he was still on the market.
But now he calls the NFL owners in collusion over player salaries. My friend and colleague, Mike Freeman, had a conversation with Freeney that led to Freeney's comments about owners meeting privately to make a pact not to spend cash on free agents. Take it from me: The owners don't like or trust each other enough to make an illegal pact, as Freeney suggests, but they are driven by their personnel people and the work they do to proceed intelligently in free agency.
Typically a pro personnel director will have film grades on every player in the league dating back to his entry in the league. The personnel people keep a close eye on the rise and the descent of a player's production. As my old boss, Jim Royer, loved to say: "Father Time is undefeated."
Dwight Freeney, 33, is on the descent. He has 20.5 sacks in his past 46 games. That projects out to seven sacks in 2013, but he's older now and many would tell you he's a 5- to 6-sack guy like last season. If you look at the 46 games preceding the last 46 games he was still an ascending player with 33 sacks, which projects to 11.4 sacks in a 16-game season. The truth is, NFL teams don't pay big money anymore to descending players unless they are in a bind due to injury.
Freeney has to understand that the NFL learned years ago not to pay older players for what they did in the past, but to spend that money on younger players on the rise. Freeney's present contract with the Chargers calls for $8.75 million over two years with $4.75M guaranteed and another $4.6M in incentives for sacks. He only had five sacks last year so he should hit on some of those incentives.
If he's on the roster in 2014 he can make an extra $500,000 per game as a roster bonus. Let's say he returns to his production of younger days and has 11 sacks in 2013. That makes him a lock to be on the 2014 roster and could make him upwards of $15 million over two years. If he has five or fewer sacks this season, he probably will not be on the roster. That's not collusion, that's just how the NFL does business these days. Gone are the big Albert Haynesworth deals.
As for clubs getting together to "lower the bar," or not spend cash on free agents, as of earlier this week there were 14 teams with less than $4.2 million in salary cap space. Quite simply, those teams don't have the money to throw at older veterans.
Clubs with more than $10 million of salary cap space (seven teams) will spend their extra space to extend young players already on the roster. We all learned from the Packers and Eagles years ago that that is the way to build a team.
As for players not getting big deals, I'm not so sure Joe Flacco, Dwayne Bowe, Mike Wallace, Brian Hartline, Jared Cook, Martellus Bennett, Dashon Goldson, Daniel Ellerbe, Paul Kruger, Connor Barwin, Andy Levitre, Gosder Cherilus, Jermon Bushrod, Will Beatty, Jake Long, Keenan Lewis, Michael Johnson and even Chase Daniels among others would agree with you. The one thing they all have in common besides nice new fat contracts is that those players are younger than Dwight Freeney. If there was a meeting among owners, it doesn't look like the Dolphins, Saints, Ravens, Bears, Lions, or Falcons were invited.
Finally, whenever there is small salary cap growth there is some pull back in deals. While Dwight Freeney was lucky to get the Chargers deal, John Abraham is still looking for a deal. I wonder if the Redskins or the Cowboys would have signed Abraham if they weren't penalized and had significant salary cap space taken away from them. That's a punishment the NFLPA agreed to, Dwight Freeney.
Grab some turkey and get ready for this NFC North showdown

SportsLine's top NFL and college football experts pick a 4-team parlay that pays 10/1

After an epic collapse against the Saints, the Redskins are hoping to right the ship
Brice Irvin is not a happy camper right now

Linda Del Rio is not happy with the president

The former New Orleans Saints wideout leads the NFL in 40-yard catches with New England