Agent: Andrew McDonald is 'Player A;' Jonathan Martin speaks out
Andrew McDonald confirms he is 'Player A' from the Ted Wells report on the Miami Dolphins harassment scandal and says he has no problem with the organization.
by

Eye on Football staff

• 1 min read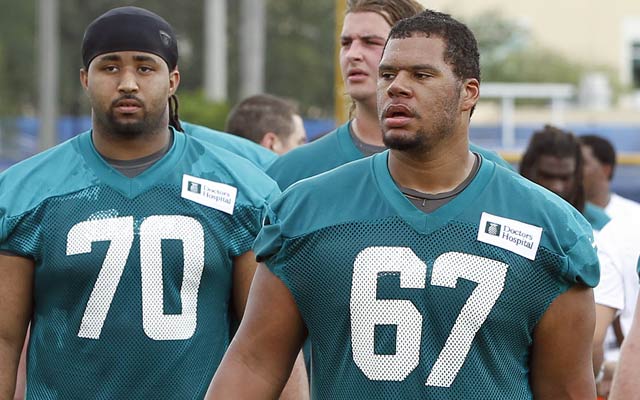 Former Dolphins offensive lineman Andrew McDonald has come forward to confirm he is 'Player A' from Ted Wells' report on the Miami harassment scandal and he insists he has no qualms with the team.
In a statement released by his agent, Brett Tessler, on Saturday, McDonald says he's "disappointed that his name has become associated with this story."
McDonald says Wells spoke to him at the end of the investigation after all the details had already been gathered.
While Andrew can't speak for any other players involved in the report, he personally has no problem with the Miami Dolphins organization and has the highest opinion of Coach [Jim] Turner both personally and professionally and feels terrible about the way their relationship has been portrayed in the report.
According to the Wells report, offensive line coach Jim Turner gave 'Player A' a male sex doll as a Christmas gift. It also alleged the formerly unnamed victim was subjected to 'homophobic name-calling and improper physical touching.'
The report concluded a "pattern of harassment' existed in the locker room, perpetrated by lineman Richie Incognito, John Jerry and Mike Pouncey and directed at McDonald, Jonathan Martin as well as an assistant trainer.
The Dolphins signed McDonald, 25, as an undrafted free agent in 2012. He now plays for the Carolina Panthers.
Martin responded publicly to the bombshell report for the first time Saturday.
Focus on the positive. Life is a gift, don't ever forget that #BeGreat

— Jonathan A. Martin (@J_Martin71) February 15, 2014
Someone apparently threw a drink at Jefferson as he left the field and he was not happy about...

All of the best highlights from Week 14 are right here

Wentz suffered a knee injury while diving for the end zone
Lewis among several coaches on hot seat, Cam's amazing run, and more from Week 14 in the N...

Here are the Week 14 grades for every team that played Sunday

The legendary kicker added to his incredible career with a rare curveball XP