Agent's Take: 15 star players at career crossroads
With training camps around the corner, former agent Joel Corry examines 15 big-name players who enter 2013 at a career crossroads.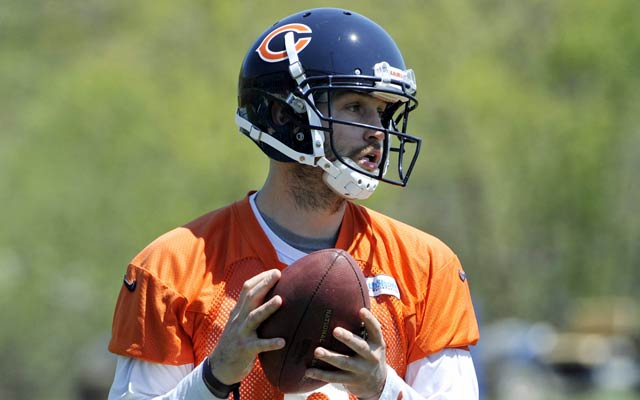 A different set of NFL players face a crossroads for a variety reasons (age, contract, injury, off-the-field issues, etc.) each NFL season. Here's a look at some key players facing a crossroads heading into the 2013 season.
Philip Rivers (QB) -- San Diego Chargers
Rivers is no longer a part of discussions about elite quarterbacks after two straight disappointing seasons. He has 35 interceptions in the last two seasons. Only Ryan Fitzpatrick, Mark Sanchez and Josh Freeman have more interceptions during this span. In 2012, Rivers didn't top 4,000 passing yards for the first time since 2007 and was sacked a career-high 49 times. He must adjust to a new offensive scheme since coach Norv Turner was let go after the season. If San Diego doesn't improve on last year's 7-9 record, Rivers could be a salary-cap casualty since new coach Mike McCoy and new general manager Tom Telesco don't have a vested interest in him. Rivers has a $15 million cap number and $13.8 million salary in 2014.
Jared Allen (DE) -- Minnesota Vikings
The Vikings haven't had any contract discussions with Allen, who is in the final year of a six-year, $73,260,072 contract (with $31,000,069 in guarantees) that made him the NFL's highest-paid defensive player. After making a run at the NFL single-season sack record in 2011 by posting 22 sacks, Allen dropped to 12 sacks in 2012 while dealing with persistent shoulder and knee problems. He had off-season surgery to repair a torn labrum in his left shoulder and a torn meniscus in his right knee. It is crucial for Allen to erase any concerns that his dropoff was due to age since he will turn 32 next year. Pass rushers over 30 typically don't command lucrative contracts. Julius Peppers (six years, $84 million with additional $6.5 million through incentives) is the only pass rusher making more than $10 million per year on a contract signed after turning 30. Robert Mathis is next with the four-year, $36 million deal that he received from the Indianapolis Colts in 2012 as their franchise player. Allen's $17,063,961 2013 cap number ensures he won't be franchised in 2014. His franchise tag number will be $20.477 million.
Troy Polamalu (S) -- Pittsburgh Steelers
Polamalu's 2012 season was derailed by a lingering calf injury that limited him to seven games. The injury raised questions about whether age was catching up to him. The 32-year-old has modified his off-season training regimen in an effort to put the injury questions behind him. Polamalu could be living on borrowed time because he has the second-highest safety salary-cap number for 2014 at $10,887,500. The past off-season has not been kind to veteran safeties with extremely high cap numbers. Charles Woodson's and Michael Huff's cap numbers were $9,437,500 and $11,288,500, respectively, when they were released.
Maurice Jones-Drew (RB) -- Jacksonville Jaguars
Jones-Drew's 2012 got off to a bad start because he missed most of the preseason with an ill-advised holdout. Smartly, the Jaguars refused to renegotiate the four-year contract extension averaging $7,641,250 per year (with $17.5 million guaranteed) that Jones-Drew received in 2009, which expires after the 2013 season. He was sidelined for the last 10 games of the season with a Lisfranc injury to his left foot. The injury saved the workhorse back from additional mileage. Jones-Drew's 954 rushing attempts over the previous three seasons (2009-11) were the most in the NFL. He had 4,321 rushing yards, 5,386 yards from scrimmage and 34 touchdowns in those three seasons before the injury. If Jones-Drew, who will turn 29 in 2014, doesn't re-establish himself as a premier running back in 2013, his next contract might be in the same neighborhood as the four-year, $16 million deal that Reggie Bush signed with the Detroit Lions once free agency began in March.
Josh Freeman (QB) -- Tampa Bay Buccaneers
The Buccaneers, particularly coach Greg Schiano, aren't sold on Freeman as their quarterback of the future. Tampa Bay is letting the 25-year-old Freeman play out the final season of his five-year, $32.14 million rookie contract. The Buccaneers hedged their bets with Freeman by drafting Mike Glennon in the third round. Although Freeman was plagued by inconsistency in 2012 after having a disappointing 2011 campaign, he still set franchise records with 4,065 passing yards and 27 touchdown passes. Tampa Bay has high expectations after signing Dashon Goldson in free agency and acquiring Darrelle Revis in a trade. If Freeman returns to his 2010 form, when he threw 25 touchdown passes and only six interceptions, he might be able to capitalize on the situation similar to Joe Flacco. Freeman shouldn't have a shortage of suitors in free agency next year if he isn't Tampa Bay's answer at quarterback unless he has a Mark Sanchez-type regression in 2013.
Frank Gore (RB) -- San Francisco 49ers
Gore is in dangerous territory for a running back, having recently turned 30 years old. He earned his fourth Pro Bowl berth in 2012 with 1,214 rushing yards, but it is unusual for running backs to maintain or improve their production in their 30s. The 49ers have attempted to find Gore's replacement by selecting running backs (Kendall Hunter, LaMichael James and Marcus Lattimore) in the last three drafts. Lattimore, a first-round talent who slipped to the fourth round this year because of a serious knee injury, could pose the biggest threat. He will be brought along slowly and could "redshirt" his rookie year. Since teams are reluctant to invest heavily in older running backs, Gore's $6.45 million 2014 salary could make him a cap casualty without another 1,000-yard season in 2013.
Jay Cutler (QB) -- Chicago Bears
Second-year general manager Phil Emery is taking a wait-and-see approach with Cutler as the quarterback enters the final season of the five-year, $49.805 million contract that he signed with the Bears after being traded from the Broncos in 2009. Cutler is physically gifted but holds onto the football too long and makes questionable decisions under pressure. New coach Marc Trestman's West Coast offense is Cutler's fourth system in his five years in Chicago. The expectation is that Cutler will benefit greatly from Trestman's tutelage. Rich Gannon's lone MVP season came with the Oakland Raiders in 2002, when Trestman was his offensive coordinator. If the Bears miss the playoffs for a third straight year under Cutler, they could look in another direction at quarterback after the season.
Hakeem Nicks (WR) -- New York Giants
More from Corry
Nicks is willing to play out the final year of his five-year rookie contract. He had a disappointing 2012 campaign, which was the worst statistical season of his four-year NFL career, because of knee and foot injuries. Nicks caught 53 passes for 692 yards and three touchdowns. In the two previous seasons, he had 155 receptions for 2,244 yards and 18 touchdowns. Nicks could receive a new deal during the 2013 season if he quickly returns to his 2010 and 2011 form and the impasse with restricted free agent Victor Cruz can't be broken. The Giants do not want to be in a position with both starting wide receivers unsigned long term heading into 2014 where they must use their franchise tag on one receiver while the other becomes an unrestricted free agent. As an outside receiver who is considered as a deep threat, Nicks could command a contract in excess of $10 million per year with a bounce-back season.
Brian Cushing (ILB) -- Houston Texans
Signing Cushing to a long-term deal was going to be a top 2013 priority before he tore the anterior crucriate ligament in his left knee during the Texans' fifth game last season. Houston's defense wasn't the same without him. When the 2009 Defensive Rookie of the Year got hurt, the Texans ranked fourth in scoring defense and third in total defense. In the 11 games that Cushing missed, Houston ranked 20th in scoring defense, including five games allowing more than 25 points, and 16th in total defense. Cushing is expected to be cleared for participation before the Texans open training camp on July 26. Getting a new contract before 2014 should be a moot point for Cushing since the Texans have a policy in which they don't negotiate contracts once the regular season starts. Whether the Texans will make Cushing one of the NFL's highest-paid inside linebackers ($8.5 million-$10 million per year) after the season hinges on him returning to his pre-injury form.
Daryl Washington (ILB) -- Arizona Cardinals
The Cardinals rewarded Washington's breakout 2011 season with a four-year, $32.03 million contract extension right before the start of the 2012 regular season. Washington followed up his breakout year with a 2012 campaign in which he was named second-team All-Pro and led NFL inside linebackers with nine sacks. The 2010 second-round pick has been suspended for Arizona's first four games for violating the NFL's substance abuse policy. Washington could miss additional games for a personal conduct policy violation because of a domestic violence incident. The Cardinals signed Karlos Dansby as an insurance policy after learning of Washington's status. Coach Bruce Arians has indicated Washington could be skating on thin ice because of his conduct. Washington has a $10 million option bonus payable on the first day of the 2014 league year (March 11). If the Cardinals aren't comfortable that Washington has learned from his mistakes, they could decide he is more trouble than he is worth before the payment is due.
Brian Orakpo (OLB) -- Washington Redskins
Orakpo isn't fazed by the Redskins' reluctance to extend his contract because he tore his left pectoral muscle for a second time in Washington's second game last season. Pectoral tears usually aren't considered career threatening. Mario Williams' pectoral tear, which cost him the final 11 games of the 2011 season, didn't prevent him from becoming the NFL highest-paid defensive player when the Buffalo Bills signed him to a six-year, $96 million contract (with an additional $4 million in incentives) in 2012. Orakpo, who is entering the final year of his five-year, $17.795 million rookie contract, has 29.5 sacks in 49 career games. If the two-time Pro Bowler can stay healthy in 2013, the Redskins could make him one of the NFL's highest-paid outside linebackers. Clay Matthews set the pass rushing linebacker market in April when he signed a five-year, $66 million contract extension with the Green Bay Packers.
Darren McFadden (RB) -- Oakland Raiders
McFadden has been unable to reach his potential because he has been plagued by injuries during his five seasons in Oakland. He hasn't played 16 games in any season and has missed 23 games during his NFL career. McFadden was ineffective last year in the zone blocking scheme implemented by offensive coordinator Greg Knapp, who was fired after the season. The power blocking scheme under new coordinator Greg Olson could help McFadden return to his 2010 form, when he rushed for 1,157 yards -- his only 1,000-yard rushing season -- and was sixth in the NFL with 1,664 yards from scrimmage. The Raiders are expected to have more than $50 million of cap room in 2014, so they could carry McFadden's $11.586 million franchise tag number if necessary.
Sidney Rice (WR) -- Seattle Seahawks
Percy Harvin and Sidney Rice are the NFL's only receiving tandem with contracts averaging over $8 million per year. Rice is entering the third year of a five-year, $41 million contract. He had a career-best 83 receptions, 1,312 receiving yards and eight touchdowns with the Minnesota Vikings in a 2009 Pro Bowl season. Rice hasn't been able to duplicate that success since joining the Seahawks in 2011. He has caught only 82 passes for 1,232 yards and nine touchdowns in 25 games. If coach Pete Carroll sticks with his plan to get 2010 second-round pick Golden Tate more involved in the offense, Rice's opportunities could be impacted given Seattle's commitment to running the football and the addition of Harvin. Since Tate is entering the final year of his rookie contract, the Seahawks might have to decide after the season whether Rice, who is Seattle's only experienced big receiver (6-foot-4, 202 pounds) and their best deep threat, is worth the $8.5 million and $9 million salaries in the last two years of his deal or if signing Tate to a less-expensive, new long-term contract is a better option.
Miles Austin (WR) -- Dallas Cowboys
Austin hasn't lived up to expectations after signing a seven-year, $57.268 million contract in 2010 as a restricted free agent. He has battled nagging injuries since a stellar 2009 campaign in which he caught 83 passes for 1,320 yards and 11 touchdowns. Austin missed six games in 2011 with hamstring problems. He played in every game last season but was hampered by hip and ankle issues. Austin has become more of a secondary option with Dez Bryant's emergence and tight end Jason Witten operating as Tony Romo's security blanket. Nonetheless, Austin was one of the NFL's most productive No. 2 wide receivers with 66 catches, 943 yards and six touchdowns. Dallas' perpetual cap problems could make Austin a pay-cut candidate or cap casualty if his productivity declines or the injuries continue.
B.J. Raji (DT) -- Green Bay Packers
The Packers have a history of signing core players to new deals before they approach the end of their contracts. Raji wants to stay in Green Bay long term, but the Packers are comfortable letting him play out the five-year, $28,582,500 contract that he signed in 2009 as the ninth overall pick. The cap isn't an issue because the Packers are expected to have slightly more than $14 million in cap room once all of their draft picks are signed. Raji's best season took place in 2010, when he had career highs of 6.5 sacks and 66 tackles during Green Bay's Super Bowl title season. After Raji was held sackless in 2012, the Packers expect him to do a better job shedding blockers and handling double teams. Raji could be in line for a deal averaging more than $8 million per year after the season with improvement in these areas.
---
Joel Corry is a former sports agent who helped found Premier Sports & Entertainment, a sports management firm that represents professional athletes and coaches. Prior to his tenure at Premier, Joel worked for Management Plus Enterprises, which represented Shaquille O'Neal, Hakeem Olajuwon and Ronnie Lott.
You can follow him on Twitter: @corryjoel
You can email him at jccorry@gmail.com 
'She was dead serious,' Feely said

Place your bets, you proud and degenerate Americans

The Lions fired Jim Caldwell and kept some assistants in place, so Patricia is setting his...
Is there an NFL conspiracy that will help the Patriots win another Super Bowl? We investig...

There's no bigger stage in the world than the 50-yard line on Super Bowl Sunday

From snowballs at Santa to assaults and batteries, there's no shortage of craziness in Phi...