Agent's take: 49ers face challenges in any new deal with Kaepernick
Believe it or not, former 49ers quarterback Alex Smith will be a factor in contract talks with Colin Kaepernick. But that's not the only concern.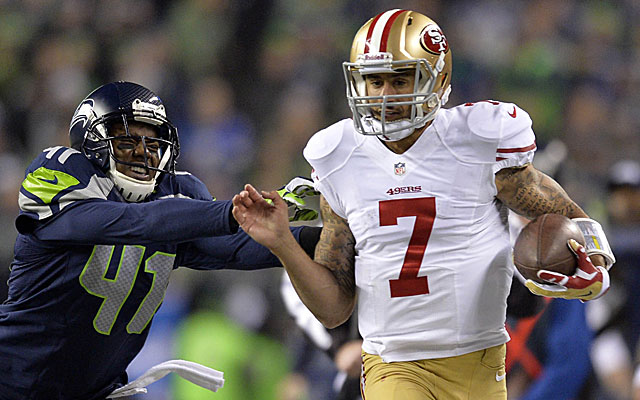 More NFL offseason: NFL Mock Drafts | Prospect Rankings | Top free agents
The San Francisco 49ers met with Colin Kaepernick's representatives at the NFL combine to start discussions on his new contract.
Kaepernick is scheduled to make $1,073,766 in the final year of the four-year rookie deal worth $5,124,296 he signed in 2011.
San Francisco's interest in extending Kaepernick's contract isn't surprising. The 49ers are arguably the NFL's most proactive team in signing core players to contract extensions well in advance of the expiration of rookie contracts. NaVorro Bowman, Frank Gore and Joe Staley signed extensions before the end of their third NFL seasons.
The 49ers have been hampered more so than any team by the current collective bargaining agreement's change in the rules relating to renegotiating rookie contracts. Players drafted after 2010 are prohibited from signing new deals until the end of the third year of their rookie contracts.
Kaepernick might have gotten a contract extension last offseason without the three-year renegotiation prohibition on rookie contracts. Although the talks on Kaepernick's new contract were reportedly constructive, there are dynamics that could make reaching an agreement more of a challenge than most of the lucrative deals the 49ers have negotiated recently.
QB market and Alex Smith factor
Kaepernick will likely seek more than $18 million a year and in excess of $50 million in guarantees on a long-term extension despite a need to continue developing as a pocket passer and having an inconsistent 2013 regular season. The latest salary benchmark in the quarterback market is the seven-year, $126.7 million contract Jay Cutler received from the Chicago Bears within days of the regular season ending. Some $54 million of Cutler's contract is guaranteed and $54 million is in the first three years. The six-year, $108 million contract extension (including $55 million in guarantees) that Tony Romo signed with the Dallas Cowboys last year could also be an important data point in negotiations.
Kaepernick can distinguish himself from Cutler and Romo by pointing to his playoff success since becoming a starter midway during the 2012 season even though he doesn't have the same type of offensive responsibility as they do and has the luxury of playing with a top five defense.
The Bears and Cowboys ranked near the bottom five in a majority of statistical categories (total defense, scoring defense, sacks, etc.) in 2013.
Kaepernick has a 4-2 playoff record as a starter with a Super Bowl appearance. Cutler has only made one playoff appearance in eight NFL seasons with one playoff victory. Romo has a 1-3 record in the playoffs and hasn't been to the postseason since 2010.
Former 49ers quarterback Alex Smith, who was traded to the Kansas City Chiefs last March for 2013 and 2014 second-round picks, could impact negotiations for Kaepernick's new deal. The Chiefs are interested in extending Smith's contract after he helped lead a turnaround from a 2-14 record in 2012, the worst in the NFL, to the playoffs with an 11-win season.
If Smith gets a better than expected deal that's in the same ballpark as Cutler's and Romo's contracts, Kaepernick would be justified in insisting on a much better deal.
Kaepernick became the starting quarterback even though Smith was playing a high level because the team thought he gave them the best chance to win a championship. The 49ers also demonstrated their confidence in Kaepernick's abilities by trading Smith as soon as possible instead of keeping him as an insurance policy in case Kaepernick struggled in his first season as a full-time starter.
The same line of thinking can be used by Kaepernick to keep Smith's deal from becoming relevant to the negotiations if it falls short of upper echelon quarterback money.
Cam Newton, a quarterback from Kaepernick's draft class, could also influence the negotiations because the Carolina Panthers are interested in extending his contract. Unlike Kaepernick, Newton is not entering his contract year. As a first-round pick (first overall in 2011), the Panthers have until May 3 to exercise an option for a fifth contract year with Newton, which will be picked up absent a new deal. Newton's salary in 2015 will be equal to this year's transition tag for quarterbacks, which is expected to be right around $14.6 million.
Newton has the same agent as Cutler, Bus Cook. Expect Cook to try to leverage the deal he negotiated for Cutler into a bigger deal for Newton. It remains to be seen if he will be successful.
49ers' contract philosophy
Typically, the 49ers sign players to long-term deals at a discounted rate and with favorable contract structure, which allows for better salary-cap planning. If a mistake is made on an extension or a player starts to decline in the latter stages of the deal, the 49ers can get usually get out of the contract without too many adverse cap consequences.
Patrick Willis and Vernon Davis are the only 49ers players that are salary standard bearers at their respective positions. Willis became the NFL's highest-paid inside linebacker in 2010 after his third NFL season by signing a five-year, $50 million extension (with $29 million in guarantees). His deal has held up over time. Davis has the most guaranteed money for tight ends with $23 million in his 2010 extension. All-Pro inside linebacker Bowman took somewhat of a hometown discount by signing a five-year, $45.25 million extension (with $25 million in guarantees) in 2012. He was arguably a better player than Willis when he signed and Willis' deal was two and half years old at that time.
The 49ers also protect themselves in their most lucrative deals through per game active roster bonuses and other contract mechanisms, including salary de-escalators and conditional contract guarantees. The primary benefit of the roster bonuses is they provide the 49ers some financial relief with injuries. The per game amount is only payable if the player is on the 46-man active roster for that particular game. For example, Bowman has $750,000 roster bonuses ($46,875 per game) in most years of his deal. If he returns from the torn ACL he suffered in the NFC Championship for the final eight games of the 2014 regular season, he can only earn $375,000 of his 2014 roster bonus.
Most lucrative quarterback deals don't contain per game roster bonuses. Only Aaron Rodgers and Jay Cutler have them. Kaepernick's new contract should include large per game active roster bonuses, just like San Francisco's other lucrative deals, since it's unlikely that the 49ers will break precedent for him.
The short-term solution
The 49ers could try to convince Kaepernick to do a short-term contract (bridge deal) if they aren't comfortable paying him like a perceived franchise quarterback with a long-term deal or he isn't willing to take some sort of hometown discount. Matthew Stafford opted for a bridge deal last year when he signed a three-year, $53 million extension (includes $41.5 million guaranteed) with the Detroit Lions.
Stafford had leverage because his $20.82 million 2013 cap number was the second highest in NFL. His 2014 cap number of $19.32 million would have made it virtually impossible for the Lions to use a franchise tag on him in 2015. His franchise tag number would have been $23.184 million, 120 percent of his 2014 cap number prior to the new deal.
A short-term deal could be attractive to Kaepernick as long as the 49ers approach the concept from how much it will cost to utilize franchise tags on him in 2015 and 2016. Assuming the reports of the salary cap reaching $132 million this year are accurate and it has a similar percentage increase next year, it would be close to $18.3 million to place a non-exclusive franchise tag on Kaepernick in 2015. A second franchise tag in 2016 would be around $22 million, a 20 percent increase over Kaepernick's 2015 franchise number.
Under this approach, the 49ers should be comfortable offering Kaepernick a front-loaded three year deal between $37.5 million and $40 million (with over $30 million guaranteed) that would expire after the 2016 season.
Instead of playing for a little more than $1 million this year and going year-to-year with the franchise tag for two years, Kaepernick should be willing to take a slight discount on the overall compensation. The discount would be for getting a much more favorable payment schedule than with franchise tags.
Front loading the contract would give the 49ers better cap management because Kaepernick's 2015 and 2016 cap numbers could be significantly less than the franchise tags depending how the deal was structured. Kaepernick could be in a position to reap the benefits of any changes to the quarterback salary landscape because of new contracts by Robert Griffin III, Andrew Luck, Newton or Russell Wilson by signing a bridge deal.
Effect on salary-cap management
The 49ers have been fortunate because Kaepernick's rookie deal has modest cap numbers.
His peak cap number (in 2014) is under $1.65 million. Whether Kaepernick signs a long-term contract, plays for his franchise tag or does a bridge deal, his higher cap numbers should change how cap dollars are allocated. Core players will still be signed to long term deals early but the 49ers could lose some key players to free agency that otherwise would have been retained.
That's also partially a consequence of having a deep and talented roster. It may become more difficult for the 49ers to sign free agents to moderate one and two-year deals with escalators and incentives. More veteran players could be signed to one-year minimum salary benefit contracts.
A player receives his league minimum base salary and a maximum of $65,000 as a signing bonus with these deals. The player's base salary counts on the cap at the minimum salary for players with two years of service ($570,000 for the 2014 season) instead of at his actual base salary. The 49ers had one player with a minimum salary benefit contract in 2013. There were four in 2012 and none in 2011.
Playing out the rookie deal
Barring a career-threatening injury, which happened to Drew Brees in 2005 when he was franchised by the San Diego Chargers, or Kaepernick regressing considerably during the 2014 season, he shouldn't drop below the Cutler/Romo neighborhood on a new contract unless he takes a hometown discount.
If Kaepernick can progress as a pocket passer while the 49ers stay in Super Bowl contention, he will be able to justify Joe Flacco money (over $20 million per year). A Super Bowl victory could give Kaepernick the ammunition to approach and maybe even surpass Rodgers as the NFL's highest-paid player with an average over $22 million per year or set a new standard for guaranteed money by topping Brees' $60.5 million.
One situation to keep an eye is whether Jim Harbaugh departs the 49ers after the 2014 season because of his deteriorating relationship with general manager Trent Baalke and his desire for more control. If Harbaugh is with a new team in 2015 and Kaepernick hasn't signed a new contract, it wouldn't be a surprise for Harbaugh to make a run at Kaepernick even if he is franchised. Harbaugh was the driving force behind the 49ers moving up nine spots in the 2011 draft to select Kaepernick in the second round.
---
Joel Corry is a former sports agent who helped found Premier Sports & Entertainment, a sports management firm that represents professional athletes and coaches. Before his tenure at Premier, Joel worked for Management Plus Enterprises, which represented Shaquille O'Neal, Hakeem Olajuwon and Ronnie Lott.
You can follow him on Twitter: @corryjoel
You can email him at jccorry@gmail.com
Warren Sapp was one of several players named in a lawsuit against NFL Network

Check out the uniforms that Denver and Indianapolis will be wearing on Thursday

The Cowboys are going to need a few things to go their way to get into the postseason
Rudolph will be put under the microscope in Mobile by clubs looking for a quarterback early...

This fan is taking the Saints to court for using 'football games as a platform for protest...

Can Aaron Rodgers get the Packers to the postseason? Even if they win out, they'll need he...