Agent's Take: Calculating 2014 NFL free agent target prices
NFL free agency starts Tuesday, so we get inside the numbers of 15, including Eric Decker, Eugene Monroe, Jairus Byrd, Michael Vick, Jared Allen and Golden Tate.
More NFL offseason: Mock Drafts | Prospect Rankings | Pro Days | Top free agents
When I represented players, one of my duties was to create target or asking prices for clients headed toward free agency. Players don't necessarily sign for their target prices because free agency is a fluid process where adaptations must be made to changing market conditions. Getting a target price in free agency requires being a high priority from a team or being able to leverage interest from multiple teams. Some players are disappointed in free agency's outcome because their market never develops for a variety of reasons (age, unrealistic contract demands, supply at playing position, etc.).
The total value of a contract is somewhat meaningless because NFL contracts aren't fully guaranteed. The most important metrics are compensation in the first three years of a multiyear deal and the amount of guaranteed money. The general rule of thumb is a player with a long-term contract should make it through the first three years unless the contract has a team-friendly structure and he performs poorly.
I have set target prices with total contract value, guaranteed money and first three years compensation (when applicable) for 15 intriguing or high-profile players in this year's free agent class. I did not include franchise (Nick Folk, Jimmy Graham, Greg Hardy, Brian Orakpo) or transition players (Alex Mack, Jason Worilds) since there are restrictions on their movement.
The unexpected rise in the salary cap from $123 million to $133 million, an 8.13 percent increase, and projected similar increases in the next couple of years, should result in a more robust free-agent market than last year when there were accusations of collusion because teams exercised more fiscal restraint than in the past during free agency.
Defensive end Michael Johnson
Contract package: 5 years, $60 million
Guaranteed money: $34 Million
First three years: $39 Million
Johnson's sack total dropping from 11.5 in 2012 to 3.5 in 2013 doesn't paint an accurate picture of his pass-rushing ability. According to Pro Football Focus (PFF), Johnson's 61 quarterback pressures (combined sacks, quarterback hits and quarterback hurries) in 2013 were six more than he had in 2012. He had two fewer pressures than Chris Long, who signed a four year, $48.2 million contract extension (includes $36.76 million guaranteed) with the Rams in 2012. Johnson also was PFF's fourth-rated 4-3 defensive end in 2013 partially because of his play against the run.
Cornerback Alterraun Verner
Contract package: Five years, $55 million
Guaranteed money: $28 million
First three years: $34.5 million
The cornerback market already has rebounded from the bottom falling out last year. Cary Williams got the best multiyear deal in 2013 from the Eagles with a three-year, $17 million contract ($10.5 million in guarantees and an additional $2 million in escalators and incentives), which was in stark contrast to the previous year. In 2012, Brandon Carr and Cortland Finnegan set the market by signing five-year deals averaging $10 million per year, and containing $26.5 million to $27 million in guarantees.
Brent Grimes got the ball rolling this off-season by re-signing with the Dolphins for $32 million over four years (with $16 million guaranteed). Sam Shields is reportedly remaining in Green Bay with a four-year, $39 million deal, which includes a $12.5 million signing bonus.
Verner earned All-Pro honors for the first time in his career in 2013 after being the AFC co-leader with five interceptions. He was also the NFL's No. 4 cornerback in 2013 according to PFF's ratings. Quarterbacks had a 55.8 passing rating and only completed 49.4 percent of passes (39 completions in 79 attempts) when targeting Verner. Expect the other highly regarded free agent cornerbacks (Vontae Davis, Dominique Rodgers-Cromartie, Aqib Talib) to view Grimes' deal as their salary floor.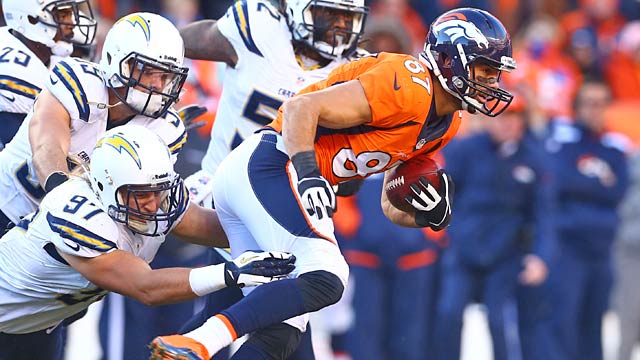 Wide receiver Eric Decker
Contract package: Five years, $52.5 million
Guaranteed money: $25 million
First three years: $34 million
Despite being one of the NFL's most productive wide receivers over the past two seasons with 172 receptions (11th in the NFL), 2,352 receiving yards (ninth) and 24 touchdowns (tied for third), there's a sentiment that Decker is simply the beneficiary of playing with Peyton Manning and a talented receiving corps. Decker is open to remaining with the Broncos, but his most lucrative contract is likely elsewhere because he is viewed as No. 2 receiver by the team.
The top deals for wide receivers who have switched teams in free agency the past two years belong to Mike Wallace ($60 million, 5 years, $30 million in guarantees), Vincent Jackson ($55,555,555, 5 years, $26 million in guaranteed), Greg Jennings ($45 million, 5 years, $17.8 million in guarantees, $2.5 million in escalators/incentives) and Pierre Garcon ($42.5 million, 5 years, $20.5 million in guarantees). None of these players were as productive in their contract years as Decker. They averaged approximately 58 receptions, 814 receiving yards and seven touchdowns while Decker had 87 catches for 1,288 yards with 11 touchdowns in 2013. Decker is generally considered as a risky signing for a team that is expecting him to be a primary receiving option because of his problems with physical cornerbacks and press coverage.
Offensive tackle Eugene Monroe
Contract package: Five years, $50 Million
Guaranteed money: $30 million
First three years: $33 million
Jason Peters raised the bar for the offensive tackle market with the four-year, $38.3 million contract extension (worth a maximum of $41.3 million through salary escalators for honors and includes $19.55 million in guarantees) Philadelphia gave him. Monroe, who was acquired by the Baltimore Ravens for 2014 fourth- and fifth-round picks, ranked eighth in PFF's pass-blocking efficiency metric with a 95.9 rating.
Branden Albert reportedly was seeking a contract comparable to the six-year contract extension averaging $8.9 million per year (with $22,081,500 in guarantees) Pro Bowl left tackle Duane Brown signed with the Texans in 2012 when he was being shopped to the Dolphins by the Chiefs before the 2013 NFL draft. He might be more costly this year for Miami, his rumored destination, because of changing market conditions.
Jared Veldheer, who missed the Raiders' first 11 games of 2013 (triceps tear), could have a market slightly greater than the left tackle deals signed by Sam Baker, William Beatty and Jermon Bushrod last year. These deals range from an average of $6.85 million to $7.5 million per year, have $22.5 million to $24 million in the first three years, with $17.715 million to $19 million guaranteed.
Safety Jairus Byrd
Contract package: Five years, $47.5 Million
Guaranteed money: $25 million
First three years: $30 million
Byrd reportedly was looking to become the NFL's highest-paid safety last year when the Bills franchised him for $6.916 million. Troy Polamalu had that distinction in 2013 with the three-year, $29.6 million ($9,866,667 average per year) contract extension he got from the Steelers in 2011. Byrd and the Bills have engaged in negotiations for him to remain with the team. There are conflicting reports on whether Byrd turned down a long-term deal (with $30 million in the first three years) that would have made him the highest-paid safety.
Defensive end Lamarr Houston
Contract package: Five years, $45 million
Guaranteed money: $22.5 million
First three years: $28.5 million
Houston's versatility could attract interest from multiple teams. He's lined up at outside linebacker, defensive end and defensive tackle for the Raiders. According to PFF, Houston led 4-3 defense ends in run stop percentage at 10.3 percent and had 63 quarterback pressures (12th among 4-3 defensive ends) in 2013. Carlos Dunlap's five-year, $38,818,200 extension (worth up to $43,318,200 with base salary escalators) could be an important data point for Houston. Everson Griffen reportedly re-signing with the Vikings for $42.5 million over five years (with $20 million guaranteed) to forego free agency could help further define Houston's market.
Safety T.J. Ward
Contract package: Four years, $34 million
Guaranteed money: $20 million
The Cleveland Browns would like to retain Ward, who is PFF's top-rated safety against the run, but will probably need to pay him near the top of the safety market. Although Kam Chancellor's four-year extension with the Seahawks last April averaging $7 million per year (includes $17 million in guarantees) is the most recent strong safety benchmark, the average of the top five veteran safety deals in 2013 was approximately $8 million per year.
Quarterback Michael Vick
Contract package: Two years, $15M
(worth up to $20M with escalators/incentives)
Guaranteed money: $7.5 million
Vick's preference is to find a place where he can start after losing his job with the Eagles to Nick Foles in 2013 while injured. The Jets, Buccaneers and Raiders could be options. Vick cut his salary to $7.5 million (worth a maximum of $10 million through playing-time incentives) and deleted the final two years of his contract to avoid being released last off-season. His 2013 salary should be reasonable to Oakland considering Matt Flynn had $11.5 million in the remaining two years of his deal (with an additional $3.75 million in escalators and incentives).
Defensive end Jared Allen
Contract package: Four years, $30 million
Guaranteed money: $15 million
Pass rushers over 30 typically don't command lucrative contracts. Julius Peppers (six years, $84 million with additional $6.5 million through incentives) is the only pass rusher making more than $10 million per year on a contract signed after turning 30. Robert Mathis is next with the four-year, $36 million deal (with $17 million guaranteed) he received from the Indianapolis Colts in 2012 as their franchise player.
Free agency wasn't kind to older pass rushers in 2013. Dwight Freeney's two-year, $8.75 million contract (worth a maximum of $13.35 million through escalators and incentives) from the Chargers and the two-year, $8.5 million contract (with an additional $3.75 million in escalators) Osi Umenyiora received from the Falcons paced this market. Most recently, Terrell Suggs, who was entering a contract year, signed a front-loaded four-year, $20.7 million extension to give the Ravens some salary cap relief. Suggs receives $16 million in the first two years. Allen, who turns 32 in April, had his seventh straight double-digit sack season in 2013 by posting 11.5 sacks.
Defensive tackle Jason Hatcher
Contract package: Four years, $30 million
Guaranteed money: $15 million
Hatcher had a career year in 2013 while switching from 3-4 defensive end to 4-3 defensive tackle. He led NFL interior defensive lineman with 11 sacks. Age will factor into whether Hatcher really can take advantage of his career year. He turns 32 before the 2014 season starts.
Wide receiver Golden Tate
Contract package: Five years, $35 Million
Guaranteed money: $17.5 million
First three years: $22.5 million
Tate was Seattle's leading pass catcher in 2013 with 64 receptions and 898 receiving yards. He didn't crack the NFL's top 30 in either category because the Seahawks ranked 31st in pass attempts. Tate fared better with advanced statistics. He had the fifth-best drop rate among wide receivers on catchable balls at 4.48 percent and was second with yards after catch per reception with 7.9 yards in 2013 according to PFF. Robert Meachem signing a four-year, $25.5 million deal ($14 million guaranteed) at the start of the 2012 free agent signing period after a 2011 season with 40 receptions, 620 receiving yards and six touchdowns should be encouraging to Tate.
Inside linebacker Daryl Smith
Contract package: Three years, $19 million
Guaranteed money: $10 million
Smith allowed the Ravens to make a smooth transition from future first-ballot Hall of Famer Ray Lewis at inside linebacker. He had 123 tackles, five sacks and three interceptions in 2013. Smith also had 99.6 percent playtime on defense. The last time Lewis had similar playtime was in 2010 with 99.3 percent. The Ravens got tremendous value from the 31-year-old with a one-year, $1.125 million deal (with an additional $1 million in playtime incentives) he signed after Rolando McClain retired last May, considering Lewis was scheduled to make a scheduled $5.4 million at 38, had he not retired. The final two years of Lewis' deal, 2014 and 2015, were for slightly more than $12 million. Karlos Dansby, 32, reportedly has been offered a two-year contract between $10 million and $12 million to re-sign with the Cardinals according to the Arizona Republic.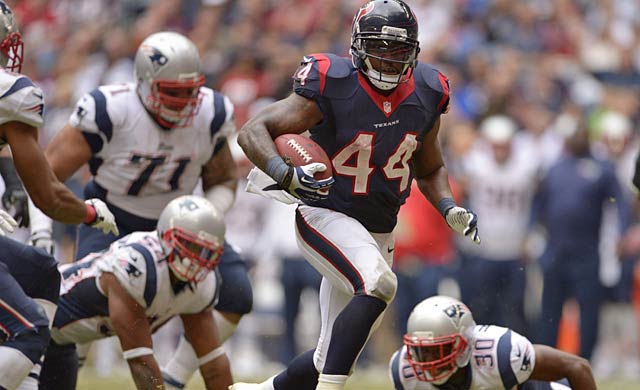 Running back Ben Tate
Contract package: Five years, $30 million
Guaranteed money: $15 million
First three years: $19.5 million
The increased emphasis on the passing game has decreased the number of lucrative free agent running back contracts in recent years. In 2008, Michael Turner received a six-year, $34.5 million contract (with $15 million guaranteed and an additional $1.5 million in salary escalators) from Atlanta after serving as a complementary running back in San Diego. Reggie Bush and Steven Jackson set the running back market last year with deals averaging $4 million per year. Tate, who is 25, doesn't have a lot mileage on him because he has spent his career with the Texans as Arian Foster's primary backup. He rushed for 771 yards on 181 carries in 2013. Tate's injury history could raise concerns about his ability as a workhorse. He missed his rookie year in 2010 (broken ankle), battled foot and hamstring issues in 2012 and cracked ribs landed him on injured reserve towards the end of last season.
Knowshon Moreno should be a less expensive option than Tate. He had a career year in 2013 as he rushed for more than 1,000 yards for the first time, was fifth in the NFL in yards from scrimmage (1,586 yards) and had 13 touchdowns. Moreno also was also more productive in his contract and younger and than Bush and Jackson.
Tight end Jermichael Finley
Contract package: One year, $5 Million (fully guaranteed)
Finley is expected to receive medical clearance soon after a neck injury required fusion surgery in November. Had Finley stayed healthy, he probably could have commanded a long-term deal as a free agent in excess of the five-year, $35.1 million contract (with $19 million in guarantees and an additional $3 million in incentives) Jared Cook received from the Rams last year. Finley is probably looking at signing a one-year deal where he must prove to teams that his injury hasn't affected his play. Dustin Keller had the top one-year tight end deal in 2013 at $4.25 million with the Dolphins.
Running back Darren McFadden
Contract package: One year, $3 million (fully guaranteed)
McFadden never reached his potential during six seasons in Oakland because he was constantly plagued by injuries. He hasn't played more than 13 games in a season and has missed 29 games during his NFL career. McFadden can afford to take a one-year "prove-it" deal since he has made slightly more than $42 million on his rookie contract as the fourth overall pick in the 2008 draft. Rashard Mendenhall received a fully guaranteed one-year, $2.5 million deal (with another $1 million in incentives) from the Cardinals in 2013. McFadden will be in a better position to capitalize financially in 2015 if he can return to his 2010 form where he rushed for 1,157 yards, his only 1,000-yard season, and was sixth in the NFL with 1,664 yards from scrimmage.
---
Joel Corry is a former sports agent who helped found Premier Sports & Entertainment, a sports management firm that represents professional athletes and coaches. Before his tenure at Premier, Joel worked for Management Plus Enterprises, which represented Shaquille O'Neal, Hakeem Olajuwon and Ronnie Lott.
You can follow him on Twitter: @corryjoel
You can email him at jccorry@gmail.com
Here's the latest information on injured Steelers linebacker Ryan Shazier

The Titans quarterback has had a frustrating season but maintains that's not an excuse for...

The Seahawks defensive lineman almost ended up in the stands fighting Jags fans last Sunda...
The Colts quarterback has been out of the country since mid-November

The MVP candidate is fresh off a successful surgery for a torn ACL

This is game footage you're going to want to see