Agent's Take: Contract problems keep piling up for Cowboys
The Cowboys are caught in a speeding treadmill of salary cap problems. Joel Corry breaks down their mistakes and predicts tough consequences.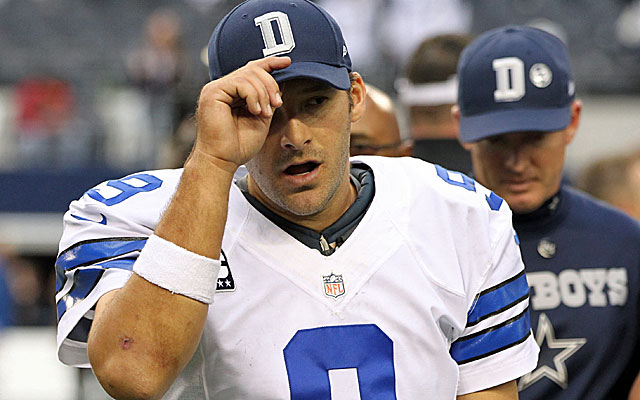 Jerry Jones got the Dallas Cowboys in a salary cap mess during the late 90s and early 2000s by constantly restructuring contracts.
In a typical contract restructuring, a player will convert some portion of his base salary or roster bonus (without reducing salary) into signing bonus because it can be prorated or spread out evenly over the life of a contract (most other salary components usually can't be prorated) for a maximum of five years. The team gets a lower cap number in the current season while the player gains more short-term security in the current year of his contract. The player's cap numbers in the remaining contract years increase, which can make him more susceptible to becoming a cap casualty in the future.
This credit card approach finally caught up with the Cowboys when Troy Aikman accounted for 15 percent of their cap in 2001 after he was released.
The Cowboys are repeating past mistakes because they haven't altered their method of cap management. They are operating as if they are a championship caliber team in the middle of a Super Bowl window. The harsh reality is the Cowboys haven't been championship caliber since their glory days of the 90s. They have only won one playoff game since 1996, a 2009 victory over the Philadelphia Eagles . Their record is 22-26 over the last three NFL seasons, with their last playoff appearance in 2009.
Recent salary cap history
The Cowboys haven't figured out that the wrong high priced signings will become cap casualties in the future. Dallas was approximately $18 million over the cap when the 2011 lockout ended. In addition to restructuring the contracts of Miles Austin , DeMarcus Ware and Tony Romo, the Cowboys dealt with their cap issues by releasing Roy Williams , Marion Barber , Leonard Davis and Marc Colombo .
Williams signed a six-year, $54 million contract extension (with $19.5 million guaranteed) in 2008 after being acquired from the Detroit Lions for 2009 first, third and sixth round picks. He never came close to duplicating his 2006 Pro Bowl season of his 82 catches and 1,310 receiving yards during his almost three seasons in Dallas. Barber received a seven-year, $45 million contract (with $16 million guaranteed) in 2008 as a restricted free agent without having a 1,000 yard rushing season or being an every down running back.
The Cowboys were still paying for those contract mistakes in 2012. There were over $30 million in cap charges for players who were not on the roster, which is commonly referred to as dead money. Most notably, Williams counted $8.75 million towards their cap last season.
The Cowboys received a $10 million cap penalty for violating the spirit of unwritten spending rules during the uncapped 2010 NFL season right as free agency started last year. That only compounded matters. Despite repeated warnings from the NFL Management Council not to release players to avoid signing bonus acceleration or front-load contracts while the NFL was operating without a salary cap, the seven-year contract Austin signed contained an unusually large $17.078 million 2010 base salary. Austin's contract was deemed to have given the Cowboys an unfair competitive advantage with the cap. Dallas was allowed to spread their $10 million penalty evenly over the 2012 and 2013 seasons. Their appeal to get the penalty overturned was unsuccessful.
Current salary cap situation
At the end of the 2012 season, the Cowboys had $139.5 million of salary committed towards the 2013 cap, which was the third highest amount in the NFL. In order to be cap compliant when the 2013 league year started on March 12, the Cowboys restructured the contracts of eight players to create $28,772,681 of cap room but increased next year's cap obligations by $7,404,316. The following chart details the restructurings:
Crunching Cowboys' salary cap
Player
'13 cap savings
'14 cap increase
Miles Austin
$4,713,600
$1,178,400

Mackenzy Bernadeau

$1,023,334
$511,666

Brandon Carr

$10,868,000
$2,717,000

Ryan Cook

$500,000
N/A

Jeremiah Ratliff

$2,928,000
$732,000

Orlando Scandrick

$963,750
$321,250
DeMarcus Ware
$4,127,997
$1,032,000

Jason Witten

$3,648,000
$912,000
Total
$28,772,681
$7,404,316
Although Ware and Witten were named second team All-Pro in 2012, it can be a dangerous practice to restructure the contracts of players once they have turned 30 years old. Both players will be 31 before the start of the 2013 season. Ware restructured his contract for the third straight year with two voidable years added for cap purposes in the latest restructuring. His 2014 cap number has increased by $3,253,750 during these restructures.
An additional $3.75 million of cap room was immediately picked up by releasing Dan Connor , Marcus Spears and Gerald Sensabaugh . The Cowboys will gain another $2 million of cap room on June 2 because Spears was designated as post-June 1 release. Until then, the Cowboys must carry his $2.7 million cap number so that the $1.4 million in proration from his 2014 and 2015 contract years is delayed until next year.
Dallas could have been in decent shape cap wise except it used its franchise tag on Anthony Spencer for a second straight year at $10.627 million. This was a questionable move considering that the Cowboys are changing from a 3-4 defense to a 4-3 defense that requires Spencer to move from outside linebacker to defensive end, a position he hasn't played in the NFL. In hindsight, it would have been better for the Cowboys to let Spencer become a free agent because the top of the pass rusher market in free agency has been set by Paul Kruger 's five-year, $40.5 million deal (including $20 million guaranteed) with the Cleveland Browns .
The Cowboys only had $51,005 of cap room on Tuesday before restructuring Kyle Orton 's contract and releasing Anthony Armstrong so they could make Justin Durant and Will Allen their first signings in free agency. These deals have put Dallas close to their cap limit again.
What's next?
Extending Romo's contract has been a priority for the Cowboys since early in the 2012 season but he put talks on hold to concentrate on the season. He is viewed as the key piece to success by the Dallas ownership despite a 1-6 record in elimination games during his career.
According to Jones, a new deal for Romo, which is expected to average at least $16 million per year and provide the Cowboys with significant cap relief, will be finalized soon. Romo has a tremendous amount of leverage in the negotiations because of his 2011 contract restructure and the team's cap problems. The 2011 contract restructure added three easily voidable contract years covering the 2014 though 2016 seasons to help with the cap, which increased Romo's 2013 cap number to $16,818,835.
His cap number is the highest on the team and the NFL's fifth largest quarterback figure. The Cowboys can't afford for Romo to play out his contract. He will become an unrestricted free agent in 2014 because his contract will not void until the two week period that teams have to place a franchise tag on one of its players has ended. The Cowboys will have an $8.181 million cap charge during 2014 if those years void.
If the Cowboys are unable to agree to terms with Romo in a timely fashion, addressing Doug Free 's contract may become more vital because approximately $4.25 million of cap room will be needed to sign the Cowboys' six selections in the 2013 draft. Free signed a six-year, $48 million contract ($17 million guaranteed) in 2011 to anchor the offensive line. The last two contract years worth $16 million automatically void if he is still on the Cowboys' roster 23 days before the 2015 league year begins. After struggling with premier pass rushers at left tackle in 2011, Free was moved to right tackle this season but didn't fare any better. Late in the season, Dallas started rotating in Jeremy Parnell at right tackle, with Free taking a majority of the snaps.
Thanks to a March 2012 contract restructuring, which created $3.84 million of cap room for the Cowboys, Free's $10.02 million 2013 cap number is the same as his dead money charge if he's not on the roster. Dallas could create $7 million of cap space by waiting until after June 1 to release Free but there would be a $7 million cap hit for him in 2014. He could also provide immediate cap relief by reducing his $7 million 2013 base salary.
Dallas' cap situation will not improve in the immediate future. The Cowboys already have an NFL high $138.8 million of cap obligations in 2014. Sean Lee and Dez Bryant should be in line for lucrative new contracts considering their contracts expire after the 2013 and 2014 seasons. Bryant's new deal could eclipse the $12 million average per year and $30 million in guarantees Mike Wallace recently received from the Miami Dolphins . The outlook isn't much better in 2015. There are 20 players under that contract count $121 million on the cap.
The Cowboys may have been able to offset some of their cap obligation because of the new television deals that are expected to impact the cap in 2015. However, a couple of team executives have indicated that there will not be a dramatic jump in cap as in the past because of television revenues. The television deals are structured so the money will be phased into the cap more evenly than before.
Prediction
It's probably only a matter a time before the Cowboys are in a rebuilding mode because they didn't adopt a cap philosophy with more of a long-range vision. The approach they've employed can work in the short run, particularly if a team is successful in the draft, which hasn't been the case in Dallas.
The Cowboys can't afford to have a repeat of their 2009 draft where they didn't get any quality starters from their 12 picks. Players on their rookie contract are the cheapest talent available to NFL teams. The Cowboys will likely find out that it can be a slow road back to respectability, just as the Oakland Raiders are presently experiencing, after years of utilizing a robbing Peter to pay Paul cap management style.
---
Joel Corry is a former sports agent who helped found Premier Sports & Entertainment, a sports management firm that represents professional athletes and coaches. Before his tenure at Premier, Joel worked for Management Plus Enterprises, which represented Shaquille O'Neal, Hakeem Olajuwon and Ronnie Lott. You can follow him on twitter:  @corryjoel
Also on the long TD, Marcus Mariota saved his lineman from what may have been a disastrous...

The Titans looked dead in the water for three quarters, but scored 21 in the final frame to...

Hearing scheduled for Tuesday in U.S. District Court in New York
Trump's tweets, rallies and contact with NFL owners will be a major part of Kaepernick's legal...

Nick Kostos, a.k.a. 'Mr. Monday Night,' has owned Monday Night Football

Mariota missed last week's game with a hamstring injury