Agent's Take: Examining how the Raiders have spent their offseason
Reggie McKenzie had a huge mess to clear out when he arrived in Oakland. Now that the salary cap purge is complete, will he be given enough time to rebuild sensibly or be forced to go after quick fixes?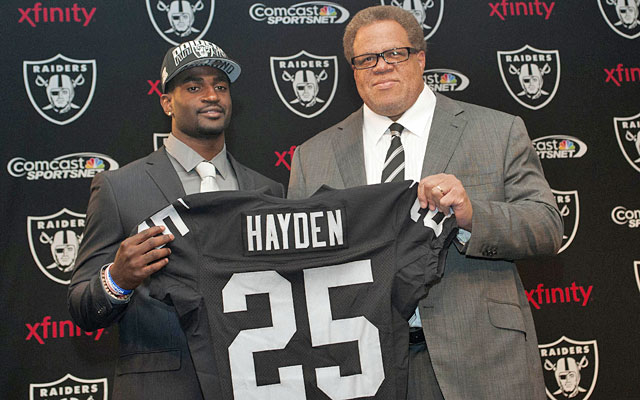 More NFL offseason: Mock Drafts | Prospect Rankings | Pro days | Top free agents
Oakland Raiders owner Mark Davis saying there aren't any more built-in excuses for losing put general manager Reggie McKenzie, hired in January 2012, in a difficult position entering free agency. Davis' stance suggests that McKenzie's job could be in jeopardy if the Raiders don't show significant improvement in 2014 after consecutive 4-12 seasons. Ownership expectations may have put McKenzie's focus on a quick fix instead of a long-term plan as an attempt to ensure that he remains general manger in 2015. Here's an examination of key moves made by McKenzie since joining the Raiders, with an emphasis on this offseason.
Salary cap
McKenzie inherited a salary-cap mess when he became Oakland's general manager due to the previous regime's habit of overpaying players. The Raiders had in excess of $55 million in dead money (cap charges for players no longer on the roster) during 2013, which is unheard of, after McKenzie completed a two-year process of cleaning up the cap through a roster purge. Oakland's five highest-paid players (by average yearly salary) in 2012 weren't with the team in 2013. Losing these players left the Raiders with one of NFL's least-talented rosters.
The Raiders had the NFL's third-lowest payroll at $97.79 million thanks to the massive amount of dead money from the roster purge. The NFL requires each team to spend a minimum of 89 percent of the cap in cash over a four-year period (2013-16). Oakland's $97.79 million spent was only 79.5 percent of the $123 million cap in 2013, which put the Raiders way behind pace to meet the NFL's spending requirements.
The bright side of the roster purge is the Raiders had the NFL's most cap room at the start of free agency with slightly more than $59 million.
Free agency
Generally, teams do everything possible -- within reason -- to prevent core players from hitting the open market when rookie contracts expire, especially teams without an abundance of talent. McKenzie made a curious move by letting defensive end Lamarr Houston and offensive tackle Jared Veldheer become free agents instead of using a franchise or transition tag on one of them.
These tags are designed for teams to retain a valuable player for at least one additional year regardless of how the player feels about the designation or remaining with the team long term. For example, it would have cost $10.039 million to use a transition tag on Veldheer. It would have given the Raiders to right to match any offer sheet Veldheer signed with another team and time to work out a long-term deal with him.
Free agency got off to an embarrassing start because of the Rodger Saffold fiasco. Oakland's big free-agency acquisition was supposed to be Saffold on a five-year, $42.5 million contract (with $21.5 million fully guaranteed). The Raiders pulled out of the deal after a physical by team doctors revealed a torn labrum with a recommendation of immediate shoulder surgery. Saffold had passed his exit physical with the St. Louis Rams at the end of the 2013 season. Since the Raiders were receiving heavy criticism in league circles for overpaying Saffold, there is a sentiment that the ridicule played a part in cancelling the deal. There are conflicting reports about whether McKenzie or Davis made the final decision on Saffold.
The Raiders quickly rebounded from the Saffold situation to sign 11 players from other teams in free agency listed in the chart below.
2014 free agency pickups: Oakland Raiders
Name
Position
Age
Avg. Salary
Length
Kevin Boothe
OG
31
$2,625,000
2 Years
Tarell Brown
CB
29
$3,500,000
1 Year
Austin Howard
OL
27
$6,000,000
5 Years
James Jones
WR
30
$3,333,333
3 Years
Maurice Jones-Drew
RB
29
$2,500,000
3 Years
Donald Penn
OT
31
$4,800,000
2 Years
Carlos Rogers
CB
33
$2,500,000
1 Year
Antonio Smith
DL
33
$4,500,000
2 Years
Justin Tuck
DE
31
$5,000,000
2 Years
C.J. Wilson
DE
27
$795,000
1 Year
LaMarr Woodley
DE/OLB
30
$5,250,000
2 Years
Note: Age at the middle of the 2014 regular season.
Oakland's free-agent signings have upgraded the talent on the roster. The players should also help change the losing culture with the Raiders because there are seven Super Bowl rings among them. The Raiders haven't had a winning season since 2002.
The big drawback is the signings are short-term fixes without any apparent long-range vision. Most of the players are on at least their third NFL contract, have injury concerns, were unwanted by their former teams or are considered declining players. The average age of the players at the middle of the 2014 regular season will be 30.1 years old. The signings are somewhat reminiscent of the Redskins in 2000 when they signed Mark Carrier, Deion Sanders and Bruce Smith, all past their primes, to deals near the top of their respective markets. Fortunately, McKenzie got much better value with his signings.
Justin Tuck had a bounce-back year with the Giants in 2013 by posting 11 sacks. He had nine sacks in the two previous seasons combined. Tuck was willing to return to the Giants on the two-year, $8 million contract but called New York's offer disrespectful.
Maurice Jones-Drew hasn't been the same player since a lisfranc foot injury sidelined him for the Jaguars' final 10 games in 2012. Jones-Drew averaged a career-low 3.4 yards per carry in 2013. He led the NFL in rushing with 1,606 yards in 2011, his last healthy season. Besides getting the chance to return home, Oakland provides Jones-Drew with the best chance for significant playing time.
LaMarr Woodley became expendable in Pittsburgh after Jason Worilds was given a transition tag. He had five sacks in 2013 while being limited to 11 games with a calf injury. Woodley wasn't living up to the six-year, $61.5 million contract he signed with the Steelers in 2011. Before the deal, Woodley had three straight double-digit sack seasons. After getting the contract, Woodley had 18 sacks in three seasons.
Woodley and Antonio Smith are making the switch from 3-4 defenses to a 4-3 scheme. Woodley will transition from outside linebacker to defensive end while Smith moves from defensive end to defensive tackle.
Austin Howard's contract is surprising considering Oakland's plans for him. He has primarily played right tackle but is moving to guard. The overall value of his contract equals the compensation in 2012 Pro Bowl guard Zane Beadles' deal with the Jaguars.
Additionally, running back Darren McFadden, defensive tackle Pat Sims and safety Charles Woodson return to the fold. McFadden signed a one-year, $1.75 million deal. Only $100,000 of McFadden's contract is guaranteed. The deal also contains $2.25 million in incentives for him reaching 1,100, 1,250 and 1,400 rushing yards.
'Pay as you go' contract structure
McKenzie is using a "pay as you go" structure with his signings. A player's cash and salary cap numbers are the same in each contract year because he is receiving salary guarantees instead of a signing bonus under the "pay as you go" model. The guarantees typically consist of 2014 base salary or roster bonuses in these deals. Since there isn't any signing bonus proration, the Raiders won't have any dead money if a player is released after the season. For example, Howard's five-year, $30 million contract can become a one-year, $8 million deal if he is released early in the 2015 league year. His $8 million 2014 salary consists of $2.9 million fully guaranteed base salary, $5 million roster bonus (March 15) and $100,000 workout bonus. Howard has a $3 million roster bonus payable on the fifth day of the 2015 league year. Additionally, his $3.9 million 2015 base salary is guaranteed for injury only. It becomes fully guaranteed on the seventh day of the 2015 league year.
This approach ensures that the Raiders will not have the salary-cap problems of the previous regime. The "pay as you go" model gives the Raiders flexibility to remake the roster in 2015 if the acquisitions don't perform up to expectations without adverse cap consequences because of the lack of dead money.
Quarterback
McKenzie's ability to solve Oakland's issues at quarterback has left a lot to be desired. He made a big mistake in acquiring Matt Flynn from the Seahawks last year (for a 2014 fifth-round pick and a conditional '15 pick). To make matters worse, McKenzie increased Flynn's 2013 salary by $1.25 million while also guaranteeing it in two contract restructures to create desperately needed cap room. Surprisingly, Flynn couldn't beat out Terrelle Pryor for the starting job in the preseason. Flynn was released five games into the season but made a little over $6 million from the Raiders in 2013 for his troubles.
A 2013 fourth-round pick was used on Tyler Wilson. He was considered a potential quarterback of the future when drafted but he was released in the preseason. He spent most of the season on Oakland's practice squad before the Tennessee Titans signed him to their 53-man roster late in the year. Undrafted Matt McGloin, who was signed primarily as a training camp arm, shared starting quarterback duties with Pryor.
The quarterback situation was unsettled until Matt Schaub was acquired from the Texans for a sixth-round pick. Schaub, 33 before the start of the regular season, is coming off a disastrous 2013 season in which he threw a pick-six in four consecutive games, an NFL record, and was benched for Case Keenum.
Before the 2013 season began, the two-time Pro Bowl selection was more highly regarded around the NFL than Carson Palmer, Oakland's starting quarterback in 2012. Schaub had a good 2012 season by conventional football metrics. He was sixth in completion percentage (64.3), ninth in passer rating (90.7) and topped the 4,000-yard mark for the third time his career while leading the Texans to their second straight AFC South title with a 12-4 record.
Schaub renegotiated his contract as a part of the trade. He reduced his 2014 salary from $11 million to a fully guaranteed $8 million. His 2015 salary goes from $13.5 million to $5.5 million and his 2016 contract year was deleted in the process. There are $3 million in incentives for each year with high thresholds -- $1 million for being selected to the Pro Bowl, $1 million for 80 percent playing time in the regular season and Raiders making the playoffs and $1 million with 80 percent playing time and a Super Bowl victory as the starting quarterback. If Schaub doesn't rebound from his disappointing 2013 campaign, he essentially has a one-year deal for $8 million.
Outlook
Oakland should be more competitive in 2014 because of the roster additions. The newcomers should be motivated to play well and have something to prove since they are mostly castoffs from other teams. The upgrade in talent also gives McKenzie flexibility with the draft, which is crucial since the Raiders are short on younger talent.
The jury is still out on McKenzie's 2013 draft, his first with a full complement of picks. First-round cornerback D.J. Hayden (12th overall) landed on injured reserve with a groin injury after only appearing in eight games. McKenzie got some criticism for not receiving more compensation than the 12th overall pick and a second-round pick from the Dolphins in exchange for the third pick. Offensive tackle Menelik Watson and linebacker Sio Moore, selected in the second and third rounds, became starters. Moore is the bright spot of the draft class so far. Wilson was a wasted pick in the fourth round.
It will be interesting to see whether McKenzie selects the quarterback of the future with the fifth overall pick. A quarterback wouldn't have much of an impact this season if Schaub provides some stability at the position. Wide receiver Sammy Watkins or offensive tackle Greg Robinson could pay early dividends, assuming one of them is available. It's a deep draft for wide receivers so a first-round talent should be available with the 36th overall pick if Watkins isn't taken at No. 5.
Seven or eight wins seems possible provided a majority of the older acquisitions don't hit the wall simultaneously and depending on how many immediate contributors are found in the draft. It remains to be seen whether almost doubling Oakland's 2013 win total will be enough to get McKenzie off of the hot seat.
---
Joel Corry is a former sports agent who helped found Premier Sports & Entertainment, a sports management firm that represents professional athletes and coaches. Before his tenure at Premier, Joel worked for Management Plus Enterprises, which represented Shaquille O'Neal, Hakeem Olajuwon and Ronnie Lott.
You can follow him on Twitter: @corryjoel
You can email him at jccorry@gmail.com
The three-time Grammy winner will sing before Super Bowl LII on Feb. 4

There's no bigger stage in the world than the 50-yard line on Super Bowl Sunday

Who'd have thought paying tribute to the New York teams' biggest rivals would backfire?
Danny Amendola got to celebrate the Patriots' big win with a former Miss Universe

The former Tom Brady backup earns a ton of money because he was on the Patriots' Week 1 ro...

The Titans' new coach was answering a question on how college schemes would affect his sco...