Agent's Take: Examining the market for the NFL's top young wideouts
Julio Jones, A.J. Green, Demaryius Thomas and Dez Bryant are the next great wideouts. Joel Corry examines what the market looks like for those four budding stars.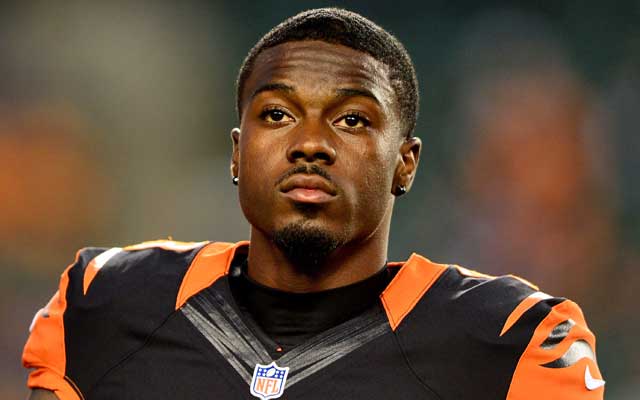 Traditionally, pass rushing defensive ends and blindside tackles have been paid a salary premium, along with quarterbacks. In recent years, pass rushers have maintained their place within the NFL salary landscape but offensive tackle salaries haven't kept pace. Elite wide receivers have moved ahead of tackles in the NFL's salary hierarchy.
Ten-million-per-year wide receivers were a rarity prior to the NFL's 2011 lockout. The salaries of elite receivers have grown more than any other position since the lockout ended. Calvin Johnson and Larry Fitzgerald are the NFL's two highest-paid non-quarterbacks with contracts averaging more than $16 million per year. Mike Wallace was the only player who signed a deal in excess of $10 million per year in this year's soft free-agent market. Below is a chart outlining the top of the current wide receiver market.
Highest-Paid Wide Receivers
Name
Club
Year
Signed
Guaranteed
Money
Three-Year
Compensation
Average
Salary
Contract Length
Calvin Johnson
Lions
2012
$53,250,000
$51,750,000
$16,207,143
7 Yr Extension
Larry Fitzgerald
Cardinals
2011
$45,000,000
$45,500,000
$16,142,857
7 Yr Extension
Mike Wallace
Dolphins
2013
$30,000,000
$37,000,000
$12,000,000
5 Years
Dwayne Bowe
Chiefs
2013
$26,000,000
$36,000,000
$11,200,000
5 Years
Percy Harvin
Seahawks
2013
$25,500,000
$36,000,000
$11,166,667
6 Years
Vincent Jackson
Buccaneers
2012
$26,000,000
$36,000,000
$11,111,111
5 Years
This salary trend is expected to continue for wide receivers with the increased emphasis put on the passing game. In 2012, 10 wide receivers topped 1,350 receiving yards, which is more than in any other season in NFL history, and five wide receivers hit the 100 receptions mark. Four players on their rookie contracts (Dez Bryant, A.J. Green, Julio Jones and Demaryius Thomas) have emerged as or are on the verge of becoming elite wide receivers. Reaching Johnson/Fitzgerald's salary levels may be difficult but Wallace's deal should serve a salary floor for their next contracts since he isn't considered to be their equal as a player.
As first-round picks in 2011 Green (fourth overall pick) and Jones (sixth overall pick) will be eligible to sign new deals at the end of the season. Beginning with the 2011 draft class, teams have an option for a fifth year with first-round picks. The option must be exercised after the third year of the deal (May 3 deadline with Green and Jones). The fifth year is guaranteed for injury when the option is exercised. It becomes fully guaranteed if the player is on the team's roster at the start of the fifth league year, which is 2015 for Green and Jones. The fifth year salary for top-10 picks is the transition tender (average of the 10 highest salaries) for a player's position in the fourth year of his contract. Since it's a certainty that Green and Jones' options will be exercised, their salary for 2015 will be the 2014 wide receiver transition tender, which is $8.867 million this year, absent a new deal. 
As 2010 draftees, these constraints don't apply to Bryant and Thomas. They can sign new deals at any time. Bryant and Thomas will be entering their contract years in 2014. Here's a look at each of four players' situations.
A.J. Green, Cincinnati Bengals
Green's first two seasons are arguably the best for any wide receiver in NFL history. He has 162 receptions, 2,407 receiving yards and 18 touchdowns. His receptions and receiving yards rank second and sixth all-time for wide receivers after their first two years. The two-time Pro Bowler is also the first player to have 100 receptions, 1,500 receiving yards and 10 touchdowns in his first 20 NFL games.
The Bengals have surprised many in NFL circles by being proactive with core players entering the final year of rookie contracts. Most notably, Geno Atkins became the NFL's second-highest paid defensive tackle on a veteran contract (by average yearly salary) with his five-year, $53.327 million contract extension shortly before the start of the regular season. Quarterback Andy Dalton, who was a 2011 second-round pick, will be entering his contract year in 2014. Although, the Bengals can keep Green under contract though 2015 with the option year, he should be more of a contract extension priority than Dalton.
The Bengals are in good salary cap shape for 2014. They have $107.682 million in 2014 cap obligations with 49 players under contract while the top 51 cap numbers count toward the cap during the offseason. The Bengals can also carry over their unused 2013 cap room, which is currently $9 million, to 2014. They could have close to $25 million in cap room when the 2014 league year starts on March 11 depending on where the 2014 cap is set.
Julio Jones, Atlanta Falcons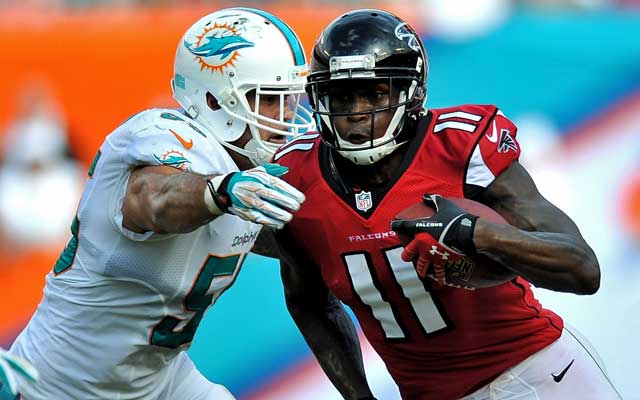 Jones is shouldering the load in Atlanta's passing attack with Roddy White being slowed by a high-ankle sprain. He's leading the NFL with 373 receiving yards and 157 yards after catch on 27 receptions. Once White is healthy, the Falcons won't rely so heavily on Jones but he should top his career highs of 79 receptions, 1,198 receiving yards and 10 touchdowns.
Jones faces a different financial dynamic by having Matt Ryan, the NFL's second-highest paid player, as a teammate. When Johnson and Fitzgerald signed their blockbuster deals, they weren't contending with a high-priced quarterback. Although Matthew Stafford received a six-year, $72 million contract (worth a maximum of $78 million with $41.7 million guaranteed) from the Detroit Lions as the first pick in the 2009 NFL Draft, the deal didn't put him near the top of the quarterback market. Fortunately for the Falcons, having one of the highest-paid quarterbacks and wide receivers isn't a unique situation in the NFL. Peyton Manning and Marvin Harrison set the market for their positions with the Indianapolis Colts when they signed deals in 2004. They were both among the highest-paid players at their positions during the remainder of their years in Indianapolis.
It will be easier for the Falcons to handle such a high-priced duo because the five-year, $42.72 million contract extension (with $23.9 million guaranteed and $5 million in base salary escalators) White signed in 2009 expires after the 2014 season. Since White will be 33 years old once his deal ends, another lucrative contract for him in Atlanta shouldn't factor into the equation.
Dez Bryant, Dallas Cowboys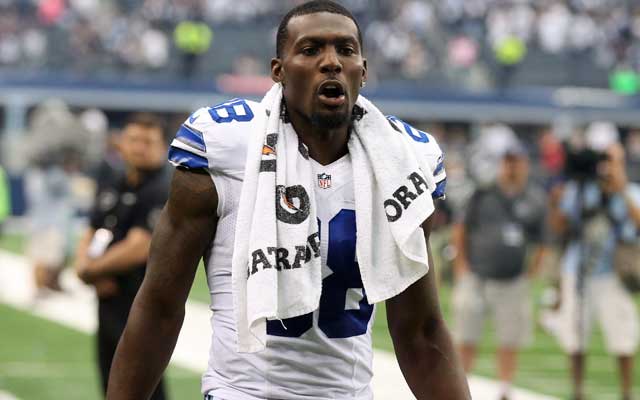 Bryant has been hampered by a minor back injury and increased defensive attention after a breakout 2012 campaign where he caught 92 passes for 1,382 yards and 12 touchdowns. It's unlikely that Bryant will reach his goal of becoming the NFL's first 2,000 yard receiver and scoring 20 touchdowns but could earn his first Pro Bowl berth especially if his second half of the 2012 season isn't an aberration. Bryant caught 51 passes for 894 yards and 10 touchdowns during 2012's final eight games. Head coach Jason Garrett believes that Bryant has only scratched the surface of his talent. Just as important as his production, Bryant has showed signs of maturing and his off-the-field transgressions seem to be behind him.
The Cowboys have demonstrated they aren't afraid to pay wide receivers near the top of the market. Roy Williams signed a six-year, $54 million contract extension (with $19.5 million guaranteed) in 2008 after being acquired from the Detroit Lions for 2009 first, third and sixth round picks. He never came close to duplicating his 2006 Pro Bowl season of his 82 catches and 1,310 receiving yards during his almost three seasons in Dallas.
Dallas' cap situation could be an obstacle to Bryant signing a contract extension. The Cowboys have an NFL high $147 million of cap obligations in 2014 with 47 players under contract. Bryant can't use Dallas' cap problems to his advantage by creating significant cap space through an extension since his 2014 cap number is $3,898,500 million. An extension is still possible without increasing his 2014 cap number but it would require a large fully guaranteed 2015 base salary where the structure is similar to Brandon Carr's deal. The five-year, $50.1 million contract Carr signed with the Cowboys in 2012 contained a $3.2 million first-year cap number and a fully guaranteed $14.3 million base salary in the second year.
Demaryius Thomas, Denver Broncos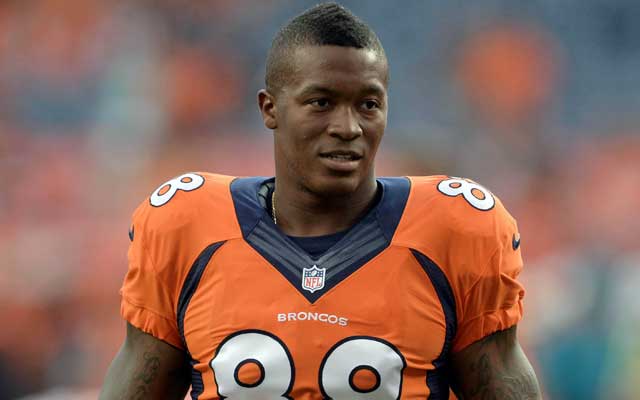 It was expected that Thomas would have a difficult time duplicating his 2012 season with the addition of Wes Welker and the emergence of Julius Thomas at tight end. Demaryius Thomas caught 94 passes (eighth in the NFL) for 1,434 receiving yards (fifth in the NFL) and 7 touchdowns in 2012. After three games, Thomas is on pace to shatter those marks. He has 20 receptions, 307 receiving yards and two touchdowns this season. Those numbers project to 106 catches for 1,637 receiving yards and 10 touchdowns over a 16 game season.
Thomas' situation is complicated by Eric Decker's emergence as a legitimate number one wide receiver in 2012. Decker had 85 receptions, 1,064 receiving yards and 13 touchdowns. He's scheduled to become an unrestricted free agent after the season. Denver must decide whether they want to invest heavily in two wide receivers. The Seattle Seahawks are the only NFL team that has two wide receivers, Percy Harvin and Sidney Rice, with deals averaging over $8 million per year. Thomas' contract leverage will increase significantly if Decker leaves because another team pays him like a number one wide receiver in free agency.
---
Joel Corry is a former sports agent who helped found Premier Sports & Entertainment, a sports management firm that represents professional athletes and coaches. Prior to his tenure at Premier, Joel worked for Management Plus Enterprises, which represented Shaquille O'Neal, Hakeem Olajuwon and Ronnie Lott.
You can follow him on Twitter: @corryjoel
You can email him at jccorry@gmail.com
A couple of dogs emerge victorious in the Conference Championship round

If the past 18 weeks are any indication, Tom Brady could be in trouble Sunday

The Patriots quarterback has been listed as questionable for Sunday's AFC Championship
It appears the Raiders didn't break any rules during their hiring of Jon Gruden

Jacksonville cornerback does not lack confidence heading into AFC Championship

Payton was seen mocking Vikings' fans at the end of the game on Sunday, but there's no bad...