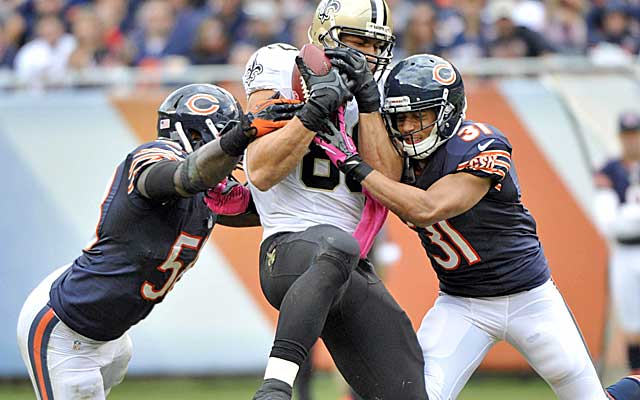 Kirwan: Overhauling tagging system | La Canfora: Salary cap cuts coming
Each NFL team can place an exclusive or a non-exclusive franchise tag on one of its players with an expiring contract in order to retain his rights during a two week window beginning on Feb. 17. The designation period ends on March 3.
Under the exclusive franchise tag, a player will receive a one-year offer from his team that is the greater of the average of the top five salaries (usually salary cap numbers) at his position once the restricted free agent signing period has ended (May 2) or 120 percent of his prior year's salary. A player cannot negotiate with other teams after receiving an exclusive franchise tag.
The 2011 Collective Bargaining Agreement changed how the non-exclusive tag is calculated. Instead of being the average of the top five salaries at a player's position in the previous year or 120 percent of his prior year's salary, whichever is greater, the formula component is now based on the average of the non-exclusive franchise numbers at a player's position over the last five years and their percentage of the salary cap.
This tag allows the player to negotiate with other NFL teams but if he signs an offer sheet with another club, his team has five days to match the offer. If the offer is not matched, his team will receive two first-round picks as compensation from the signing team.
The franchise tag was initially conceived as a method to allow teams to retain marquee players where it would act as a precursor to a long-term contract. Over time, it has become a tool that restricts a team's best free agent in a given year from entering the open market. Broncos left tackle Ryan Clady was the only one of eight players given a franchise tag in 2013 who signed a multi-year deal. The non-exclusive tag is typically used by teams, but quarterbacks are more likely to get the exclusive franchise tag than any other position.
Teams also have the option to use a transition tag instead of a franchise tag. The transition tag operates similarly to the non-exclusive franchise tag, except it is based on the average of the top 10 salaries at a player's position. Teams have the same matching rights as with franchise tags but do not receive any draft choice compensation for the transition tag. The transition tag has essentially become obsolete. It was last used in 2008 by the Pittsburgh Steelers on Max Starks.
Franchise tag projections
The franchise tenders can't be finalized until the 2014 salary cap is set in late February or early March. NFL teams were informed at an NFL meeting in December that the 2014 salary cap is preliminarily projected to be $126.3 million. Based on my conversations with a few NFL front office executives, the expectation is that the cap should be around $128 million. Below is a chart that contains the non-exclusive franchise numbers if the cap is $126.3 million and $128 million. I have also included the percentage of the cap that will be taken up by each position.
2014 Projected franchise numbers
Position
$126.3 million
$128 million
Salary cap percentage
Cornerback
$11,238,000
$11,389,000
8.9 percent
Defensive end
$12,455,000
$12,623,000
9.86 percent
Defensive tackle
$9,168,000
$9,291,000
7.26 percent
Linebacker
$10,878,000
$11,024,000
8.61 percent
Offensive line
$11,109,000
$11,258,000
8.8 percent
Punter/kicker
$3,377,000
$3,423,000
2.67 percent
Quarterback
$16,060,000
$16,276,000
12.72 percent
Running back
$9,060,000
$9,182,000
7.17 percent
Safety
$8,008,000
$8,116,000
6.34 percent
Tight end
$6,698,000
$6,788,000
5.3 percent
Wide receiver
$11,520,000
$11,675,000
9.12 percent
The Jimmy Graham dilemma
A franchise tag for Jimmy Graham is inevitable because of his contract demands. A couple of NFL teams and player agents have told me that Graham wants top-five wide receiver money. Calvin Johnson and Larry Fitzgerald set the wide receiver market with long-term deals averaging slightly more than $16 million per year containing in excess of $45 million of guaranteed money.
The other top-five receiver deals are in the $11 million to $12 million per year range with between $25 million and $30 million of guarantees. By contrast, the New England Patriots' Rob Gronkowski is the NFL's highest-paid tight end with the six-year, $54 million contract extension (includes $18.17 million in guarantees) he signed in 2012 that has a team friendly structure. Vernon Davis leads tight ends in guarantees with $23 million.
Expect Graham to file a grievance to be classified as a wide receiver since franchise tags are determined by the position where the player participated in the most plays during the prior season. According to ESPN, 45 percent of Graham's snaps were in the slot, 33 percent were as an in-line tight end and 22 percent were out wide.
There has only been one grievance over a franchise tag position. In 2008, the Baltimore Ravens' Terrell Suggs challenged his franchise player designation as a linebacker by contending he had more playing time as a defensive end. The Ravens and Suggs settled the dispute without establishing a precedent by agreeing to use the average of the defensive end and linebacker franchise tags.
More recently, the Green Bay Packers avoided a conflict with tight end Jermichael Finley in 2012 over his franchise tag position by signing him to a two-year, $14 million contract (with an additional $700,000 in base salary escalators) before the end of franchise tag designation period. The Tennessee Titans decided against using their franchise tag on tight end Jared Cook last year after he threatened to file a grievance seeking a wide receiver classification because he played in the slot 56 percent of the time in 2012.
An arbitrator's decision could hinge on whether he views Graham as a tight end or wide receiver during the snaps in the slot. Graham would gain tremendous leverage in negotiations if he won an arbitration hearing on his franchise tag position because the wide receiver franchise number is almost $5 million more than the tight end franchise number. If the parties settled like in Suggs' case by using the average of the tight end and wide receiver franchise tags, Graham's number would be around $9.2 million.
Here's a look at each team's franchise tag situations by division.
AFC East
Buffalo Bills: The Bills could be setting themselves up for another contract dispute if Jairus Byrd is franchised again for $8,299,200 and they are still reluctant to pay him in line with the top of the safety market. Dashon Goldson's five-year, $41.25 million contract (includes $22 million guaranteed) with the Tampa Bay Buccaneers is the most recent salary benchmark. Byrd missed a majority of the preseason in 2013 in order to minimize his risk of injury and to protest his franchise player designation. There was some speculation that Byrd may have played through the plantar fasciitis in his feet, which kept him out of Buffalo's first five games, if he had been given a long term deal.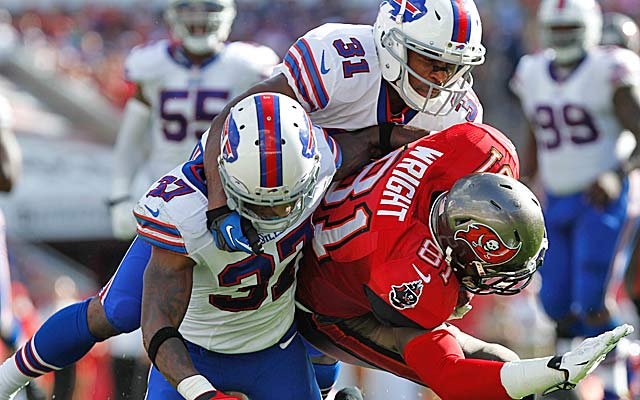 Miami Dolphins: Cornerback Brent Grimes has stated that he doesn't want to be franchised after bouncing back from the torn Achilles he suffered in the Atlanta Falcons' 2012 season opener. When Grimes was injured, he was playing under a $10.281 million franchise tag. Grimes was the NFL's No. 2 cornerback in 2013 according to Pro Football Focus' ratings. He also didn't allow a touchdown pass all season. Reshad Jones' contract extension during the 2013 preseason averaging $7 million per year should be Grimes' salary floor for a new deal with Miami since he is their best player in the secondary and cornerbacks typically make more than safeties.
New England Patriots: Although owner Robert Kraft would like cornerback Aqib Talib and Julian Edelman to return, it is unlikely that the Patriots will use their franchise tag. Kraft seems reluctant to give Talib, who was named to his first Pro Bowl in 2013, big money because of injury concerns. Historically, New England hasn't placed a high value on wide receivers. Wes Welker wasn't designated as a franchise player for a second time at $11.418 million last year, which is less than Edelman's franchise tag number, with better numbers than him. Edelman had a breakout year with 105 receptions and 1,056 receiving yards while Welker caught 118 passes for 1,354 yards in 2012, his farewell season with New England.
New York Jets: Kicker Nick Folk is the most viable franchise tag candidate. He converted 91.7 percent of his field goal attempts (33 of 36) with three game-winning kicks in 2013.
AFC North
Baltimore Ravens: The Ravens will likely have the same issue as the Saints if Dennis Pitta is franchised. According to Pro Football Focus, Pitta ran 79.7 percent of his routes out of the slot, which was the NFL's highest percentage for tight ends. He could join Graham's expected grievance to be classified as a wide receiver or file his own.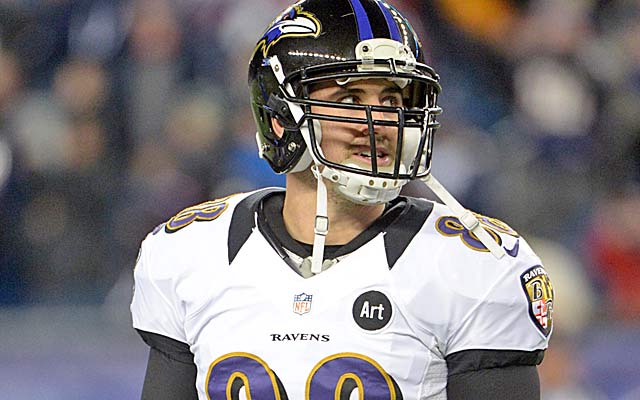 Cincinnati Bengals: Don't expect defensive end Michael Johnson to receive a second franchise tag for $13.41 million. His days in Cincinnati were probably numbered when defensive end Carlos Dunlap and All-Pro defensive tackle Geno Atkins signed lucrative contract extensions with the team before the regular season started.
Cleveland Browns: New general manager Ray Farmer would like to re-sign strong safety T.J. Ward and two-time Pro Bowl center Alex Mack. Ward is a better franchise tag option than Mack. The franchise tag would give Mack a nice one-year financial windfall because it doesn't account for the salary differences at the three main offensive line positions (center, guard and tackle). Ryan Kalil and David Baas are the only centers with 2014 cap numbers above $8 million. The same issue doesn't exist with Ward. The safety franchise tag number is more indicative of the strong safety marketplace where Kam Chancellor's $7 million contract extension with the Seattle Seahawks last April is a recent data point.
Pittsburgh Steelers: Since Pittsburgh's primary concern is getting under the cap before the 2014 league year starts on March 11, it's unlikely that outside linebacker Jason Worilds or wide receiver Emmanuel Sanders will be franchised. The Steelers have slightly over $140 million in 2014 cap commitments.
AFC South
Houston Texans: Running back Ben Tate is Houston's most desirable free agent. A franchise tag will be not used on him because the team gave Arian Foster a five-year, $43.5 million deal (with $20.75 million guaranteed) in 2012.
Indianapolis Colts: Punter Pat McAfee was franchised last year for $2.977 million. It is $3,572,400 to use the franchise tag on him again. Cornerback Vontae Davis is another option because the Colts have over $30 million in cap room. He is capable of shutting down All-Pro wide receivers when he is healthy and at the top of his game.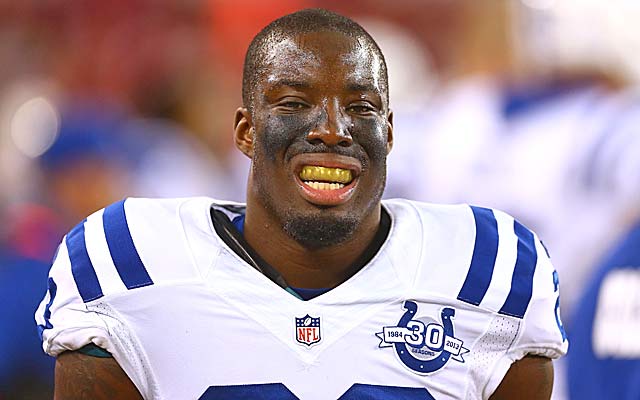 Jacksonville Jaguars: The Jaguars have eight unrestricted free agents. A franchise tag isn't necessary for quarterback Chad Henne or running back Maurice Jones-Drew, the best of the bunch.
Tennessee Titans: According to The Tennessean's Jim Wyatt, the Titans aren't expected to franchise cornerback Alterraun Verner, who led the NFL with 28 combined interceptions and passes defensed. It might require more than the five-year contract extension Jason McCourty signed with the Titans in 2012 averaging slightly more than $8.6 million per year (with $17 million in guarantees and $3 million in salary escalators) for Verner to remain with Tennessee long term.
AFC West
Denver Broncos: The Broncos are going to let Eric Decker test the open market because he is viewed as a No. 2 wide receiver by the team. Cornerback Dominique Rodgers-Cromartie, who signed a one-year, $5 million deal to come to Denver, is the most logical franchise tag option because Chris Harris tore an ACL against the San Diego Chargers in the AFC divisional playoff round and 35-year-old Champ Bailey could be a cap casualty due to his $10 million salary and cap number.
Kansas City Chiefs: According to Danny Parkins of 610 Sports Radio in Kansas City, the Chiefs have decided to let left tackle Brenden Albert leave via free agency instead of using a second franchise designation on him for $11,793,600. Eric Fisher, the first overall draft pick in 2013, and Donald Stephenson are expected to be the starting tackles in 2014.
Oakland Raiders: The cap isn't an issue for the Raiders, like last year, with use of the franchise tag. Oakland leads the NFL with over $60 million in cap space. If Oakland uses its franchise player designation, it will go to defensive end Lamarr Houston or left tackle Jared Veldheer.
San Diego Chargers: The Chargers reportedly had negotiations with inside linebacker Donald Butler during the 2013 season for a new contract but didn't reach an agreement. Talks are expected to resume soon because the Chargers would like Butler signed to a new deal before free agency begins on March 11.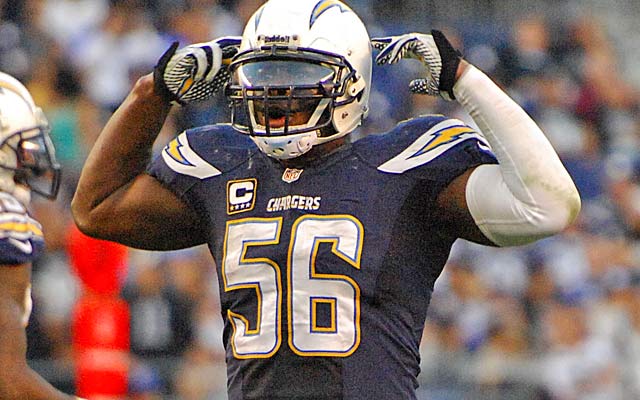 NFC East
Dallas Cowboys: Executive vice-president Stephen Jones said at the Senior Bowl in late January that he didn't anticipate the Cowboys using their franchise tag. The Cowboys' thinking might be different if defensive tackle Jason Hatcher, who had a career year by leading NFL interior defensive lineman with 11 sacks, wasn't turning 32 years old before the 2014 season starts or the team didn't have a league-high $152.2 million in 2014 cap obligations.
New York Giants: The Giants have only used a franchise player designation three times since the franchise tag system's inception in 1993. Two straight subpar years from wide receiver Hakeem Nicks makes it unnecessary for the Giants to franchise him.
Philadelphia Eagles: Wide receiver Jeremy Maclin may have been a franchise tag possibility if he hadn't torn an ACL in training camp. Philadelphia's seven other unrestricted free agents aren't franchise tag material.
Washington Redskins: The most important player headed to free agency is outside linebacker Brian Orapko. Since the two-time Pro Bowler views himself as an elite pass rusher, it will probably require a long-term deal in excess of $10 million per year with over $30 million in guarantees to re-sign him. Taking him completely off the market with an exclusive franchise tag is an option because that number is currently projected to be $11.524 million. It could decrease if any of the linebackers with the highest salaries rework their contracts to lower their cap numbers before the end of the franchise player designation period.
NFC North
Chicago Bears: Signing Jay Cutler to a seven-year, $126.7 million contract (with $54 million guaranteed) shortly after the regular season ended makes use of the franchise tag unlikely. It wouldn't be practical for the Bears to designate defensive tackle Henry Melton as a franchise player for a second straight year at $10.14 million when he is recovering from an ACL he tore last September.
Detroit Lions: Tight end Brandon Pettigrew is the only realistic franchise tag candidate. He doesn't have anything to worry about unless the Lions can quickly lower Ndamukong Suh's $22,412,500 cap number through a contract extension.
Green Bay Packers: Ted Thompson has only used the franchise tag on two players, Ryan Pickett and Corey Williams, since becoming general manager in 2005 because of his ability to sign core players to new deals before the expiration of their contracts. Retaining cornerback Sam Shields is a priority for Green Bay. Defensive tackle B.J. Raji reportedly turned down a contract extension averaging $8 million per year before the season. He may regret that decision since he hasn't registered a sack in his last 41 games, including the playoffs.
Minnesota Vikings: The Vikings extending defensive end Brian Robison's contract instead of Jared Allen's speaks volumes. Allen had a $17,065,186 cap number in 2013, which ensures his free agency. His franchise tag number is $20,236,753.
NFC South
Atlanta Falcons: The Falcons aren't using their franchise tag because they signed quarterback Matt Ryan to a five-year, $103.75 million contract extension (with $59 million in guarantees) last July. Defensive tackle Corey Peters could have been a possibility until a late season Achilles tear removed him from the equation.
Carolina Panthers: After garnering second team All-Pro honors with 15 sacks (third in the NFL) to tie Kevin Greene's franchise record, expect Greg Hardy to be franchised if he doesn't sign a long-term deal before the franchise tag deadline. A long term deal may require the Panthers to give Hardy more than the six-year, $76 million contract (including $32 million in guarantees) Charles Johnson, his Carolina defensive end counterpart, received to re-sign in 2011.
New Orleans Saints: See the Jimmy Graham Dilemma above.
Tampa Bay Buccaneers: The Buccaneers have 18 unrestricted free agents but none of them are core players.
NFC West
Arizona Cardinals: Inside linebacker Karlos Dansby had a career year in 2013 after signing a one-year, $2.25 million deal (worth a maximum of $3 million through incentives). The 32 year old finished tied for third in the NFL in solo tackles with 114 and tied for sixth with 19 passes defensed. Dansby led NFL inside linebackers with 6.5 sacks and tied for first at the position with four interceptions, including two returned for touchdowns. Since he was franchised twice with the Dolphins, the Cardinals won't franchise him for the third time in his career because a third franchise tag on a player is the greater of the highest franchise number at any position (quarterback) or 144 percent of the player's prior season's salary.
San Francisco 49ers: The 49ers didn't franchise safety Dashon Goldson for a second time last year at $7,454,400. It would be surprising if the designation was used on safety Donte Whitner for approximately $600,000 more than Goldson's second tag.
Seattle Seahawks: The Seahawks have several key free agents, including defensive end Michael Bennett and wide receiver Golden Tate. The franchise tag is probably out of the question because the Seahawks are around $4 million over the cap once tenders for restricted free agents and exclusive rights players with expiring contracts are factored in the equation.
St. Louis Rams: Using a franchise tag on guard Roger Saffold isn't necessary if the Rams want to retain him. He won't command a long term deal averaging anything close to his franchise tender.
---
Joel Corry is a former sports agent who helped found Premier Sports & Entertainment, a sports management firm that represents professional athletes and coaches. Before his tenure at Premier, Joel worked for Management Plus Enterprises, which represented Shaquille O'Neal, Hakeem Olajuwon and Ronnie Lott.
You can follow him on Twitter: @corryjoel
You can email him at jccorry@gmail.com