Agent's Take: Future HOF Champ Bailey's options: Less cash, retire
Champ Bailey is headed to the Hall of Fame. But after an injury-plagued season -- he'll start the Super Bowl because of injury -- the 15-year vet's hefty paycheck isn't in line with his productivity.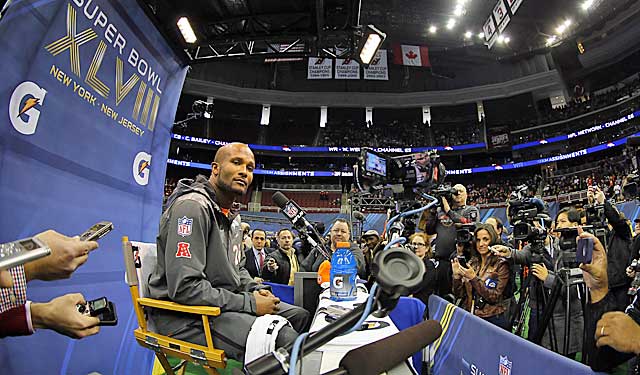 More SB coverage: XLVIII odds | Expert picks | SB weather | Latest news
A Denver Broncos cornerback talking about retiring after Super Bowl XLVIII was expected this week. Dominique Rodgers-Cromartie mentioning retirement instead of Champ Bailey was the surprise. Bailey has been non-committal about when his career will end.
Retirement would be logical if the Broncos win the Super Bowl because the 15-year veteran wouldn't have anything left to accomplish in his career. Bailey is destined for the Pro Football Hall of Fame someday with 52 career interceptions, 12 Pro Bowls, eight All-Pro selections and a place on the 2000s All-Decade team.
But if Bailey wants to continue his career regardless of the Super Bowl's outcome, he could become the latest reminder that the NFL is a business without much room for sentimentality or loyalty. The 35-year old will be entering the last year of a four-year, $43 million contract (worth a maximum of $46.75 million through base salary escalators) after a season in which he was limited to five regular-season games because of a left foot sprain that occurred in a preseason game vs., ironically, the Seattle Seahawks. Bailey also did not record an interception, a career first.
Bailey, acquired from the Washington Redskins with a 2004 second-round pick for Clinton Portis in 2004, was relegated to nickel cornerback duty once healthy. An ACL tear by Chris Harris, soon-to-be a restricted free agent, against the San Diego Chargers in the AFC divisional playoff round allowed Bailey to get back into the starting lineup. In the AFC title game vs. New England, Bailey saw his most action since Week 6 against the Jacksonville Jaguars. He was on the field for 56 of Denver's 59 defensive plays and is expected to see similar playing time in the Super Bowl.
Bailey is slated to make $10 million next season and have a $10 million salary cap number. $1 million of Bailey's salary is a roster bonus payable on the fifth day of the 2014 league year (March 15). His cap number (and total salary) will increase to $10.5 million with satisfactory participation in Denver's offseason workout program.
These numbers are too high because Bailey no longer is a shutdown cornerback and cap space will be at a premium, assuming Denver would want him to return next season. When tenders for restricted free agents and exclusive rights players with expiring contracts are included, the Broncos are approximately $10.45 million under the projected 2014 salary cap of $126.3 million while having 17 unrestricted free agents, including Rodgers-Cromartie, Eric Decker, Knowshon Moreno, Zane Beadles, Shaun Phillips and Wesley Woodyard.
The Broncos have leverage in a renegotiation with Bailey. His scheduled salary doesn't reflect the market for older defensive backs. Although Ed Reed, 35, didn't pan out with the Houston Texans, he signed a three-year deal averaging $5 million per year. Ronde Barber's final two contracts with the Tampa Bay Buccaneers, both one-year deals in 2011 and 2012 when he was 36 and 37 years old, were worth $3 million (with an additional $1 million for making the Pro Bowl) and $4 million. Charles Woodson signed a one-year, $1.8 million deal (plus an additional $2.5 million in incentives) with the Oakland Raiders for this season as a 36-year-old. Woodson earned $1.5 million of his incentive package to bring his total compensation to $3.3 million.
The Broncos have established a salary range for one-year deals with cornerbacks expected to make significant contributions. Tracy Porter signed a fully guaranteed one-year, $4 million deal in 2012 to start opposite Bailey. Rodgers-Cromartie has replaced Porter with his fully-guaranteed, one-year, $5 million contract.
A renegotiated contract for Bailey might give him an opportunity to earn some, if not all, of his pay cut back through incentives. Any 2014 incentives with higher thresholds than Bailey's individual statistical achievements this season would be classified as not likely to be earned (NLTBE) and wouldn't count towards the 2014 cap. Fortunately for Bailey, he has low thresholds for NLTBEs because he only had 16.68 percent playtime and didn't have any regular-season INTs.
Bailey likely would be in for a rude awakening in free agency if he refused to accept a pay cut to a salary comparable to Porter and Rodgers-Cromartie's compensation. Woodson's free agency experience could serve as a cautionary tale for Bailey in this instance. Woodson was a Green Bay Packers cap casualty in February because of his $10 million salary and $9,437,500 cap number. The 1997 Heisman Trophy-winner expressed surprise in April that he hadn't generated more interest from teams. Before signing with Oakland in late May, the San Francisco 49ers had been his only visit.
It is also wouldn't be a surprise if Bailey followed in the footsteps of Brian Urlacher by retiring if presented with similar circumstances. Urlacher was insulted that the Chicago Bears gave him a take-or-leave-it, one-year, $2 million offer to re-sign for his 14th NFL season. He had been seeking a two-year deal worth $11.5 million from the Bears but reportedly was willing to accept a one-year deal at $3.5 million. However, the Broncos might be more reluctant than the Bears were to take this tact with Bailey because of the potential ramifications with team dynamics for playing hardball with such a well-liked and respected figure in the locker room.
Most NFL players aren't able to leave the game on their own terms. Hopefully, Bailey will get that opportunity whenever it is.
---
Joel Corry is a former sports agent who helped found Premier Sports & Entertainment, a sports management firm that represents professional athletes and coaches. Before his tenure at Premier, Joel worked for Management Plus Enterprises, which represented Shaquille O'Neal, Hakeem Olajuwon and Ronnie Lott.
You can follow him on Twitter: @corryjoel
You can email him at jccorry@gmail.com
SportsLine's Mike McClure, a DFS pro with more than $1M in winnings, gives optimal lineup...

Good night, sweet Cowboys, it was a good run

Time to keep the hot streak going
Everything you need to know heading into Sunday of Week 12 of the 2017 NFL season

Pete Prisco shares 10 interesting things to watch in Week 12 of the NFL season

The 3-7 Broncos are not in a good place right now