Agent's Take: Here's how a deal with J.J. Watt, Texans might play out
J.J. Watt wants a mega-deal from the Texans, and given massive contracts received by other 2011 draft members, he has a pretty strong case. The problem: Houston holds all the leverage.
J.J. Watt went public with his frustration over not getting a contract extension like fellow 2011 first-round picks cornerback Patrick Peterson (fifth overall pick) and offensive tackle Tyron Smith (ninth overall pick) received shortly after training camps opened.
Peterson's five-year, $70.05 million extension (includes $48 million in guarantees) with the Arizona Cardinals made him the NFL's highest-paid cornerback. The Dallas Cowboys put Smith at the top of the offensive lineman pay scale with an eight-year, $97.6 million extension, which contains $40 million in guarantees.
Watt, who is making $1,907,385 this year, is under contract for two more seasons after the Houston Texans exercised their 2015 option year with him for $6.969 million ($8,876,385 for the two years). His 2015 salary is guaranteed for injury and becomes fully guaranteed on the first day of the 2015 league year.
Negotiations reportedly have been ongoing between the Texans and Watt's agent, Tom Condon. The two sides have a small window to get a deal done because of the team's long standing policy against negotiating contracts during the regular season. The Texans will open the season Sept. 7 at home against the Washington Redskins. There are dynamics that could make reaching an agreement by the deadline challenging.
Performance/value
Condon is probably trying to make Watt the NFL's highest paid non-quarterback. Calvin Johnson currently holds that distinction with the seven-year extension averaging $16,207,143 per year ($53.25 million fully guaranteed at signing) he received from the Detroit Lions in 2012.
Another important salary benchmark for Watt could be the six-year, $96 million deal ($50 million in guarantees, $53 million in the first three years and $4 million in not likely to be earned incentives) former Houston Texans defensive end Mario Williams signed with the Buffalo Bills in 2012 that makes him the NFL's highest paid defensive player.
Watt is an elite pass rusher, which is a rarity for a 3-4 defensive end, and a premier run stopper. It is extremely unusual for a defensive lineman to be equally adept against the pass and the run. Watt has an NFL-best 31 sacks since the start of the 2012 season. He also leads the NFL with 38 run stuffs during the past two seasons.
Watt was the near unanimous NFL Defensive Player of the Year in 2012 after posting 20.5 sacks, which tied him with Lawrence Taylor for the sixth most all-time in a season. In the process, he became the youngest player in NFL history to reach the 20 sacks mark in a single season as a 23-year-old. 
Advanced football metrics capture Watt's dominance better than conventional football statistics. Football Outsiders has a metric called "defeats" that measure turnovers (or tipped passes leading to turnovers), tackles for loss, and tackles or passes defended on third or fourth down.
His 56 defeats in 2012 were the most since Football Outsiders started the metric in 1996. According to Pro Football Focus (PFF), Watt batted an unheard of 15 passes in 2012. Nobody else in the past five years has reached double figures in batted passes.
Watt's 2013 campaign may have been better than his 2012 season despite his sack total dropping to 10.5. He had 85 total quarterback pressures (combined sacks, quarterback hurries and quarterback hits) in 2013 according to PFF after posting 76 pressures in 2012. J.J. also graded out better in 2013 than 2012 with PFF. His 111.6 grade was 10 points higher than his 2012 grade of 101.6. The next highest grade for a defensive player during the last two years is Geno Atkins in 2012 at 80.
Houston's concerns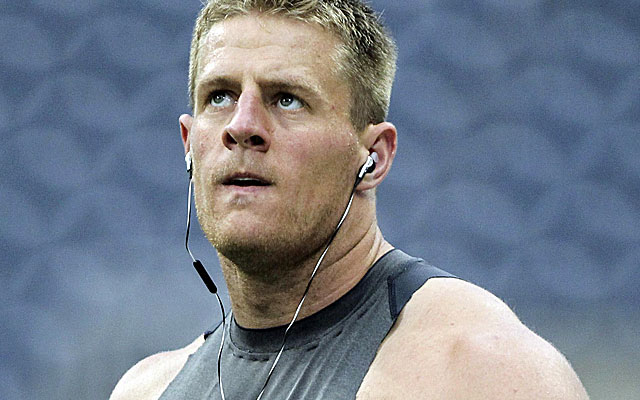 Limiting the scope of discussions to the defensive lineman market will be advantageous to the Texans because they could characterize Williams' deal as an outlier. His contract averages slightly over 25 percent more than the six-year, $76 million deal (with $32 million in guarantees) defensive end Charles Johnson, the NFL's second highest paid defensive lineman, signed in 2011 to remain with the Carolina Panthers. 
A primary concern of the Texans is the ability to maintain a competitive team once a lucrative contract is in place for Watt. The Indianapolis Colts are a prime example of the possibility. They had five winning seasons and one Super Bowl appearance with Dwight Freeney playing under a deal that made him the NFL's highest paid defensive player in 2007. He remained as one of the highest paid defensive players for the duration of the deal.
Unlike the Colts, who were paying Peyton Manning more than Freeney, the Texans won't have to contend with a high-priced quarterback on the roster for awhile. Most likely, there will be a young quarterback on his rookie contract (with modest cap numbers) at the helm over the next few years since Ryan Fitzpatrick is only a short-term solution. Additionally, some of the Texans' biggest salary cap numbers should be coming off the books in the next couple of years. Andre Johnson will be 35 years old when his contract expires after the 2016 season. Arian Foster may not see the last two years of his contract if he doesn't return to form from his back injury. Johnathan Joseph's contract is also up after the 2015 season. 
Any new deal signed with two years left on Watt's contract should reflect the injury risk shifting financially from Watt to the Texans and provide some sort of benefit to the team through a lower average yearly salary, less guaranteed money, additional contract years or a team-friendly cash flow.
Despite Peterson and Smith's deals, most teams are unwilling to set the market at a position until a player is entering his contract year, on the verge of free agency or receives a franchise tag.
Owner Bob McNair raised some eyebrows recently with his premature talk about using franchise tags on Watt in 2016 and 2017 if necessary. Assuming the salary cap has a similar percentage increase to this year (8.13 percent) in each of the next two years, it will be right around $156 million in 2016. Watt's franchise tag in 2016 would be slightly more than $16 million with these cap projections. A second franchise tag in 2017 would be around $19.25 million, a 20 percent increase over Watt's 2016 franchise number. The average of franchising Watt twice (over $17.5 million per year) could be used by Condon as further justification for a long term deal making him the NFL's highest paid non-quarterback. 
Outlook
A new deal before the Sept. 7 deadline will require Watt being more accommodating than the Texans. The team has the leverage with him under contract for two more seasons and franchise tags looming once his rookie deal expires. At a minimum, the Texans should be willing to offer Watt a slightly higher average than Peterson received ($14.01 million per year).
Historically, top defensive linemen that can consistently pressure quarterbacks are paid more than top cornerbacks. 
It would be interesting to see whether Watt would accept a deal in the $15 million per year neighborhood with better cash flow than Peterson (he's $47.9 million through 2017) and comparable overall guarantees. Only $16.25 million of Peterson's $48 million in guarantees is fully guaranteed at signing. Considering the Texans gave Foster and Joseph $20.75 million and $23.5 million fully guaranteed at signing, $25 million fully guaranteed at signing for Watt shouldn't be a problem.
Watt should be able to set a new salary standard for non-quarterbacks if this type of deal doesn't interest him right now. It will probably be necessary for him to play at least one more year under his existing contract. There's risk to both sides. Watt's demands will surely increase with another strong season but he's also incurring the risk of injury and poor performance. Since the Texans have a history of signing core players during contract years, a deal should be done sometime between the end of the season and the start of training camp next year.
---
Joel Corry is a former sports agent who helped found Premier Sports & Entertainment, a sports management firm that represents professional athletes and coaches. Before his tenure at Premier, Joel worked for Management Plus Enterprises, which represented Shaquille O'Neal, Hakeem Olajuwon and Ronnie Lott.
You can follow him on Twitter: @corryjoel
You can email him at jccorry@gmail.com
The 3-7 Broncos are not in a good place right now

This young fan wins Thanksgiving

Pete Robertson ran a downed punt into the end zone, costing his team 13 yards
The Chargers are finally looking like a playoff team after a 28-6 win over the Cowboys on...

The Vikings, led by Case Keenum, are one of the NFL's best teams

The Vikings' pass rusher revealed the latest addition to the family after sacking Matthew...