Agent's Take: How Aaron Rodgers' deal will affect the QB market
What will Aaron Rodgers' record-setting deal mean for other quarterbacks looking for a payday? Former agent Joel Corry examines what's in line for Matt Ryan, Matthew Stafford and others who will be looking for new deals soon.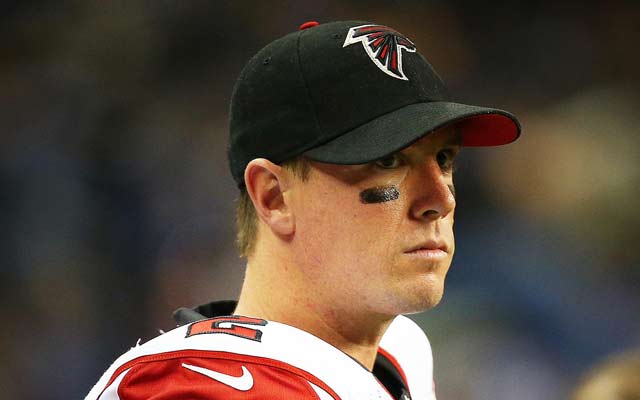 Aaron Rodgers set the bar for NFL salaries by signing a five-year, $110 million contract extension with the Green Bay Packers. His deal contains $54 million in guarantees, including a $35 million signing bonus, and an NFL-best $62.5 million in the first three years.
It is generally accepted that the top contracts are negotiated to be surpassed. Even if Rodgers' deal isn't eclipsed in the next couple of years, other quarterbacks in line for new contracts will benefit from its ripple effect. The agents of these quarterbacks will use Rodgers' contract to push the salaries of their clients to a higher level than anticipated before his deal was completed. Most teams are hesitant to set the market at a position, but are more willing to sign players at slightly below the existing salary standard, which is $22 million per year for quarterbacks.
Below is a chart outlining the top of the current quarterback market:
| | | | | | | |
| --- | --- | --- | --- | --- | --- | --- |
|   |   | Year | Guaranteed | Three Year | Average | Contract |
| Name | Club | Signed | Money | Compensation | Salary | Length |
| Aaron Rodgers | Packers | 2013 | $54,000,000 | $62,500,000 | $22,000,000 | 5 Yr Extension |
| Joe Flacco | Ravens | 2013 | $52,000,000 | $62,000,000 | $20,100,000 | 6 Years |
| Drew Brees | Saints | 2012 | $60,500,000 | $61,000,000 | $20,000,000 | 5 Years |
| Peyton Manning | Broncos | 2012 | $58,000,000 | $58,000,000 | $19,200,000 | 5 Years |
| Tony Romo | Cowboys | 2013 | $55,000,000 | $57,000,000 | $18,000,000 | 6 Yr Extension |
Here's a look at the quarterbacks who could reap the benefit from Rodgers' new contract.
Signing Ryan, who is scheduled to make $10 million in 2013, to a new contract has become more of a priority since the NFL Draft is over. Ryan is entering the final year of the six-year rookie contract (worth up to $72 million with $34.75 million guaranteed) he signed in 2008.
Ryan took a big step toward being considered as an elite QB with his stellar 2012 regular season. The 2008 third overall pick was named to his second Pro Bowl, led the NFL in completion percentage (68.6 percent) and threw for a franchise-record and career-best 4,719 yards (fifth in the NFL). He was ranked in the NFL's top five with 32 touchdown passes and a 99.1 passing rating. Ryan finally started silencing critics by winning his first playoff game and leading the Falcons to the NFC Championship Game.
Fortunately for Ryan, Falcons owner Arthur Blank has a history of paying quarterbacks toward the top of the market. Michael Vick signed a nine-year, $120.6 million (with a then-record $37 million in guarantees) contract extension near the end of the 2004 regular season. Vick had a 1-1 playoff record at his contract's signing.
Rodgers' and Joe Flacco's deals (six years, $120.6 million) have probably set parameters for Ryan's new contract. It wouldn't be a surprise if Ryan signed a five- or six-year contract extension before the start of regular season averaging between $20.2 million and $21 million per year that broke Drew Brees' record of $60.5 million in contract guarantees.
Although Stafford's contract doesn't expire until after the 2014 season, the Lions have been engaging in contract discussions with his agent, Creative Artist Agency's Tom Condon. Stafford has a tremendous amount of leverage because of his high salary cap numbers and Detroit's future cap situation. The 2009 first overall pick's $20.82 million 2013 cap number is the second-highest in NFL. His 2014 cap number is $19.32 million. Since the Lions already have $128.8 million of cap obligations in 2014 with only 44 players under contract, it may be difficult for them to handle Stafford's cap number next year.
Detroit can't afford for Stafford to play out his contract because it will be virtually impossible to use a franchise tag on him in 2015. His franchise tag number will be $23.184 million, which is 120 percent of his 2014 cap number.
Stafford's 2012 season didn't measure up to 2011, when he threw for 5,038 yards and 41 touchdowns, but it won't hinder him in negotiations. CAA also represents Tony Romo, who recently signed a six-year, $108 million contract extension with $55 million in guarantees. Condon will attempt to leverage Romo's deal into a better contract for Stafford. CAA did the same thing in 2007 with Condon client Marc Bulger's six-year, $65.5 million (with $23.55 million guaranteed) contract extension that was signed a couple months before Romo received his six-year, $67.5 million (with $28.5 million guaranteed) contract extension.
Stafford can afford to be patient because he is scheduled to make $12.5 million and $11 million during the 2013 and 2014 seasons after earning over $50.5 million in his four year NFL career. He should have a bounceback season with the additional offensive weapons the Lions have acquired during the offseason. If Stafford doesn't a sign a new contract and his 2013 campaign approaches his 2011 breakout season, his new deal should, at a minimum, match Joe Flacco's contract and could exceed Aaron Rodgers' deal.
Roethlisberger has three years left on the six-year contract extension he signed in 2008 averaging $14,664,417 per year. He has $18.895 million and $18.595 million cap numbers in 2014 and 2015 because his deal has been restructured for three consecutive years thanks to Pittsburgh's constant cap problems.
Charlie Batch, who has been a Steelers backup quarterback for over a decade, suggested Landry Jones was drafted in the fourth round to be the heir apparent to Roethlisberger. Such speculation is premature. Roethlisberger was arguably having his finest NFL season in 2012 with 17 touchdown passes, four interceptions and a 66.1 completion percentage while leading the Steelers to a 6-3 record before shoulder and rib injuries slowed him.
There were two years remaining on Roethlisberger's rookie contract when his extension made him the NFL's second-highest paid player. His $33.2 million in guarantees were the third most ever in an NFL contract when it was signed. Roethlisberger will be 32 years old in 2014, which is one year younger than Tom Brady ($18 million per year in 2010) and Drew Brees ($20 million per year in 2012) were when they signed their most lucrative contracts.
The Steelers could have the same timetable for a new deal with Roethlisberger as before if he has a typical season and stays relatively healthy. A new contract could ensure that Roethlisberger spends his entire career in Pittsburgh.
Roethlisberger's new contract should eclipse Flacco's. He is a two-time Pro Bowler with two Super Bowl rings and his 69.3 career winning percentage (97-43 record) is better than Flacco's 67.7 winning percentage (63-30).  
Manning became the NFL's highest paid player in 2009 by signing a six-year contract extension averaging $16.25 million per year (with $35 million guaranteed). At the time, Manning was regarded much like Flacco is now because his playoff performances were better than his regular seasons.
Manning has dropped down in the quarterback salary hierarchy over the last year. He is currently the sixth-highest-paid quarterback (by average yearly salary). Manning should continue to slide as Ryan, Stafford and possibly Roethlisberger sign new deals. He may no longer be among the 10 highest-paid quarterbacks when his contract is addressed.
Manning isn't fazed by the Giants drafting quarterback Ryan Nassib in the fourth round. Nassib could be Manning's Ryan Mallett, who has thrown four passes as Tom Brady's backup since being taken in the third round of the 2011 Draft.
The Giants waited until Manning was entering his contract year when they extended his contract in 2009. Manning could receive a new deal before the end of the 2014 season as a 33-year-old if the Giants want to lower his $20.4 million 2014 cap number. Manning's cap number in 2015, his contract year, is $19.75 million. Given that the Giants made Manning the NFL's highest-paid player when he was less accomplished, Manning will expect them to do the same now that he's been to two more Pro Bowls, won another Super Bowl and has entered the conversation of elite quarterbacks since signing his deal.
Others
Jay Cutler-Chicago Bears: Cutler is in a make-or-break situation as he enters the final season of the five-year, $49.805 million contract he signed with the Bears after being traded from the Broncos in 2009. New head coach Marc Trestman and second-year general manager Phil Emery don't have a vested interest in Cutler because they weren't with the Bears when he was acquired. If Chicago misses the playoffs for a third straight year under Cutler, the Bears could look in another direction at quarterback after the season.
Josh Freeman-Tampa Bay Buccaneers: Tampa Bay, particularly head coach Greg Schiano, isn't sold on Freeman as their quarterback of the future. The Buccaneers are letting the 25-year-old Freeman play out his rookie contract. Freeman was plagued by inconsistency in 2012 after having a disappointing 2011 campaign. Tampa Bay has high expectations after signing Dashon Goldson in free agency and acquiring Darrelle Revis in a trade. If Freeman returns to his 2010 form when he threw 25 touchdown passes and only six interceptions, he can capitalize on the situation like Flacco. The Buccaneers hedged their bets with Freeman by drafting Mike Glennon in the third round.
Colin Kaepernick-San Francisco 49ers: Kaepernick led the 49ers to the Super Bowl after replacing Alex Smith as the starting quarterback during the second half of the season. Under the rules of the NFL's rookie wage scale, Kaepernick is prohibited from signing a new deal until the end of the third year of his contract, which is at the conclusion of the upcoming regular season. Kaepernick could receive a new deal before the start of the 2014 season because the 49ers are the NFL's most proactive team in signing core players to new deals before they approach the end of their contracts.
---
Joel Corry is a former sports agent who helped found Premier Sports & Entertainment, a sports management firm that represents professional athletes and coaches. Prior to his tenure at Premier, Joel worked for Management Plus Enterprises, which represented Shaquille O'Neal, Hakeem Olajuwon and Ronnie Lott.
You can follow him on twitter: @corryjoel
You can email him at jccorry@gmail.com.

Warren Sapp was one of several players named in a lawsuit against NFL Network

Check out the uniforms that Denver and Indianapolis will be wearing on Thursday

The Cowboys are going to need a few things to go their way to get into the postseason
Rudolph will be put under the microscope in Mobile by clubs looking for a quarterback early...

This fan is taking the Saints to court for using 'football games as a platform for protest...

Can Aaron Rodgers get the Packers to the postseason? Even if they win out, they'll need he...