Agent's Take: How Dante Fowler's injury will likely impact his contract
Dante Fowler's untimely injury won't likely lead to him losing any money, but it may mean some alterations to his contract.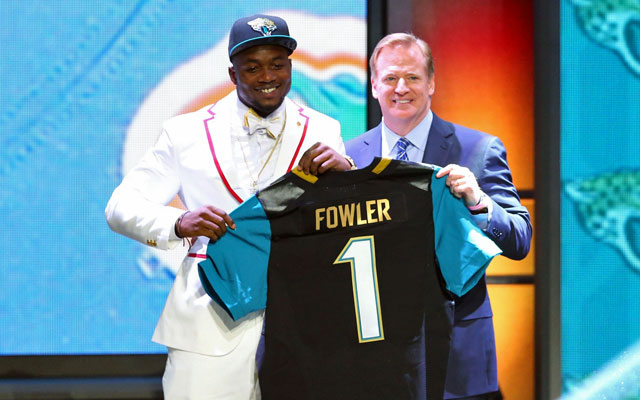 Dante Fowler, the third overall pick in this year's NFL Draft, tore the ACL in his left knee during the first practice of the Jacksonville Jaguars' three-day minicamp. He will likely miss the entire 2015 NFL season.
Fowler had not signed his rookie contact when the injury occurred. He was expected to sign a fully guaranteed four-year, $23,490,242 contract, including a $15,343,812 signing bonus, before getting hurt. The injury shouldn't materially change his deal.
Explaining the rookie participation agreement
An agreement protecting a draftee contractually during minicamps, offseason workouts and the rookie football development program is signed by the team, player and his agent if negotiations for his rookie contract aren't completed before rookie minicamp, which is the weekend following the draft for most teams. Fowler signed this type of agreement.
I have the standard rookie participation agreement for two NFL teams. The Jaguars aren't one of the teams but there isn't much variance in the language of these agreements around the NFL. The first paragraph of the agreement usually reads as follows:
"The purpose of this Agreement is to provide Player with a measure of financial protection from injury resulting from his participation in Club's 2015 Programs, subject to all of the terms, conditions and provisions hereof. Club's principal objective is to place Player in approximately the same financial position with respect to his NFL Player Contract as he would have been in had he not sustained an injury as that term is used and defined in this Agreement."
Programs means minicamps, offseason workouts and the rookie football development program. These agreements typically stipulate that the player is an employee of the team during offseason activities where he retains the rights he has as a drafted player under the NFL's Collective Bargaining Agreement (CBA). Two other key paragraphs contain the following:
"Club agrees that in the event Player sustains a disabling NFL football-related injury during any of the Club's 2015 Programs while working out or practicing at Club's Facility under the direction of a Club official (an "Injury") prior to signing an NFL Player Contract with Club, and provided that Player promptly reports such Injury to Club Physician or Head Athletic Trainer and undergoes reasonable rehabilitation under Club's supervision, then Club agrees that it will continue to negotiate in good faith with Player and his agent(s) for an NFL Player Contract as if Player had not sustained any such Injury.

"The terms and conditions of such Player Contract shall take into account all relevant information, and apply the same factors and terms consistent with picks in the general area of the Player's actual slot of the 2015 NFL Draft; provided, however, that nothing in this Agreement shall obligate Club to agree to any particular terms or conditions of employment in any NFL Player Contract between Player and Club."
Some agreements contain more precise language defining a player's draft slot as the two draft picks immediately before and after where he was selected. The agreement also expires once the player signs his actual contract.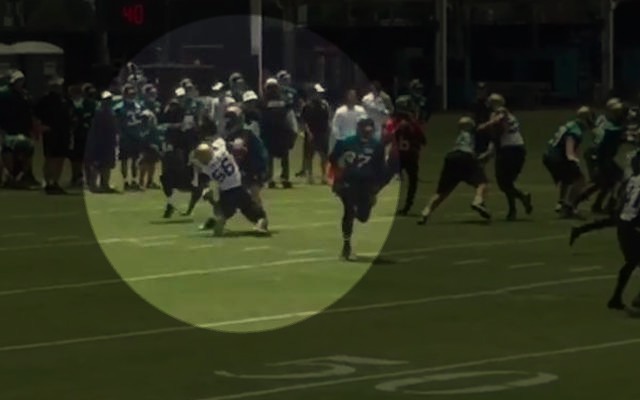 What are good faith negotiations?
The Jaguars aren't obligated to sign Fowler to the same four-year, $23,490,242 deal he was expected to receive before his injury. That said, it's extremely unlikely Fowler's injury will be used to pay him less. His contract will still be fully guaranteed, just like every other pick in the top half of the first round.
Fowler's injury could result in a contract for the same money with a more team-friendly structure. The most likely change would be the Jaguars using Fowler's situation to establish a new precedent for offsets in salary guarantees with early first-round picks. Justin Blackmon (2012 fifth overall pick), Luke Joeckel (2013 second overall pick) and Blake Bortles (2014 third overall pick) received deals with salary guarantees that didn't have offset language.
An offset clause reduces the guaranteed money a team owes a player when he is released by the amount of his new deal with another team. Without an offset, the player receives his salary from the team that released him as well as the full salary from his new contract with another club (also known as double dipping). Practically speaking, the offset issue will only come into play in the latter years of a rookie deal if the player is a disappointment.
Teams with early first-round picks were insistent that contracts contain offsets in 2013 after largely conceding the issue the previous year. Almost every team is now requiring offsets with salary guarantees for players taken near the top of the draft. No. 1 overall pick Jameis Winston is the first quarterback taken in the top five since the 2011 CBA implemented a rookie wage scale to have offsets in his contract. As a compromise, teams are structuring deals containing minimum base salaries in the final three years with the remainder of a player's salary in annual roster bonuses fully guaranteed on the third or fifth day of training camp.
A post-draft DUI for Blackmon, who is currently serving a drug-related indefinite suspension from the NFL, prompted the Jaguars to sign him to a contract containing a signing bonus in line with the 10th overall pick and fully guaranteed roster bonuses throughout the contract to make up for the signing bonus shortfall. The roster bonuses were designed to encourage good behavior where the team received some financial relief from a misstep by Blackmon. It will be a surprise if the Jaguars attempt to treat Fowler's injury in negotiations like Blackmon's off-field issues.
Fowler can expect half, or $7,671,856, of his signing bonus to be deferred until March 31, 2016. Typically, when a player has a large signing bonus in his contract, it is paid in installments with some portion deferred to a future year(s). This type of treatment for Fowler's signing bonus will be consistent with the deferrals of Bortles' and Joeckel's signing bonuses.
Fallout for future draft picks
Expect agents for first-round picks to insist upon better language in participation agreements in the future if Fowler's negotiations are acrimonious or his contract is affected because of his injury. Some agents could start advising their rookie clients to miss offseason activities until their actual contracts are finalized. Three 2015 top-10 picks had already signed their deals when Fowler tore his ACL since the rookie wage scale has specific salary parameters for each draft slot. With draft picks signing at a much quicker pace under the rookie wage scale, it's only a matter of time before the entire first round is signed before rookie minicamps begin.
---
Joel Corry is a former sports agent who helped found Premier Sports & Entertainment, a sports management firm that represents professional athletes and coaches. Before his tenure at Premier, Joel worked for Management Plus Enterprises, which represented Shaquille O'Neal, Hakeem Olajuwon and Ronnie Lott.
You can follow him on Twitter: @corryjoel | You can email him at jccorry@gmail.com
Pick Six Newsletter
Get the day's big stories + fun stuff you love like mock drafts, picks and power rankings.
Please check the opt-in box to acknowledge that you would like to subscribe.
Thanks for signing up!
Keep an eye on your inbox for the latest sports news.
Sorry!
There was an error processing your subscription.
Harrison, who played for the Steelers and Patriots, gave an honest evaluation of two great...

The team reportedly classified anthem protests under 'conduct detrimental to the club' in its...

The free agent receiver missed almost all of last season with a torn ACL
Perhaps the Browns are finally trying to emulate something great, like 'The Office'

The new Dolphins receiver sounds like he's enjoying the differences between New England and...

Here's how the 2018 NFL Draft played out for the Buffalo Bills