Agent's Take: Is Andy Dalton worth $15 million per year to the Bengals?
Andy Dalton wants to be paid like at top-10 QB but if the Bengals are smart they'll let him play out his rookie deal instead of making a commitment they could regret.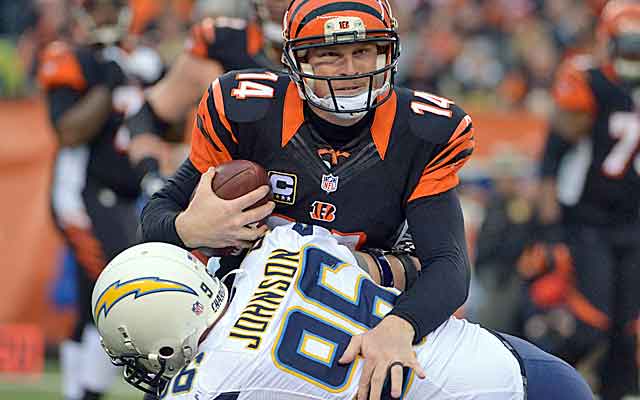 More NFL offseason: Mock Drafts | Prospect Rankings | Pro days | Top free agents
Andy Dalton confirmed in a recent Sirius XM NFL Radio interview that the Cincinnati Bengals have had discussions for a new deal with his agent. He is scheduled to make $1,086,027 in the final year of the four-year rookie contract he signed in 2011.
Although head coach Marvin Lewis is in favor of giving Dalton a new deal, the Bengals shouldn't extend Dalton's contract at this point unless they get great value. Here's why.
Dalton's performance
Dalton has led the Bengals to the playoffs in each of his three NFL seasons to join Joe Flacco, Pat Haden, Bernie Kosar and Dan Marino as the only quarterbacks in NFL history to accomplish the feat. He ranks only behind Marino and Peyton Manning in NFL history with 80 touchdown passes his first three seasons. Dalton also is third in passing yards (11,431) and fourth in victories (30) in the first three years of a career.
The 35th overall pick in the 2011 NFL Draft (third pick in the second round) set franchise records for passing yards (4,293) and touchdown passes (33) in 2013. Dalton seemed to be on the cusp of taking his game to another level when he was named AFC Player of the Month for October last season. He led the Bengals to a 4-0 record by completing 67.9 percent of his passes (89 of 131) for 1,246 yards with 11 touchdowns and three interceptions to post a 116.8 passer rating.
It was merely a hot streak. Dalton couldn't sustain his performance. For the remainder of the season, he connected on 58.6 percent of passes for 2,044 yards with 17 touchdowns and 13 interceptions. His passer rating was 79.5 the final eight games.
The table was set for the Bengals to capture their first playoff victory in 23 seasons with a wild card game at home against the San Diego Chargers, who ranked 29th in pass defense and 30th in takeaways.
The Bengals were a perfect 8-0 at home in the regular season despite season-ending injuries to All-Pro defensive tackle Geno Atkins and cornerback Leon Hall, their best player in the secondary. But a 10-7 halftime lead was squandered largely because of Dalton's three second half turnovers (two interceptions and a fumble). Dalton completed 29 of 51 passes for 334 yards in the 27-10 loss.
Unlike the other four quarterbacks who led teams to the playoffs their first three seasons, Dalton is winless in the playoffs with an 0-3 record. In three playoff games, Dalton has completed 56.9 percent of his passes (70 of 123) with one touchdown and six interceptions for a 56.2 passer rating. These are significant drops from his career marks of a 60.9 percent completion rate, 85.7 passer rating and 1.63 to 1 touchdown to interception ratio.
The QB market
There really isn't a middle tier for starting quarterbacks. Not after the New York Jets terminated the three-year, $40.75 million contract extension Mark Sanchez signed in 2012 and Matt Schaub took a pay cut from the four-year, $62 million extension he received from the Houston Texans in the same year as part of his trade to the Oakland Raiders.
There are two outdated veteran contracts for Ben Roethlisberger and Philip Rivers, signed in 2008 and 2009 and averaging right around $15 million per year, with the guarantees in the two deals averaging approximately $35 million.
The Bengals should feel comfortable paying Dalton in line with Sanchez's old contract, with a reasonable increase, because it's a two-year old deal. The salary cap has gone up almost 10.3 percent since the Sanchez deal, so compensating Dalton in the $15 million per year neighborhood on a multiyear pact seems appropriate for the Bengals.
This type of deal, regardless of the structure, shouldn't interest Dalton because of the changes in the quarterback salary landscape over the past year and Cincinnati's salary history with quarterbacks.
The Bengals made Dalton's predecessor, Carson Palmer, the NFL's highest-paid player at the end of the 2005 regular season, his third NFL season. Palmer received a six-year extension averaging $16,166,167 per year. The 2003 first overall pick hadn't made a playoff appearance when he signed the deal but led the NFL in touchdown passes (32) and completion percentage (67.8 percent) in 2005 while having a 101.1 passer rating.
Palmer was considered on a different level as a quarterback than Dalton when he signed his extension. Given that Palmer's deal is little more than eight years old, Dalton would be justified in thinking he deserves more.
Dalton can make a case that his compensation should be comparable to Jay Cutler, Tony Romo and Matthew Stafford. Cutler is the latest salary benchmark in the quarterback market with the seven-year, $126.7 million contract he received from the Chicago Bears within days after the 2013 regular season ended.
In that deal, $54 million of Cutler's contract is guaranteed and $54 million is in the first three years. Romo signed a six-year, $108 million extension with the Dallas Cowboys in 2013 which includes $55 million in guarantees. The Detroit Lions gave Stafford a three-year, $53 million extension (with $41.5 million guaranteed) last July.
Romo has outperformed Dalton since he entered the NFL in 2011 (65.3 completion percentage, 95.1 passer rating, 90 touchdowns) but the Cowboys' last playoff appearance was in 2009.
Cutler also hasn't been to the playoffs the past three seasons. He's missed 12 games during this span. When healthy, Cutler's completion percentage (59.9 percent), passer rating (85.1) and touchdown/interception ratio (1.54 to 1) are slightly less than Dalton's career marks.
Stafford hasn't been able to duplicate his 2011 breakout season (5,038 yards, 41 TD passes). The Lions have a 21-27 record the past three seasons.
Dalton has more to gain than lose by rejecting an offer that isn't in this salary range. As a solid starting quarterback, some quarterback-needy team should be willing to pay Dalton at least in the $15 million per year neighborhood if he hits the open market. That is, of course, if he doesn't regress considerably in 2014. Or that he doesn't suffer a career-threatening injury, which happened to Drew Brees in 2005 when he was franchised by the Chargers.
Suggestions
The Bengals should suspend negotiations with Dalton. With a top-five defense last year (third in scoring defense, fifth in total defense), a good group of young playmakers and Pro Football Focus' best-rated pass blocking offensive line in 2013, the Bengals need to be positive that Dalton is the quarterback who can help them become Super Bowl contenders.
Hue Jackson taking over as offensive coordinator for Jay Gruden, who became head coach of the Washington Redskins, is another reason to exercise patience with Dalton on a new deal.
Gruden's West Coast offense isn't being scrapped, though Jackson will emphasize the running game more and likely will incorporate elements of the vertical passing attack he employed as the Oakland Raiders' offensive coordinator and head coach. Jackson believes Dalton has tremendous upside, but the Bengals should let him prove he can be successful with Jackson's offensive philosophy first.
The Bengals also should seriously consider hedging their bets with Dalton, especially if one of the highly-touted quarterback prospects slips in the NFL Draft.
A majority of mock drafts have Teddy Bridgewater, Blake Bortles and Johnny Manziel as top-15 picks. CBSSports.com's Pete Prisco and Rob Rang have Bridgewater available when the Bengals select 24th in their latest mocks. The Bengals shouldn't pass on Bridgewater in the first round if he is still available when they pick, despite losing defensive end Michael Johnson and offensive tackle Anthony Collins to the Tampa Bay Buccaneers in free agency.
Bridgewater or another one of the top quarterback prospects would serve a dual purpose. He could be Dalton's replacement in 2015 if the Bengals are ready to move on from him. The Bengals would be able to continue stockpiling talent with another low-cost starter in place. The overall value of 24th pick's four-year rookie contract would be close to $8.5 million. A draftee also would be cheaper than investing in a high-caliber backup quarterback with Dalton signed long-term. The going rate for top backup quarterbacks is more than $3 million per year.
It likely will be more costly for the Bengals to sign Dalton to a long-term deal by making him play out his contract. However, it should be worth the wait if Dalton produces a playoff victory in 2014 or consistently performs at the level he did when earning Player of the Month honors. Delaying negotiations could bring the franchise tag into play, which will be more than $18 million with a similar cap increase as this year.
The San Francisco 49ers would like to sign Colin Kaepernick to a long-term deal before training camp starts. It's conceivable that his extension will average over $20 million per year while containing in excess of $50 million in guarantees. Cam Newton also could receive a new deal before the end of the 2014 season, which could also drive up the market for above average starting quarterbacks.
---
Joel Corry is a former sports agent who helped found Premier Sports & Entertainment, a sports management firm that represents professional athletes and coaches. Prior to his tenure at Premier, Joel worked for Management Plus Enterprises, which represented Shaquille O'Neal, Hakeem Olajuwon and Ronnie Lott.
You can follow him on Twitter: @corryjoel
You can email him at jccorry@gmail.com 
Pick Six Newsletter
Get the day's big stories + fun stuff you love like mock drafts, picks and power rankings.
Please check the opt-in box to acknowledge that you would like to subscribe.
Thanks for signing up!
Keep an eye on your inbox for the latest sports news.
Sorry!
There was an error processing your subscription.
The Titans signed Lewis to be a capable shifty compliment to the bigger Henry

Professional thrower of balls Russell Wilson threw a wild first pitch at Safeco Field

Peterman is in a battle with AJ McCarron and Josh Allen for the Bills' starting job
Manziel's regular-season CFL debut will have to wait a least another week

Luck is still rehabbing from 2017 shoulder surgery

Beckham wants a new contract but it doesn't look like he'll be holding out to get it