NFL player contracts are primarily year-to-year propositions because they aren't fully guaranteed like NBA and MLB contracts. Players are released in each off-season due to the salary cap or because their performances don't justify their salaries. Here's a look at twelve guys with 2014 contracts that could be playing for new teams next year.
Julius Peppers has been missing in action during too many games this year. The eight-time Pro Bowler only has one sack in seven games and three different contests where he didn't record a single statistic. He appears to have hit the wall in his 12th NFL season. Peppers has averaged slightly over 10 sacks per year since joining the Bears in 2010 when he signed a six-year, $84 million contract (worth a maximum of $91.5 million through incentives). The 33-year old has a $14 million salary in 2014 and his cap number is over $18 million. The Bears will gain $9.82 million of cap room by releasing Peppers after the season.
Chris Johnson's prediction of a second season with more than 2,000 rushing yards isn't coming to fruition. He is on track for his first NFL season with less than 1,000 rushing yards and is averaging a career low 3.2 yards per rushing attempt despite the additions of Andy Levitre and Chance Warmack to the offensive line. In 2009, Johnson broke Marshall Faulk's yards-from-scrimmage record with 2,509 yards while also gaining over 2,000 yards on the ground. He hasn't been the same player since that season. Johnson signed a four-year, $53.975 million contract extension in 2011 after a lengthy pre-season holdout. He has the NFL's second highest 2014 cap number for a running back at $10 million. If Johnson can't overcome a slow start, like he has in previous years, the Titans may be more comfortable having him count on the cap as $4 million in dead money (a cap charge for a player no longer on the roster) than paying him $8 million in 2014.
Geno Smith won the quarterback competition with Mark Sanchez by default when Sanchez suffered a season-ending injury to his right shoulder during the preseason. His days in New York appear to be numbered even though Smith is experiencing some growing pains in his rookie campaign. Sanchez is scheduled to make $11.5 million in 2014 with a $13.1 million cap number. Two million of Sanchez's 2014 salary is a 15th day of the league year (March 25) roster bonus. The Jets will gain $8.3 million of 2014 cap room by releasing Sanchez before the roster bonus is payable.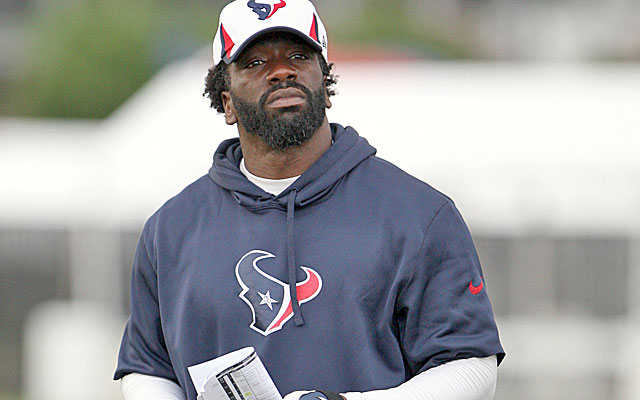 The 35-year-old future Hall of Famer hasn't been the playmaker the Texans thought they were getting when he signed a three-year, $15 million deal in the offseason. Ed Reed, who missed Houston's first two games recovering from May hip surgery, was supposed to be one of the last pieces to a championship puzzle. It's telling that the Baltimore Ravens weren't willing to make the same financial commitment to Reed as the Texans. In hindsight, the Texans would have been better off re-signing Glover Quin, and having D.J. Swearinger, this year's second-round pick, waiting in the wings. The Texans will save close to $2.7 million on the cap by cutting Reed, who has a $5.33 million cap number in 2014.
Austin has battled nagging injuries since capitalizing on a stellar 2009 campaign (83 catches for 1,320 yards and 11 touchdowns) by signing a seven-year, $57.268 million contract in 2010. The Cowboys' passing game hasn't missed a beat while Austin has been slowed with a hamstring injury thanks to rookie Terrance Williams and Cole Beasley stepping up at wide receiver. Dallas can't afford Austin's $8.25 million cap number next year with their perpetual cap problems. They are projected to be in neighborhood of $30 million over the 2014 salary cap. Releasing Austin will only give Dallas slightly less than $400,000 of cap relief unless they wait until after June 1 or use one of the two post-June 1 designations NFL teams are allowed each year to release players before June 2 with favorable cap treatment. June 1 is significant because the acceleration of bonus proration in future contract years is delayed until the following season for players released after this date. With a post-June 1 designation, the Cowboys would be required to carry Austin's full cap number until June 2 even though he wasn't a part of the roster. The Cowboys would pick up $5.5 million of cap room at that time when Austin's 2014 salary came off the books. The Cowboys would have a $5.11 million charge cap or dead money for Austin in 2015.
Schaub was having a rough season before an ankle injury kept him out of Week 7's contest with the Kansas City Chiefs. He has set a dubious NFL record this season by throwing a pick-six in four consecutive games. Schaub, a 2012 Pro Bowl selection, is no longer Houston's starting quarterback because of Case Keenum's promising outing in his absence against the Chiefs. The Texans will gain $4 million of cap space in 2014 by terminating the four-year, $62 million contract extension Schaub signed at the start of the 2012 regular season. Schaub's 2014 cap number is $14.5 million but would count $10.5 million in dead money if released. Alternatively, $11 million of 2014 cap room could be created by giving Schaub a post-June 1 designation or waiting until after June 1 to let him go. The Texans would have a $3.5 million cap charge for Schaub next year under these scenarios. There would also be a $7 million cap charge in 2015 relating to Schaub with post-June 1 treatment. This route seems unlikely because Houston's cap situation would make it difficult to carry Schaub's $14.5 million cap number until after June 1.
Finnegan has been a liability in pass coverage. According to Pro Football Focus, quarterbacks had a perfect 158.3 passing rating and were completing 84.2 percent of passes (16 completions in 19 attempts) against Finnegan until he injured his hamstring in the Rams' fourth game of the season. Now that Finnegan has returned to action, he has eight games to prove the Rams didn't make a mistake in signing him to a five-year, $50 million contract in free agency last year. Three million of Finnegan's $9 million 2014 salary is in a guaranteed third-day-of-the-league-year (March 13) roster bonus. The Rams will still pick up $4 million in cap room by releasing him despite the roster-bonus guarantee. Since Finnegan's guarantee has an offset, the Rams would recoup money and gain additional cap room if he played for another team in 2014.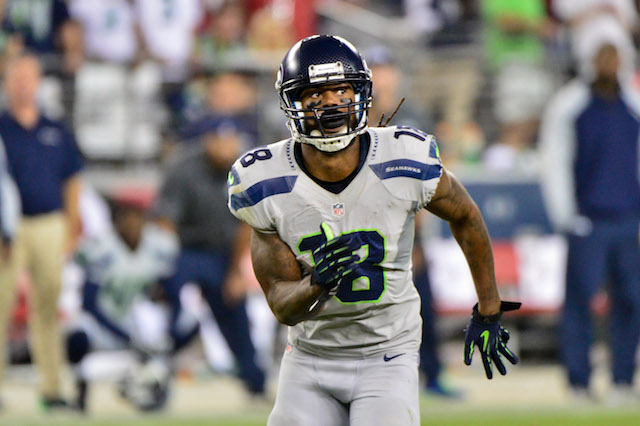 Rice hasn't lived up to expectations since signing a five-year, $41 million contract in 2011 to join the Seahawks. He hasn't come close to duplicating the 2009 Pro Bowl season he had with the Minnesota Vikings (83 receptions 1,312 receiving yards and eight touchdowns). Rice only had 15 catches for 231 receiving yards and three touchdowns before a season-ending ACL tear in Seattle's eighth game of the season. With $8.5 million and $9 million salaries in the last two years of his contract, Rice may have played his last game for the Seahawks.
Cleveland's new regime is convinced that Weeden isn't the answer at quarterback. Weeden has lost his starting job twice this season. It's unlikely that Weeden will see any significant action for the remainder of the season unless Jason Campbell is injured. The 22nd overall pick in the 2012 NFL Draft has fully guaranteed base salaries of $1.12 million and $1.49 million in 2014 and 2015, the last two years of his four-year rookie contract. Expect the Browns to try to trade Weeden in the offseason. The Browns could cut their losses with Weeden despite his affordability if there aren't any takers. Weeden's 2014 cap charge for the Browns would increase from his $2.2 million cap number to $4.78 million primarily because guaranteed base salary accelerates into the current year's salary cap when a player gets released. The increased cap costs wouldn't be an issue for Cleveland since they could have in excess of $40 million of cap room next year.
Holmes took a paycut from $11.25 million to $7.75 million after missing most of the 2012 season with a Lisfranc injury to his left foot. He has missed the last four games with a hamstring injury and there isn't a set timetable for his return. Holmes has only had two 100 receiving yard games, including a career-best 154 yards against the Buffalo Bills this year, since signing a five-year, $45 million contract in 2011. He may not be given another chance to renegotiate his deal before his $1 million roster bonus is payable on the third day of the 2014 league year (March 13). If not, $8.25 million of cap room will be created by parting ways with Holmes.
Lewis missed almost all of Jacksonville's first six games because of a left calf strain. He only has two catches for 37 yards this season. The rebuilding Jaguars probably do not have much use for an underperforming tight end with an $8.25 million 2014 cap number. Lewis would free up $5.45 million of cap space for the Jaguars if they released him.
Wimbley's role has diminished under new defensive coordinator Gregg Williams. His playtime has gone from 80 percent in 2012 to 28 percent in the Titans' seven games this year as he lost his starting job to Ropati Pitoitua. It is unlikely Wimbley will see the third year of the five-year, $35 million contract he signed last year because a $7.8 million 2014 cap number is too much for a situational defensive end.
---
Joel Corry is a former sports agent who helped found Premier Sports & Entertainment, a sports management firm that represents professional athletes and coaches. Prior to his tenure at Premier, Joel worked for Management Plus Enterprises, which represented Shaquille O'Neal, Hakeem Olajuwon and Ronnie Lott.
You can follow him on Twitter: @corryjoel
You can email him at jccorry@gmail.com