Agent's Take: Six teams with emerging stars at crowded positions
Having depth is a great problem. But when it comes time to pay overachievers, what's a team to do? Former agent Joel Corry looks at six teams who will face that problem at season's end.
The salary cap prevents NFL teams from retaining all of their good players. It forces teams to make choices about to how allocate financial resources. A significant financial investment in one position can make it difficult to address needs in other areas. A bad decision with long-term contracts at a position can have disastrous effects on a team. For example, the Carolina Panthers paying DeAngelo Williams and Jonathan Stewart as workhorse running backs when they were splitting carries has contributed to their downward spiral. Here are a few interesting positional contract dilemmas worth watching.
Seattle Seahawks

: Secondary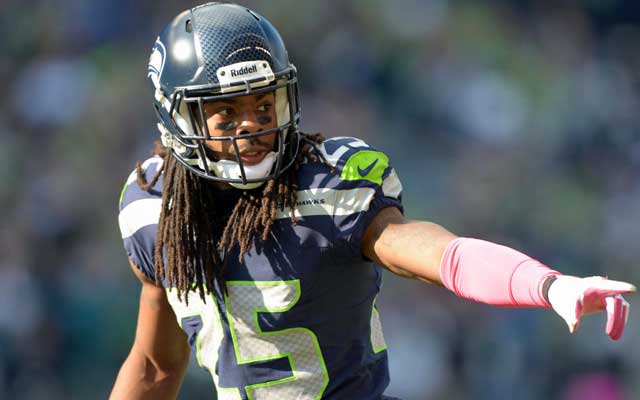 The Seahawks have arguably the NFL's best defensive backfield. They are one of the only teams with cornerbacks who can physically match up with the NFL's bigger wide receivers ( Calvin Johnson , Brandon Marshall , etc.). The secondary will likely have a different composition in 2014. Starting cornerback Brandon Browner (6-feet-4, 221 pounds) and nickel cornerback Walter Thurmond will be unrestricted free agents after the season.
It will be a surprise if either player signs a big-money deal with the Seahawks because Richard Sherman (6-3, 195 pounds), the NFL's best cornerback, will be eligible for a contract extension after the season as 2014 is Sherman's contract year. The NFC's Defensive Player of the Month for September may want to eclipse Darrelle Revis  $16 million-per-year deal with the Tampa Bay Buccaneers, which makes him one of the NFL's highest-paid non-quarterbacks. Revis' average yearly salary is 48.8 percent greater than the $10.75 million average yearly salary of Champ Bailey , who is the NFL's second-highest paid cornerback.
Speaking of 2014, it's also a contract year for All-Pro free safety Earl Thomas . Dashon Goldson  five-year, $41.25 million contract (includes $22 million guaranteed) with Tampa Bay could be a salary barometer for Thomas. The four-year, $28 million extension (with $17 million in guarantees) Pro Bowl strong safety Kam Chancellor signed in April complicates matters because NFL teams usually do not have two high-priced safeties. Seattle's best chance at keeping all three players long term is convincing Sherman and Thomas to take some sort of hometown discount, particularly considering quarterback Russell Wilson will command a large deal when his contract can be renegotiated in 2015.
Denver Broncos

: Wide receiver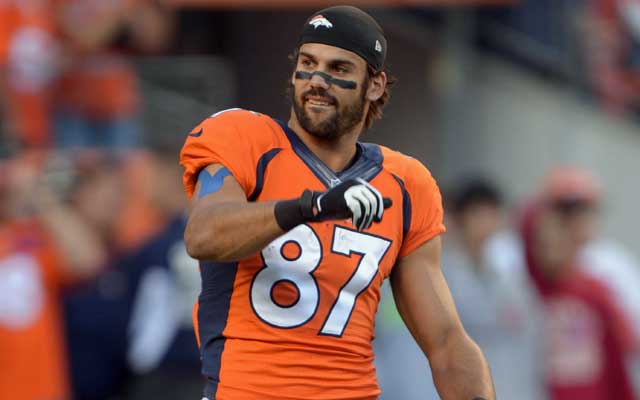 Draft picks Demaryius Thomas (2010, first round) and Eric Decker ('10, third round), blossomed in Peyton Manning  first year as Denver's quarterback. They were the NFL's only wide-receiver tandem in 2012 where both players had over 80 catches and 1,000 receiving yards. Thomas caught 94 passes (eighth in the NFL) for 1,434 receiving yards (fifth) and 10 touchdowns (seventh) in 2012. Decker had 85 receptions, 1,064 receiving yards and 13 touchdowns (second).
It was expected that they would have a difficult time duplicating their 2012 numbers with the addition of Wes Welker , who signed a two-year, $12 million deal in the offseason, and the emergence of Julius Thomas at tight end. Demaryius Thomas is on pace to set career highs in receptions and touchdowns while Decker is on track for career bests in receptions and receiving yards.
Denver must decide whether it wants to invest heavily in two wide receivers since Decker will be an unrestricted free agent the season and Thomas in 2014. The Seahawks are the only NFL team that has two wide receivers, Percy Harvin and Sidney Rice , with deals averaging over $8 million per year. Although Decker has established himself as a legitimate No. 1 receiving threat, Thomas has become one of the NFL's best young wide receivers. His next contract should exceed the five-year, $60 million contract (with $30 million in guarantees) Mike Wallace received from the Miami Dolphins as a free agent. Franchising Decker at over $10.5 million in 2014 could be a possibility since the Broncos run the risk of another team paying him like a No. 1 WR in free agency. Thomas' contract leverage will increase significantly if Decker leaves.
Detroit Lions

: Defensive tackle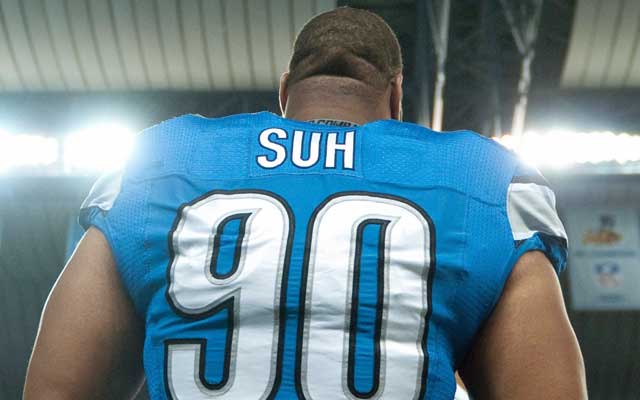 Ndamukong Suh and Nick Fairley were hailed as the NFL's best defensive tackle tandem during the offseason. Suh has been mentioned as an early season candidate for Defensive Player of the Year but Fairley hasn't held up his end of the bargain.
Resolving Suh's contract situation will be a priority for the Lions in 2014. It's the final year of the five-year, $60 million contract (with $40 million guaranteed and worth a maximum of $68 million) he signed as the second overall pick in the 2010 NFL Draft that made him the NFL's highest-paid defensive tackle. Thanks to contract restructures in the past two years, Suh has the NFL's second-highest 2014 salary cap number at $21,412,500. It will be difficult for the Lions to carry such a large cap number for Suh. The Lions have $125.2 million in 2014 cap obligations with only 38 players under contract while the top 51 cap numbers count toward the cap during the offseason. Suh's astronomical cap number also makes it virtually impossible for the Lions to designate him as their franchise player in 2015. His franchise tag number will be $25.67 million since it's based off a 20 percent increase of his 2014 cap number.
The situation will give Suh tremendous leverage in contract negotiations with the Lions. It's unlikely that Suh will be receptive to taking a paycut on his second contract after being named Defensive Rookie of the Year in 2010 and becoming a Pro Bowl fixture in his brief NFL career. Geno Atkins  five-year, $53.327 million extension with the Cincinnati Bengals is the most recent DT salary benchmark. If negotiations with Suh become difficult, the Lions could explore trading him and focus their attention on Fairley, the 13th overall pick in the 2011 draft, since it's probably an either-or proposition for the defensive tackles with a second contract in Detroit. His four-year, $9.889 million rookie contract is set to expire after the 2014 season but the Lions have an option for a fifth year that must be exercised by May 3. Fairley's 2015 fifth-year salary would be the average of the third through 25th highest-paid defensive tackles in 2013.
Carolina Panthers

: Defensive end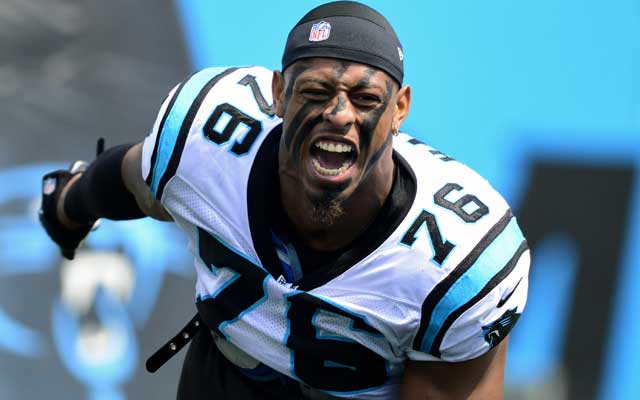 Greg Hardy  agent approached the Panthers about a contract extension in March but cleaning up the salary cap was more of a priority. Hardy is proving his 2012 breakout season in which he had 11 sacks wasn't a fluke. He was named NFC Defensive Player of the Week for Week 3 after three sacks against the New York Giants. According to Greg Bedard of MMQB.com, Hardy ranked ninth among edge rushers through the first five weeks of the season in pressuring opposing quarterbacks. He had an 11 percent pressure rate on passing plays. Charles Johnson , his Carolina defensive end counterpart, ranked seventh with an 11.2 percent pressure rate.
Hardy recently rejected a four-year, $32 million extension. If he continues to perform at the same level or better than Johnson this season, he could price himself out of Carolina by looking for a contract similar to the six-year, $76 million deal (including $32 million in guarantees) Johnson received in 2011 to re-sign with the Panthers. Placing a franchise tag on Hardy in 2014, which will cost over $11 million, could be an option.
Green Bay Packers

: Receiving corps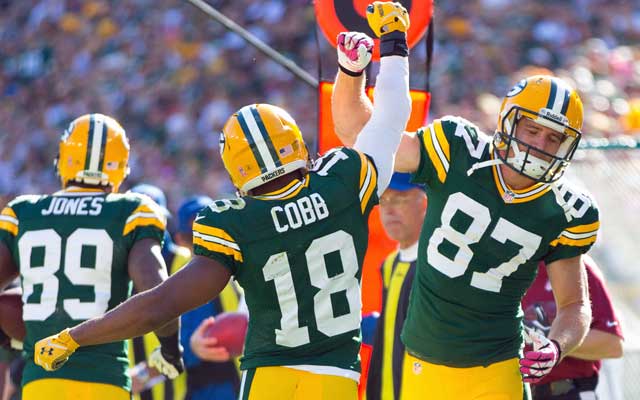 Green Bay's passing game hasn't missed a beat with Greg Jennings  departure for the Minnesota Vikings in free agency and Donald Driver retiring. James Jones  prediction of three 1,000-yard wide receivers seemed like a safe bet before Randall Cobb fractured his right fibula against the Baltimore Ravens. Cobb, Jones and Jordy Nelson were each on track to crack 1,300 receiving yards through Green Bay's first four games. Jones also suffered a minor knee injury against the Ravens. He could be slowed for a couple of weeks but should top the career highs of 64 receptions and 784 receiving yards he set last year.
The long-term future of the receiving unit should be settled during the offseason since the Packers have a history of retaining their best players, usually through extensions, instead of being major players in free agency. Jones is in the final year of a three-year, $9.6 million contract he signed in 2011 to return to the Packers after finding the free-agent market disappointing. His free-agency experience could make him receptive to a team-friendly contract.
Tight end Jermichael Finley  two-year, $14 million deal will expire after the season. Finley was a potential salary-cap casualty during the offseason because of dropped-pass issues and struggling to get on the same page with quarterback Aaron Rodgers in 2012. He has developed better rapport with Rodgers this year.
Cobb, a 2011 second-round pick, and Nelson will be in their contract years in 2014. Rodgers has said slot wide receiver Cobb could have 100-catch seasons in Green Bay's offense. Cobb compares favorably with Percy Harvin, who signed a six-year, $67 million contract ($25.5 million in guarantees) with the Seahawks after an offseason trade with Minnesota. They are both all-purpose threats who can impact a game in different capacities. Harvin's deal could be an important data point for Cobb.
Nelson was a victim of bad contract timing. He signed a three-year contract extension averaging $4.2 million per year early in his 2011 breakout season. After catching 68 passes for 1,263 yards and 15 touchdowns in 2011, Nelson probably could have commanded a deal similar to Pierre Garcon  five-year, $42.5 million deal ($20.5 million in guarantees) with the Washington Redskins if he had played out his contract. Nelson's top priority with his next contract may be maximizing its value since the Packers are getting a tremendous bargain on his current deal.
The salary cap won't be an issue with the Packers in 2014. They have $106.5 million of cap obligations next year with 45 players under contract and can carry over $10.7 million of unused 2013 cap room to 2014. Although the Packers could have close to $30 million of cap room in 2014, keeping the receiving unit intact will be a difficult task.
San Francisco 49ers

: Offensive Line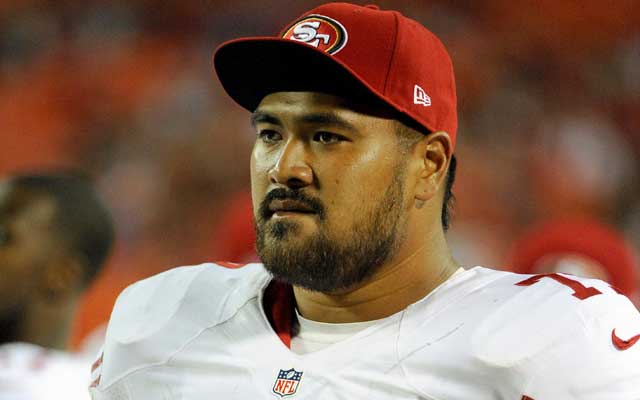 The 49ers have been the NFL's most proactive team in signing core players to contract extensions well in advance of the expiration of rookie contracts. Right tackle Anthony Davis signed a five-year extension averaging slightly more than $6.5 million per year during the offseason. Right guard Alex Boone signed a four-year extension as a reserve offensive lineman late in the 2011 season averaging $1.635 million per year (with an additional $2.1 million in escalators) that keeps him under contract through the 2015 season. Left tackle Joe Staley signed a six-year, $40.7 million contract extension (with an additional $3 million in Pro Bowl base salary escalators) in 2009 before the third year of his five-year rookie contract.
The 49ers may be a victim of their contract philosophy with All-Pro left guard Mike Iupati . His five-year rookie contract expires after the 2014 season. Typically, left tackle is the highest-paid position on a team's offensive line. Staley has become a top-flight left tackle but his deal hasn't kept pace with the marketplace despite the escalators. Andy Levitre signed a six-year, $46.8 million contract ($16 million guaranteed) with the Tennessee Titans during free agency to become the NFL's fourth highest-paid offensive guard (by average yearly salary). His deal should be the salary floor for Iupati. Retaining Iupati will be a challenge if the 49ers attempt to stick with the traditional offensive line salary hierarchy.
---
Joel Corry is a former sports agent who helped found Premier Sports & Entertainment, a sports management firm that represents professional athletes and coaches. Prior to his tenure at Premier, Joel worked for Management Plus Enterprises, which represented Shaquille O'Neal, Hakeem Olajuwon and Ronnie Lott.
You can follow him on Twitter: @corryjoel
You can email him at jccorry@gmail.com
Follow along for Falcons-Steelers and Saints-Chargers, plus other updates from Sunday

Boldin, 36, who ranks ninth all-time in career receptions, is calling it quits after 14 se...

Reed's toe is healed but can the oft-injured tight end stay healthy?
The Cardinals rookie safety might have a career in break dancing when he's done with the N...

All signs point to Lynch, the former first-round pick, not beating out Siemian in Denver

The NFLPA executive director comes out out firing in a 'Real Sports' segment