Agent's Take: Suspension likely to impact Miller's next contract
Von Miller stands to lose millions for violating the NFL's substance abuse policy. Unless the Pro Bowl linebacker earns the Broncos' trust down the line, the repercussions of the six-game suspension will likely impact the next contract of the 2012 defensive MVP runner-up.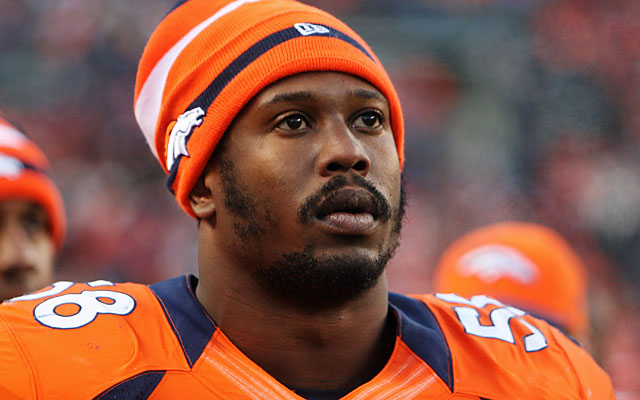 Denver Broncos linebacker Von Miller's six-game suspension for violating the NFL's substance abuse policy reportedly because of a diluted urine sample has actual and hidden costs.
Miller stands to lose more than $2.02 million in base salary and signing bonus. He is scheduled to make nearly $2.3 million in base salary this year. Missing six weeks of the 17-week season will cost Miller more than $800,000.
Miller received a $13.77 million signing bonus as part of the fully guaranteed four-year, $21 million contract he signed in 2011. Miller's signing bonus counts $3.4 million on the salary cap during each year of the deal. The Broncos can recoup the same proportion of the prorated amount of his signing bonus as he's losing in base salary. This amounts to $1.2 million. The guarantees in Miller's 2013 and 2014 base salaries also void with the suspension. Miller's 2014 base salary is more than $3.2 million.
The lasting effect of Miller's suspension is the impact it could have on his next contract. Miller, the second overall pick in the 2011 NFL draft, will be eligible to sign a contract extension after the season because three NFL seasons will have elapsed since he signed his rookie contract. NFL teams usually have serious reservations about making significant long-term financial commitments, especially at the level that would be required for Miller, with players that are character risks.
The Broncos will probably take a wait-and-see approach where Miller's off-the-field issues could delay his new contract by at least one year. Teams have an option for a fifth year with first-round picks that must be exercised after the third year of the deal (May 3 deadline). The fifth year is guaranteed for injury when the option is exercised. It becomes fully guaranteed if the player is on the team's roster at the start of the fifth league year. The Broncos will exercise their option with Miller unless he has more off-the-field transgressions. The fifth-year salary for top-10 picks is the transition tender (average of the 10 highest salaries) for a player's position in the fourth year of his contract. Miller's salary for 2015 will be the 2014 linebacker transition tender, which is $8.36 million this year, absent a new deal.
Miller's market value might not be affected, but the Broncos will likely insist that any new deal has an extremely team-friendly structure. It was a safe assumption that Miller's next contract would surpass Clay Matthews' deal prior to his troubles. Matthews signed a five-year, $66 million contract extension in April that made him the NFL's highest-paid linebacker. Miller's 30 sacks in his first two NFL seasons are a half-sack more than Matthews had in his first three seasons.
Miller could have exceeded $40 million in guaranteed money that consisted of a big signing bonus or a first-year roster bonus and fully guaranteed base salaries in the first two or three years of the deal without offsets under normal circumstances. The 2014 and 2015 salary guarantees in the five-year, $52.5 million contract (with an additional $5 million in base salary escalators) Ryan Clady recently signed do not contain offsets. The 2011 Defensive Rookie of the Year could still get a smaller signing bonus or first-year roster bonus but with conditional guarantees that vest by a certain date in the specific contract year (ie 2015 salary becomes fully guaranteed on June 15, 2015). Elvis Dumervil's 2013 contract year was structured in this manner. His $12 million base salary was guaranteed for injury but was scheduled to become fully guaranteed on the fifth day of the league year (March 16).
The conditional guarantees would be designed to encourage good behavior by Miller and give the Broncos flexibility if his performance declined after signing the deal. He also shouldn't be surprised if the Broncos want to backload his deal where more money is in later years when there isn't some sort of guarantee.
Miller's suspension should serve as a big wake-up call for him. It may take some time, but if Miller can regain the Broncos' trust where they are comfortable he has learned from his mistakes, he may be able to mitigate the potential problems he has created for his next contract.
---
Joel Corry is a former sports agent who helped found Premier Sports & Entertainment, a sports management firm that represents professional athletes and coaches. Prior to his tenure at Premier, Joel worked for Management Plus Enterprises, which represented Shaquille O'Neal, Hakeem Olajuwon and Ronnie Lott.
You can follow him on twitter: @corryjoel
You can email him at jccorry@gmail.com 
The Lions cruised to a victory but will need to win out to have any chance of reaching the...

Here's every official injury designation for each NFL team for Week 15

This might go down as the best catch of Week 15
Our computer model simulated every Week 15 NFL game 10,000 times with very surprising resu...

Ryan Shazier and the Steelers were the big winners in Pro Bowl voting that was unveiled on...

We've likely seen the last of Reggie Bush in the NFL