Agent's Take: Ten players who could get slapped with a franchise tag
Before you know it, free agency will be here, which is why former NFL agent Joel Corry examined the state of the franchise tag, and 10 players who may get hit with it.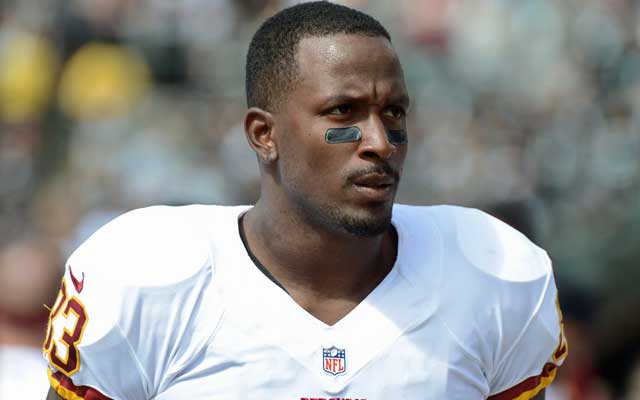 The Washington Redskins used their franchise tag on tight end Fred Davis in 2012 after he caught 59 passes for 796 yards and three touchdowns in 12 games during a 2011 campaign that was cut short by a four-game suspension for violating the NFL's substance abuse policy. Unable to work out a long-term deal, Davis accepted his $5.446 million franchise tender. He was considered one of the NFL's better pass-catching tight ends when he tore his left Achilles tendon in the seventh game of the 2012 season. Since Davis had limited interest in free agency because of the injury, he returned to the Redskins this season on a one-year, $3 million deal (with an additional $750,000 in incentives).
Davis is having a disappointing 2013 season. After dropping behind rookie Jordan Reed and Logan Paulsen on the depth chart, the Redskins shopped Davis before the October 29 trading deadline but couldn't find any takers. Davis has been inactive for the last five games and is expected to remain so for the rest of the season unless the Redskins have an injury at tight end. It will not be a surprise if Davis has less interest as a free agent in 2014 than he had this year when he was recovering from the Achilles injury.
Davis' situation is a prime example of why players dislike the franchise tag. It hinders their ability to gain long-term security. The franchise tag is essentially a high-salaried one-year "prove it" deal where players incur the risk of serious injury and poor performance again after already playing out their contracts. Here's a look at the state of the franchise tag and some of the players who could be franchised in 2014.
Types of franchise tags
NFL teams can retain the rights to one of its impending free agents with the use of a non-exclusive or an exclusive franchise tag during a two week window beginning on February 17.
With the non-exclusive franchise tag, a player must be offered a one-year contract based on the average of the non-exclusive franchise numbers at his position over the last five years and their percentage of the current year's salary cap or 120 percent of his prior year's salary (usually salary cap number), whichever is greater. This tag allows the player to negotiate with other NFL teams but if he signs an offer sheet with another club, his team has five days to match the offer. If the offer is not matched, his team will receive two first-round picks as compensation from the signing team.
Under the exclusive franchise tag, a player will receive a one-year offer from his team that is the greater of the average of the top five salaries at his position once the restricted free-agent signing period has ended (May 2) or 120 percent of his prior year's salary. A player cannot negotiate with other teams with the exclusive franchise tag.
Teams usually opt for the non-exclusive tag. However, quarterbacks are more likely to get the exclusive franchise tag than any other position.
Franchise tags changes
The 2011 Collective Bargaining Agreement changed how non-exclusive franchise tags are determined. Previously, these franchise-tag numbers were the average of the five largest salaries in the prior year at a player's position instead of being based on a five-year period. There was a substantial annual increase in franchise tags before the change in methodology. The numbers increased by 14.4 percent from 2009 to 2010 and by 17.1 percent from 2010 to 2011.
A record 21 players were franchised in 2012, including six kickers and punters, in the first year of the new methodology when there was almost a 20 percent drop in the franchise tags from 2011. Teams were more judicious with franchise tags this year. Just eight teams used the designation and only one of the eight designated players signed a multi-year deal. The franchise tag was originally intended for marquee players as a precursor to a long-term contract but has become a tool that restricts a team's best free agent in a given year from entering the open market.
2014 franchise tag projections
The chart below contains an early look at the 2014 franchise tags. They are preliminary because the numbers can't be finalized until the 2014 salary cap is set in late February or early March. Based on my conversations with a few NFL front-office executives, the cap is expected to be somewhere between $125 million and $128 million in 2014. I used $126.5 million, the midpoint of these figures, in my calculations. For comparison purposes, I have included the current franchise tenders and what they would have been in 2014 under the old method of calculation in the chart. 
2014 franchise tag projections
 
 
2014
2014
2013 vs. 2014
Projected vs. Old
Position
Current
Projected
Old Method
% Change
% Difference
Cornerback
$10,854,000
$11,256,000
$12,417,000
3.7%
10.3%
Defensive End
$11,175,000
$12,475,000
$12,756,000
11.6%
2.3%
Defensive Tackle
$8,450,000
$9,182,000
$10,267,000
8.7%
11.8%
Linebacker
$9,619,000
$10,895,000
$12,877,000
13.3%
18.2%
Offensive Line
$9,828,000
$11,126,000
$10,974,000
13.2%
-1.4%
Punter/Kicker
$2,977,000
$3,383,000
$3,902,000
13.6%
15.3%
Quarterback
$14,896,000
$16,086,000
$17,324,000
8.0%
7.7%
Running Back
$8,219,000
$9,074,000
$10,011,000
10.4%
10.3%
Safety
$6,916,000
$8,021,000
$9,380,000
16.0%
16.9%
Tight End
$6,066,000
$6,709,000
$8,216,000
10.6%
22.5%
Wide Receiver
$10,537,000
$11,539,000
$9,731,000
9.5%
-15.7%
Note: Projections assume 2014 salary cap is $126.5 million.
The franchise numbers would be 7.3 percent higher collectively under the old formula. Wide receiver and offensive lineman are the only two positions better off with the new method of calculation. The across-the-board increase in franchise tags is projected to be 10.3 percent, which is up from a 6.9 percent increase this year. The higher growth in the numbers means use of franchise tags will probably be more in line with this year than 2012.
2014 franchise tag candidates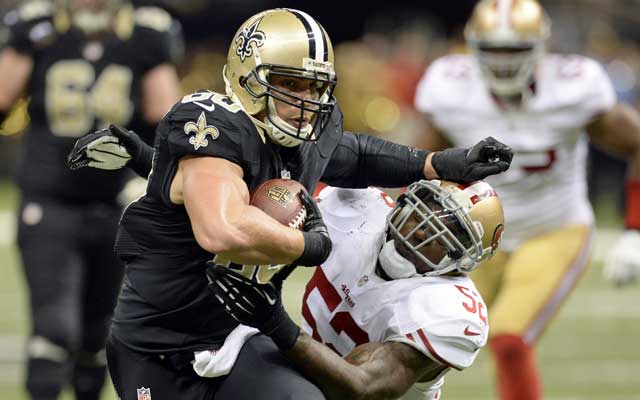 The Saints' use of Graham like a wide receiver complicates negotiations for a new deal because top wide receivers make significantly more money than top tight ends. Expect Graham to file a grievance to be classified as wide receiver if franchised since franchise tags are determined by the position where the player participated in the most plays during the prior season. Graham would gain tremendous leverage in negotiations by winning an arbitration hearing on his franchise-tag position because there will be close to a $5 million difference between the wide receiver and tight end franchise numbers in 2014.
Chicago's wait-and-see approach with Cutler hasn't provided clarity on making a long-term commitment to him because he's missed games with groin and ankle injuries. The surprising play of backup quarterback Josh McCown in Cutler's absence is a new variable in the equation. The decision on Cutler can be delayed for another year with a franchise tag. If the Bears choose this route, taking Cutler completely off the market with an exclusive franchise tag may not be necessary provided that the highly rated underclassmen quarterbacks declare for the 2014 NFL Draft as expected. Their availability could impact interest in Cutler from other NFL teams. The exclusive franchise tag is preliminarily projected to be $19.266 million in 2014, which is over $3 million more than the expected non-exclusive tag. It could decrease if quarterbacks (Eli Manning, Ben Roethlisberger, Tony Romo, etc.) with the highest 2014 cap numbers restructure their 2014 contracts to create cap room for their clubs before the end of the franchise-player-designation period (March 3), which is the cut off date for restructured contracts to be included in exclusive franchise tag calculations.
Byrd's relationship with the Bills became acrimonious when the team refused to sign him to a multi-year contract in line with the top of the safety market ($8.25 million per year/$22 million guaranteed) after designating him as a franchise player. He missed a majority of the preseason in a contract dispute before signing his $6.916 million franchise tender. There has been some speculation that Byrd may have played through the plantar fasciitis in his feet which kept him out of Buffalo's first five games if he had been given a long-term deal. Buffalo could franchise Byrd for a second time at $8,299,200, 120 percent of his current franchise tender, with the intention of trading him. The New England Patriots used this tactic with Matt Cassel in 2009 when he was dealt to the Kansas City Chiefs as a franchise player.
Denver's limited championship window of opportunity with Peyton Manning could dictate what happens with Decker. The Broncos must decide whether they want to invest heavily in two wide receivers. Decker has produced like a number one wideout but teammate Demaryius Thomas is one of the NFL's best young wide receivers. Since the start of the 2012 season, Decker ranks 14th in the NFL with 139 receptions, 11th in receiving yards (1,856 yards) and is tied for sixth in receiving touchdowns (16). Thomas, who is under contract through the 2014 season, should become one of the NFL's highest-paid receivers on his next deal. The Broncos run the risk of another team paying Decker like a primary wide receiver if he becomes a free agent.
New England Patriots (Aqib Talib-CB)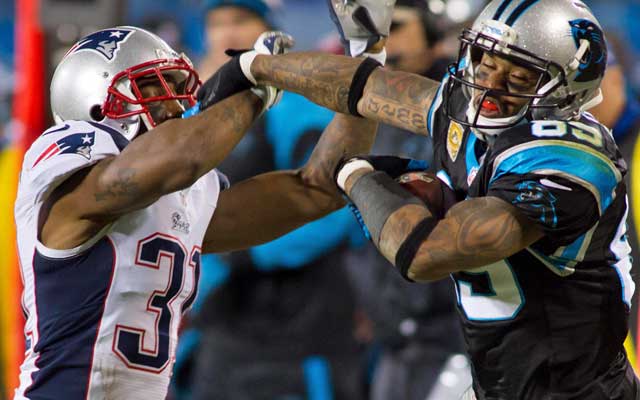 The 2008 first-round pick emerged as a shutdown cornerback in his second season with New England before a hip injury in Week 6's contest against the New Orleans Saints sidelined him for three games. Talib returned to the Patriots, who acquired him from the Tampa Bay Buccaneers at the 2012 trading deadline, on a one-year, $5 million contract (with additional $500,000 in incentives) because his numerous off-the field incidents made teams wary of giving him a long-term deal. Although Talib has been a model citizen since the trade, the Aaron Hernandez ordeal brings the franchise tag into the picture because the Patriots would open themselves up to criticism for making another big financial commitment to a character risk.
Hardy is a key component of one of the NFL's best defenses. The Panthers are ranked first in scoring defense and third in total defense. After a 2012 breakout year with 11 sacks, Hardy is having a comparable 2013 season. He recently rejected a four-year, $32 million extension. Hardy could have his sights set on a contract similar to the six-year, $76 million deal (including $32 million in guarantees) Charles Johnson, his Carolina defensive end counterpart, received in 2011 to re-sign with the Panthers. It is expected that the Panthers will make another attempt at signing Hardy to a long-term deal before the March 3 franchise-tag deadline.
Hatcher is having a career year in his switch from 3-4 defensive end to 4-3 defensive tackle. He is leading NFL interior defensive lineman (along with Jurrell Casey) with seven sacks. Conventional wisdom suggests that the Cowboys will let Hatcher enter free agency where his age could be a factor since they are projected to be in the neighborhood of $30 million over the 2014 salary cap. Hatcher will be 32 years old in 2014. Dallas was in a similar position last year with the cap but still made defensive end Anthony Spencer a franchise player for a second straight year at $10,627,200, which is more than it would cost to franchise Hatcher.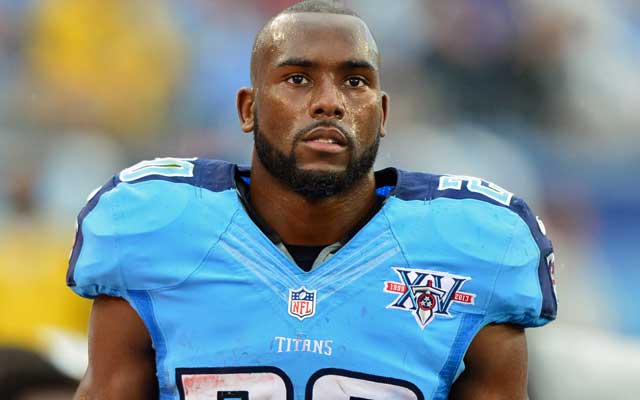 Verner was a popular choice for midseason All-Pro teams. Quarterbacks had a 23.0 passing rating and were only completing 40.5 percent of passes (17 completions in 42 attempts) heading into the Week 11's games when targeting Verner according to Pro Football Focus. Verner is also tied for the NFL lead with five interceptions. It might require more than the five-year contract extension Jason McCourty signed with the Titans in 2012 averaging slightly more than $8.6 million per year (with $17 million in guarantees and $3 million in salary escalators) for Verner to remain in Tennessee long term.
History suggests that the Giants will let Nicks hit the open market. The Giants have only used a franchise player designation three times since the franchise tag system's inception in 1993. The development of Rueben Randle should cushion the blow if Nicks prices himself out of New York with his contract demands.
First-year Browns CEO Joe Banner was aggressive in retaining key players when he ran the Philadelphia Eagles. That approach hasn't applied to Mack and Ward, Cleveland's two best impending free agents. The franchise tag would give Mack a nice one-year financial windfall because it doesn't account for the salary differences at the three main offensive line positions (center, guard and tackle). Nick Mangold is the only center with a 2013 cap number above $6.5 million. The same issue doesn't exist with T.J. Ward. The safety franchise tag number is more indicative of the strong safety marketplace where Kam Chancellor's $7 million contract extension in April is a recent data point.
---
Joel Corry is a former sports agent who helped found Premier Sports & Entertainment, a sports management firm that represents professional athletes and coaches. Prior to his tenure at Premier, Joel worked for Management Plus Enterprises, which represented Shaquille O'Neal, Hakeem Olajuwon and Ronnie Lott.
You can follow him on Twitter: @corryjoel
You can email him at jccorry@gmail.com
Smith says the NFL's ratings decline cannot be ignored

The former Jets and Giants quarterback wants to know whether you think the Earth is round

Zach Ertz is one of the NFL's best tight ends but Philadelphia could lose his backup to free...
Second-year coach Sean McVay says his players know exactly what the expectations are

Steelers didn't trade Bryant then and they aren't looking to move him now

It had been rumored that the Jaguars might cut ties with Bortles, but instead he'll stay in...