Agent's Take: The 2013 NFL contracts awards
Karlos Dansby may not be heading to the Pro Bowl, but the linebacker is the most valuable acquisition in Joel Corry's eyes. The former NFL agent gives out his hardware from the financial side of the game.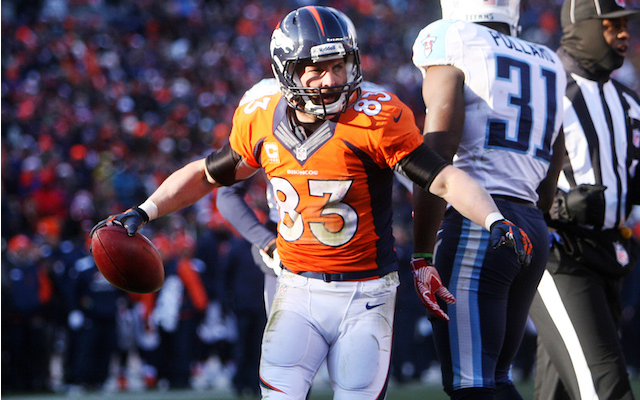 These awards are different from the traditional NFL honors. They are from a financial perspective with an emphasis on 2013 contract signings. Rookies were not given any consideration because their salaries are a function of draft position and the rookie-wage scale.
Most Valuable Acquisition
Karlos Dansby (ILB) -- Arizona Cardinals
The Cardinals got more than their money's worth from Dansby. He spent two months on the street before signing a one-year, $2.25 million deal (worth a maximum of $3 million through incentives) because of Daryl Washington's four-game suspension for violating the NFL's substance abuse policy. Dansby, who was entering the fourth year of a five-year, $42.5 million contract (including $22 million guaranteed) with the Miami Dolphins, was deemed expendable due to Dannell Ellerbe's free-agent signing. He responded with the best season of his career while helping transform the Cardinals into the NFL's best run defense after ranking 28th in 2012. The 32 year old finished tied for third in the NFL in solo tackles with 114 and tied for sixth with 19 passes defensed. Dansby led NFL inside linebackers with 6.5 sacks and tied for first at the position with four interceptions. He returned two of his interceptions for touchdowns.
Runner Up: Wes Welker (WR) -- Denver Broncos
Offensive Signing of the Year
Wes Welker (WR) -- Denver Broncos
The Broncos signing Welker to a two-year, $12 million contract had a dual effect. Welker's departure from the New England Patriots was partly responsible for Tom Brady's struggles during the first half of the season. He was Brady's favorite target. The addition of the five-time Pro Bowler helped turn one of the NFL's best offenses into arguably the most prolific attack in NFL history. The Broncos set single-season NFL records for points scored (606) and net passing yards (5,444). Their 7,317 yards of total offense is the second-best single-season mark ever. Welker caught 73 passes for 778 yards with 10 touchdowns before being sidelined for the final three games of the regular season because of a concussion. He is expected back for the playoffs.
Runner Up: Julian Edelman (WR)-New England Patriots
Defensive Signing of the Year
Brent Grimes (CB) -- Miami Dolphins
Grimes signed a one-year "prove it" deal for $5.5 million to re-establish his value after tearing an Achilles tendon in the Atlanta Falcons' 2012 season opener. He returned to his pre-injury form in his debut season with the Dolphins. Grimes picked off four passes en route to the second Pro Bowl berth of his career. He is also second in Pro Football Focus' cornerback ratings and didn't allow a touchdown pass all season. Reshad Jones' pre-season contract extension averaging $7 million per year should be Grimes' salary floor for a new deal with Miami since he is their best player in the secondary and cornerbacks typically make more than safeties.
Runner Up: John Abraham (OLB)-Arizona Cardinals
Biggest Steal
Julian Edelman (WR) -- New England Patriots
Edelman signed a one-year contract for $765,000 to return to the Patriots when he couldn't generate much interest in the free-agent market. He has been Tom Brady's most reliable receiving weapon this season because of injuries to Danny Amendola and Rob Gronkowski, Aaron Hernandez's incarceration and growing pains with the rookie wide receivers. Edelman caught 105 passes (fourth in the NFL) for 1,056 yards, which are career bests. His deal also contains $250,000 in incentives for receptions. Edelman earned the entire incentive package with his 70th catch.
Runner Up: Daryl Smith (ILB) -- Baltimore Ravens
Best Use of a Contract Year
Greg Hardy (DE) -- Carolina Panthers
The Panthers should regret that they rejected overtures from Drew Rosenhaus, Hardy's agent, about an offseason contract extension. Hardy proved his 2012 breakout season with 11 sacks wasn't a fluke. He posted 15 sacks (third in the NFL) this year to tie Kevin Greene's franchise record. Rosenhaus may beg to differ but Hardy indicated he was willing to give the Panthers a slight hometown discount to re-sign. The six-year, $76 million contract (including $32 million in guarantees) Charles Johnson, his Carolina defensive end counterpart, signed in 2011 to remain with the team could be an important salary benchmark for the first time Pro Bowler. Expect Carolina to make an attempt at signing Hardy to a long-term deal before the March 3 franchise tag deadline. It will cost the Panthers right around $12.5 million to designate Hardy as their franchise player.
Runner Up: Eric Decker (WR)-Denver Broncos
Worst Use of a Contract Year
Josh Freeman (QB) -- Tampa Bay Buccaneers/Minnesota Vikings
Freeman validated Tampa Bay head coach Greg Schiano's reluctance to make a long-term commitment to him with his poor start to the season. He was completing 45.7 percent of his passes with a 59.3 passing rating when he was benched after three games. Freeman was released a little more than a week after his demotion despite a fully guaranteed (through termination pay) $8.43 million salary because of a rapidly deteriorating relationship with Schiano and the Buccaneers. He quickly signed a $2 million deal with the quarterback-needy Minnesota Vikings. Freeman never saw the field again after an awful performance in his only start with Vikings, which came shortly after his arrival. He was inactive for nine of his 12 games with the team. The 2009 first-round pick had a chance to earn a contract averaging in excess of $15 million per year with over $30 million in guarantees by having a season comparable to his 2010 campaign where he threw 25 touchdown passes and only 6 interceptions. Instead, Freeman is destined to become a backup quarterback in 2014. His consolation is he made $10.43 million in 2013 between the two teams.
Runner Up: Kenny Britt (WR) -- Tennessee Titans
Least Valuable Acquisition
Ed Reed (S) -- Houston Texans
The 35-year-old future Hall of Famer was supposed to be one of the last pieces to a championship puzzle when the Texans signed him to a three-year, $15 million deal. Reed, who missed Houston's first two games recovering from off-season hip surgery, was a disappointment prior to his release nine games into the season. He made a little more than $5 million during his brief stay in Houston. In hindsight, the Texans would have been better off re-signing 27-year-old Glover Quin, who wanted a contract similar to Danieal Manning's deal ($5 million per year/$9 million guaranteed/4 years). Keeping Quin would have allowed the Texans to use their second-round pick on another position instead of drafting safety D.J. Swearinger. The Texans have a $2,666,668 cap charge (or dead money) for Reed in 2014.
Runner Up: Percy Harvin (WR) -- Seattle Seahawks
---
Joel Corry is a former sports agent who helped found Premier Sports & Entertainment, a sports management firm that represents professional athletes and coaches. Before his tenure at Premier, Joel worked for Management Plus Enterprises, which represented Shaquille O'Neal, Hakeem Olajuwon and Ronnie Lott.
You can follow him on Twitter: @corryjoel
You can email him at jccorry@gmail.com
A decision is expected to come down on Tuesday

Nick Kostos, a.k.a. 'Mr. Monday Night,' has a bold pick for Monday Night Football

Burfict, who has a lengthy history of suspensions, could still be fined for his actions
The Giants aren't happy about a controversial call that went against them

The Jaguars racked up 10 sacks on Jacoby Brissett in a 27-0 blowout loss

Hunt isn't just an Offensive Rookie of the Year candidate, he's also a legitimate MVP cand...