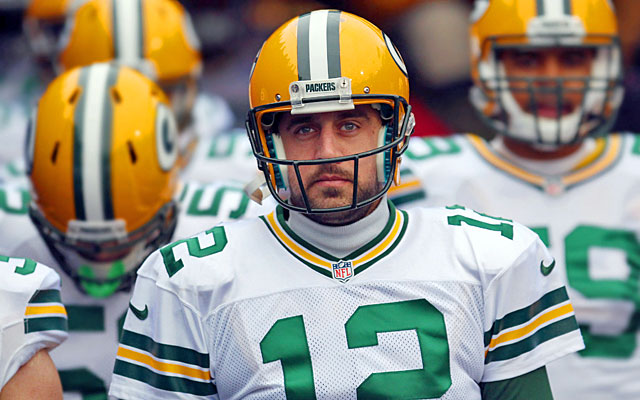 Identifying the highest-paid NFL players in a particular year is more difficult than with the other major sports in this country because of salary deferrals. Typically, when a player has a large signing bonus in his contract, a significant part of it is deferred.
Tom Brady received $10 million of the $30 million signing bonus from his 2013 contract renegotiation with the New England Patriots before the end of last year. He is getting $15 million of his signing bonus this year. The remaining $5 million is payable in 2015.
$15 million of the $28 million signing bonus in the five-year, $103.75 million contract extension Matt Ryan signed with the Atlanta Falcons in 2013 is deferred until this year. His extension also contains a $12 million option bonus for 2014 that he won't receive until 2015. An option bonus is essentially an additional signing bonus that typically comes in the second or third year of a contract to exercise later years in the deal.
Some other notable salary deferrals in contracts include Jay Cutler, Matthew Stafford, and Gerald McCoy. $5 million of Cutler's $22.5 million 2014 salary is payable next year. The Detroit Lions deferred $17.5 million of the $27.5 million signing bonus in the three-year, $53 million extension they gave Matthew Stafford in 2013 until this year. Gerald McCoy's recent six-year, $95.2 million extension (maximum value of $98 million through incentives) with the Tampa Bay Buccaneers has $20.3 million in 2014 salary. $7 million of this year's salary ($4.5 million of base salary and his entire $2.5 million roster bonus) are payable in 2015.
Aaron Rodgers is the exception, not the rule, with lucrative NFL contracts. None of the $35 million signing bonus in the five-year, $110 million extension he received from the Green Bay Packers in 2013, which makes him the NFL's highest-paid player (by average salary), was deferred to another year.
The other major part of the equation in identifying the highest-paid players is determining salaries after taxes. Robert Raiola (@SportsTaxMan on Twitter), who is the Sports and Entertainment Group Senior Manager at O'Connor Davies in New Jersey, provided his expertise in order to make these calculations.
The taxes for professional athletes are more complicated than most people because their income is earned in the states where they play. Raiola said, "Some people don't realize athletes are required to file taxes in their home state and practically every state where they play a game. Some cities, such as Detroit, Cleveland, Cincinnati, St. Louis and Kansas City, also tax athletes. Most places use the duty days method to calculate an athlete's taxes."
Typically, a duty day is any day where an athlete participates in mandatory team activities beginning in the offseason and ending with his team's final postseason game. For example, if there are 180 duty days in a season for a football player who spends six days in California, he will be taxed in the state on 3.33 percent of his salary. The only states where NFL teams are located that don't have a state income tax are Florida, Tennessee, Texas and Washington.
These taxes that an athlete must pay for road games are commonly referred to as "jock taxes." Raiola told me, "Technically, the tax should apply to people in other professions attending an out-of-state conference or client meeting. States are aggressive in collecting taxes with athletes because of their high profile and large salaries. It isn't hard to figure out their work schedules."
According to Raiola, an athlete who plays in California and is a residence of the state could pay slightly over 52 percent of his salary in income taxes. California has the highest state income tax rate in the country at 13.3 percent when income is over $1 million.
Below is the list of the 20 highest-paid NFL players for 2014 after taxes. Endorsement or marketing income has been excluded. All federal and state taxes are included in the calculations along with the marital status. The tax implications of playing in a game in London or charitable contributions aren't a consideration. Playoff money isn't included in salary but any incentives earned in 2013 have been since payment occurs in 2014. The following assumptions are also made with the list: players are a resident of the state and city where they play and agent fees are the maximum three percent allowed under NFLPA regulations.
Rank before and after taxes
After
Before
Player
Residence
Tax rate
Salary
After taxes
1
1
Matt Ryan
Georgia
6%
$24,500,000
$13,226,163
2
2
Joe Flacco
Maryland
5.75%
$21,000,000
$11,006,624
3
5
Tony Romo
Texas
None
$18,500,000
$10,718,360
4
3
Matthew Stafford
Michigan
4.25%
$19,500,000
$10,422,696
5
4
Joe Haden
Ohio
5.392%
$18,978,193
$10,079,505
6
7
Mike Wallace
Florida
None
$17,050,000
$9,861,053
7
6
Jay Cutler
Illinois
5%
$17,500,000
$9,543,774
8
8
Tom Brady
Massachusetts
5.2%
$17,000,000
$9,251,791
9
9
Andy Dalton
Ohio
5.392%
$16,086,027
$8,541,946
10
11
Peyton Manning
Colorado
4.63%
$15,000,000
$8,223,085
11
15
Earl Thomas
Washington
None
$14,225,000
$8,218,902
12
11
Brandon Marshall
Illinois
5%
$15,000,000
$8,187,695
13
10
Eli Manning
New Jersey
8.97%
$15,650,000
$8,175,139
14
13
Sam Shields
Wisconsin
7.65%
$14,937,500
$7,905,476
15
21
Gerald McCoy
Florida
None
$13,300,000
$7,702,079
16
14
Jordy Nelson
Wisconsin
7.65%
$14,250,000
$7,555,700
17
16
Sam Bradford
Missouri
6%
$14,015,000
$7,476,191
18
25
Jimmy Graham
Louisiana
6%
$13,000,000
$7,203,186
19
19
Chris Long
Missouri
6%
$13,400,000
$7,161,452
20
18
Dwayne Bowe
Missouri
6%
$13,485,294
$7,158,287
Matt Ryan is the highest-paid football player for 2014. He holds the top spot in pre-tax salary at $24.5 million ($15 million of $28 million signing bonus deferred until 2014 and a $9.5 million base salary). He retains it after factoring in taxes.
There wasn't significant movement among the 10 highest-paid players. Tony Romo moves from the fifth spot in earnings before taxes, which includes a $5 million signing bonus payment that was deferred until the end of the March this year, to third after taxes. He benefits from playing in a place, Texas, that doesn't have a state income tax. Eli Manning drops out the top 10 to 13th when taxes are considered. New Jersey has one of the highest state income tax rates in the country at 8.97 percent.
The biggest variance occurs with rankings 11 to 20 after adjusting for taxes. California's onerous tax rate of 13.3 percent pushes Philip Rivers ($13.8 million before taxes) from 17th to out of the top 25. Jimmy Graham and Gerald McCoy crack the top 20 when accounting for taxes after being on the outside looking in with salary before taxes. Graham makes the biggest leap by moving up seven places in going from a three-way tie for 25th to 18th. McCoy goes from 21st to 15th since there aren't state income taxes in Florida.
The salaries of some notable players that aren't in the top 20 were also examined. Russell Wilson is the NFL's most underpaid player. His $662,434 salary from the Seattle Seahawks this year is $420,999 after taxes using the parameters in the calculations. Fortunately, Wilson is marketable and is able to generate substantial income endorsing products.
The highest-paid rookie in 2014 is Sammy Watkins, despite being the fourth overall pick in the NFL Draft. None of his $12,818,620 signing bonus is being deferred while first overall pick Jadeveon Clowney and third overall pick Blake Bortles, who are located where there isn't a state income tax, are getting a portion of their signing bonuses in 2015. $3,629,636 of Clowney's $14,518,544 signing bonus is deferred until February 23, 2015. Bortles will receive the last half of his $13,341,672 signing bonus on March 31st. All players drafted in 2014 have the same $420,000 first year base salary under the NFL's rookie wage scale. Watkins makes $6,915,899 after taxes. Clowney can't close the gap because of the signing bonus deferral despite New York's 8.82 percent state income tax rate. Clowney's earnings after taxes are $6,560,634.
Calvin Johnson has made $46.75 million before taxes over the last two years because the seven-year, $113.45 million extension he signed in 2012 was structured with a $20 million signing bonus and $25 million option bonus that were payable before the end of the 2013 calendar year. His 2014 pre-tax salary is $5 million, which is $2,702,693 after accounting for taxes.
One situation that bears watching is Ndamukong Suh's impending free agency. When I was an agent, state income tax ramifications were a factor when evaluating contract offers, particularly with extremely lucrative ones. Football players spend more time in their home state than athletes in the other sports because there's more practice time and fewer games. This increases the significance of a player's playing city. "There's a big difference in playing for a team in California with a 13.3 percent state tax rate and Florida that doesn't have a state income tax," said Raiola.
I asked Raiola to illustrate the difference in hypothetical contract offers for Suh by using the two teams, the Jacksonville Jaguars and the Oakland Raiders, that are on track to have the most salary cap room in 2015. The Jaguars should have slightly over $65 million of cap room with a $142 million salary cap. The Raiders are expected to be in the neighborhood of $60 million with cap space.
Competing offers by both teams of $102 million over six years, which would meet Suh's expected contract demands of being the NFL's highest-paid non-quarterback, with $55 million in the first three years (the best three year payout for a non-quarterback) yield strikingly different results after taxes. Jacksonville's offer would be $31.8 million in the first three years and $58.8 million for the entire deal. Oakland's would be $4.55 million less after the first three years at $27.25 million and almost $8 million behind over six years at $50.99 million after taxes.
"It's possible but not likely that Suh could play in California and not be a California resident," said Raiola. Keeping that in mind, Oakland's offer would have to be approximately $64.2 million over the first three years and almost $118 million for six years to equal Jacksonville's after taxes.
---
Joel Corry is a former sports agent who helped found Premier Sports & Entertainment, a sports management firm that represents professional athletes and coaches. Before his tenure at Premier, Joel worked for Management Plus Enterprises, which represented Shaquille O'Neal, Hakeem Olajuwon and Ronnie Lott.
You can follow him on Twitter: @corryjoel
You can email him at jccorry@gmail.com