Agent's Take: Top 10 2014 NFL Draft pick deal projections
Rookie contracts will increase in value slightly. With that in mind, let's break down what the top 10 picks will make and how the negotiations will progress.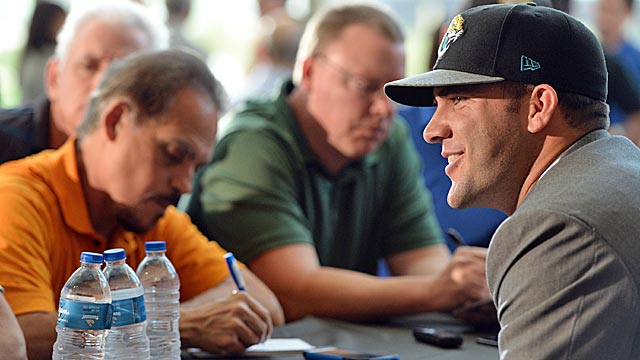 More Draft coverage: 2015 Mock Drafts | 2015 Top 100 | 2014 Draft Grades | News
There will be a minimal increase in rookie contracts for the third straight year despite the salary cap going up by 8.13 percent. The freeze on signing bonuses for draft picks will continue. As a result, 2014's top pick Jadeveon Clowney will receive the same signing bonus as Cam Newton, Andrew Luck and Eric Fisher, the first overall picks in 2011, 2012 and 2013. Clowney's contract will only be $247,500 more than the deal Newton signed in 2011.
Based on conversations with several NFL teams, rookie contracts are stagnant because money borrowed in 2012 and 2013 from future rookie pools is being repaid this year. Increases in rookie deals are tied to growth of the cap. The borrowing was necessary to prevent rookie deals from being less than in 2011 because the increase in minimum salaries was greater than the growth in the cap. For example, the cap went up by 1.99 percent ($120.6 million to $123 million) in 2013 while the first year minimum salary for rookies increased by 3.85 percent ($390,000 to $405,000). Since the total debt is being repaid this year, increases for rookie contracts in the future will be dictated by the terms of the 2011 Collective Bargaining Agreement (CBA).
All deals for draft choices are four years. Teams have an option for a fifth year with first-round picks. The option must be exercised after the third year of the deal (2017 for the 2014 draft class), with a May 3 deadline. The fifth year is guaranteed for injury when the option is exercised. It becomes fully guaranteed on the first day of the league year in the fifth contract year.
The fifth-year salary for the top 10 picks is the transition tender (average of the 10 highest salaries) for a player's position in fourth year of his contract. The fifth year salary of the rest of the first round (picks 11-32) is the average of the third- through 25th-highest salaries at a player's position.
Rookie contracts can't be renegotiated until the conclusion of a player's third regular season. The earliest Clowney's deal could be renegotiated is when the 2016 regular season is over.
Since the 2011 CBA essentially created a rookie wage scale, deals are generally signed at a much quicker pace. Prior to the rookie wage scale's implementation, most rookie contracts were completed in July as training camp approached. Holdouts are largely a thing of the past because the rookie wage scale sets specific salary parameters for the deals.
Below are the deals the top 10 picks are expected to sign.
Top ten pick deals
 
 
 
2014 Salary
Signing
2014
4 Year
Pick
Name
Club
Cap Number
Bonus
Compensation
Total
1
Jadeveon Clowney
Texans
$4,049,636
$14,518,544
$14,938,544
$22,272,998
2
Greg Robinson
Rams
$3,869,836
$13,799,344
$14,219,344
$21,284,098
3
Blake Bortles
Jaguars
$3,755,418
$13,341,672
$13,761,672
$20,654,799
4
Sammy Watkins
Bills
$3,624,655
$12,618,620
$13,038,620
$19,935,603
5
Khalil Mack
Raiders
$3,395,818
$11,903,272
$12,323,272
$18,676,999
6
Jake Matthews
Falcons
$2,987,182
$10,268,728
$10,688,728
$16,429,501
7
Mike Evans
Buccaneers
$2,660,273
$8,961,092
$9,381,092
$14,631,502
8
Justin Gilbert
Browns
$2,333,364
$7,653,456
$8,073,456
$12,833,502
9
Anthony Barr
Vikings
$2,317,018
$7,588,072
$8,008,072
$12,743,599
10
Eric Ebron
Lions
$2,227,118
$7,228,472
$7,648,472
$12,249,149
Contracts are fully guaranteed at the top of the first round. The primary negotiating issue with these contracts is whether the guarantees will have offsets. An offset clause allows a team to reduce the guaranteed money owed to a player when he is released by the amount of his new deal with another team. The player receives his salary from the team that released him in addition to the full salary from his new contract with another club when there isn't an offset (also known as "double dipping"). Practically speaking, the offset issue only comes into play in the latter years of rookie deals if the player is a disappointment.
Teams with early first-round picks held the line on offsets last year after eventually conceding the issue during 2012. The first seven picks in 2012 didn't have offsets with their guarantees. Ryan Tannehill, the eighth pick, had offsets while Luke Kuechly, the ninth pick, didn't. Michael Brockers, the 14th pick by the St. Louis Rams, was the lowest pick to have his entire deal guaranteed without offsets.
Only three of the first nine picks in 2013 didn't have offsets. The Chiefs became the first team to include offsets in the contract of the first overall pick (Eric Fisher) since the 2011 CBA overhauled rookie compensation. The Jaguars didn't require offsets in second overall pick Luke Joeckel's deal.
As a compromise, Kansas City gave Fisher minimum base salaries in 2014 through 2016 with the remainder of his salary in annual fully guaranteed fifth day of training camp roster bonuses. The other teams that won the offset battle also used this concept in their deals.
The fiercest offset battle could take place with Jadeveon Clowney and the Texans, because it is unlikely Greg Robinson and Blake Bortles -- the second and third overall picks -- will have offsets in their contracts. The Rams established a team precedent on offsets with Brockers. The precedent was adhered to last year with Tavon Austin, the eighth pick.
Joeckel's deal with Jacksonville last year and quarterbacks selected in the top five under the 2011 CBA not having offsets should be beneficial to Bortles. Houston's treatment of Clowney probably will set their precedent on offsets for future early first-round picks.
Another situation that bears watching is the Buccaneers with seventh pick Mike Evans. Tampa Bay didn't get offsets with 2012 seventh pick Mark Barron under general manager Mark Dominik. New general manager Jason Licht comes from the Cardinals, who included offsets in 2013 seventh pick Jonathan Cooper's deal. Whenever a new regime takes over, contractual precedents can become obsolete or meaningless, especially if they aren't consistent with the new regime's philosophy.
Offsets shouldn't be a sticking point for eighth pick Justin Gilbert and 10th pick Eric Ebron's deals with the Browns and Lions. The Browns held firm on offsets with 2013 sixth pick Barkevious Mingo. Ziggy Ansah didn't have offsets in his contract with the Lions last year as the fifth pick. Surprisingly, Detroit's second-round pick Darius Slay didn't have offsets either, which was unprecedented.
A fight over offsets likely will mean most early round picks won't sign contracts until the latter part of July. That was the case last year. By contrast, the three teams that conceded the offset issue signed their picks by the end of June. Ansah was the first early pick under contract. He inked his deal 13 days after the 2013 draft.
Other notable QB early picks
2012 Heisman Trophy Winner Johnny Manziel was selected by the Browns with the 22nd pick. The Vikings closed the first round by trading up to make Teddy Bridgewater the 32nd pick. Derek Carr went four picks later to the Oakland Raiders in the second round.
Here are the deals these three players are expected to sign.
Expected deals: Manziel, Bridgewater and Carr
 
 
 
2014 Salary
Signing
2014
4 Year
Pick
Name
Club
Cap Number
Bonus
Compensation
Total
22
Johnny Manziel
Browns
$1,499,745
$4,318,980
$4,738,980
$8,248,598
32
Teddy Bridgewater
Vikings
$1,245,364
$3,301,456
$3,721,456
$6,849,502
36
Derek Carr
Raiders
$976,691
$2,226,764
$2,646,764
$5,371,801
Manziel could become the first player selected 22nd overall under the rookie wage scale to get a fully guaranteed contract. The final year of the 22nd pick's contract has been only partially guaranteed for the past two draft classes. Quarterbacks in the first two rounds of the draft are usually treated favorably with guarantees. Brandon Weeden got a premium with guarantees as the 22nd overall pick in 2012.
Vikings general manager Rick Spielman acknowledged that the fifth-year option with first-round picks was a primary consideration for moving up to draft Bridgewater. Expect this to become more of a trend in future drafts, with teams in the top half of the second round that covet a particular player, especially a quarterback.
Carr probably was disappointed he didn't go in the first round but he should be able to get a deal at his market value faster than Manziel and Bridgewater, assuming all three quarterbacks live up to their potential. 2017 will be Carr's contract year. Manziel and Bridgewater's contract year wouldn't be until 2018 because of the fifth-year option for first-round picks. As a result, Carr might have a much better appreciation for being a second-round pick in three years than on draft day.
---
Joel Corry is a former sports agent who helped found Premier Sports & Entertainment, a sports management firm that represents professional athletes and coaches. Before his tenure at Premier, Joel worked for Management Plus Enterprises, which represented Shaquille O'Neal, Hakeem Olajuwon and Ronnie Lott.
You can follow him on Twitter: @corryjoel
You can email him at jccorry@gmail.com
The Cowboys unveiled a new look on Sunday and their fans seemed to love it

Conquerors of adversity in 2017, the Eagles are still on the fast track to claiming the NFC's...

Cord-cutters are probably going to like this new deal between the NFL and Verizon
Stephen Oh has his finger on the pulse of Bill Belichick's team and just locked in a strong...

Savage left the game before returning after just one series

Quinton Jefferson explains why things got ugly in Jacksonville