Agent's Take: Von Miller headlines 2016 franchise tag candidates
Defensive standouts like Von Miller and Josh Norman can likely count on being tagged, but what about players like Kirk Cousins, Michael Crabtree and Alshon Jeffery?
Most players aren't happy about getting a franchise player designation because it can hinder their ability to gain long term security. The tag is essentially a high-salaried, one-year "prove it" deal, where players incur the risk of serious injury and poor performance again after already playing out their contracts when an agreement on a long-term deal can't be reached. It is also a powerful management tool that prevents players from receiving fair market value and generally depresses salaries.
Dez Bryant and Demaryius Thomas signed long-term deals as franchise players, averaging $14 million per year with $43.5 million to $45 million in guarantees. These contracts may have otherwise eclipsed Calvin Johnson's deal, which sets the standard for wide receivers by averaging slightly more than $16.2 million per year and containing $53.5 million in guarantees, if other teams with an abundance of salary cap room and a glaring need for a wide receiver, such as the Oakland Raiders, had been able to bid on their services. In turn, Julio Jones and A.J. Green could have leveraged these contracts into better deals for themselves. Jones and Green's deals average $14.25 million ($47 million in guarantees) and $15 million per year, respectively. The bigger contracts of the four wide receivers would have trickled down to other players at the position.
Types of Franchise Tags
NFL teams can retain the rights to one of its impending free agents in 2016 with the use of a non-exclusive or an exclusive franchise tag during a two week period from February 16 to March 1.
The 2011 Collective Bargaining Agreement (CBA) changed how non-exclusive franchise tags are determined. Since its inception in 1993, a franchise tag number had been an average of the five largest salaries in the prior year at a player's position or 120 percent of the prior year's salary of the player, whichever was greater. For franchise tag purposes, salary means a player's salary cap number, excluding workout bonuses.
Those two provisions remain intact, but the formula component is now calculated over a five-year period that's tied to a percentage of the overall salary cap. More specifically, the number for each position is determined by taking the sum of the non-exclusive franchise tags as determined by the original methodology for the previous five seasons and dividing by the sum of the salary caps for the previous five seasons. The resulting percentage, which is known as the Cap Percentage Average in the CBA, is then multiplied by the actual salary cap for the upcoming league year.
This non-exclusive tag allows a player to negotiate with other NFL teams, but if he signs an offer sheet with another club, his team has five days to match the offer. If the offer is not matched, his team will receive two first-round picks as compensation from the signing team.
Under the exclusive franchise tag, a player will receive a one-year offer from his team that is the greater of 120 percent of his prior year's salary or the average of the top five salaries at his position once the restricted free agent signing period of the current year has ended (April 22 for 2016). A player cannot negotiate with other teams with the exclusive franchise tag.
Teams also have the option to use a transition tag instead of a franchise tag. The transition tag operates similarly to the non-exclusive franchise tag, except it is based on the average of the top ten salaries at a player's position. Teams have the same matching rights as with franchise tags but do not receive any draft choice compensation.
The transition tag had essentially become obsolete, but it's starting to make a comeback. In 2014, the Cleveland Browns and Pittsburgh Steelers became the first teams to use it since 2008. The Buffalo Bills followed suit this year.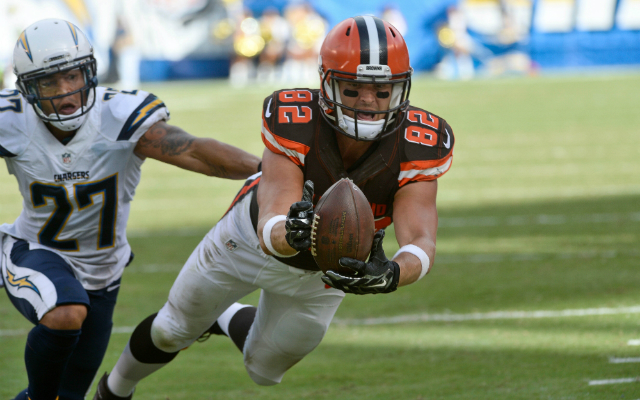 2016 Franchise Tag Projections
The chart below contains an early look at the 2016 franchise tags. I keep track of the salary data necessary to do the calculations under the franchise tag formula. I recently confirmed with my NFL sources the 2015 data. The franchise tags are preliminary because the numbers can't be finalized until the 2016 salary cap is set in late February or early March.
$154 million is being used for the 2016 salary cap because it is a 7.48 percent increase, which is consistent with the 8.13 percent and 7.73 percent growth in the salary cap in each of the last two years. The 2016 increase will likely be impacted by the delay of the CBA's annual performance based pay to players in 2013 until this upcoming March, according to my NFL sources.
Projected franchise tag numbers, 2016
Position
Current
Salary cap percentage
Projected
Change
Cornerback
$13,075,000
8.985%
$13,838,000
5.83%
Defensive End
$14,813,000
10.061%
$15,494,000
4.6%
Defensive Tackle
$11,193,000
8.68%
$13,368,000
19.43%
Linebacker
$13,195,000
9.176%
$14,131,000
7.09%
Offensive Line
$12,943,000
8.882%
$13,678,000
5.68%
Punter/Kicker
$4,126,000
2.944%
$4,534,000
9.89%
Quarterback
$18,544,000
12.823%
$19,748,000
6.49%
Running Back
$10,951,000
7.708%
$11,871,000
8.4%
Safety
$9,618,000
6.959%
$10,717,000
11.43%
Tight End
$8,347,000
5.879%
$9,053,000
8.46%
Wide Receiver
$12,823,000
9.434%
$14,527,000
13.29%
The NFLPA is gaining a measure of vindication for the criticism received for agreeing to change the calculation of the non-exclusive franchise designations. Franchise players are going to be better off with the new methodology than under old methodology. The franchise tag numbers will be 9.54 percent higher collectively under the new formula if the 2016 salary cap is set at $154 million.
The good thing for players is that teams are becoming more judicious in using the franchise player designation as it gets more cost prohibitive. A record 21 players were franchised in 2012, including six kickers and punters, in the first year with the new method of calculation when there was almost a 20 percent drop in the franchise tags from 2011. Eight players received the designation in 2013. Four franchise tags were used in 2014 and there were five franchise-tagged players this year.
It will be a surprise if the San Diego Chargers franchise safety Eric Weddle. His franchise tag number will be $12.12 million, which is based on 120 percent of his 2015 cap number. Here are some other teams that could elect to use the franchise tag this offseason.
2016 Franchise Tag Candidates
Denver Broncos: OLB Von Miller
The three-time All-Pro probably views the six-year, $101 million contract, which included $52.5 million in guarantees, the Kansas City Chiefs gave Justin Houston over the summer as his salary floor. Another important financial benchmark may be the $60 million in guarantees, a record for a defensive player, that Marcell Dareus received from the Buffalo Bills in a contract extension as the regular season approached. The average yearly salary of Houston's deal is 27.6 percent greater than his franchise tag. If the Broncos do the same with Miller, his multi-year deal will be in the neighborhood of $18 million per year.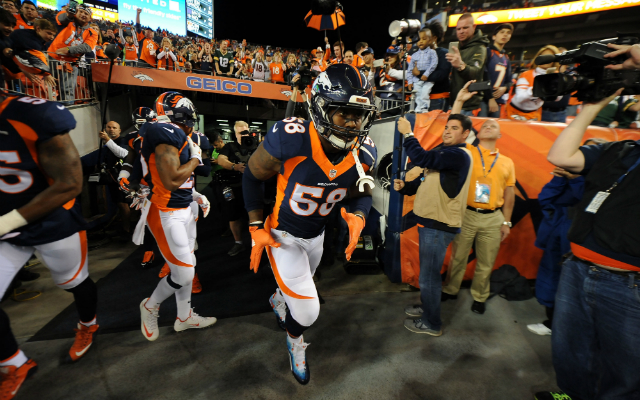 New York Jets: DE Muhammad Wilkerson
The Jets unsuccessfully tried to sign Wilkerson to a long-term deal before he ended negotiations at his self-imposed deadline of the start of the regular season. Dareus' recent six-year, $95.1 million extension (worth a maximum of $100.35 million through salary escalators) and Wilkerson being on pace for a career high 12.5 sacks won't make reaching an agreement any easier. It could be a choice between Wilkerson and 2013 Defensive Rookie of the Year Sheldon Richardson, if the Jets are comfortable his off-the field problems are behind him, since Leonard Williams, the sixth-overall pick in this year's draft, is as good as advertised. Wilkerson's contract demands, which are likely to increase from the last round of negotiations, and the Jets' surplus of quality defensive linemen could lead to a franchise-player trade to a team willing to pay him like Dareus. The Kansas City Chiefs traded defensive end Jared Allen to the Minnesota Vikings for a first-round pick (15th overall) and two third-round picks in the 2008 NFL draft when he was franchised. A swap of 2008 sixth-round picks was also a part of the trade.
Carolina Panthers: CB Josh Norman
Nobody in a contract year has helped himself more than Norman. He turned heads with blanket coverage at the start of the season to earn the NFC's Defensive Player of the Month award for September. Sustaining that level of play has put Norman in the NFL Defensive Player of the Year conversation. The Panthers will be fortunate if Norman accepts a deal similar to the six-year, $63 million contract containing $25 million fully guaranteed that Byron Maxwell received from the Philadelphia Eagles in this year's free agency. A deal at the top of the cornerback market (around $14 million per year and more than $40 million in guarantees) could await Norman provided he continues to be one of the NFL's elite cover men for the remainder of the season.
Chicago Bears: WR Alshon Jeffery
Leg injuries have slowed Jeffery more than opposing defenses. A bad hamstring cost him four games earlier this season. Jeffery is currently dealing with a groin injury. He also missed the entire preseason with a left calf strain. The 2012 second-round pick is one of four players currently averaging more than 100 receiving yards per game. If Jeffery can put the leg problems behind him, he could land a contract from the Bears comparable to those of Green, Jones, Thomas and Bryant.
Kansas City Chiefs: S Eric Berry or CB Sean Smith
The Chiefs had this same situation in 2013 when left tackle Branden Albert and wide receiver Dwayne Bowe both had expiring contracts. Bowe signing a long-term deal right before the franchise tag deadline, which allowed the Chiefs to retain both for another year after Albert received the designation. Berry hasn't missed a beat while making a much quicker than expected return after being diagnosed with Hodgkin's lymphoma last December. The three-time All-Pro will surely want a raise from the six-year, $50 million deal he signed as the fifth-overall pick in the 2010 NFL draft. Smith should be in high demand if he hits the open market and could get more than Byron Maxwell because 6-foot-3, 218-pound press coverage cornerbacks are precious commodities.
Baltimore Ravens: K Justin Tucker
Designating left guard Kelechi Osemele as a franchise player is unrealistic. Osemele would receive a big one-year financial windfall because the franchise tag doesn't account for the salary differences at the three main offensive-line positions. The $8.5 million average yearly salary of the NFL's highest paid guard, Logan Mankins, is almost $5.2 million less than the offensive lineman number. Tucker is the second most accurate kicker in NFL history, with an 88.5 percent field goal conversion rate. Because of this feat, he will be justified in seeking to become the league's highest-paid kicker ahead of the New England Patriots' Stephen Gostkowski, whose contract averages $4.3 million per year.
Washington Redskins: QB Kirk Cousins
The Redskins using a franchise tag on Cousins seems farfetched at this moment. If Cousins can consistently perform like he does at home over the last seven games, it could become a realistic possibility. Cousins is completing 75.7 percent of his passes for a 112.8 passer rating with 10 touchdowns and two interceptions in five home games. It's a different story for Cousins on the road. His passer rating is 66.3 while completing 59.8 percent of his passes with four touchdowns and seven interceptions.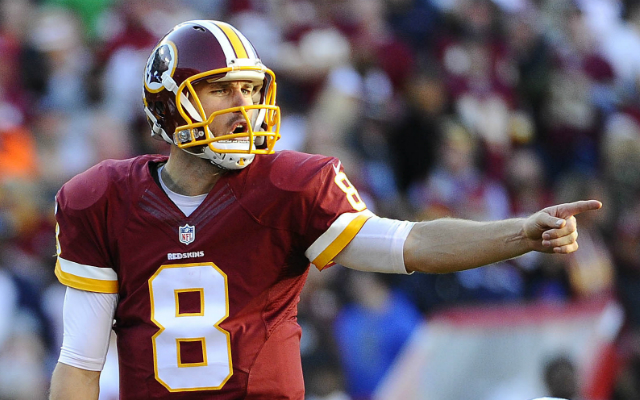 Cleveland Browns: TE Gary Barnidge or S Tashaun Gipson
The Browns didn't use a franchise tag on center Alex Mack or tight end Jordan Cameron during the last two years, which suggests a transition tag would be the more likely designation if one is used at all. Gipson, who was named to his first Pro Bowl in 2014, has been slowed by a high ankle sprain this season. Nonetheless, he has the most interceptions in the NFL since the start of the 2013 season with 13 despite missing eight games during this span. Gipson may have his sights set on a contract like Devin McCourty's. He became the NFL's second-highest-paid safety by re-signing with the New England Patriots after rejecting bigger offers from other teams. His five-year, $47.5 million contract has $28.5 million in guarantees, which is the most ever in guarantees for a veteran safety deal. Gipson's transition tag should be slightly under $9.3 million. The Browns received criticism for not giving Cameron a transition tag for $7.071 million after he took the same money the team offered ($15 million for two years) from the Miami Dolphins. Barnidge, 30, is on track for a better season than Cameron's 2013 breakout campaign and is currently in the top five among tight ends in catches (48), receiving yards (667) and touchdown receptions (7). His transition tag should be approximately $7.75 million.
Oakland Raiders: WR Michael Crabtree
Curiously, general manager Reggie McKenzie let defensive end Lamarr Houston and left tackle Jared Veldheer become free agents in 2014 without making a concerted effort to retain them or using a franchise or transition tag on one of them. As a team on the rise expected to have over $70 million of salary cap room in 2016, McKenzie should consider using a transition tag on Crabtree if he isn't re-signed before the designation period ends. Crabtree is having a career year in which he is on track for 91 receptions, 1,148 receiving yards and nine touchdown catches. The wide receiver transition tag should be around $12.35 million, which could be construed as an overpayment. The Raiders need to spend money because they are in danger of being under the minimum spending thresholds for the four-year period of 2013 through 2016 under the CBA. It would also be difficult for a team to put together an offer sheet that couldn't be matched with so much cap space next year.
---
Joel Corry is a former sports agent who helped found Premier Sports & Entertainment, a sports management firm that represents professional athletes and coaches. Before his tenure at Premier, Joel worked for Management Plus Enterprises, which represented Shaquille O'Neal, Hakeem Olajuwon and Ronnie Lott.
You can follow him on Twitter: @corryjoel | You can email him at jccorry@gmail.com
Our Latest Stories
The longtime Bengals coach and the team are planning to part ways after the season ends

Everything you need to know heading into Week 15 is right here

Haden has been out since Week 10 with a fractured fibula
There's also the possibility Goodell steps aside early if his potential successor is progressing...

The league could return to its pre-2009 policy after a year in which pregame protests took...

Arians hasn't said he's retiring, but the team has discussed contingencies for a coaching...